What is the Husqvarna T435 like… is it any good? Should you get it?
It's a premium top handle chainsaw that has been designed for professional tree workers like arborists, loggers, and landscapers. However, if you're looking at it for your home, hobby farm, or farm, there's no reason why it might not be for you too.
As with all Husky chainsaws, it's a well-designed chainsaw with high-quality components. It's nice to use and isn't difficult to climb up trees with – all in all, it's a good saw.
Let's find out more about it!
The Husqvarna T435 Chainsaw
The Husqvarna T435 is a lightweight, top-handled chainsaw with a 35cc 2.1hp engine.
This mid-sized but highly useful chainsaw is great for tree pruning at home or on the farm, in orchards, or on any other contract job.
It is well-balanced, very easy to operate, and comes with the famous Husky X-Torq engine that delivers a higher level of fuel efficiency. It's reliable, durable, and it doesn't look half bad either!
Top handle chainsaws are great for working with while you're up trees, and that's essentially what they're designed for. However, people often use them for clearing smaller trees and brush, trimming, and limbing trees that are already down.
The Husqvarna T435 weighs 7.5 pounds without the bar and chain, and with empty fuel and oil tanks. It's a lot lighter than regular chainsaws for felling trees, etc. The top handle makes it easier to maneuver when climbing and in use up trees.
This saw can sometimes be confused with the Husqvarna 435, but they are two very different chainsaws.
The 435 has a regular wrap handle and is slightly more powerful. It's a totally different design and the 435 number is just related to the Husky generation and cylinder displacement (ccs).
Check out where the T435 sits among the other Husky chainsaws in the following chart.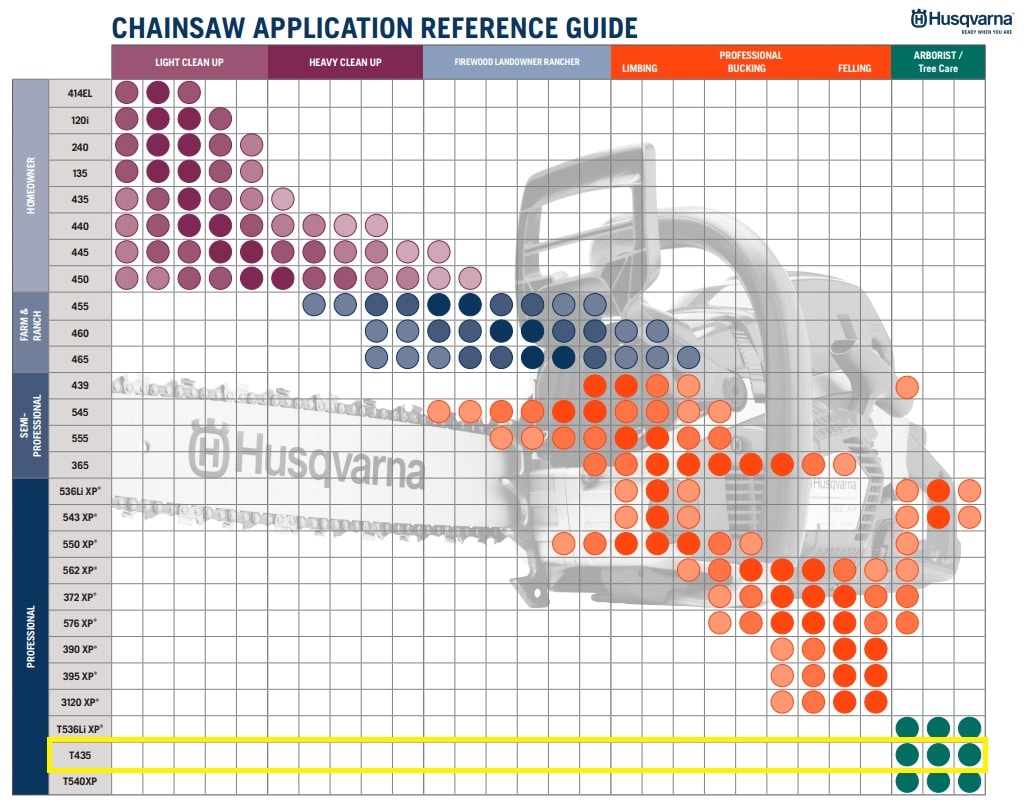 You can see there are 2 other Husqvarna top handle chainsaws listed here:
Both of these XP saws are more powerful and more expensive than the T435 and are for those who need something that will go all day. These other 2 models are part of the Extra Performance chainsaw range.
You can also get these other Husky top handle chainsaws that are not listed in that chart:
The Husqvarna T525
Husqvarna T535i XP
Husqvarna T540i XP
These are also more expensive than the T435 as they are part of the new Generation 5 range of Husky chainsaws.
The T435 is the best Husky top handle chainsaw for the money, but some will require the higher-powered models with better features.
Husqvarna T435 Specs And Features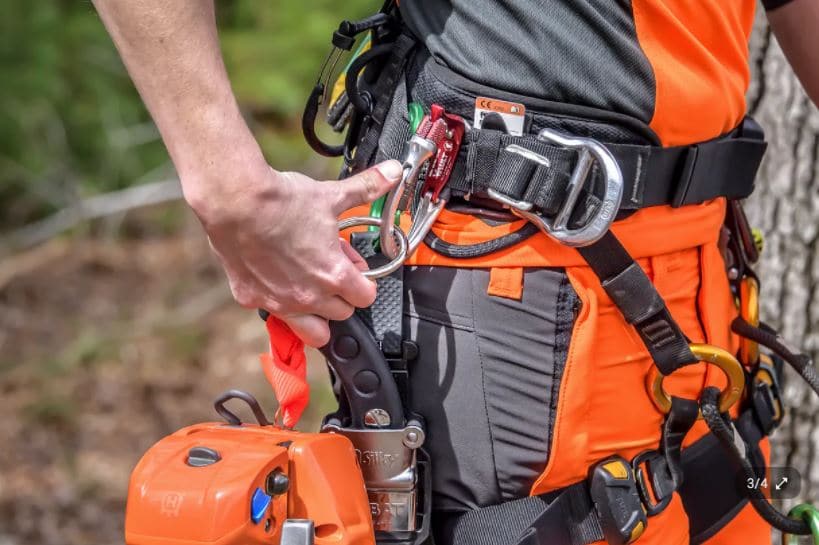 Chainsaw specs can vary depending on the year and place the chainsaw was manufactured.
Whether you're buying from a dealer, online, or second-hand, double-check if you are concerned about any of the details.
Husky T435 specs:
2.01 horsepower
35.2cc engine
Weighs 7.5 pounds without fuel and cutting gear
Max power speed of 10,000 RPM
Idling speed of 2,900 RPM
Automatic oil pump
Sold with 12, 14, or 16-inch bar
Recommended for use with 12 or 14-inch bar
3/8″ mini chain pitch
.050″ chain gauge
Requires 50:1 fuel oil mix
And the features of the T435:
X-Torq engine has lower emissions/more efficient
Adjustable oil flow pump
Easy access to clean air filter
Anti-vibration features
Rope attachment for climbing (as in the picture above)
Chain brake
Air purge for cold starts
Flip-up tank caps
Husqvarna T435 Review
Extra insights from the video:
Much smaller fuel tank than regular chainsaws
As with all chainsaws, runs better with a sharp chain
You can run it for a long time without getting fatigued
Runs about 2 loads of fuel per tank of bar oil
Throttle on the top handle
Great for limbing branches
Able to bring down small trees
Because of its small size and low weight, the T435 is super easy to maneuver.
That means it's easy to pick up and use at a moment's notice – especially as it's a reliable starter as well. You can easily keep it in your vehicle if it's possible to come across downed trees in your area.
Pros:
Very light and easy to wield
Can be used as a pro saw
Reliable and durable
Quality Husky build
Affordable – it's not that pricey
Cons:
Not all that powerful
Some have found it to be temperamental
Will bog down on thicker branches/trees
Not everyone loves this chainsaw and some have found it to be a complete disappointment.
There are a lot of Husky chainsaws that you only hear a lot of praise for – the 345 or the 372XP, for example – but the T435 isn't one of them.
For every 10 good reviews, you'll hear of someone who hated it and couldn't get it to run well. The majority of people love it, but it's good to know that it does have its detractors.
Good alternatives to the T435:
Most people are happy with the T435, but it's not the perfect chainsaw for everybody.
Husqvarna Climbing Arborist Saw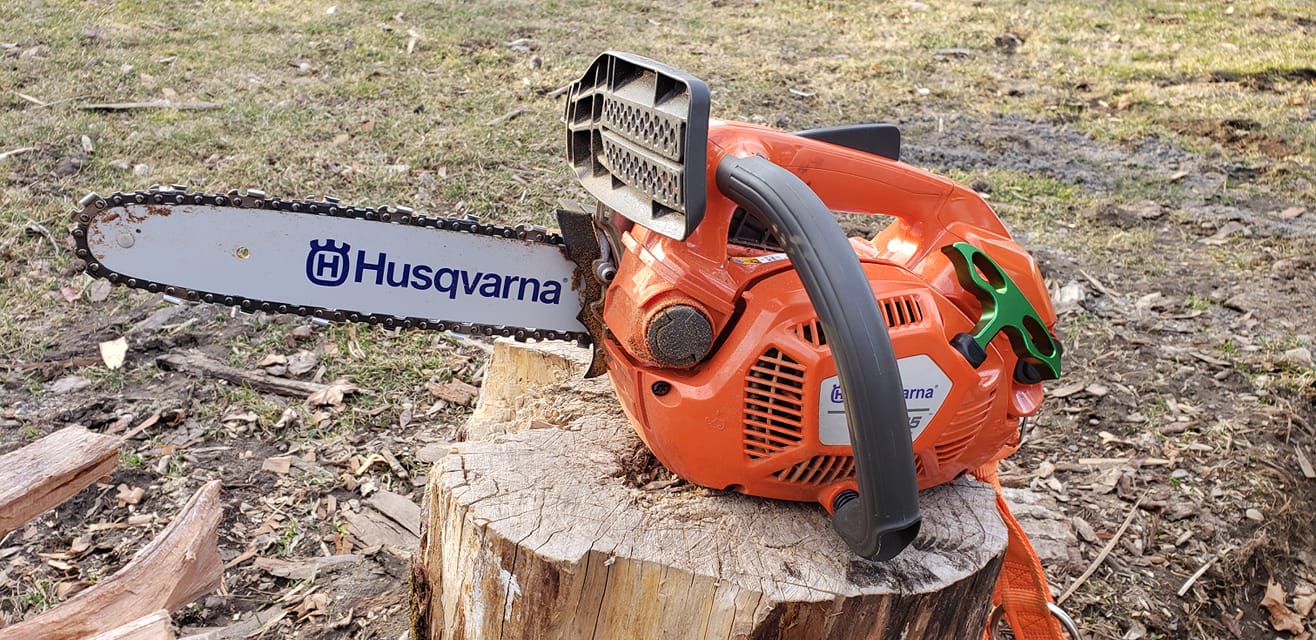 The Husqvarna T435 arborist chainsaw is great at doing what it was designed for – pruning and limbing small-width branches.
It wasn't made to fell trees or process firewood, it was made to be a climbing chainsaw that can easily be clipped to your side and taken up a tree. While it's also good for limbing branches of trees already on the ground, it shouldn't really be used to fell them.
The Husqvarna T435 shouldn't be your only chainsaw, unless your using it for light work around the property, but it doesn't make a good limbing chainsaw.
If you are looking for a main chainsaw for doing firewood and clearing heavier wooded areas, consider the 450, 455, or 460 Rancher chainsaw.
If you have any questions about the T435 then leave them down below and we'll get back to you asap. Thanks for visiting!