Anyone with trees or tall shrubs on their property should invest in a quality pole saw.
Cutting back shrubs and trees not only helps them to grow more vigorously in the fall, but can also help mitigate the damage done from unstable or dead limbs broken during storms.
Pole saws come in many shapes and sizes and make hard-to-reach jobs much easier and safer than a traditional saw would.
Picking out the best pole saw to purchase in preparation for pruning can be a tough choice; whether you pick a cordless, battery-powered, or gas pole saw is up to you.
You've got to keep safety in mind, but I really enjoy using pole saws – it's hard to get the same results with less effort with other tools.
Spoiler alert: my overall best pick is the DeWalt 20V Max XR Pole Saw.
Pole Saw Reviews
I personally prefer my battery-powered pole saws.
I very rarely use them for longer than half an hour so a single battery is fine. It doesn't matter how long I've left my cordless pole saw without using it, I can just pick it up and use it for a few minutes without any hassle.
Gas pole saws are better if you are going to be using them for longer periods of time, like over half an hour. I like the freedom and power they give, but they're not as easy to just pick up and use.
Corded saws aren't great, in my opinion, unless you know you're only going to be using them close to home. You are certainly restricted by a power cord and outlet.
Manual pole saws are a good cheap option, but you've got to work to prune those branches!
Whether you're considering a pole saw that is:
Gas-powered
Battery-operated
Electric
Manual
Here are some of the best picks within each class to help you begin your search.
1. ​DEWALT 20V MAX XR Pole Saw – Best All-Around Pole Saw
Reach: 15 feet
Power Source: Electric (20-volt cordless battery)
Weight: 9.8 pounds
This DEWALT battery-powered pole saw runs on 20 volts and comes with a battery charger.
It's a medium-capacity duty saw, but the XR battery platform from DeWalt is long-lasting and packs a punch.
It is rated for limbs of about 4 inches in diameter, and it's great for jobs that need multiple passes for clean cuts. This tool comes with a bucking strip, a toothed aluminum portion under the chain, that helps prevent bouncing when trying to really sink into a thick limb.
Although the price is a little high, it's a pretty good investment for the package of the saw, the battery, and the charger, coupled with DeWalt's quality and lasting power.
The DEWALT chainsaw range is also very popular.
Pros
A trusted name in power tools.
Useful for jobs up to 15 feet high.
Ergonomic
Saw, battery and charger included.
Cons
Expensive
Not the cheapest
---
2. Greenworks 40V Cordless Pole Saw – Runner-up
Reach: 11 feet
Power Source: Electric (40-volt cordless battery)
Weight: 10.5 pounds
With around the same limb-size rating as the DeWalt, this Greenworks pole saw comes in a 40-volt battery option at a fraction of the price.
Of course, there are pros and cons.
This saw is extendable up to 11 feet with a multiple-piece system. This can cause some flexing in really tough or high-up jobs.
Because the battery capacity is greater, the Greenworks saw can pack a punch for smaller limbs or jobs that need fewer cuts.
For gardeners or landscaping caretakers, this tidy-looking saw, also with an angled head, is more a sprinter than a marathoner, and that can be the perfect fit for some folks.
The main drawback of this battery pole saw is that you will need to buy the battery charger separately. Even so, the combination of the two purchases is still a good value price-wise.
The batteries are interchangeable with Greenworks chainsaws and other outdoor power equipment.
EGO and Greenworks are often compared to each other, so it's worth checking out the EGO MPS1001 pole saw as well, especially if you already have tools in that ecosystem.
Pros
Greater battery capacity
Inexpensive for the power level
For jobs up to 11 feet
Great for less intense jobs
Cons
Must buy battery charger separately
---
3. Worx WG309 8 Electric Pole Saw – Best Budget Corded Pole Saw
Reach: 10 feet
Power Source: Electric (8 amp corded)
Weight: 10 pounds
Another cost-effective option, this electric pole saw from Worx is a dual-use tool that can be used both as a pole saw and as a regular chainsaw for lower-height jobs.
It extends up to 10 feet in length and maintains a light, 10-pound weight to keep your arms from getting tired during extensive cutting.
At 8 amps, the motor is rated for mid-sized jobs. The blade head is auto-oiling and auto-tightening, keeping the chain at the right tension and lubrication for maximum efficiency.
Like any other electric tree trimmer, you're limited by the reach of the cord. But at a very reasonable price, this lightweight pole saw is built to last and will get you through medium-intensity jobs well.
WORX chainsaws are also a good budget option.
Pros
Cost-effective
Can be used as a pole saw or chainsaw
Extends up to 10 feet
Lightweight
Cons
Limited by the power cord
---
4. MAXTRA Gas Powered Pole Saw – Best Gas Pole Saw
Reach: 15 feet
Power Source: Gasoline (42.7cc 2-stroke engine)
Weight: 22 pounds
For heavier duty jobs, gas-powered pole saws are your ticket, and this one offers a height of up to 16 feet.
Beyond that, the blade head is adjustable, rotating from 90 to 180 degrees to make sure you can maintain a comfortable grip even during jobs that are hard to reach.
Although gas-powered pole saws will be heavier due to the added weight of the tank, this one comes with a storage bag as well as a carrying strap to give your arms a break between jobs.
What's more, the Maxtra is anti-vibration to keep the tension out of your joints while cutting thicker limbs.
This gas-powered pole saw is a good starting point for someone who knows they'll be doing more extensive jobs but may feel intimidated by this caliber of power tool.
Pros
For heavy-duty jobs
Adjustable head of up to 180 degrees
Anti-vibration
Starting guide and accessories included
Cons
Heavy and requires a carrying strap
---
5. DocaPole 6-24 Foot Pole Pruning Saw – Best Manual Pole Saw
Reach: 30 feet with extension
Power Source: Manual
Weight: 7.7 pounds
This manual pole saw's main selling point is its extremely long reach and 13" blade, which can cut up to an 8" limb with only some difficulty.
Like most other manual saws, it's not going to be the most powerful in the bunch.
However, if you have smaller, hard-to-reach jobs to do that don't require as much elbow grease, without a ladder, this saw will do just fine. As a matter of fact, of the manual pole saws, it's one of the more heavy-duty capable.
It extends with a reach up to 30 feet including the extension and can be customized to include accessories like dusters and squeegees for cleaning.
Cleaning the DocaPole manual pole saw is as simple as wiping it off before storage.
Pros
Longest reach of the items reviewed
13" saw blade
Doesn't require electricity or gas
Highly adjustable
Cons
Not powerful enough for heavy-duty use
---
6. BLACK+DECKER 20V Max Pole Saw
Reach: 14 feet
Power Source: Electric (20-volt lithium battery)
Weight: 11 pounds
This Black and Decker pole saw is another option to go for if you anticipate mainly doing light limb trimming around your yard.
From yet another highly trusted power tool brand, this saw is light, extendable with extra pieces up to 14 feet, and comes with a full package.
The 20-volt battery is mid-size, rated for lighter jobs, and claims to go for about one hundred cuts of 1.5-inch branches in each charge.
The available kit is highly customizable: it comes with the cordless pole saw and all the extension parts, battery, charger, and blade cover. The 8-inch cutting blade is rated for up to 6-inch branches, making this an excellent tool for high-powered and fast jobs.
And because of the prominence of the brand, replacement parts for Black and Decker are plentiful and very easy to find if needed, making this a great and reliable cordless saw.
Pros
Lightweight for everyday trimming
100 cuts on each charge
Customizable kit
Adaptable for up to 14 feet
Cons
Not as capable of cutting large tree limbs
---
7. Husqvarna Pole Saw – Best Premium Battery Pole Saw
Reach: 13 feet
Power Source: Electric (40-volt lithium battery)
Weight: 9 pounds
If you're looking for a lightweight but hard-working battery-powered pole saw to keep up with jobs where the height changes quickly, then the Husqvarna 115iPT4 is a great option.
At 9 pounds, it's lightweight and maneuvers easily, making this a great option to preserve your energy for long jobs. Along with its ergonomic design, and telescopic head, you'll stay comfortable longer.
This tool is also quiet and doesn't require petrol or a cord to give you hours of cutting power. The charger comes with it and doesn't need to be purchased separately adding value for money.
While it comes with a slightly higher price tag for a battery pole saw, the versatility, sturdiness, and long-life speak for themselves.
Husqvarna chainsaws are also obviously very good machines.
Pros
For lower-intensity jobs that may take all afternoon
Lightweight
One button start
Charger included
Cons
Not as useful for thicker limbs
---
Stihl Pole Saw Models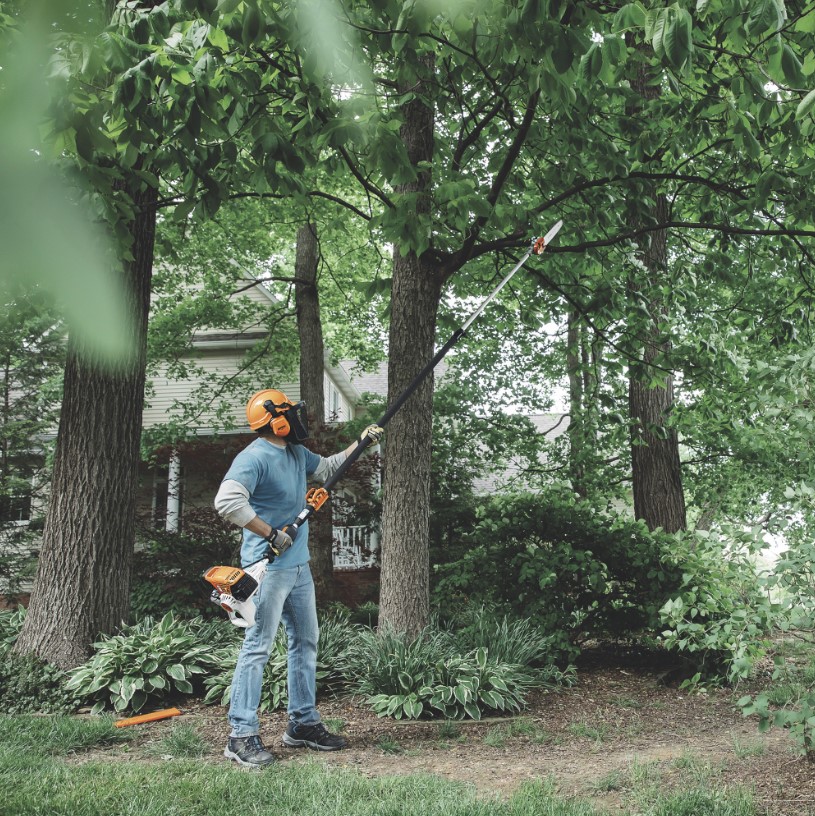 Stihl also has a range of both gas and battery-operated pole saws.
As you'd expect, these units cost a lot more than the entry-level models, but you do get a superior power tool.
The Stihl line includes:
HT131 – a 36.3 cc gas powered model with 14″ bar (telescoping)
HT105 – 31.4 cc gas powered pole saw with 10″ bar (telescoping)
HT56 – a 27.2 cc gas pole saw with 10″ bar
HTA123 – Stihl battery pole saw with 10″ bar
The first thing you'll notice about these pole saw specs is that the bar or blade is much longer than other pole saw brands.
Stihl pole saws are designed for tough work and can be used commercially, so they simply can do a lot more for longer.
Check out the prices on Northern Tool or over on Ace Hardware.
Manual Pole Saws Pros And Cons
While the three varieties of pole saw reviewed above can be great additions for tree-trimmed, ignoring manual pole saws would be an oversight.
A manual pole saw consists of a long pole handle, a blade or saw, and ropes to move the saw to cut the limb.
Pros
Lightweight
It doesn't require a power source
Can reach heights of up to 21 feet
Cheaper alternative
Cons
Requires more physical effort
Electric Pole Saw Pros And Cons
Each of the differently powered pole saws has unique pros and cons that you have to evaluate against your priorities.
How does a corded electric pole saw differ from a battery-powered pole saw?
Electric saws only work for those who have access to outdoor outlets. They're usually on the less expensive side, are light and easy to maneuver, and often have adjustable heads to compensate for the lack of mobility.
Battery-powered pole saws are usually more inexpensive but won't run as long or as hard. Depending on the battery voltage, you might get a couple of hours of mid-range work out of these machines.
The reliability, lower cost, and adaptability make battery pole saws the better subset to consider for mid-range intensity work.
Gas Pole Saw Pros And Cons
The gas pole saw can handle the larger and more difficult jobs.
Pros
Highest-powered option of the three
Can run longer and harder
It doesn't have any distance-range limitation
Cons
Choosing The Right Power
Both volts and amps are terms associated with electricity.
Amps are often related to corded power tools. The tool draws power from the outlet compared to a finite amount of charge available in a battery.
Batteries are usually labeled with volts, and most battery-powered saws are 20-40 volts.
Check the documentation with your battery to see how many watt-hours it has, which will give you an idea of how long it will last on a single charge. The larger the number, the bigger the "fuel tank" you have to work with.
Extendable Vs Fixed Length Pole
What's important to look for is the durability and hardiness of the tool and how it relates to your project.
Tools made of lower-quality materials may be less expensive upfront but can cost you in the long run, as you will need to replace them early.
Extendable or telescoping saws, like this new EGO pole saw, that come with multiple extension arms can sometimes fall in this category because the various pieces leave them vulnerable to flexing and bending.
Check pole saw reviews and see what customers are saying about the durability and quality of the tool since they've tested it. Choose a fixed pole when the job requires greater intensity for added durability.
Cutting Bar Length
For best results, choose a cutting bar length greater than the thickest branches you plan to cut.
Most pole saws have an average length of 9 inches, although they run in varying lengths between 6 and 12 inches.
The pole saws with longer bars/blades will usually get through things a bit quicker.
Pole Saw Weight
Generally, easier jobs require lighter pole saws.
Choose the lightest saw that will work for you.
Keep in mind:
Gas is often the heaviest option
Battery-powered is lighter than gas
Electric can be even lighter as it doesn't need fuel or a battery
Manual pole saws are the lightest
Weight isn't the most important factor when choosing a pole tree trimmer – the faster the cut, the quicker you can put it down again.
Manual saws are light, but you have to hold them for a lot longer.
Battery-operated pole saws are a nice medium for most people.
Safety Features
Regardless of whether you purchase a high-quality or less-expensive tool, you will need to put some upkeep and maintenance into your investment in order to extend its life and see it perform safely at its top potential.
Read all documentation with your pole saw, check guards for damage, and make sure power cords and batteries are free from fraying and corrosion.
Make sure to clean the blade after every use. Resins and sap from tree branches can harm the blade if left on for too long, compromising its integrity and leading to a decreased performance.
If the blade is auto-oiling or auto-tightening, check that all of these components are working correctly before storing it away after use.
Caring for your pole saw is important when it comes to keeping it safe for use.
Consider wearing a chainsaw helmet when pruning with these tools as well.
Best Pole Saws
Our overall pick is the DeWalt 20V MAX XR Pole Saw.
This battery tree trimmer is a great pick for its extended reach, durability, and strength.
The DEWALT pole saw has been tried and tested and found to be really good for your average homeowner – it goes the distance and performs well.
If you need a heavy-duty saw for some tough jobs the Maxtra Pole Saw is a gas-powered option that checks all the boxes when it comes to reach, power, and even comfort considerations.
However, if you're looking for a budget-friendly pick, then try out the Worx WG309.
Although it's an electric pole saw limited by cord reach, it's still versatile and adjustable and is a great value at the lowest-priced pole saw on the list.
Consider your unique needs and the kind of jobs you'll be doing before choosing a pole saw. We're confident there's a perfect fit on this list for everyone that will make their trimming jobs much easier and safer.
And if you were the type of person to get up into the trees, check out these climbing arborist chainsaws.