Greenworks vs EGO/EGO vs Greenworks: which is best?
Both brands sell a similar range of products, at least when it comes to outdoor and yard power tools and equipment. They both have battery-powered chainsaws, lawnmowers, hedge trimmers, leaf blowers, and so on.
Greenworks does have a few products that EGO does not make. This includes a dethatcher and battery-powered power washer, but for everything else, there is generally a like-for-like product.
We're not comparing specific products here (like the EGO mower vs Greenworks mower), but rather focusing on comparing the brands and their products on the whole.
EGO Vs Greenworks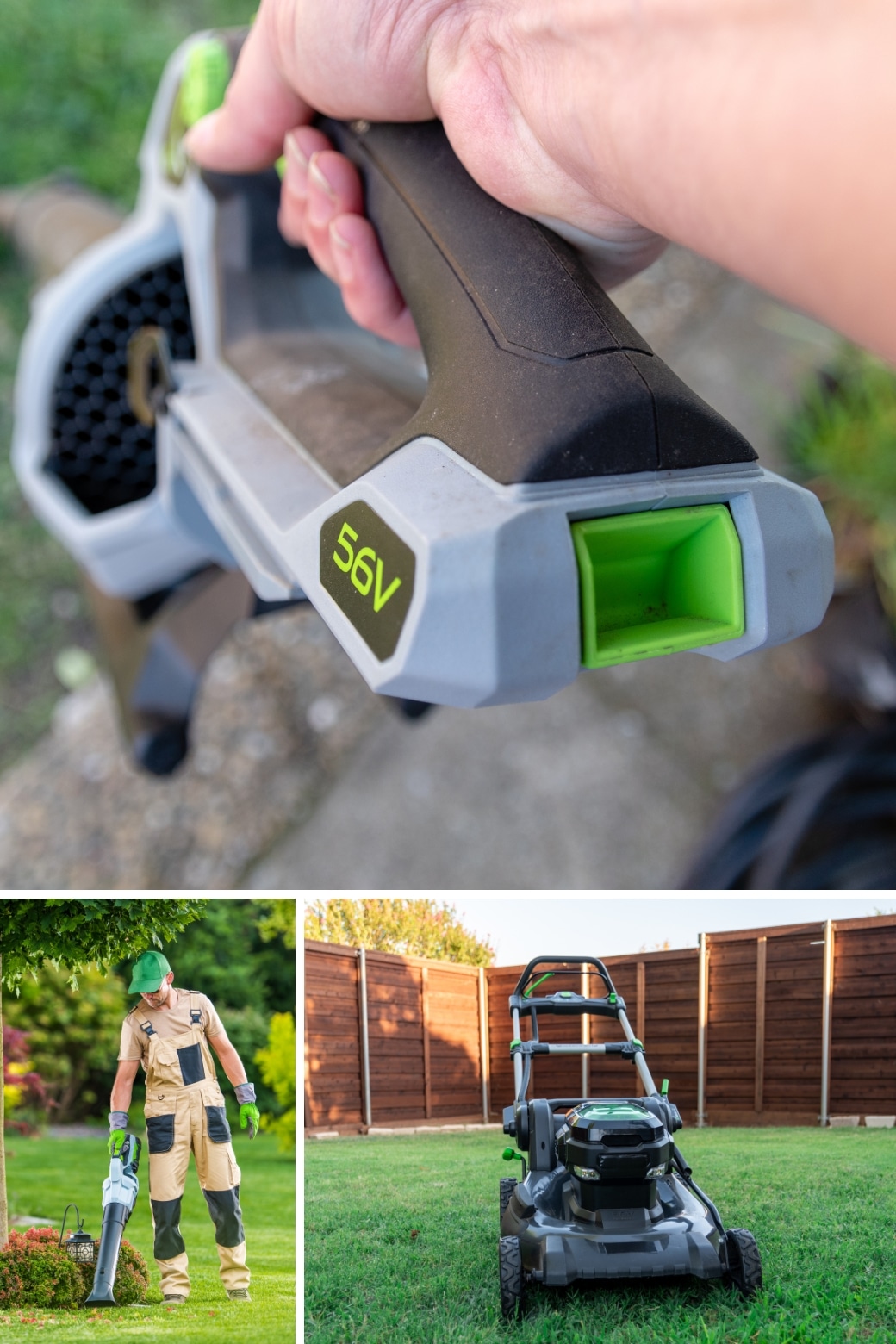 Overall, I prefer EGO over Greenworks, but there are many who think the opposite.
I think EGO tools are made better, look better, and perform better.
Here's a funny analogy from a dude called Kodi in the EGO FB group:
EGO is Whole Foods.

Greenworks is Kroger.

Ryobi is Walmart.
What do you think?
While EGO might be better overall, Greenworks is better in some instances and has a few things going for it.
Let's compare the batteries, the product performance, and their warranty/returns policies.
1. EGO Vs Greenworks Batteries
I like that any EGO battery can be used with any EGO tool.
This comment puts it nicely:
Ego has been very calculated in keeping their battery compatibility consistent across the board. They are selling an ecosystem more than the tools themselves.

Other companies [like Greenworks] are selling the tools themselves and have a range of battery voltage options that make it very confusing for the end user.

If you just consider Ego's battery technology nobody even comes close to competing.
Personally, I have a lot of different batteries in my garden sheds, garage, and workshop, and it is a nuisance to keep on top of them and their various different chargers.
I have one set for my DEWALT chainsaw and hedge trimmer, then I have more for each of my mini chainsaws, others for Stihl line trimmers, and so on.
It really is better to try and keep within a single line using a single voltage of batteries.
Greenworks has three different lines of batteries, 40 v, 60v, and 80v. The batteries are not interchangeable between tools.
Here's how one guy discovered this fact:
Guys I ended up having to buy Greenworks as I needed a cordless power washer.

Now I've been looking at their product line and notice they have 40v, 60v, and 80v product lines. The batteries and tools cannot interchange.

What is the point of this?
There is something of a "point" to it, but it's still annoying. The higher-volt batteries and products are the higher-end tools. The 40-volt series are the most basic and least powerful.
If you don't mind this about Greenworks battery tools, which many don't, then that's OK – but it's one of the reasons people choose an alternative brand.
Here are some other comments about the batteries users:
You'll get five times more cutting time with Ego than with Greenworks on one charge. You'll be happy!
Ego has a longer run time and faster charging.
I started with Greenworks – it's not a bad machine with decent run times and I have still the 40v twin blade.
Battery compatibility is the main draw for Ego. Beautiful-looking machines with interchangeable batteries.
Grant said:
I had bought a GreenWorks mower and promptly returned it. That's just my experience… it sucked.

Used 2 batteries and took 3 charges to cut the yard (extra charges meant an hour of waiting).

Not sure if I'd trust a snowblower, but that's me.
While Alan shared:
Ego is a joke.

1 year old battery that will only hold a charge for 10 minutes, called Ego 9 times today, during business hours, got transferred to an answering machine every time, no way to do a claim online… total BS and a waste of money…

Time to try Greenworks.
And on the flip side again, Jenn said:
Greenworks sucks. Returned it after first use.

Took hours to cut the yard because the battery died halfway and had to wait almost 2 hours for it to charge.

EGO does whole yard on 1 battery.
Make of those comments what you will!
2. Warranty And Returns
After reading A LOT of feedback from EGO and Greenworks users, Greenworks seems to be the best on this front.
I've learned that a lot of times it's not the product but the vendor that matters. Because of WHERE Greenworks products are sold, it's often easier to make a return or get help if there's a fault.
Costco, which sells Greenworks, but not EGO, has an excellent return policy, for example. It's arguably easier to get support and service from Costco over other retailers like Ace Hardware or Lowes.
Here's an example of someone struggling to find support with EGO:
I'm having second thoughts about investing in the EGO platform.

I bought the mower/7.5 Ahr battery/rapid charger combo about 14 months ago. It is registered and I have the original sales receipt.

The mower has been fine until recently when I started having the "red ring" failure.

Since it is still under warranty, I tried to call EGO support. (I can't open a case online apparently.)

I've tried to call twice now. I've waited on hold for an hour the first time and 45 minutes the second. I've left my phone number and a message to be called back. I've heard nothing.

I had been thinking about buying a second battery to have as a backup, but with the current costs, it's hard to justify further investment in a platform where basic support seems to be a challenge.

What's the trick to talk to a carbon-based lifeform in support? Do I have to just stay on the phone for infinity hours and hope someone eventually picks up?
If you're asking which is best, Greenworks or EGO, the answer might be "Get whichever one you can return if needed."
Someone else shared:
Ego may have a well-written warranty but if they do not back it or implement it then it's of little worth.

Ace Hardware has no service on faulty equipment and if you look at complaints at BBB, you will see multiple customers whose cases have not been resolved.
The advantage of Costco is that you can return anything years later, no questions asked.
Even if you don't like a product, it's usually not a problem (but talk to your Costco dealer and find out their policies before purchase).
Greenworks is usually the cheaper product, but if you get a deal during a good EGO sale, the price can be comparable.
3. Product Quality And Performance
I haven't used EGO or Greenworks products extensively, I've only tried and tested a few pieces for short durations.
Therefore, I want to share as many enlightening comments as I can from real users, rather than just speculating.
On EGO, Sal shared:
What better than a recommendation from a current EGO user?

I love my EGO equipment and have been using it for 3 years now. Currently own a mower, blower, and blower attachments for cleaning gutters and trimmer w auto feed.

I like that there are new products and product upgrades always in the works. Good products and excellent service advisors. EGO with a winner.
And Rodney said:
I went with Ego just because they have been around a long time and have a solid track record. I have used other battery products in the past and found they did not even come close to my EGO products.

Yes, the price is higher, but I feel the product is also higher quality. I now have 2 stage snow blower, lawn mower, weedeater, chainsaw, 2 leaf blowers, and a hedge trimmer. I love them.

I have three 7.5 batteries and two 5.0. For what I do I could get by with my two 7.5 batteries for everything. My neighbor went with another battery-powered brand and he was back to using gas by the end of summer.
In favor of EGO, another gentleman shared:
Ego may not have the best mower, best snowblower, or best chainsaw. However, if not the best they're close to the best and I'd argue the best as a platform.

With so many high-performing tools and only one battery (not like Ryobi and Greenworks with their different voltage platforms). So batteries and completely interchangeable with all of their tools. Drink the cool aid, you won't be disappointed.
And lastly, a man using his tool commercially stated:
I have almost every EGO tool and use them for my commercial mowing business. Never a failure. I still daily use a carbon shaft trimmer I bought in 2018. It's trimmed over 4,000 yards so far and still running strong!
It's more difficult to find glowing reports about Greenworks products.
Is Ego Better Than Greenworks?
For the most part, EGO tools are probably better than Greenworks, but not always.
EGO is better for ease of use (because of the battery system) and the tools are arguably better. However, Greenworks usually has the better customer service, and it's easier to find help when/if there are problems.
Here are a few good summary statement on Greenworks vs EGO:
They are all good. Just get the best deal. I have an Ego, but I am okay with other brands.
I love my Ego equipment just not their customer support. Lack of care for their dealers or customers.
I'm retired and have owned my "no hassle" EGO for over 5 years… No regrets.
What has your experience been with these yard equipment brands?
Let me know in the comment section below!
Next up, check out the range of Greenworks Chainsaws or the selection of EGO chainsaws.
Or, find out the answer to 'Who owns EGO Power Tools?'