I used the Stanley Fatmax Cordless Reciprocating Saw to break up an old ram for dog meat.
A local ram had become dangerous in his older years. Whenever anyone went into the paddock he would seek to attack them. Therefore, he was put down and we used the meat for the dogs.
The reciprocating saw was the best thing on hand to process the beast, and it did end up being very effective.
There will be a couple of pictures of raw meat in this post so please go back if you don't want to see that!
*Stanley is owned by Black + Decker. This Black +Decker Reciprocating Saw on Amazon is basically the same as the model pictured here.
Stanley Fatmax Reciprocating Saw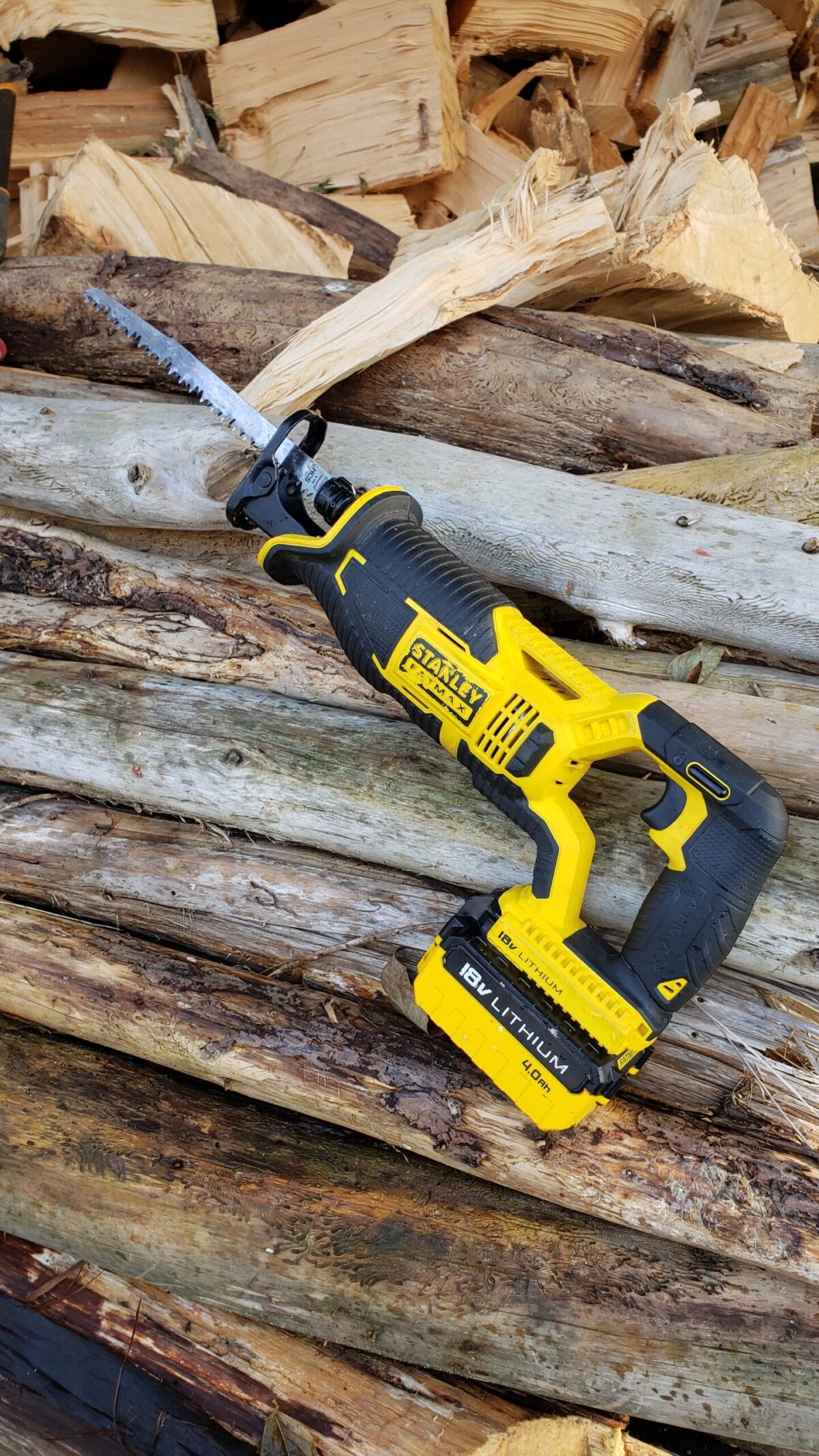 The ram was skinned and hung, and then it was time to butcher it.
If we were going to be using the meat for human consumption we would not have used a reciprocating saw as a butchering tool, but because it was for the dogs, it was the easiest way to go.
It was my first time using one of these saws for this type of job, and I was surprised by how well it performed.
The saw was able to quickly and easily cut through the thickest, hardest bones without any resistance.
It's a battery-powered device (20v US, 18v rest of the world – it's the same thing) that packs a whole lot of punch.
You can see the clean cuts through this meat and bone – it was a very efficient way to butcher a ram.
I was using the saw for about almost an hour on the same battery and it still had a bit of power left once I was finished.
Overall, I think this Black + Decker/Stanley Fatmax reciprocating saw is really good.
Besides being used for old rams, uses include:
Construction
Cutting lumber
Pruning trees and shrubs
Cutting fence posts
Other farm and ranch tasks
My neighbor uses this saw a lot for cutting the tops of fence posts off when needed and has found it great for this reasonably heavy-duty task.
When it comes to pruning trees and shrubs I'd personally rather use a small chainsaw (and I do – see here, here, and here) as they're more suited for it.
But when it comes to cutting up meat, give me this reciprocating saw any day!
Black + Decker Reciprocating Saw Specs
The Stanley Fatmax series is sold in South Africa, New Zealand, Australia, the UK (here on Amazon UK), and other parts of the world.
The Black + Decker 20V MAX* Cordless Reciprocating Saw is sold in the North American markets (such as here on Amazon CA).
The batteries are interchangeable, as the 18 volt and 20 volt systems are the same. The chargers on the other hand will be suitable for the country you purchase the product in.
Otherwise, they're just the same.
They are part of the 18V or 20V Stanley Black + Decker series and can be used with other tools in the range (like their battery-powered chainsaw).
Other specs:
4.5 Pounds
18/20 v
Lithium-ion batteries
3000 SPM motor
Variable speed trigger
Electric brake
I found that the blades stay sharp for a long time and are easy to change without the need for any tools.
The tool handles well, sitting comfortably in the hands and being easy to manoeuver.
It's also really light and I found it easy to use for extended periods of time without getting tired.
As far as reciprocating saws go, this one is cheap, but it performs very well.
Stanley Reciprocating Saw Review
It's a bit gruesome to see the saw covered in meat, but if anyone's looking for the best saw for cutting up meat for dogs, this should be in the running.
I was pleasantly surprised by the strength and power of this little saw to chew through bone – it was like a knife through butter.
The battery run time was excellent, its ability was very good, and ease of use was great.
All-in-all, I'd be happy to recommend this reciprocating saw to anyone who's considering it.
Pros:
Does the job it says it will do
Good battery time
Great cutting
New blades easy to find
Affordable
Cons:
Additional batteries are a bit pricy
You can buy the Black and Decker or Stanley Fatmax reciprocating saw as part of a kit with a charger and battery or on its own as a bare tool.
Black And Decker Reciprocating Saw
A reciprocating saw is good to have on hand because a good chainsaw isn't suitable for all tasks.
The Stanley Fatmax or Black and Decker Reciprocating Saw is a good tool, in my opinion, and I enjoy using it. It gets the job done quickly and easily, and it's pretty cheap to buy (even if you need the batteries).
Let me know if you have any questions in the comment section below. Thanks!