There's a new EGO Pole Saw coming out in 2023.
It's model number PS1001, and it's going to be an improvement on the previous EGO MPS1001 Pole Saw.
Let's take a look at the differences between the 2 models.
EGO PS1001 Telescopic Pole Saw
This video from Machinery Nation shares all of the new equipment being released by EGO in 2023.
The new pole saw is shown and demonstrated at the 8:04 mark.
Differences with the new saw include:
It's lighter
Has a telescopic pole feature
Has a carbon fiber shaft
Faster 24 m/s chain speed
Toolless chain tensioning
Green LED light
A smaller, sleeker design
Smaller chain oil reservoir
To sum it up, the new version does appear to be a lot better.
When you compare it while it's in use, the new saw is noticeably faster, smoother, and more professional.
Some of the new features will really make a big difference.
The carbon fiber shaft, for example, makes the tool stronger and lighter – making it easier to maneuver and use. One of the biggest complaints with the old saw was that it is heavy, so this helps to solve that issue.
Also, the telescopic pole is really cool. It's much easier to use this than to break the pole saw apart in order to insert the attachment pole.
The toolless chain tensioning system is also a nice improvement and was already a feature of the EGO chainsaws. The old system wasn't so bad because the scrench tool was easily attached to the pole shaft, so this is more of a neutral improvement.
The LED light is a bit gimmicky, in my opinion. How often are you going to be outdoors in the fading light or dark where this is going to make a difference?
The more compact design of the saw end is great. I think this will deal with some of the poor performance problems of the MPS1001.
EGO MPS1001 Vs PS1001 Pole Saw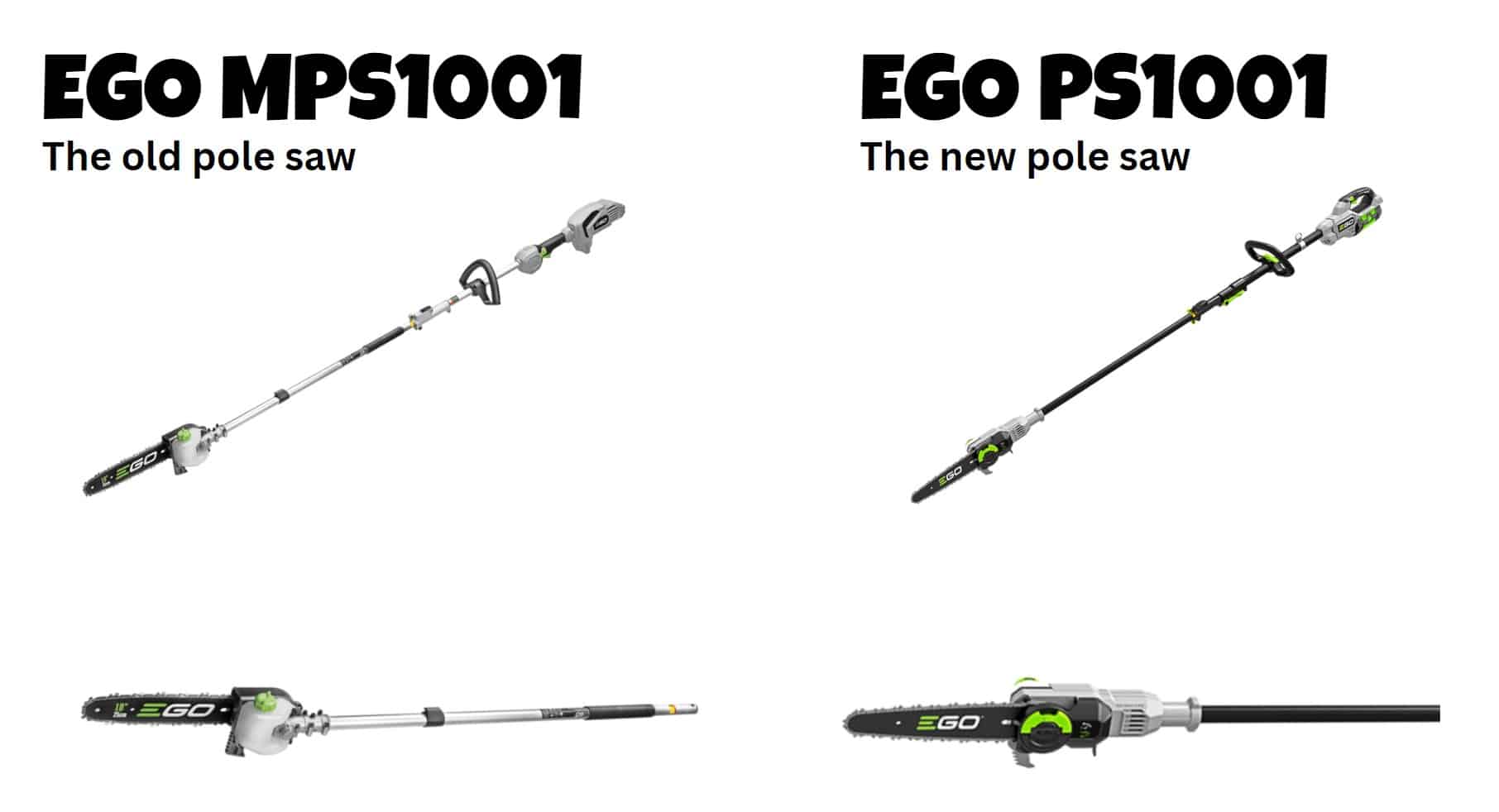 | | | |
| --- | --- | --- |
| | Old MPS1001 | New PS1001 |
| Weight | 14 lbs | "Lighter" |
| Reach | 7 – 8 ft | 16 ft |
| Chain Speed | 15 m/s | 24 m/s |
| Material | Plastic | Carbon fiber |
| Cuts w/ 2.5 Ah | Up to 70 | Up to 100 |
That's a comparison of some of the pole saw specs.
The chain speed difference and max number of cuts is also noticeable improvement. This is possibly achieved through the new lighter weight and sleeker design.
Not a whole lot is known about the new EGO pole saw, as even the listing on their site doesn't give much away.
The EGO POWER+ 10" Pole Saw introduces an industry-first LED Cut Line Indicator for more accurate cuts when working under dark, shaded canopies and low light conditions.

Its telescopic carbon fiber shaft extends for a total reach up to 16 feet while maintaining best-in-class weight up to 30 percent lighter than other pole saws.

Tool-free tensioning provides fast, precise chain tensioning so you can get back to work faster.
Another big difference is that the telescopic carbon fiber shaft comes with a lifetime warranty, over the previous model's 5-year warranty.
As we shared in our post about where EGO products are made, EGO are committed to developing new and improved tools, and I think they've achieved that here.
New EGO Pole Saw
It's safe to say that this new pole saw has significant improvement over the old version.
We're looking forward to learning more about it and hopefully getting the chance to use it in the future.
When do the new EGO power tools released?
I'm beginning to see posts like these on social media:
Trying to hold out for the new pole saw with carbon fiber shaft coming for 2023. Anyone know when the new tools actually hit the store shelves? Thanks!
And the answer seems to be "by March."
I don't expect to see them in the EGO sales anytime toon, but I'm sure it'll be worth the cost.
Let us know your thoughts about the new EGO power tools being released in the comments below!