Ego has two pole saws for sale – one designed for home use (the MPS1001) and one for commercial use (the PPSX2504). The EGO home-use pole saw is by far the better-selling version so we'll focus on that model in this review.
The MPS1001 is part of the EGO Multi-Head System which allows you to swap in and out different tool heads. Attachments include the pole saw, string trimmer, edger, hedge trimmer, and another 5 or so attachments.
While the majority of users love this EGO Pole Saw, let's find out what buyers hate about the EGO Pole Saw.
*There will be a NEW and improved EGO pole saw coming out in 2023 – the PS1001.
Ego Power+ Pole Saw
VIEW ON AMAZON →
Specs:
10″ bar and chain
Bar oil chamber with auto oiler
Water-resistant
Compatible with any EGO battery
Can be used with 31″ pole extension
The Ego MPS1001 Pole Saw is a great tool for pruning tree branches around the home. It's an interesting and unique outdoor tool because it has a multi-head system that can transform it into one of 8 different tools.
With the Ego PH1400 Powerhead System, you can use it as a:
Pole saw
Hedge trimmer
String trimmer
Edge trimmer
Bristle brush
Cultivator
Rubber broom
Extension attachment
When purchasing it you can decide which attachments you want, as not everyone will want all of them. However, it can be worthwhile picking out your most needed 2 or 3 attachments to get the most use out of the powerhead.
This system is intended for homeowner use, not commercial. Check out the commercial pole saw kit if you need something more powerful.
EGO Pole Saw Cons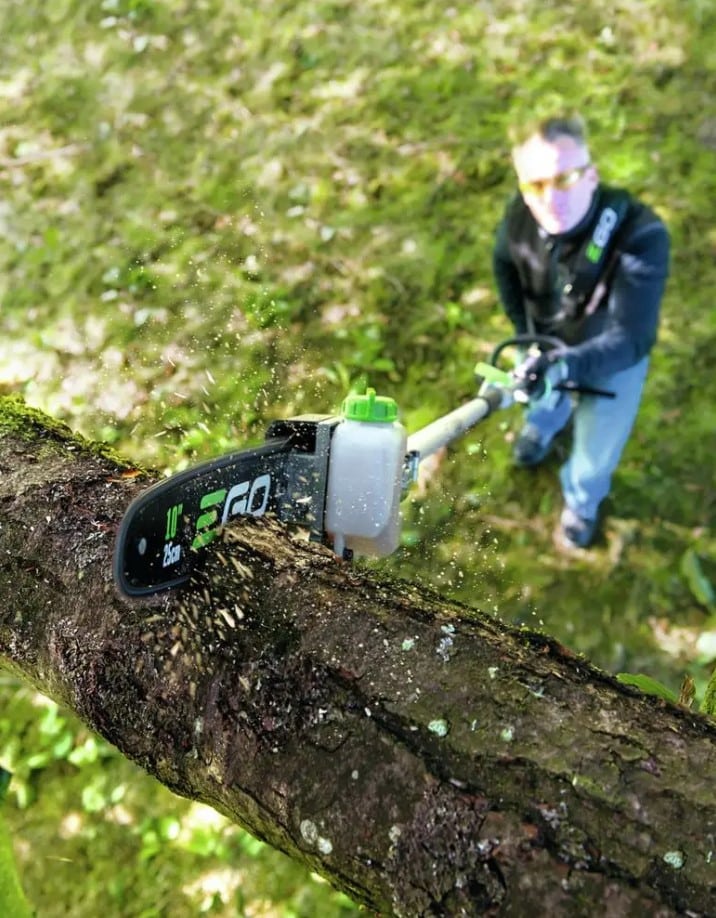 After reading hundreds of EGO Pole Saw reviews, there are a few issues that come up again and again.
1. Faulty product
The biggest reason for a 1-star review is due to receiving a faulty product. For whatever reason, the tool will make a few small cuts and then no longer work.
For example, in the Walmart reviews, Eric said:
Not worth it

Chain broke after only minutes of use on a small twig. Seems like a waste of money for this ego tool. Have a blower and weed trimmer that work great but too many moving parts to make this thing reliable.
And in an Ace Hardware review, Mooregrouse said:
Power head

Unfortunately the pole saw with power head stopped working after about 25 minutes of use.

I tried different batteries and tried the hedge trimmer attachment to see if it was the pole saw that was not working or the power head but it would seem that it's the power head.

Now to try to get it repaired under warranty.
These kinds of problems can be expected when a brand is selling so many units. Perhaps it is one in a 1000 or one in 500 that is faulty, but it will happen. It does seem that people are able to easily get replacements or refunds when this happens.
2. Battery Life
Not everyone is happy with how long the battery lasts when using the pole saw.
Again, in the Walmart reviews, Husky said:
Battery life is unacceptable

The 2.5Ah battery does not last more than 15 minutes of use.

The tool works well, but a 45 minute job takes an additional hour and a half due to multiple 30 minute recharges, IF you have the rapid recharger.
Terry shared:
Replaces gas, but breaks down

Main battery died after less than a year of use. Easily warranty replacement, but still shouldn't occur.

Also, the Motorhead has developed a very bad vibration, likely a bad bearing or worn bushing. Shouldn't be that way after such a short residential use.
If you need the pole saw for extensive use, upgrading to a 5 or 7.5 Ah battery would be the way to go. The 2.5 Ah battery isn't going to last long, especially if the work is demanding.
When using battery power yard equipment it's always best to have at least two batteries to avoid downtime. There are also some potential ways to revive a dead EGO battery.
3. Oil Leaks
A third issue with the EGO pole saw is that it tends to leak bar and chain oil.
In an Acme Tools review, Grays shared:
Pole Saw and Power Head.

Oil leaks all over the place, very disappointed and I purchased the exact oil that they recommend
And in an EGO FB group post, Jerry asked:
What am I doing wrong?

After using the pole saw for the 1st time, I mounted it vertically on the wall. A few days later I discovered the Ego battery under the saw covered with oil. I attached a cup under the saw to catch the bar chain oil. The cap on the oil tank is tight.

Is this normal, or am I doing something wrong?
Russel responded, "Mount it horizontally and position the reservoir down. That solved the problem for me."
However, leaking bar oil is a common problem with both chainsaws and pole saws. My Stihl 011 chainsaw is terrible for it. And for that matter, so is my DEWALT 20v MAX XR Chainsaw. If you put the tool in a certain position this will often remedy the issue, but I just try to put them away without any oil.
4. Poor Performance
Another common complaint is that it doesn't perform as well as expected. We all know how that feels, right?
We buy a product with high hopes of it being the perfect solution to our needs, and it just doesn't quite live up to the hype.
In the Walmart reviews, one customer shared:
Not quite ready to replace gas-powered tools

I bought this along with the 31-inch extension to elevate and prune some trees around the yard that hadn't been pruned or elevated for many years. I used it for many hours last weekend, and overall it performed well, when it worked.

I LOVE that it's cordless, since I didn't want yet another engine to maintain. It cut quickly through everything I needed to trim.

The downsides: the head doesn't rotate, and it would often turn off and not restart without removing and reinserting the battery. When this happened, the battery indicator was blinking red. I'm not sure if I had overheated the battery or the motor, or if something else happened.

The battery was NOT dead, as it would happen even with a fully-charged battery. We also own an Ego handheld blower, which we love and use often, and it works flawlessly.

I bought this powerhead and pole saw because my old (gas-powered) Echo string trimmer is 11 years old, and becoming difficult to start. It may be at the end of its life, and I thought that I might replace it eventually by buying the Ego string trimmer attachment to go with the Ego powerhead.

After my experience with the pole saw stopping several times, I'm not so sure. I can tolerate the poor performance of a tool that I use only occasionally, but a string trimmer is something I use at least weekly during the warmer months.

Overall, I wouldn't hesitate to buy Ego products that I know I would only use occasionally. The pole saw works very well, when it works. However, for items that I use frequently such as a string trimmer, I think I'm going to stick with gas-powered products for now.
And Wisconsin Farmer said:
Not up to EGO standards

Weight is good, but not durable. Chain comes off so often it is better to do sawing by hand.

Compared to the chainsaw's easy use it is a disappointment.
The chain coming off does come up a few times in different reviews. Someone also posted in the FB group recently, "Anyone had troubles with the pole saw attachments throwing chains repeatedly?"
Responses included:
Yes, the pole saw tension system is complete garbage.
It's probably a dud bent bar take it back.
Have you checked the chain tension? Chains are usually thrown when they're loose, and they loosen over time with use and when they get hot.
The chain needs sharpening with a file every time you use it. If it's dull it will throw the chain.
It's possible for the chain to stretch and need to be re-tensioned. That could be the cause. I've used mine pretty heavily and haven't had a chain drop yet.
It's possible that the chain needs to be tightened and that this is a result of user error. However, as a frequent user of mini chainsaws, these types of tools do drop the chain more regularly than a regular chainsaw.
5. Design Problems
Lastly, some think the tool needs a few design kinks worked out.
DMJR said:
Good saw with some issues

This is a great pole Saw has plenty of power I was able to cut down two small trees with split trunks that I couldn't reach with a regular chainsaw made the job much easier.

What I don't like about it is the safety button location on the side of the handle under your right thumb. The location makes it difficult to engage when you have to tip the saw so the button faces the ground I think this something that needs to be addressed in the future.

The saw also leakes bar and chain oil even while not in use just sitting which means it needs to be emptied after every use so it doesn't make a mess I haven't contacted customer service yet about this issue.
And Canofstew shared:
Heavy tool, great power

Tool works great!!!

It's got plenty of power to get through just about anything you'd ask of it.

The Down Side… it's unbalanced and quite heavy
The new Ego pole saw attachment and powerhead have quite a few improvements. I believe some of the design and performance problems listed here have been addressed in the new version.
EGO Pole Saw Review
While we've focused on all the negatives here, it's important to know that most reviewers love this pole saw. It has a very good overall star rating online and the overwhelming majority of the comments are positive.
At the end of the day, it's a homeowner-level pole saw, so it's not made for excessive or highly demanding use. If it's kept for light use there shouldn't be any problems. It's not the kind of tool for sectioning up branches – use your EGO chainsaw for that – the pole saw brings the branch down.