Whether you're interested in throwing axes just for fun or competitively, there's a range of products out there that can help you become a total pro.
Throwing axes like the WATL Premium Competition Thrower are great for beginners. For us, that one takes the prize for the best throwing axe. However, we'll lay out all of our favorites so you can pick the model that's best for you.
We'll cover the best throwing axes for sale, as well as some common questions you might be wondering to ensure that you're prepared to throw your first axe!
Best Throwing Axes
Smith And Wesson Throwing Products

Throwing axes, cleavers, knives, and combos
10" competition stainless steel thowings axes
Large 20" stainless throwing axe

View On AmazonView On Home Depot

WATL Competition Throwing Axe

Specially designed for throwing
16" wooden hickory handle
Total weight 2.22 lbs

View On AmazonView On EBAY

Personalized Throwing Axes

Choose text to be engraved on handle
Laser engraving on 9" wood handle
Stainless steel axe head

View On EtsyView Entire Range

SOG Throwing Hawks

3 pack of steel throwing axes
10.75" steel handles
Total weight 1.8 lbs

View On AmazonView On Home Depot

Blacksmith Made Tomahawk

Quality handmade viking style axe for throwing
19" hickory handle, 4" blade
Total weight 1.8 lbs

View On AmazonView On Lehman's

Sahara Sailor Throwing Axes

3 pack set of throwing axes
10" handle, 5" blade
Only weighs .58 ounces each

View On AmazonView On EBAY

Viking Throwing Hatchet

Stunning handmade axe w/ leather sheath
19.5" ash wood handle, 6" carbon steel blade
Options to customize order

View On EtsyView Entire Range
If you search 'throwing axes' on the internet, you'll no doubt get thousands of hits.
There are also plenty of buying options for the best axe throwing targets.
It can all be a little overwhelming when you're just starting out and finding your footing, so we've gathered seven of the best throwing axes and throwing hatchets on Amazon into a convenient list.
Whether you're just starting out or thinking of getting into axe-throwing competitions, many of these axes will be perfect!
1. Smith & Wesson Throwing Axes And Hatchets
The Smith & Wesson Bullseye ax-throwing kit is a great budget option to start with when you're just trying out the sport and don't want to spend too much money.
This kit includes three axes and a convenient nylon sheath that fits all three to make sure that they're kept safe.
The axes in this set are made of beautiful steel, and are monolithic, meaning the entire axe is made from one solid, flat piece of steel. These axes measure ten inches long and weigh about half a pound each.
The Smith & Wesson Bullseye throwing axes are sharpened on three sides—the front of the axe, the top, and the back spike—and are properly balanced to ensure a smooth throw.
As a great extra feature, there's even a little notch in the base of the handle that serves as a bottle opener!
Pros:
Lightweight
Durable
Great for beginners
Integrated bottle opener
Cons:
Not very sharp out of the box
---
2. World Axe Throwing League Premium Competition Thrower
The WATL Premium Competition Thrower throwing axe is made by the Word Axe Throwing League itself and is really the best overall option on this list.
The head of this throwing axe is very slim and sharp to make sure that it will not only sail beautifully through the air but find purchase on its target instead of bouncing off as some lower-quality models might.
The Premium Competition Thrower axe stands out as being perfect for beginners because of its handle. WATL specifically designed this axe to be longer than usual so that you can adjust it to your preferred length.
Out of the box, this axe measures 16 inches long and can be cut down to accommodate your personal measurements.
The head of this throwing axe weighs 1.65 lbs and weighs 2.22 lbs overall.
Check out these other top WATL brand throwing axes for other great options.
Pros:
Great for beginners
Adjustable handle
Durable
Cons:
Slippery handle
A little heavier, requiring a stance adjustment
Hard to find a sheath that fits this axe
---
3. SOG Axe Throwing Equipment
The SOG Throwing Hawks is another set of three throwing axes, but they're very different from the Smith & Wesson set we covered earlier.
The SOG Throwing Hawks, as the name suggests, are more along the lines of a set of throwing tomahawks. These three axes are made of stainless steel and painted a stylish black with a woven paracord grip.
These axes are also monolithic, with a 10.75-inch straight handle and a very narrow head with a long spike on the back. Each axe weighs 8.4 ounces, and if you prefer a different grip type, you can remove the paracord.
A great perk of this set is that it comes with a ballistic nylon sheath, with a separate slot for each axe to ensure that they are safely and securely stored away when not in use.
This sheath makes them the easiest to carry out of all the axes on this list.
Pros:
Lightweight
Sheath included
Made of monolithic steel
Cons:
Easy to misplace due to the black paint
Paracord sometimes unravels
---
4. Sahara Sailor Lightweight Throwing Axes
The Sahara Sailor throwing axes have the best extra features of all the axes on this list.
The Sahara Sailor throwing axes closely resemble the Smith & Wesson in that they are made from a single piece of flat steel, they possess three sharpened faces and come in a set of three with a nylon sheath.
These axes weigh only 265 grams apiece and measure 10 inches long.
In addition to being well-balanced axes for beginners, they also have a bottle opener integrated into the handle, as well as five different hex-nut wrench holes along with the handle, just in case you might need to tighten something up on the fly.
The nylon sheath included in this set comfortably holds all three axes for safekeeping.
Pros:
Sturdy
Lightweight
Great budget option
Sheath included
Cons:
Edges of the handle are rough
The bottle opener is set low on the handle and might scratch your fingers
---
5. JXE JXO Bulk Throwing Axe Set
Like a few other throwing axes on this list, the JXE JXO throwing axes come in a set of three.
These axes have an attractive curved build that mirrors a traditional hatchet with a modern twist. They are made from a monolithic piece of metal and are painted a rugged black.
The grip is made with a durable paracord that is wound around the metal to ensure that you'll keep a nice handle on your axe up until the moment you throw it.
These axes measure 9.8 inches long and weigh .63 lbs. This set also comes with a nylon sheath to keep your axes safe.
Like a few other options, these axes come with a bottle opener, which is located at the top of the axe head rather than on the handle. These axes can be used for many things besides throwing, making them the most versatile on this list.
Pros:
Limited lifetime warranty
Nylon Sheath included
Lightweight
Cons:
Possibly brittle
Paracord wrapping might come loose
---
6. Thrower Supply Store Throwing Tomahawk
Those who like a more traditional look will love the Thrower Supply Store throwing axe.
This axe is simple yet beautiful with a straight handle and a slim tomahawk-like head with a hand-forged finish. If you're looking for a different finish, they have four different options at slightly different price points.
This axe is 19 inches long, giving you plenty of room to adjust to your preferred length, and weighs 1.6 lbs overall. This axe is unique in that it is a friction fit where the handle and the head meet, just like how tomahawks were made in days past.
That being said, a friction fit means that the head can come loose and fall off, but it's completely normal and easily fixed. The manufacturer includes instructions on how to reattach the handle.
This axe is the most resistant on this list to damage, as it can be easily fixed on the fly.
Pros:
Handmade
Friction fit is easily fixable
The long handle is great for adjusting
Cons:
---
7. WATL The Corporal Competition Throwing Axe
The WATL Corporal 2nd Gen, while a little pricey, is the best-valued axe on this list. Made by the experts themselves, you're sure to have a great time with this axe.
The WATL Corporal 2nd Gen is beefier than the other WATL axe we covered earlier, measuring 17 inches long and weighing in at 2.4 lbs. The handle is straight and able to be cut down, and the head of the axe is hefty, expertly ground, balanced, and sharpened.
This axe is also complete with the WATL logo embossed on the side of the axe head.
A sturdy nylon sheath is also included.
If you've been around the axe throwing block a few times and are looking for something a little more challenging and better suited for an advanced thrower, this is your axe.
Pros:
Sheath included
Made by the experts
Durable
Cons:
Occasional manufacturing errors
---
Throwing Axes Vs Tomahawks Vs Hatchets
While they may look pretty similar, there are some key differences between a throwing axe, a throwing hatchet, and a throwing tomahawk.
Throwing hatchets are smaller than the everyday hatchet that you would use in the woods and are generally easy to throw. Because of their handleability, throwing hatchets are great for beginners.
Hatchets must have a handle made of wood that measures between 13 and 17 inches long, a single bit blade, and it must not weigh more than 1.75 lbs.
Throwing tomahawks come from the tomahawks that have been carried by indigenous peoples for thousands of years.
Tomahawks are lighter and slimmer than hatchets and make for an interesting addition to axe-throwing competitions.
Throwing axes are, of course, the name of the game in this sport.
The terms axe and hatchet are often used somewhat interchangeably in this sport. Ironically, hatchets are technically the most popular type of axe used for axe throwing.
What To Look For In An Axe For Throwing
As with all sports, you're going to want the best equipment you can get your hands on.
Whether you're looking to get axes for throwing as a hobby or for professional competitions, it's important to take a few factors into account when looking for your perfect set.
The best features you'll want to look for in a throwing axe are:
Good balance
Sharp edge
Strong handle
Any one of these features being off or of poor quality can affect your throw, and could potentially pose a safety hazard.
Competition Throwing Axe
Competition throwing axes are perfectly balanced and made at the highest quality to ensure accuracy, safety, and the best throw possible.
Some competitions have particular regulations set by WATL or NATF (the National Axe Throwing League) that you must adhere to, so always check to make sure your axe meets these regulations before entering a competition.
Ideal Weight
The ideal weight of your throwing axe will vary depending on your preferences, but generally speaking, the ideal throwing axe weight for beginners would be 1.25 to 2.25 lbs.
You wouldn't want to be using a tree chopping felling axe for throwing, as these tend to weigh around 5 lbs.
Ideal Length
Just like with weight, the ideal handle length of your throwing axe really comes down to your preferences. Some experts suggest starting with a 17-inch handle and adjusting from there.
For throwing hatchets, a 7-10 inch handle is standard.
Best Handles
Throwing hatchets and axes generally come with either metal or wooden handles, and whichever one is best for you really comes down to what feels best to you when you throw.
Wood
Wood handles have the advantage of being adjustable seeing as you can cut them down to your preferred length.
On the other hand, a separate handle means that if you opt for cheap throwing axes, you run the risk of the handle detaching from the head.
Steel
Steel handles are great because this usually means that the entire axe, including the handle, is one piece of steel.
That being said, if you buy a throwing axe with a metal handle, you're stuck with that handle length. Steel handles are probably best for those who have been throwing for a while and have a handle on their preferred measurements.
WATL Throwing Axes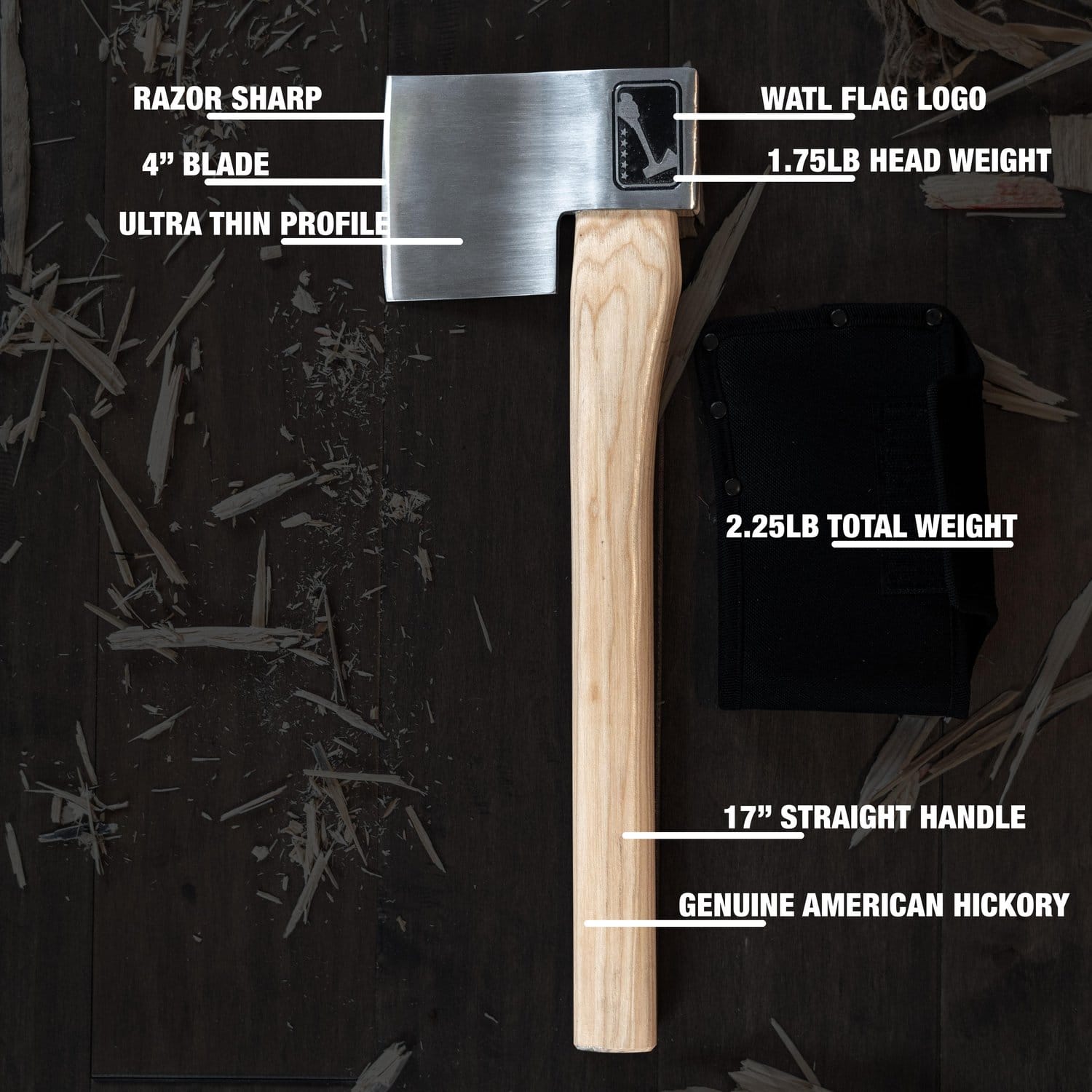 The World Axe Throwing League has a wide range of throwing axes, supplies, and throwing hatchets for sale to get you started in the world of axe throwing.
They supply big axes, hatchets, metal-handled axes as well as axes with wooden handles, and even target markers and fun apparel.
Their axes are made by hand and are specifically designed to give you the best axe throwing experience. WATL is a great place to find a beautiful, quality professional throwing axe that meets all the specs for competition.
Etsy Throwing Axes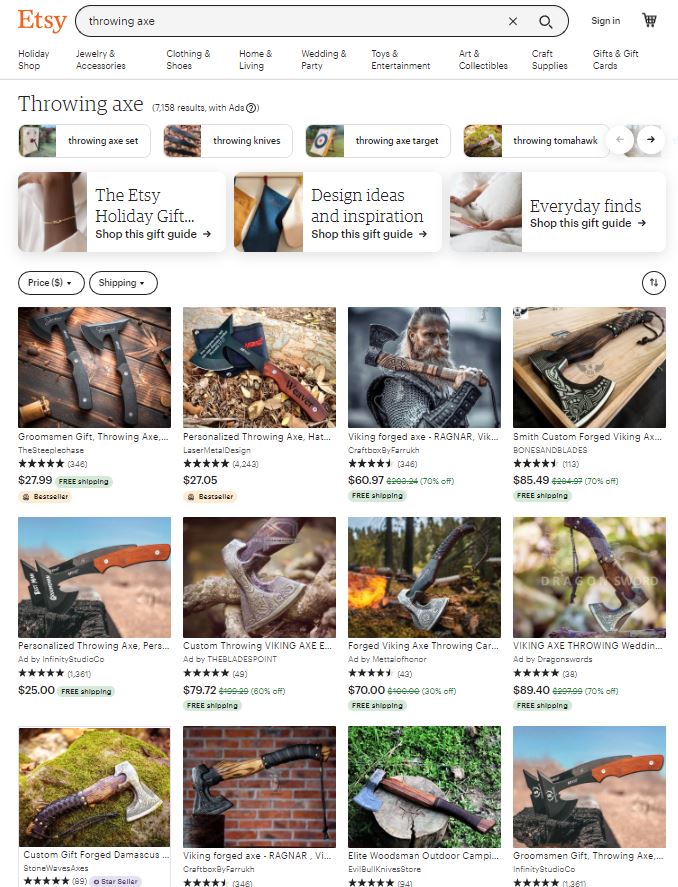 VIEW ON ETSY →
If you're looking for something a little more special or even a custom piece, head on over to Etsy.
The Etsy marketplace offers a wide array of:
Throwing axes
Throwing hatchets and tomahawks
Axe throwing kits
Axe throwing supplies
Personalized throwing axes
Viking axes for throwing
Small axes that can be customized
Whether you're looking for a custom engraved set of simple throwing axes, a small throwing axe for practice, or a beautifully engraved, decorative Viking-Esque wall-hanging axe, you'll be able to find what you're looking for.
As an aside, Etsy wood-burning stoves are another thing I only just learned about. They have a great range of vintage and antique stoves, as they do throwing axes.
Throwing Axe FAQs
Let's run through some common questions about axe throwing and axe throwing equipment!
What axes are good for throwing?
Axes specifically designed with the proper weight and length are the best and safest for throwing. There are a few different types of throwing axes—try a few, and pick the one that feels best to you!
What kind of axe is used for AXE throwing?
Specially made and designed hatchets, axes, and tomahawks are used for axe throwing.
What is throwing an axe called?
Throwing an axe is simply called axe throwing. There are many slang terms used in the sport for different moves, actions, etc. but the sport is simply called axe throwing.
Are AXE throwing axes special?
Yes, axe throwing axes are much different from standard axes that you would use around the house. Axe throwing axes are specifically designed for the axe throwing sport and are not made to be used as a tool.
Can you use any axe for throwing?
No, you should only throw axes made specifically for throwing.
Throwing axes are specifically designed to be thrown, and you should never throw a regular splitting axe or hatchet.
Regular axes and hatchets are heavier than throwing axes and can be very dangerous and unpredictable if they are thrown.
What is the difference between an axe and a throwing axe?
Regular axes are made to chop through wood and are weighted and balanced as such. Regular axe heads are thicker and larger, and the handle is much longer.
Throwing axes aren't meant for anything but throwing. Throwing axes are specifically weighted, balanced, and measured to efficiently and accurately sail through the air toward your target.
The difference between an axe and a maul is also significant – you don't want to attempt throwing a heavy-duty firewood maul, for example!
Do throwing axes need to be balanced?
Yes, throwing axes need to be balanced. Unbalanced axes tend to wobble, and are very difficult to throw accurately.
How far do you throw axes?
The standard distance from the axe throw line to the target is about 12 feet.
Can you throw an axe with one hand?
Yes, you can throw an axe with one hand. Beginners usually start with a two-handed throw, but as you become more experienced, you can start throwing one-handed.
Is AXE throwing hard?
While it takes some finesse and repetition to get your stance down, it's not necessarily a hard sport. Many people do it all the time as a one-off fun night out, so the bar to entry is pretty low.
How old do you have to be to axe throw?
Generally speaking, kids can start throwing axes at eight years old. For legal and safety reasons, any kids under the age of 18 often have to be accompanied by a parent or guardian.
Throwing Axe Reviews
Axe throwing is an exciting and fun sport for people of all skill levels. Whether you're just starting out, or you've been doing this a while, picking the right axe is crucial to your axe throwing experience.
Throwing axes are very accessible and sold by many retailers. We think the WATL Premium Competition Thrower is the better of them all thanks to its durability, adjustable handle and easy to use craft.
Once you pick out your preferred axe and get to practice, you're sure to become an ax-throwing ace.
Always be sure to take the right safety precautions, and remember to check your equipment before using it to ensure that your axe throwing experience is fun and safe!
While you could use these axes to split wood for your small wood stove, best to keep them sharp for the target!