Stihl are well known for their joke April Fools' products and jokes. It's no surprise because they do come up with some doozies (especially STIHL Australia)!
Some of the products you'll wish existed, and you'll be glad that some others don't. Either way, you're sure to have a laugh as you check out and consider some of these prank Stihl products from April 1 pranks.
1. Stihl Dual Bar Chainsaw
View this post on Instagram

This is the Stihl MSA 22 AF Dual Bar Chainsaw. The world's first chainsaw with 2 bars.
Stihl shared:
The world's first ever Dual Bar Chainsaw is coming!

Introducing the STIHL MSA 22 AF Dual Bar Battery Chainsaw.

That's right – dual bar! Which means twice the power. Twice the performance. And twice the precision. Compact, quiet, lightweight and highly maneuverable, get twice the result for half the effort!

Featuring two low kickback Swiss saw chains, breakthrough OILOMATIC and QuickStop Super Chain Brake technology. Cutting wood is now easy done in half the time.
You've just got to find a good use for all those 1-inch cookies!
2. Stihl Manscaper Shave Kit
This poster for the Stihl Manscaper Kit really says it all. You get 4 Stihl-themed shave and trimmer tools for pruning your face.
In the set, you get:
Stihl NT220E Nose Trimmer – Blast through aggressive nostril hair.
Stihl BT 580E Beard Trimmer – Keep the facial fur in check.
Stihl FG160E Face Groomer – Get that freshly mown feeling.
Stihl PT640E Precision Trimmer – Pacify overgrown eyebrows.
How cool would this be?!
3. Stihl MS991 XXL Chainsaw
The Stihl MS991 XXL is the most powerful chainsaw ever conceived!
Check out these specs:
Displacement – 599 cc
Power output – 30 kW, 40 horsepower
Weight – 118.3 lbs/53.7 kgs
Bar length – 36 – 72″
It's an absolute monster.
4. Stihl Bonsai Pruing Chainsaw
Next up, and one of my favorites, is the Stihl MSA 100 B-NS1 – a chainsaw designed especially for pruning bonsai trees.
The battery-powered saw weighs only 50 grams or 0.11 pounds, making it the lightest chainsaw ever made by any brand. A true marvel of innovation.
Stihl shared:
…the STIHL range expands once again, although this time into new, unprecedented territory, with the launch of the new ultra-compact MSA 100 B-NS1 cordless chainsaw. This new product is perfect for maintaining smaller shrubs and was developed after a meeting with the Bonsai Appreciation Society of Great Britain highlighted a small but important gap in the market.
Because who wants to use secateurs?
5. Stihl Gas/Petrol Coffee Machine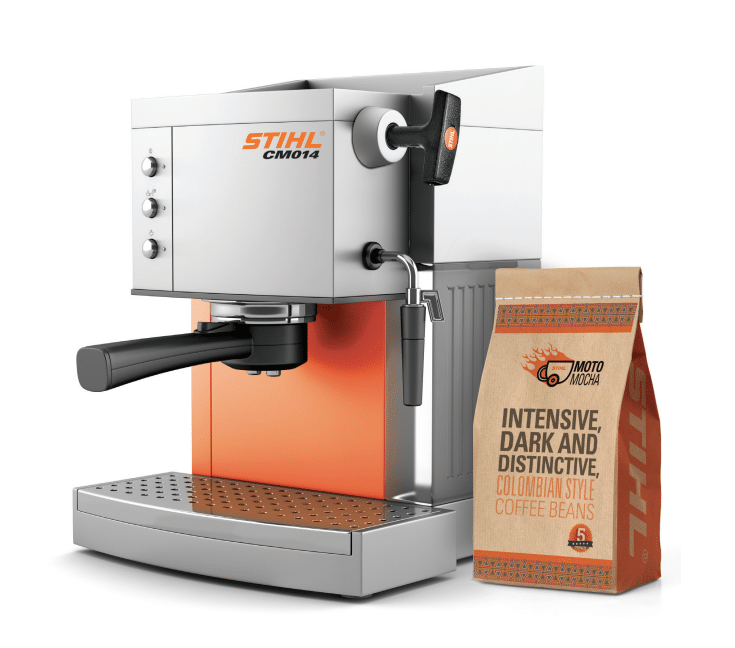 The Stihl Gas-Powered Coffee Machine is yet another fantastic product for those out in nature away from a decent power supply.
Stihl shared:
STIHL has always been at the forefront of innovation for arborists – we pride ourselves on producing machines that enable you to get the job done safely and efficiently. And our latest product launch goes one step further, delivering the ultimate fuel for your day, with our new petrol-powered, portable coffee machine, the CM 014 C-E.

Early mornings are part of the job for many tree workers, but you don't have to miss out on your caffeine fix with the CM 014 C-E, which is ready to use wherever you are, whatever time you start. Combined with our new MotoMocha coffee beans, you really will have a powerful start to the day.
While a battery-powered coffee machine might make more sense, there's something so much cooler about gas-powered one.
6. Stihl Sawdust Infused Gin
That's right, it's DISTIHLED sawdust-infused dry gin. This concoction was made in collaboration with Silent Pool Distillers and has some very unique flavors.
Stihl shared:
Making the most of the large volumes of sawdust that we produce when testing and demonstrating our chainsaws, we have been working with Silent Pool Distillers to recycle this by-product and create a Limited Release sawdust gin.
And:
Tasting notes: This is a classic super dry gin, notes of pine and warm oak with elm, elder and chestnut on the finish. Great for a very, very dry Martini.
So now you can have Stihl coffee in the morning and Stihl gin in the evening.
7. Stihl JK3 Smart Glasses
The STIHL JK3 Smart Glasses
are an excellent, though probably impractical, idea.
Stihl shared:
COMING SOON: The new STIHL JK3 Smart Glasses will automatically detect your topiaries and display a template to help you trim.
It appears to have some pretty awesome features, don't you think? Many were disappointed they weren't real.
8. Stihl BGA 700F Blow Waver
View this post on Instagram
Next up, the STIHL BGA 700 F Blow Waver!
Stihl said:
COMING SOON: Introducing the new BGA 700 F Battery Blow Waver by STIHL.

Featuring two speed settings, cool shot function and symmetrical trigger lockout for easy handling, it's the perfect gift for legendary mums.
Because what woman wouldn't want a Stihl Blow Waver?
9. Stihl RMS 707 Stand Up Mower
The Stihl RMS 707 Stand-up Mower is a combination segway and lawn-mower… I have one word. Awesome.
Stihl Shop Victor Harbor shared:
You've heard of a Segway no doubt?

Well STIHL R&D have done one better and paired that technology with a solar-powered Lithium-Ion battery and our famous STIHL mower blades to create another world first!

Introducing the RMS 707 stand up mower.
This would certainly make mowing the lawns more interesting.
10. Stihl Ad
Lastly, this isn't a Stihl April Fools joke, but it is funny, and completely UN-PC in today's world.
It's an old STIHL TV ad and I won't say anything more about it here and give away the ending, but watch it yourself!
Stihl April Fools
So those are 9 or 10 of my favorite Stihl April Fools pranks – I think they're hilarious. What was your favorite (comment below) and do you know of any others?
There are quite a few non-tool Stihl products that are very real though, from toy chainsaws and weed whackers to baby clothing and gravity bikes. You can check all that out in our round-up of the best STIHL merch for kids.