Should you get an Ooni outdoor pizza oven?
Whenever I look over at my Fyra 12, I can't help but admire its sleek appearance.
Before I learned about Ooni pizza ovens, I didn't think an outdoor pizza oven would be a good fit on my patio.
But I was wrong!
Aside from their great appearance, my oven also produces some of the best pizza I have ever made at home.
Plus, it's also fast – once heated, the oven only takes a minute or two to cook the pizza!
Reliable heating and predictable cooking times are just a couple of benefits you'll find in an Ooni pizza oven.
Best Ooni Pizza Oven
That is the Ooni Pizza range and where you can buy them or compare prices.
We have individual reviews on each of the models:
You can read those Ooni reviews to discover the pros and cons of each oven model.
We also describe each model and its unique characteristics.
In this post, we'll dive a little bit deeper into how to choose an Ooni Pizza Oven covering things like what might be the best type of fuel for you.
Ooni Pizza Oven Fuel
Ooni's portable pizza ovens utilize one of three types of fuel – gas, wood, or charcoal.
Here's how it breaks down further:
Wood – pellets or hardwood kindling
Gas – propane or natural gas
Charcoal – charcoal is charcoal
The different types of fuel give the pizza-making experience a different feel and taste.
Let's break down each fuel type.
1. Wood Pellets
Ooni only uses wood pellets in the Fyra pizza oven.
Wood pellets give your food a distinctly wood-fired flavor, but without the mess.
First, wood pellets were developed to stay dry and burn cleaner than wood kindling.
A cleaner burn means less smoke (and smokeless fire pits are best, right?) and ash, which can make the cooking surface dirty.
In the Fyra, wood pellets are delivered to the flames via a hopper at the rear of the unit.
The hopper uses gravity to slowly release fuel into the fire.
By doing this, you can ensure your oven stays at consistently high temperatures.
2. Wood Kindling
The Ooni Karu and Pro can be used with wood kindling rather than pellets (which can be more expensive).
It needs to be small pieces of wood, recommended to be no longer than 6 inches, and split reasonably thin.
Hardwood is best as it will help raise the temperature better than softwood.
3. Charcoal
Any of the multi-fuel ovens can also be used with charcoal.
This means that the Fyra cannot be used with charcoal, but the Karu and Pro can be.
Charcoal gives another distinct flavor to the pizza, quite different from wood pellets or kindling.
4. Propane Gas
Propane is used in the Koda pizza ovens.
As a cooking fuel, propane works well because it burns at a constant rate.
With other fuel types, the flame's temperature will change as the fuel burns. With propane, the flame's temperature is always the same, regardless of how long you've been cooking.
Propane won't give your food an added flavor as wood or charcoal cookers do.
Instead, Ooni traded those unique tastes for a less complicated cooking method.
I like that decision because it allows less experienced pizza makers the opportunity to test their skills.
5. Natural Gas
The Koda can be used with a fixed natural gas line (only in the US).
However, you need to buy the gas conversion kit in order to set this up.
It's a good option for those already using natural gas in their homes.
Ooni Multi-Fuel Pizza Ovens
Ooni developed its multi-fuel system as a versatile cooking system.
The multi-fuel system is used in the Karu and Pro pizza oven models.
With the multi-fuel system, you can either use wood kindling, charcoal, or propane.
The wood kindling needs to be hardwood, untreated, dry, and less than six inches long to fit through the fuel hatch.
The multi-fuel system gives you the best of both worlds.
You can use charcoal or kindling to get a smoky flavor, or you can purchase the gas burner attachment and use propane.
Ooni developed the multi-fuel system to give you options.
Ooni Pizza Ovens Vs Other Cooking Methods
Compared to other outdoor pizza ovens, the Ooni has an edge on almost all of them.
First, Ooni offers a variety of fuels.
Many other pizza oven manufacturers only offer one type of fuel for all their models. Sometimes that fuel is wood kindling or pellets, but most of the time it is gas.
By heating up to 950ºF in under 20 minutes, Ooni models are often more time-efficient and cost-efficient than other pizza oven brands.
If you have to preheat your oven for an hour, you'll use a lot more fuel, which makes heating the Ooni slightly cheaper than other brands.
Ooni also offers the Ooni gas burner, an attachment that turns their multi-fuel ovens into a gas-powered oven.
Other competing pizza oven brands don't have components that can change the type of fuel used in the heating process.
But Ooni pizza ovens don't generally have a built-in thermometer, which is almost standard with pizza ovens at this price.
Two models, the Ooni Pro pizza oven and the Ooni Karu pizza oven have a built-in thermometer, but the rest don't.
What Else Can I Cook in an Ooni Pizza Oven?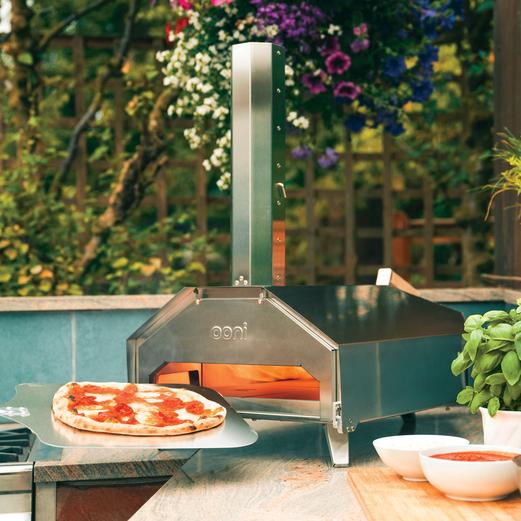 With a pizza oven as versatile as Ooni, the world is your oyster!
Some of my favorite dishes to experiment on the pizza oven with are beef or vegetables.
Vegetables, especially if you use wood kindling or charcoal, can get a delectable char that's reminiscent of a barbecue.
For meats like beef, the pizza oven can open a whole new world of flavors.
You should always put the part of the cut with the largest amount of fat facing the flames.
That way, the fat will render, ultimately crisping up almost like pork crackling.
Other great items you can make or cook in the pizza oven include:
Bread
Seafood
Lamb
Chicken
And more
Just be sure to watch the temperature carefully.
For most items, 950ºF is way too hot to cook food without burning it.
And, believe it or not, you can even bake cookies in an Ooni!
Not Included with Any Ooni Pizza Oven Model
There are some key components of pizza making that Ooni doesn't include in their orders, but you may want to invest in.
The primary missing components are a pizza peel and a digital laser thermometer.
A pizza peel is a shovel-like tool with a flat head you use to deposit the pizza in the oven, rotate the pizza, and take it out of the oven.
Without a pizza peel, it can be nearly impossible to remove a pizza from an oven.
If you do purchase a pizza peel, ensure it fits your Ooni's cooking surface.
A digital laser thermometer helps you accurately gauge the ambient temperature in your oven.
As you probably noticed in my review, some ovens come with a built-in thermometer, while others don't.
If your Ooni pizza oven didn't come with a thermometer, you'll need one to know when your oven reaches temperature.
There are other missing materials, but these two are the essentials, and without them, cooking pizza can be a real hassle.
Ooni offers these products on their website for an added cost, but finding them on Amazon shouldn't be difficult either.
Ooni Outdoor Pizza Ovens
All of the Ooni pizza ovens are quality ovens.
Their various models give customers like me a choice—do I want a classic wood-burning oven or do I want a simpler cooking fuel, like propane?
By giving customers choices like this, Ooni appeals to many more people.
If you're in the market for an outdoor pizza oven, I would strongly recommend considering an Ooni.
Do your research on other pizza ovens and see how specific brands hold up against the features and specs of an Ooni pizza oven.
If you like the Ooni the most at the end of your research, it's likely the pizza oven for you.
Aside from their online store, you can also purchase an Ooni from their Amazon page.
Both their Amazon page and their website are run directly by Ooni, so you can be sure you're always getting their premium items.
So what are you waiting for?
There's an amazing, homemade pizza out there with your name on it!
All you need to do is get the right pizza oven to cook it in, and perhaps a decent fire pit or outdoor fireplace and you'll have the perfect outdoor setup!