What is the best portable charcoal grill on the market today?
When it comes to grilling, nothing compares to the classic, flame-kissed flavor of charcoal-grilled delicacies.
And with the right charcoal grill, you can bring your BBQ parties wherever you go, and enjoy your summer BBQ favorites wherever you please, be it the beach or in the woods.
Our top picks and buying guide highlight features to prioritize in a portable charcoal grill and should help you with your purchase decision.
Best Small Charcoal Grill
There's nothing better than being able to chuck a small charcoal grill in the car and going off down to the lake, beach, or park for a cook-up.
Some people also like to take small and light charcoal grills camping or even hiking.
Here are our top picks for the best small charcoal grill, with everything and anything else you could possibly want to know down below!
One alternative to these portable charcoal grills is the FireBox Stove. This can also be easily transported, taken camping, or placed in the RV.
However, if you are set on a small charcoal grill (as it is my preference for camping), here are 7 of the best!
1. Cuisinart CCG190RB Portable Charcoal Grill
If you've always wanted to own a classic, top charcoal grill, the Cuisinart CCG190RB will be a dream come true.
It adds to the excitement by being one of the most affordable and most compact charcoal grills on the market, weighing only two pounds. Much easier to transport than most fire pit grills.
Besides the handles, this charcoal grill has an all-steel build, meaning it's durable and can withstand high temperatures for quick, easy grilling.
The firebox has an enamel coat which further adds to its durability and ease of maintenance, and you also get an ash catcher, so charcoal grilling is less messy.
Its lid spots a shiny red finish adding a significant aesthetic element to this already visually pleasing unit.
The lid is also equipped with three locks to keep heat and dirt out, making transporting the unit easy. Thanks to the three locks, the lid creates a good seal, meaning you can use this grill as a smoker too.
You can easily regulate airflow and keep your charcoal burning longer thanks to the dual venting system.
As for the cooking surface area, the Cuisinart CCG190RB portable grill ships with a 150-inch cooking rack, enough to cook up to six burgers simultaneously.
Pros:
Incredibly lightweight
Features lid with three locks
Pocket-friendly
Cons:
You might find the cooking area too small
---
2. Weber Original Kettle Premium Charcoal Grill
Weber is synonymous with quality, and their original kettle premium charcoal grill is physical proof.
At 32.3 pounds, the Weber Original Kettle Premium isn't the lightest portable charcoal grill on our list, but it's undoubtedly one of the best.
It's easy to assemble and ships with a 363inch cooking grate that can grill up to 12 burgers in one go. That's enough to go around and have some leftovers.
Adding charcoal or rearranging it is also a breeze, thanks to the hinged design on the cooking grate.
Despite its weight, the Weber Original Kettle Charcoal Grill doesn't take up much space and is the perfect portable grill if backyard or porch space is an issue.
It has the same classic, spherical kettle grill design with a stunning, glossy, black finish, but you can also find it in copper and green colors.
Both the lid and bowl are porcelain-enameled to retain heat and keep debris out, creating a well-sealed cooking hub for all your favorite summer BBQ delicacies.
The best part is that the lid is also equipped with a thermometer, allowing you to easily keep track of your cooking temperature for perfectly seared steaks, hot dogs, and other tasty grilled foods.
It is effortless to clean, too, thanks to the one-touch ash catcher to hold your charcoal debris until you finish grilling a storm.
Besides the ashtray, this grill also packs many design tweaks that greatly enhance the user experience. For instance, it's equipped with a heat shield to prevent the lid from becoming too hot and has an angled hook to hold your lid whenever necessary.
You can also hang your cooking accessories such as spatulas on the hooks easing your grilling experience further since you don't need a separate surface.
Moving the Weber original kettle premium charcoal grill around the beach or wherever you might be grilling from is also a walk in the park, thanks to its stand's durable wheels.
Add in its reasonable price, and you've got one of the best portable charcoal grills on the market.
On the downside, however, you cannot attach a secondary cooking surface.
Also, although it's a handy feature, the thermometer sits way too far from the coals and the hot grate, meaning you might not get an accurate temperature read.
Pros:
Hooks to hold the lid and your cooking accessories
Creatively designed one-touch ash catcher
Features a pair of heavy-duty wheels for seamless movement
Price friendly
Cons:
Cannot attach a secondary cooking surface
The stand has three legs meaning it can be unstable at times
The thermometer's placement isn't quite convenient
---
3. Isummer Charcoal Grill Barbecue
Isummer may not be as big a brand as Weber, but its product line is quite impressive.
Their portable charcoal grill is one of their most popular offerings, and for a good reason.
It has a high-quality all-stainless steel build with a well-polished silver finish meaning it's durable, easy to clean, and eye-catching.
It has convenient handles for seamless portability, paired with four legs, each featuring a plastic mat meant to enhance its stability and adjust the unit's height.
We also loved that the legs are detachable and the charcoal grills foldable since it makes packing so much easier.
The Isummer charcoal grill has dual air dampers on both ends, making oxygen control in and out of the heating chamber effortless.
The built-in ash catcher is an excellent feature, too, as it means you don't have to worry about cleanup until you're done.
You also get coal as part of the package so that you can start your first BBQ right away. On the downside, this portable charcoal grill has no lid.
While burning charcoal in a fireplace isn't a great idea, this outdoor charcoal grill is the ideal way to get the flavor of this fuel.
Pros:
Durable all stainless steel construction
Stunning silver finish
Double air vents
Detachable legs and foldable grills
Cons:
---
4. Weber Jumbo Joe Charcoal Picnic Grill
Weber is an incredibly iconic name in the grilling realm.
The company is an industry pioneer credited for inventing the kettle-style grill. So, it's no surprise the brand has multiple entries on our list.
That said, the Weber Jumbo Joe Charcoal grill comes with an 18-inch cooking grate, meaning you get enough room to roast up to a whole chicken. Without the cooking grate, you get even more space.
The grate has a plated steel build, while the charcoal grate uses heavy-gauge steel. The lid and the bowl are enameled to enhance heat-retaining capabilities further while making the unit easy to clean.
The Jumbo Joe charcoal grill also has an aluminum ash catcher to keep your grilling process mess-free.
The lid retains heat and keeps dirt out, and has a heat shield, so you don't burn your fingers as you keep an eye on what's cooking.
Its lock doubles up as a hook to place your lid, so you don't have to put it on the ground while checking on your steak.
Pros:
Wide cooking surface area
Porcelain-enameled bowl and lid to retain heat
Cons:
---
5. Weber Go-Anywhere Mini Charcoal Grill
In need of a portable charcoal grill with well-thought-out features but at an affordable price tag, this Weber might be the one for you.
It has a compact rectangular design and spots a shiny black finish with silver accents on the air vents on top of the lid.
As with most Weber charcoal grills, both the cover and its base are porcelain-enameled to enhance the unit's heat conduction and retaining capabilities for a quick yet evenly cooked meal.
Beneath the lid is a plated-steel cooking grate with a cooking surface area wide enough to accommodate six burgers.
The grate also boasts excellent heat-retaining capabilities and is surprisingly easy to clean. The charcoal grill comes next, and it has a heavy-gauge steel construction to add to the model's durability.
Right beneath the charcoal grate is an ashtray to hold ash and other debris, keeping it well tucked away until you clean up.
And to make it even more portable and functional, the Weber Go-Anywhere charcoal grill has plated steel legs that fold it over the lid to lock the unit securely and make it easy to carry.
When packed up, this charcoal grill can fit perfectly in any car's trunk.
Pros:
Foldable leg design for enhanced portability
Durable steel design
Porcelain-enameled lid and base to enhance heat conduction
Cons:
Limited room under the hood- ideal for light grilling
---
6. Fire Sense Black Notebook Charcoal Grill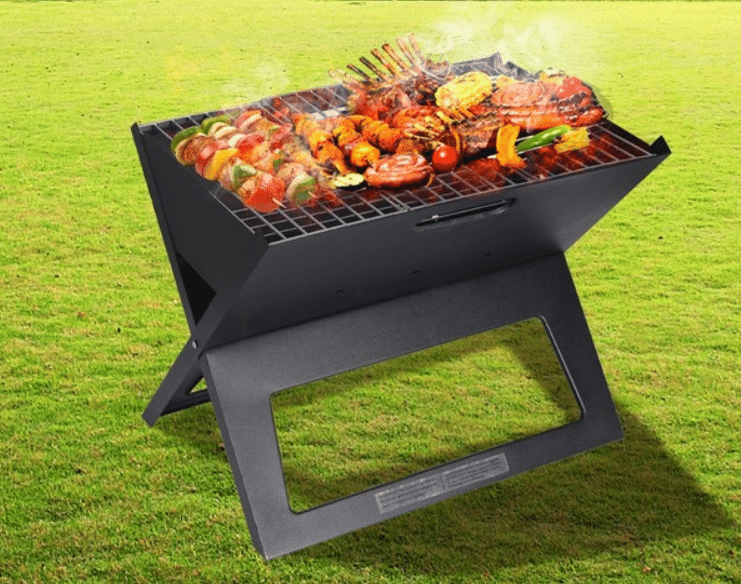 Want a cool and modern spin on charcoal grill designs?
This bad boy is yours to keep. It weighs about eight pounds and looks somewhat like a magazine rack that opens up into a charcoal grill.
Its design strikes a balance between looks and functionality.
Besides being cool, it folds up into its own slim, completely flat unit, only an inch thick (hence the name notebook) carry-on complete with a handle. This makes it one of the most portable charcoal grills you'll find on the market.
The unit features painted stainless steel construction, while both the charcoal and cooking grates have a chrome-plated build.
On top of the cool and durable design, you get a 192-inch cooking surface area, enough to grill up burgers for a crew of four to five people.
It ships with the grill housing, charcoal, and cooking grates separately, but it's pretty easy to assemble, plus the user manual is quite helpful.
Pros
Cool, innovative notebook design
It folds up into a carrying case with a handle
Wide cooking surface area for a unit its size
Cons
The cooking grate can be hectic to attach
7. Char-Griller E2123 Wrangler 635 Square Inch Charcoal Grill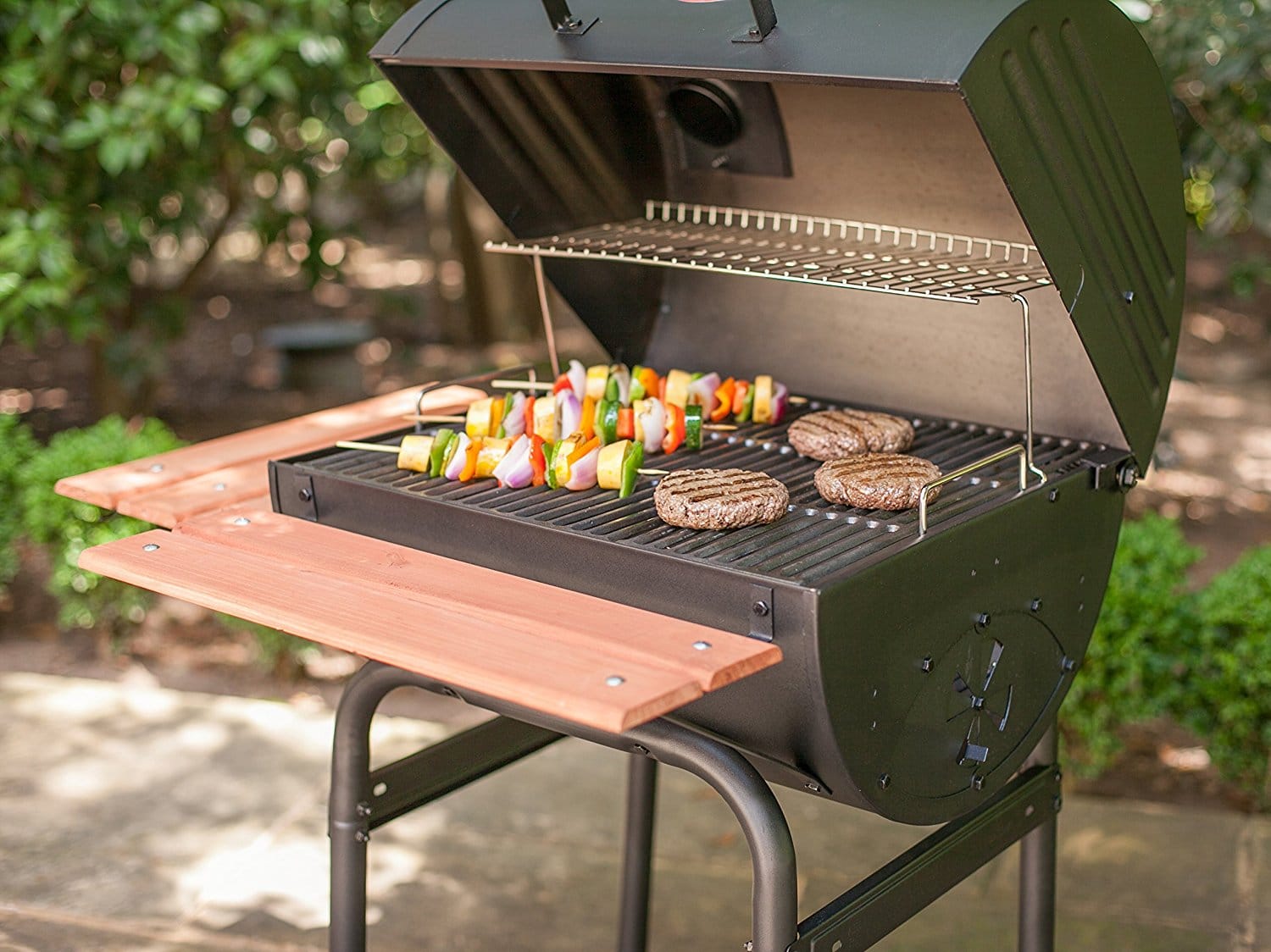 If side shelves are a must-have feature, the Char-Griller E2123 might be the best portable charcoal grill for you.
It's outfitted with three shelves to hold your cooking accessories, spices, sauces, or anything you like to have at arm's reach while grilling.
Thanks to the adjustable fire grate and the temperature gauge on the lid, achieving the right temperature for perfectly seared shrimp or other recipes on your BBQ bucket list is super easy.
With up to 435 inches on the main cooking rack and 200 inches on the warming rack, you get more than enough cooking surface area to grill up yummy BBQ snacks for your camping buddies.
What's more, both cooking grates have a cast-iron build, meaning they conduct and retain heat better than regular grates.
Like the other best portable charcoal grills on our list, this model comes with an ash catcher, making ash and grilling residue disposal effortless, and your grilling experience is less messy.
As for the design, the Char-Griller E2123 does quite well too.
It has a heavy-duty, powder-coated steel construction meaning it's durable but still conducts and retains heat efficiently.
You also get a stand with two large wheels for easy mobility and an old-fashioned all-back finish that reminds one of childhood summer BBQs.
Pros:
Adjustable cooking grates
Lots of cooking surface area
Side shelves for your accessories
Double thick bottom grill
Cons:
Not the most compact portable grill
Needs curing
---
The Best Portable Charcoal Grill
A portable charcoal grill is perfect for anyone who leads a nomadic lifestyle and wants to enjoy yummy, chargrilled delicacies right off the grill grates or has limited space but lives for BBQs.
It's quite different from the likes of an Ooni Pizza Oven which is not as easy to be transported and set up.
Charcoal is also a very different fuel source compared to portable propane fire pits, for example. Though there are pros and cons for each.
Whichever category you fall in between the two, here's what you should consider when choosing a charcoal grill:
Materials
Similar to other grills, portable charcoal grills are from an array of materials, ranging from heavy-gauge stainless steel, cast iron, or enameled steel.
Ensure the material you opt for is durable and can withstand high temperatures. It should also be stress-free to clean and maintain too.
Cooking Surface Area
If you only need a grill for one or two people at maximum, most charcoal grills will do.
But if you need to grill for a few more mouths, for instance, up to five people, even a few extra inches on your grill's cooking surface area can make all the difference.
Grill Stand/Base And Lid
Some charcoal grills are equipped with a stand to hold the grill, while others feature a sturdy base, so you don't have to worry about tipping it over.
A well-fitting lid keeps debris out and creates a perfectly sealed cooking area for healthy, evenly-cooked dishes.
Damper
A portable grill needs an air damper to regulate air moving in and out of the fuel chamber for efficient charcoal burning.
Opening the damper means more oxygen and, conversely, a hotter fire.
However, your charcoal won't last long, so it's best to open it at the beginning when you need to get the fire going and close it one-half of the way to make your charcoal last.
Go for a model with at least two air dampers.
Electric Ignition Or Chimney Starter
Some portable charcoal grill models feature an electric gas ignition to quickly light up the charcoal briquettes and get you grilling in a few.
Others feature a chimney starter instead. Both are excellent features, and it all depends on your preference.
Ease Of Mobility
Although most of the small charcoal grills are easy to move, some models have features that make it even easier.
For instance, some have removable handles, while others can fold down or disassemble for seamless packing.
Ashtray
Also known as an ash catcher, an ashtray is a pot-shaped container in a charcoal grill that holds ash residue created by all the grilling.
It'll significantly enhance the convenience of a portable grill by making charcoal grilling a less messy job.
Hinged Or Adjustable Grate
While not every model has this, a hinged gate is an excellent grate design-tweak that allows you to add charcoal or even rearrange burning coals without removing the grate.
You can adjust the cooking grate's position to regulate cooking temperatures with this feature.
Portable Charcoal Grill Reviews
You can check out the top-selling charcoal grills on Amazon here.
These products have thousands of reviews and you'll be able to read all the pros and cons from those who have tested and tried each of the grills.
Another alternative to a charcoal grill if it's just for around the home is a wood-burning chiminea.
You can cook on Chimineas as well, and they make for an excellent feature in your garden or on your patio.
Let us know if you have any questions about charcoal grills or any other outdoor cooking device and we'll get back to you asap. Thanks!