What is the best ash vacuum?
Alongside a good ash bucket and shovel, an ash vac is the best way to keep your fireplace, wood stove, pellet stove, or fire pit clean from ash buildup. They can just reach those spots that a brush will never reach, right!?
Here are the best-selling, best-reviewed, and all-around best ash vacuums for a range of applications.
Best Ash Vacuum
What is the difference between all of these ash vacs?
It basically comes down to these factors:
Size of the canister
Power of the engine
Whether or not they can suck up warm ashes or only cold
Whether or not they have wheels/castors
The quality of the build/brand
Figure out what you want and need when it comes to those factors and that will make choosing the perfect vacuum for ashes a breeze!
Here's more info about each of the ash vacs listed in the table above.
1. Snow Joe Ash Vacuum Cleaner
The Snow Joe Ash Vac is an extremely popular ash vac model that is also highly affordable.
What's different about it?
It's lower-powered and it doesn't come with wheels or regular vacuum heads (just the metal wand). You can choose from either a 4 or 5-Amp model, but the 4-amp version seems to be the go-to for most buyers.
If you're using it solely as a vacuum cleaner for fireplace ashes, the fact that it doesn't have wheels shouldn't be an issue. It's only if you're going to be using it for everything else as well.
Check out our full Snow Joe Ash Vacuum review for full details.
Pros:
One of the most affordable options
Two different power levels to choose from
Large canister
Cons:
No wheels
Designed just for use with wood ash
---
2. PowerSmith Ash Vacuum
The PowerSmith Ash Vacuum is a really good option that's a bit more powerful than the previous option.
It has the most power – 10 Amps – it has a long hose and extra tubing, AND it has wheels.
Most ash vacs are flat bottomed and without any type of wheel system, which is fine if that's what you're looking for, but wheels make it more multi-purpose.
Unlike most of the other models, this one comes with a regular vacuum head as well, meaning you can use it for cleaning the car, workshop, or shed as well as wood ash.
The PowerSmith Ash Vac is also the #1 seller with over 5000 reviews. If you have any further questions, check them out here.
Pros:
High powered
Multipurpose
Long hose and extra attachments
Comes with regular vacuum heads
Heat resistant canister and tubing
Cons:
Not the cheapest model
Some have had customer service issues
---
3. US Stove Fireplace Vacuum
The US Stove Shop-Vac for ashes comes from a company that actually creates small wood stoves.
I think we can consider this an advantage since they already a lot about the equipment needed to create the mess!
Check out their popular model, the US Stove Cabin Wood Stove, if you're interested in learning more about their other products.
As for their small ash vacuum, it comes with a 4-foot hose and wand, a plastic crevice tool (only for use with a cold fireplace or fire pit), a 3-layer filter, and an 8-foot power cord.
It only has a 2 horsepower motor, making it one of the weakest on the list in this regard. However, where other options are only suitable for cold ashes, this one can be used for both hot and warm ashes.
Pros:
Both cold and warm ashes
Large 6-gallon ash capacity
Good for light use
Cons:
No wheels
Lower powered motor
Short hose
---
4. Porter Cable Vacuum For Ashes
The Porter Cable Ash Vacuum is another 4-amp 4-gallon model that's good for cleaning pellet fires and wood-burning fire pits.
It does not have wheels but is another of the flat-based models that are easy enough to carry around with a strong handle on top.
The filtration system, and indeed, the entire unit, has been designed with vacuuming fireplace ashes in mind, so it's not really a multipurpose vacuum – though, of course, you can use it for whatever you want.
The suction is really good and stays high through regular cleans and maintenance. Cleaning this machine is easy enough to do without much hassle.
Pros:
Built for sucking ashes
Powerful motor and large canister
Can be used with warm/hot ash
Cons:
No wheels
No additional heads
---
5. Vacmaster Wet/Dry Shop Vac
Lastly, we have the Vacmaster!
This is a regular wet/dry shop vac that is totally fine for use with cold fireplace ashes (emphasis on the COLD – not warm or hot).
It has a massive 12-gallon capacity and a powerful 5 peak HP motor.
It can be used in wet conditions as well as dry, so if, like me, you leave your fire pit out in the rain accidentally from time to time and the ashes get all wet, you'll still be able to use this sort of thing.
This model has a drain port (if needed) and an extra-long 12-foot cord. It comes with extension wands, different nozzles, crevice tools, blower adapters, noise diffuser, and a range of other top features.
And, for all of these additional benefits, you aren't going to pay all that much more than with many of the other models.
Pros:
Lots of features
Lots of accessories
Wet/dry use
Large capacity
Powerful motor
Cons:
Not designed specifically for wood ash
More difficult to clean
---
Fireplace Vacuums
Fireplace vacuums can be used on basically any wood ash.
This includes:
Wood-burning fireplaces
Wood-burning stoves
Outdoor fire pits
Charcoal grills
BBQ grills and ovens
Pellet stoves
Cigarette ash
The main thing is that the vacuum has great filtration to stop the fine particles from blowing right through the unit and becoming airborne – something that can be highly toxic, especially to kids and animals.
All of the ash vacs we've listed here have suitable filtration that is reasonably easy to clean (still takes time and effort) and for which they are replacement parts when they're required.
The filters aren't going to last forever and will require changing after a certain amount of use.
Ash Vacuum FAQs
Can I use a vacuum to clean my fireplace?
Regular household vacuum cleaners are not designed to be used with fireplace ash, so other than for light cleaning around your fireplace or wood stove, it's best to use an ash or shop vac.
In particular, you should never vacuum up warm or hot ashes with your standard home vacuum as this can be a major fire risk.
Is it OK to vacuum cold ashes?
Most vacuum cleaners will be fine for cleaning up cold ashes – just make sure they're cold cold!
However, their filtration isn't designed for these types of superfine particles, so you may find some of it blowing through the vacuum and into the air.
For this reason, it's best not to do a complete ash clean-up with your regular vacuum – use a shop or ash vac instead.
Do ash vacuums work?
Yes – they wouldn't sell so many if they didn't!
It's always best to try and remove the bulk of your fireplace ash with a shovel and bucket first and then get the remainer with the vacuum. You can suck everything up with the vacuum, but this won't help extend the life of your machine.
Do you need a special vacuum for ash?
Most shop vacs are fine for sucking up ash, but specially designed ash vacs may be better.
The latter have their filtration system designed with ash in mind, and they are often a bit cheaper than regular shop vacs as they don't have wheels or long hose tubes and heads.
What happens if you vacuum ash?
Vacuuming up cold ash should be fine with most units, just don't try to do it in bulk with regular models.
You can certainly start an unwanted fire by vacuuming up warm or hot ashes with the wrong machine. Ash vacs are primarily metal rather than plastic, so many are designed to withstand some heat.
Ash vacuums also tend to have heat-resistant and flame-retardant hoses, canisters, and other fittings, making them more suitable for this task.
What is the best ash vacuum for pellet stoves?
I recommend the PowerSmith Ash Vac for use with pellet stoves.
It has good capacity and very strong suction. Some have complained that lowed powered models are not strong enough for fully cleaning a pellet stove.
What can I do with ash from my fireplace?
There are many uses for wood ash – put it in the compost or straight on the garden as a fertilizer.
Ash can even be used to clean fireplace insert or woodstove glass.
Ash Vacuum Reviews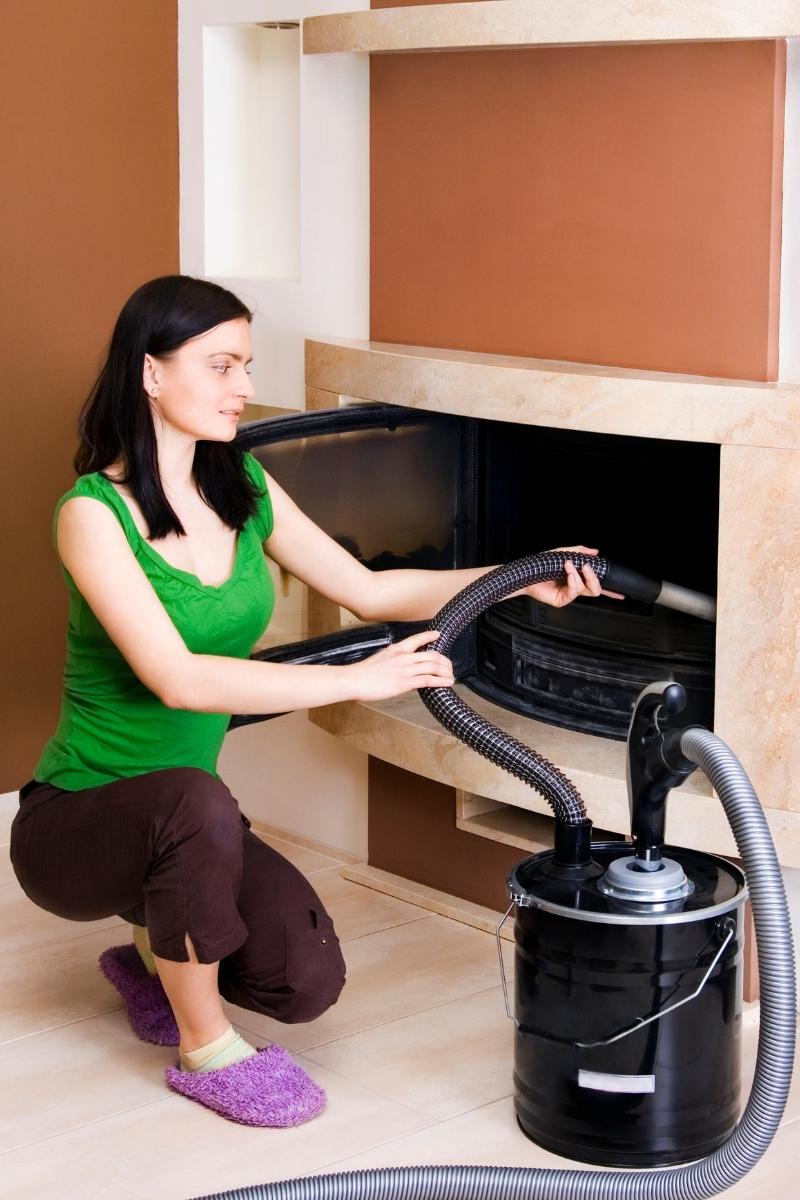 So there you have it – our top 5 picks for the best vacuum for cleaning fireplace ashes – and any other type of ash!
The PowerSmith Ash Vac is number one for price, features, and power.
This model is the best-seller for a reason – it's a great all-rounded no matter what type of wood ash you need to suck up.
The Vacmaster is another favorite as a premium model that can be used for anything and everything.
It's great because it has wheels, can be used on wet or dry ash, and has extra hose pieces.
And lastly, the Snow Joe Ash Vac is the best for price.
It's cheap, gets the job done, and it has been very well-reviewed – it doesn't have wheels or a complete regular vacuum head, but that might not be what you're looking for.
Let me know what you think in the comments below, and remember, always completely put out your fireplace fire before you get cleaning!