The Stihl Carbon Concept chainsaw is the result of a feasibility study (an authorized study, unlike the unauthorized Stihl Jetsaw)!
The study was designed by Stihl to set a new record in terms of the power-to-weight ratio, which the saw achieved. It puts out more power per pound/kg of weight than any other chainsaw.
The STIHL Carbon Concept vaunts a sensational power-to-weight ratio of 1.11 kg/kW. Powered at 5.4 kW, the STIHL Carbon Concept weighs only 6.0 kg/13.2 lbs (without fuel, without cutting attachment).

This low weight is achieved by the use of ultra-light materials, principally carbon. Examples include the carbon handle, the titanium muffler, the crankcase made from a special, high-strength diecast magnesium alloy, and the tank housing and handle housing, which are made from long glass fiber reinforced plastic.
This saw also introduced electronically controlled fuel injection for chainsaws for the first time – a feature that's now well-known on the Stihl 500i. The Carbon Concept saw was a concept study and is unavailable for sale. However, it is a good-looking chainsaw in black, and we can all agree that chainsaws have come a long way since they were first invented.
Stihl Carbon Chainsaw
In their press release on 10/31/2014, Stihl shared:
STIHL constantly tests new technologies. We are now proud to present the remarkable results of the feasibility study for a
chain saw – the STIHL Concept Chain Saw.

This is no mere study – the STIHL Concept Chain Saw demonstrates its impressive acceleration and excellent dynamics in
actual sawing operation. The STIHL Concept Chain Saw will not go into volume production. But the knowledge gained
during its development and testing will go into optimizing future STIHL products.

The STIHL Concept Chain Saw features components that utilize materials such as carbon fiber, titanium, and refined die-cast magnesium. The result is significant weight reduction without compromising durability.
The STIHL Concept Chain Saw also utilizes fuel injection technology. The result? Easier starting, quick acceleration, and constant power delivery in a variety of working conditions.
The STIHL Concept Chain Saw has the power of the MS 661 C­M with a similar weight as the MS 362 C­M, resulting in a phenomenal power­-to­-weight ratio.

NOTE: The STIHL Concept Chain Saw is merely a concept study and not available on the market. All of our production machines, notably our chain saws, are designed in STIHL's classical orange / light grey colors.
Stihl also shared this video of the Carbon Concept Chain Saw in action…
Comments on the video include:
@rickreid81: "Wow, what a great new and innovative idea/concept. Stihl never ceases to compress me. I am glad to be a long-time Stihl user. Great concept!"
@Keithd9961: "I must be missing something here….the only thing I see that would possibly be lower in weight is the bar. The covers really can't be that much different than the weight of the current plastic. Seems like eye candy only…"
@apuuvah: "It is remarkable IF the crankcase is carbon fiber, and all the other plastic parts as well, making it MUCH lighter. 100 grams lighter and 500€ more makes no sense whatsoever."
Will they use carbon to build other chainsaws?
Stihl shared this in the YouTube comments of their video:
As the designation indicates it is still a concept type of product not ready for mass production.

Before introducing this new type of material in the mass production of such chain saws further development work is required. Additionally the issue of pricing needs to be further examined.

Please be assured, that the knowledge gained from its development will find its way into our future products and strengthen our position as one of the industry's innovation leaders.
They also replied to many other comments with answers like "We can assure you that the carbon parts are real carbon parts, not just carbon-looking parts. Thus, they are lighter than simple plastic material."
Carbon Concept Vs MS 660
| Chainsaw | Carbon Concept | MS 660 |
| --- | --- | --- |
| | | |
| Engine Tech | Stihl Injection | Two-stroke |
| Displacement | 82.4 cm³ | 91.6 cm³ |
| Power Output | 5.4 kW / 7.2 hp | 5.7 kW / 7.6 hp |
| Weight | 6 kg / 13.2 lbs | 7.5 kg / 16.5 lbs |
| Power-to-weight ratio | 1.11 kg/kW / 2.45 lb /kW | 1.4 kg/kW / 3.01 lb/kW |
The Stihl MS 660 is one of the most powerful Stihl chainsaws and a popular logging chainsaw. Compared to the Carbon Concept saw, however, the 660's power-to-weight ratio isn't looking as good.
The Stihl MS 261 C-M is another saw with a good power-to-weight ratio of 1.6. Stihl commented on this saw in the comments of the Carbon Concept video saying, "We are always working to further improve our products – through model makeovers of various chainsaws, for example. Thanks to optimized components, the STIHL MS 261 C-M is 300g lighter than its predecessor for example."
Elsewhere, Stihl shared:
The STIHL Carbon Concept is the result of a feasibility study: it is a 5.4 kW chain saw in which ultralight materials such as carbon and titanium have been used. The saw weighs a mere 6 kg, which is 1.4 kg less than a comparable STIHL MS 661 C-M. This lightweight chain saw thus betters the current frontrunner by 20 percent and achieves an unmatched weight-to-power ratio of 1.11 kg/kW.

Moreover, an internal combustion engine with electronic fuel injection has been used for the first time in chain saw technology. The saw thus delivers optimum engine power and high torque in all operating conditions while offering excellent running and acceleration characteristics. Mixture control, flow rate, injection and ignition timing are precisely coordinated at all times.
"The STIHL Carbon Concept will not go into production as it is, but the knowledge gleaned from its development will be utilized to optimize our products and consolidate our position as the industry's innovation leader", explained executive board chairman Dr. Kandziora.
Electronically Controlled Fuel Injection
Regarded the fuel injection system, Stihl shared:
The remarkable power for the STIHL Carbon Concept chainsaw's low weight of 7.5 HP (5.4 kW) is produced by an internal combustion engine with electronic fuel injection, the STIHL Injection. That's another first in chain saw technology.

The STIHL Carbon Concept thus produces optimum engine power in all operating states and high torque combined with excellent running behavior and acceleration.
The Stihl MS 500i was released in 2018 with the electronic fuel injection feature trialed and tested on the Carbon Concept Saw and has been a popular model.
Carbon Concept Chainsaw Review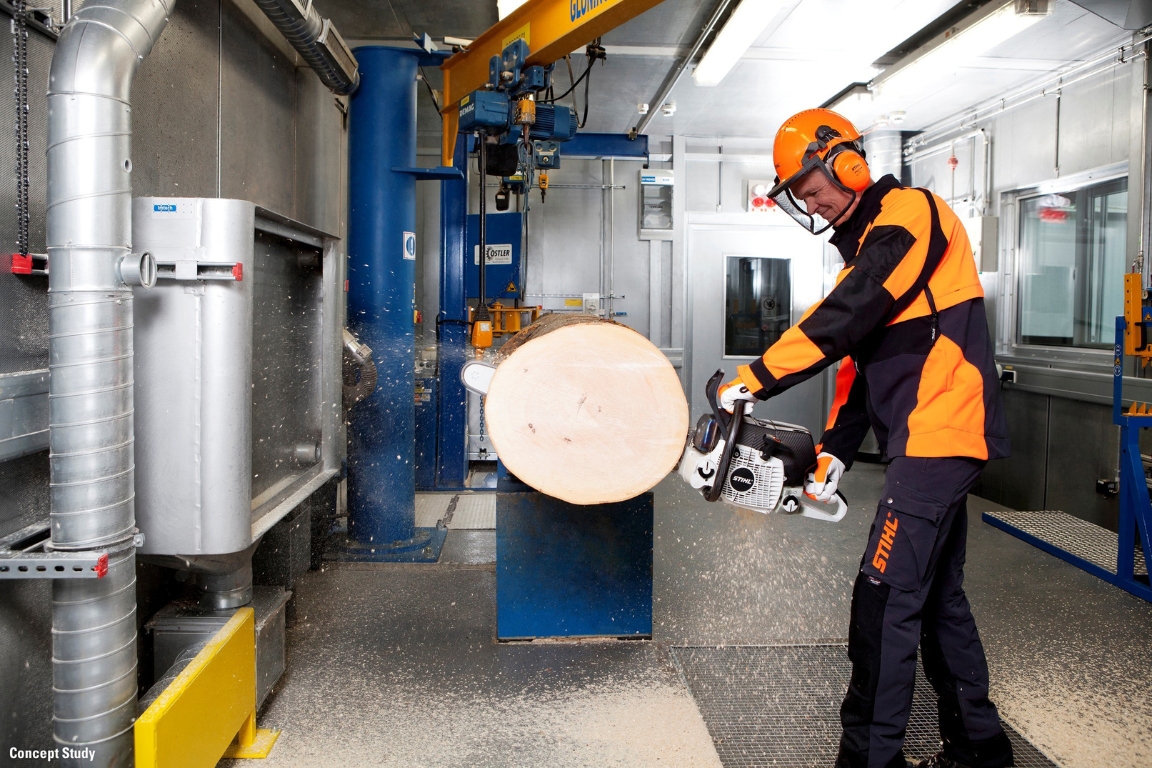 This is not a saw that just anyone can try, but here are some of the thoughts/comments from the socials:
I need one bad
Make it public, please.
Wonder how it would hold up in fire use?
I'm in love.
Almost invisible in the woods though!
Is that a primer bulb I see?

Yup. Low-pressure fuel injection which needs to be primed before starts. Just like the TS500i
And Chris said "Love Stihl and carbon fiber but the two don't need to be mixed", while Glen thought "Use carbon fiber everywhere possible to make it lighter, stronger, better! Everyone has been doing it for years, from cars to fishing reels, about time! The phrase 'shut up and take my money' is best used here!"
What are your thoughts on the Stihl Carbon Concept Chainsaw? Let us know in the comment section below. What would you prefer, the Carbon Concept, the MS 991 XXL, or the MSA 100 B-NS1?