We've got some great farmhouse fireplace tile ideas to share with you today.
Whether you're looking for a renovation or a new build, a tiled fireplace surround or hearth is an excellent finish. Most types of tiles are durable and easy to clean, and there are thousands of options.
This is what makes a tile a 'farmhouse style tile' and 18 examples to help you with your decision-making.
Farmhouse Fireplace Ideas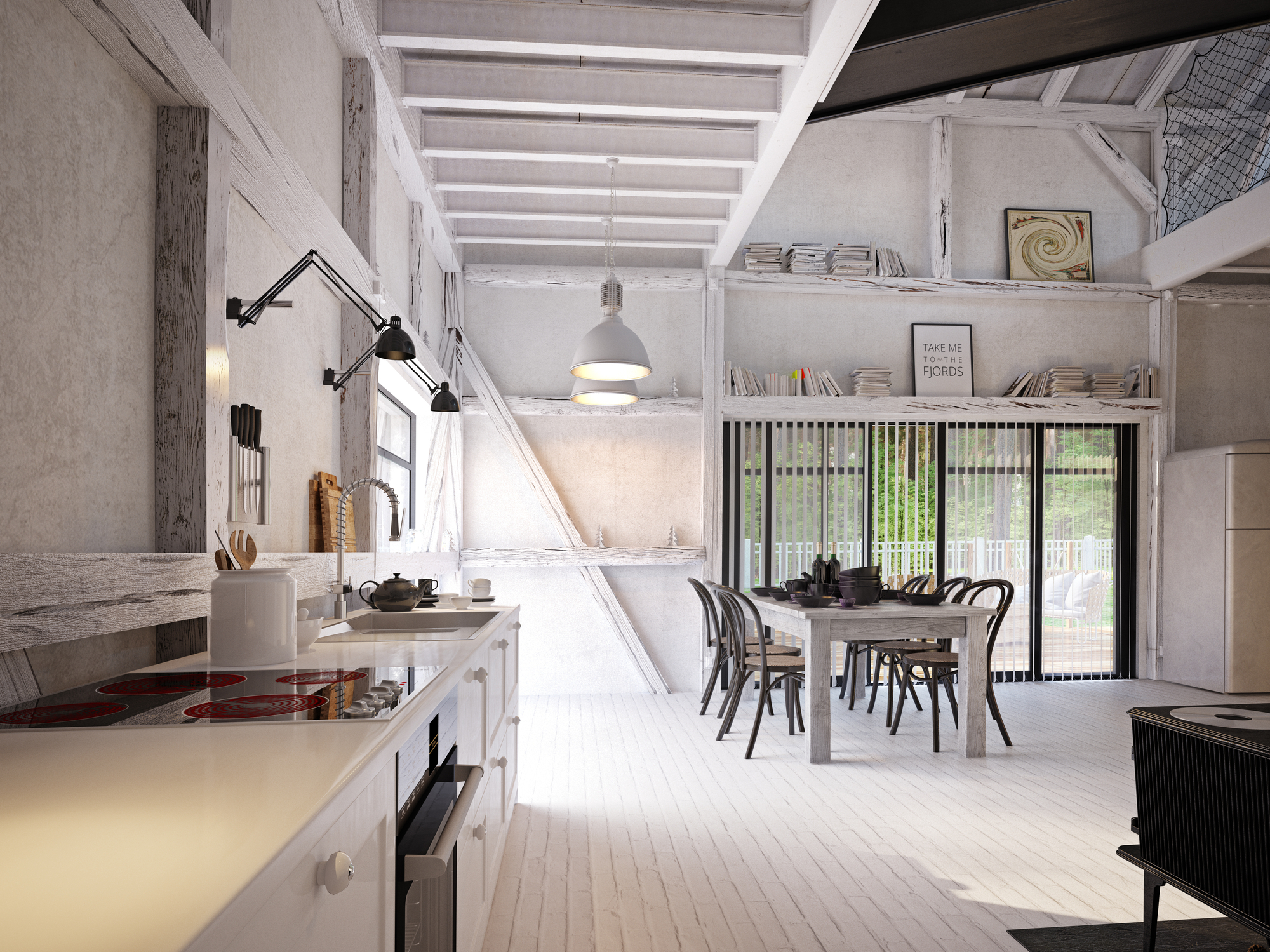 Farmhouse style is all about creating a comfortable, inviting, and relaxed atmosphere. When it comes to farmhouse style fireplace tiles, it's no different. They should contribute to a warm and welcoming ambiance.
Here's a description of what you might typically expect from farmhouse-style fireplace tiles:
Color Palette: The color scheme for farmhouse style tiles tends to lean toward neutral colors. This might include shades of white, cream, beige, gray, or soft pastel tones. These shades help create a serene and comfortable environment.
Materials: Natural materials are popular in farmhouse design. Ceramic and porcelain tiles that emulate natural stone or wood are common choices. Encaustic tiles, which have patterns inlaid into the tile instead of painted on the surface, can also be used for a vintage farmhouse look.
Patterns: Simple, timeless patterns are common in the farmhouse style. Subway tile arrangements, herringbone, or chevron patterns are often used. For a more traditional or rustic farmhouse look, you might see hand-painted or distressed tiles.
Size: The size of the tiles can vary widely depending on the specific design. Large format tiles can provide a modern touch, while smaller tiles or those used in a mosaic might give a more traditional feel.
Texture: To add a bit of rustic charm, some farmhouse style tiles may have a textured or weathered finish. This can add depth and character to the fireplace.
Mantle: While not a tile, the mantle is a key component of a farmhouse fireplace. It's often made of reclaimed wood or a simple, substantial piece of timber, which complements the natural feel of the tiles.
Remember, farmhouse style is all about creating a space that feels like home, so while these are common characteristics, there's a lot of room for personalization and variation, as you'll see in the following examples.
1. Brick Surround With Tile Hearth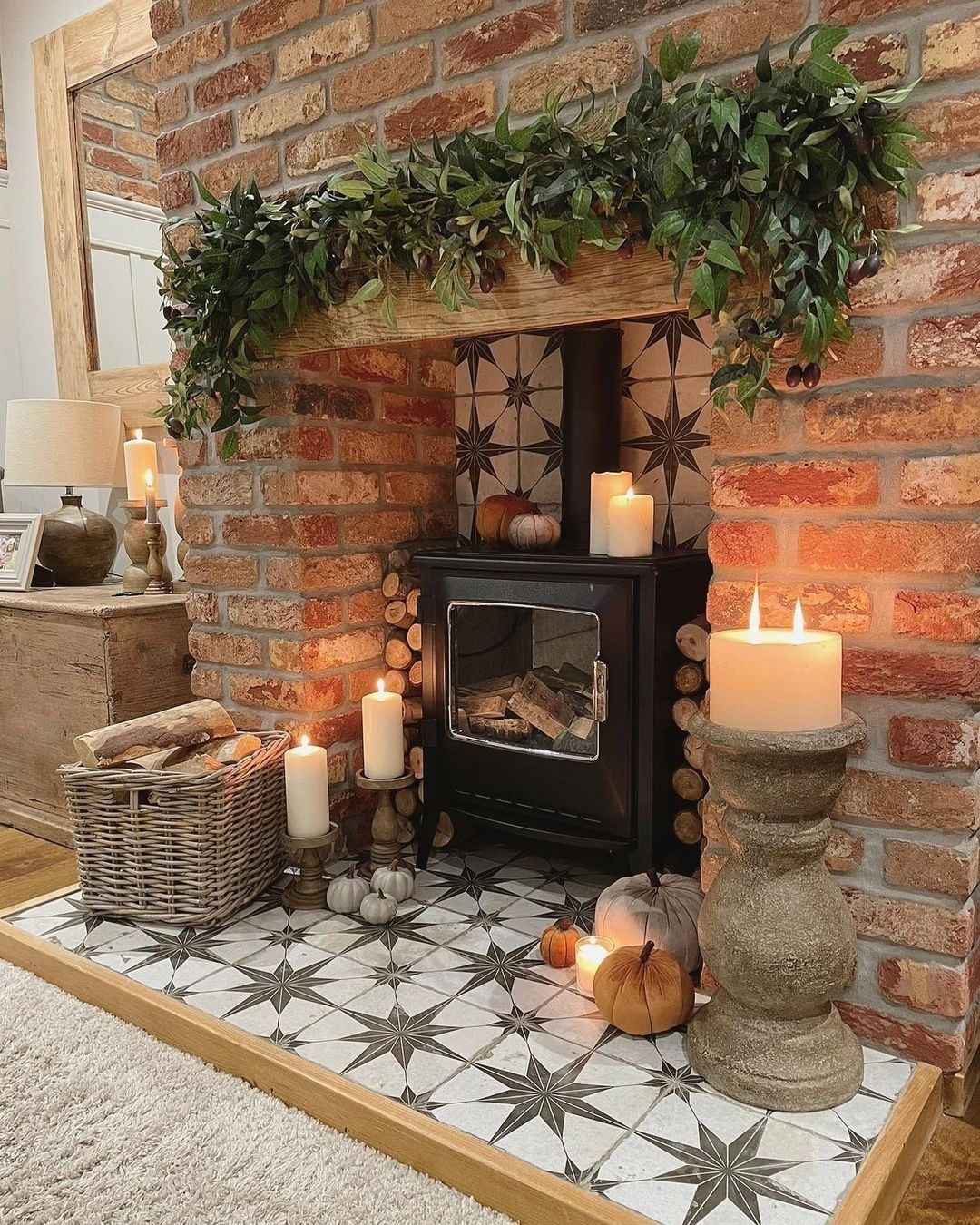 To start off with, we have this wood stove set in an old empty fireplace space.
The hearth is tiled, as is the wall behind the wood stove. The chunky original brick, wooden mantel, farmhouse decor, and tile pattern create the perfect fireplace aesthetic. Tiles can also be a type of heat shield around a fireplace or wood-burning stove.
2. Modern Brick Style Tile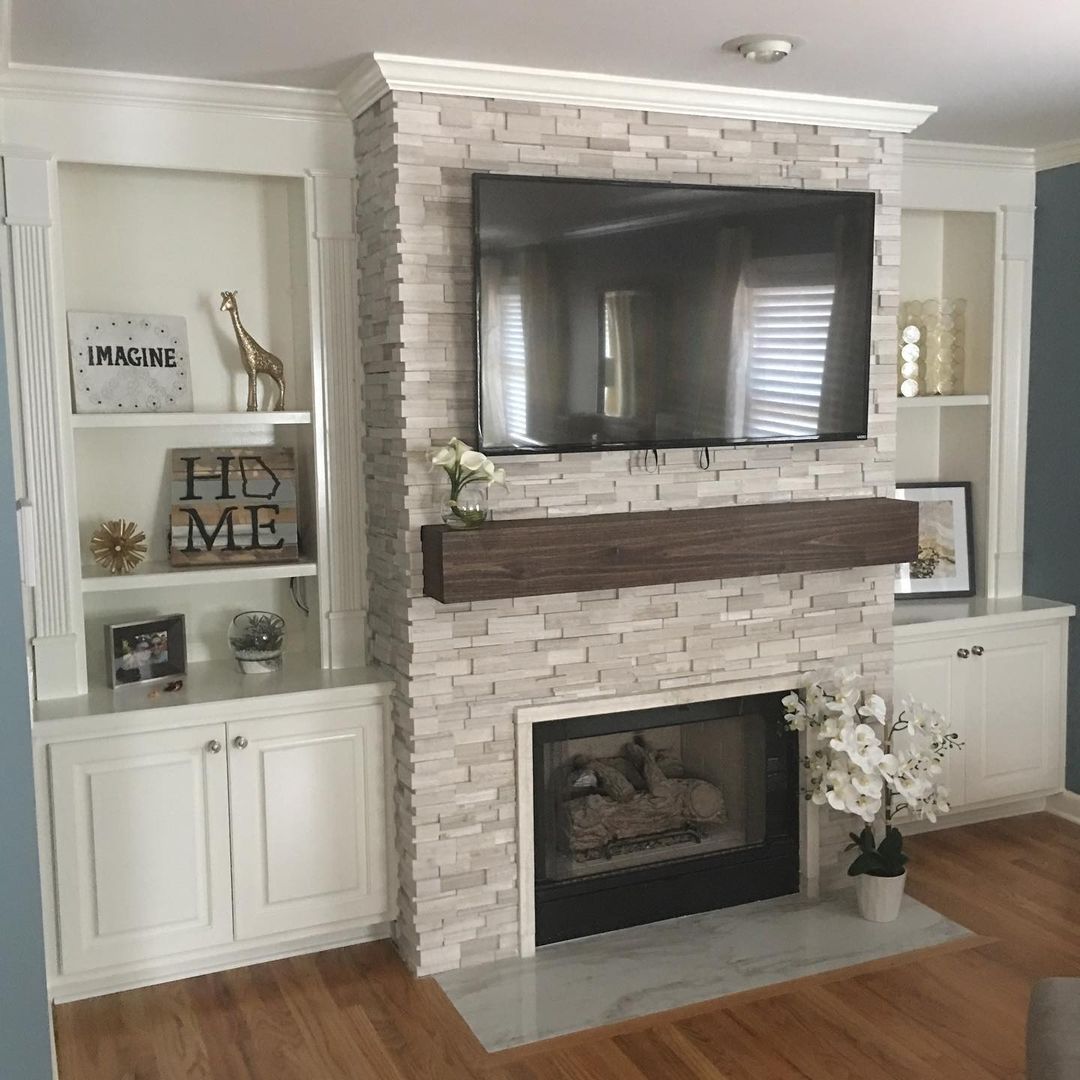 Next up is a more modern farmhouse fireplace tile design.
I love this style – the staggered, uneven, different-colored brick-like construction works very well. It's clean and tidy but adds a delightful texture to the wall.
3. Vintage Fireplace Tiles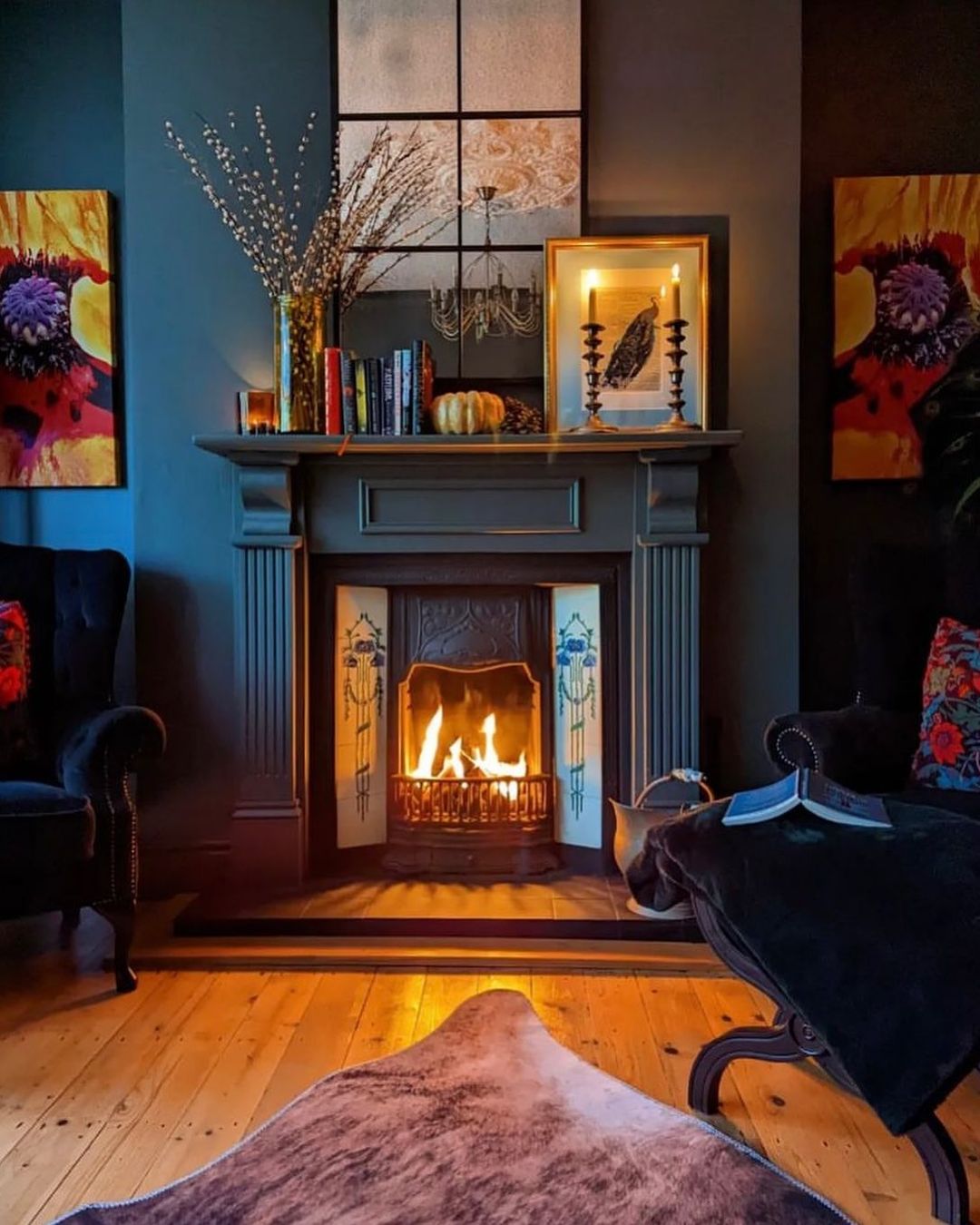 This fireplace has a more rustic farmhouse feel to it, and, in fact, there are only a couple of large tiles around the sides of the firebox.
The style is known as "Edwardian fireplace in the Art Nouveau style," and it's nice if you've got it.
4. Dolomite Fireplace Tiles
These are dolomite marble tiles, and they look great around a fireplace.
Dolomite is tougher than regular marble, more resistant to staining and cracking, and looks fantastic in its own right.
5. Before And After Farmhouse Fireplace Tile Makeover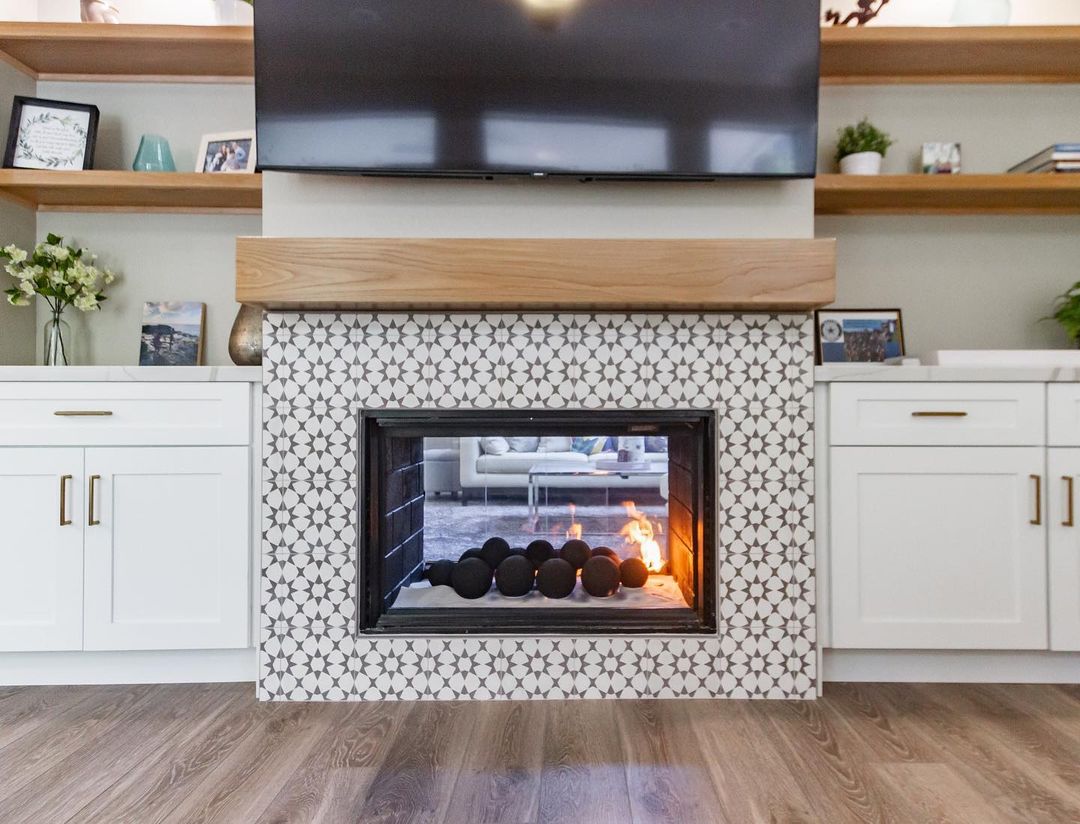 This Insta post shows the before and after of a farmhouse fireplace renovation (visit the account to see other pics).
Previously, the fireplace surround had a dated tile further surrounded by dark wood cabinets. Now it has a "custom white oak mantle, floating shelves, white shaker cabinets, LVP floors, cement tile, and quartz countertops." This is also a see-through fireplace – pretty cool!
6. Glass Mosiac Tiles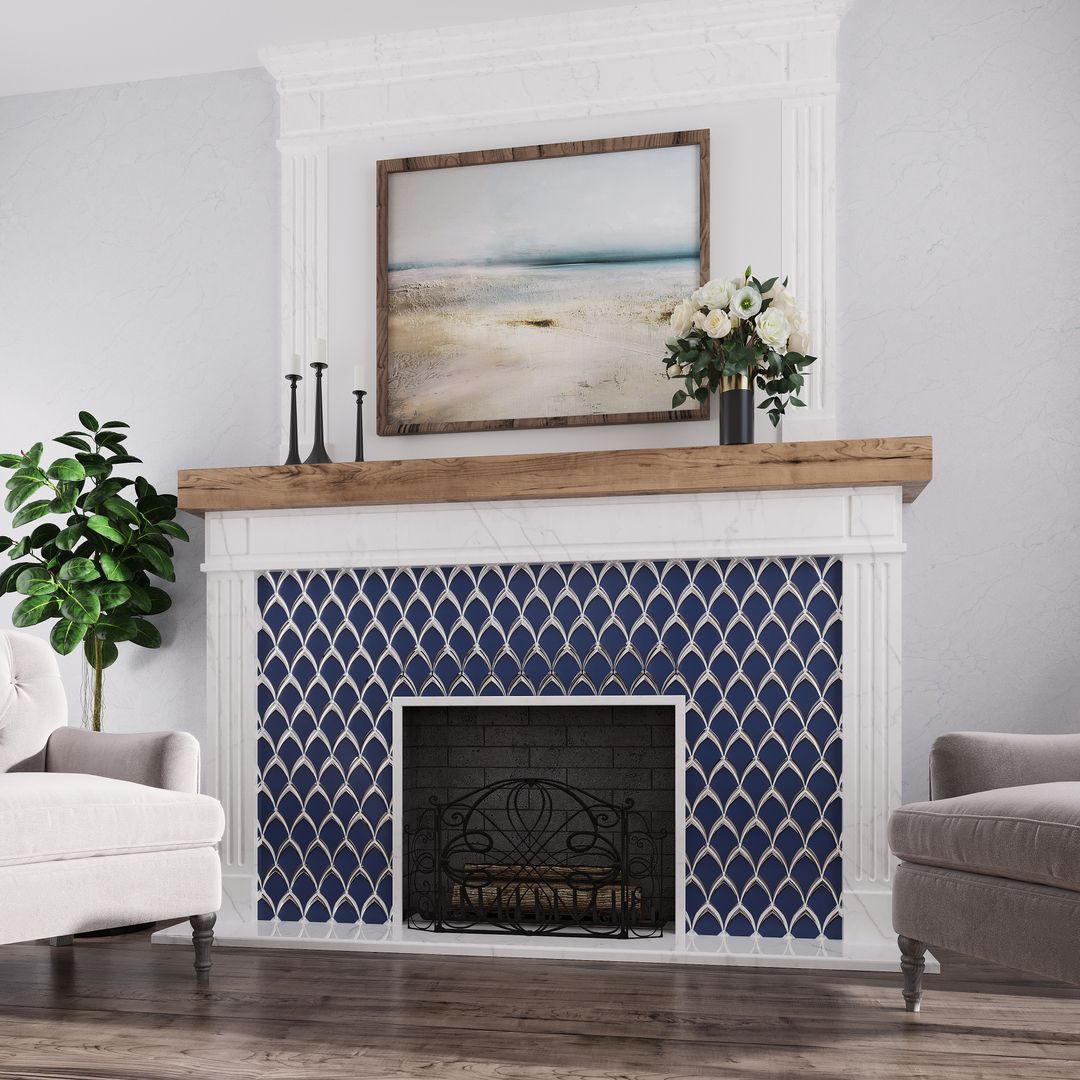 This example is similar to the previous design but is perhaps more in keeping with true farmhouse style.
These are known as "BLUE DECO FAN GLASS MOSAIC TILE" from the Tile Club.
On their website, they state:
These artistic blue and silver glass mosaic tiles add a touch of vintage glamour to your home!

The Blue Deco Fan Glass Mosaic Tile evokes an old-world feel with a rich indigo blue and polished chrome accents that add an Art Deco design.
A really nice idea!
7. Farmhouse Style Mosiac Tiles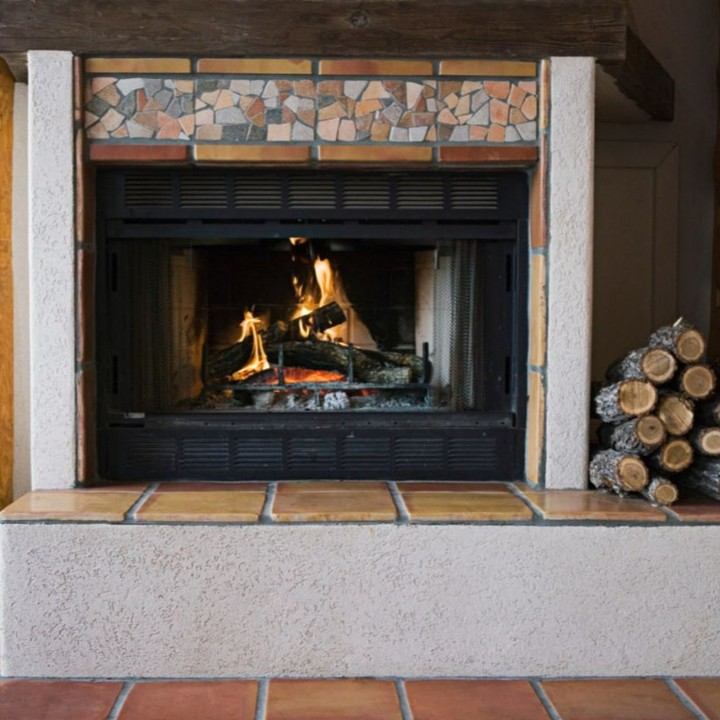 Next up is this more rustic farmhouse fireplace tile design – mosaic tiling.
It's definitely not modern, and wouldn't suit all homes, but is perfect for older farmhouse-styled houses.
8. Classic Farmhouse Tiles For Fireplace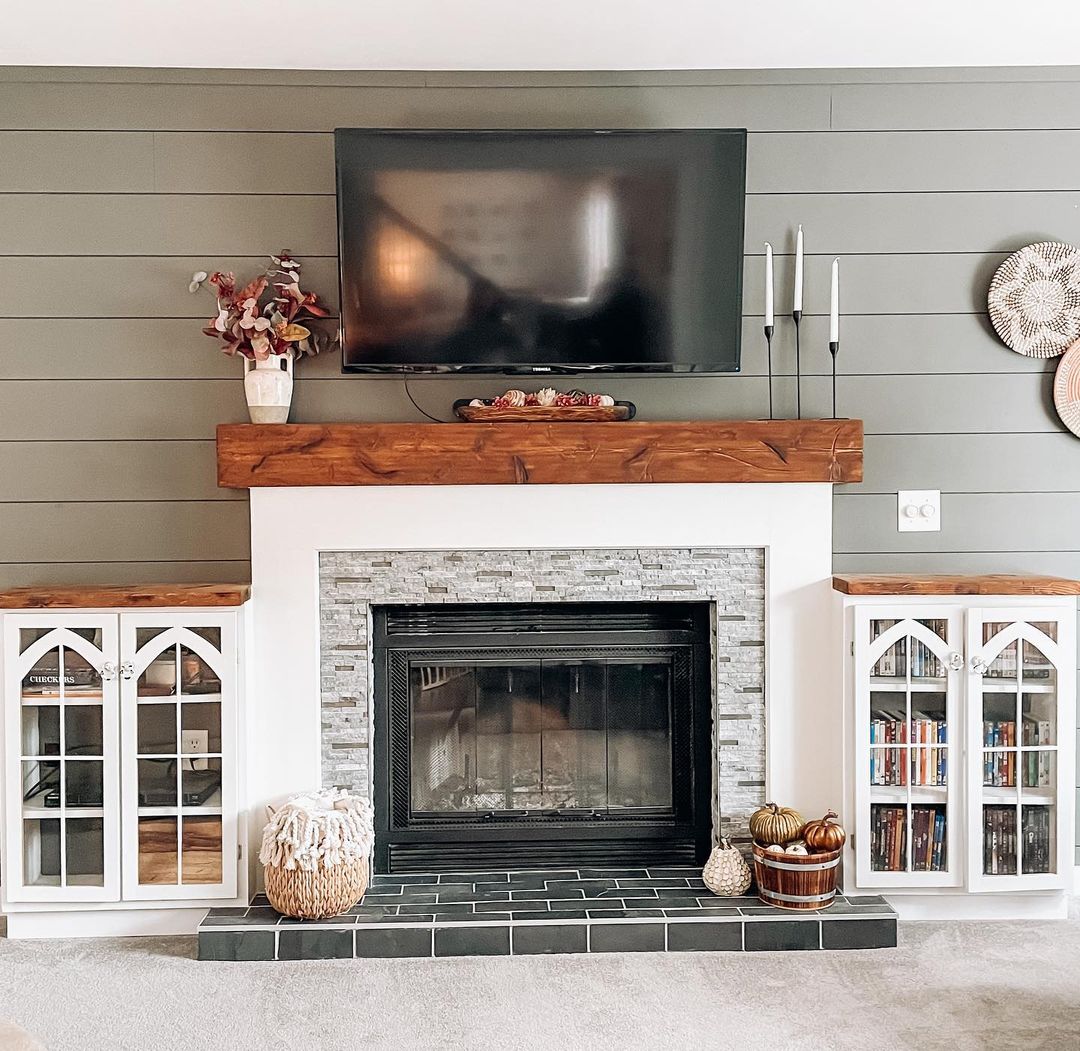 This fireplace has two types of tiles – one for the hearth and one for a surround.
Fireplace hearth tiles need to be more durable as they're easily cracked or chipped by wood, children, or pets!
9. Modern Marble Tiles
It might be a bit of a stretch to call this a farmhouse fireplace tile example, but it could be implemented in one.
These large marble tiles are great for more modern styling. They shared, "Clad in gorgeous honed marble this fireplace is the moody anchor to this space.
10. Mini Tiles For Tiny Stove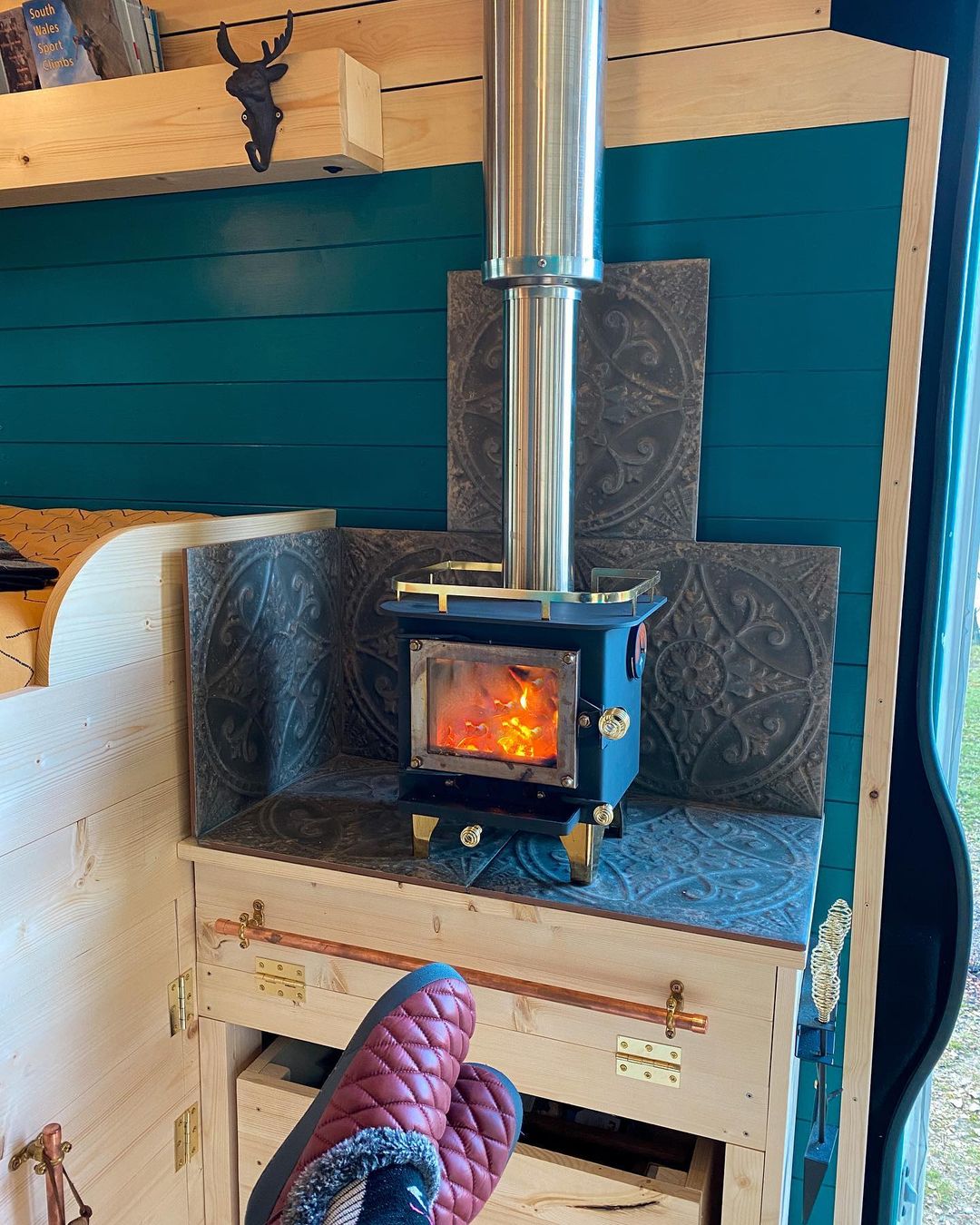 This little fellow is called the Cubic Mini Wood Stove – it's a popular tiny wood stove for campers and RVs, as well as tiny houses, cabins, sheds, and skoolies.
These folk have added some decorative tiles around the appliance which are acting as a heat shield and surface.
11. Farmhouse Patterns For Fireplace Tile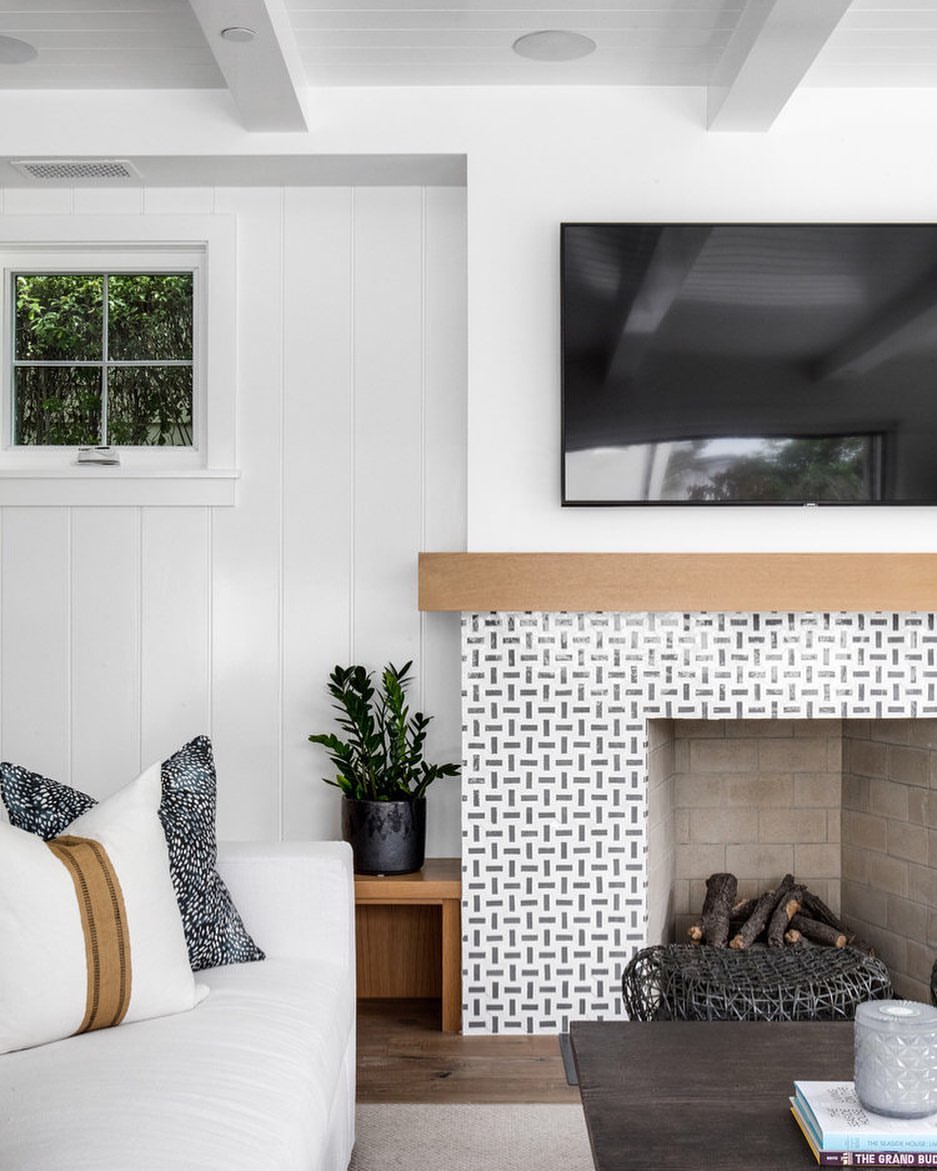 This is another modern farmhouse tile idea for a fireplace surround.
It's a basic open brick fireplace, but it's made so much nicer with the tile.
They state:
All in favor of a tiled fireplace say aye. This monochromatic surround designed + built by @graystonecustombuilders proves that a little bit of pattern goes a long way + we're here for it ➕
The wood is a great idea for what to put in an empty fireplace.
12. Farmhouse Style Subway Tiles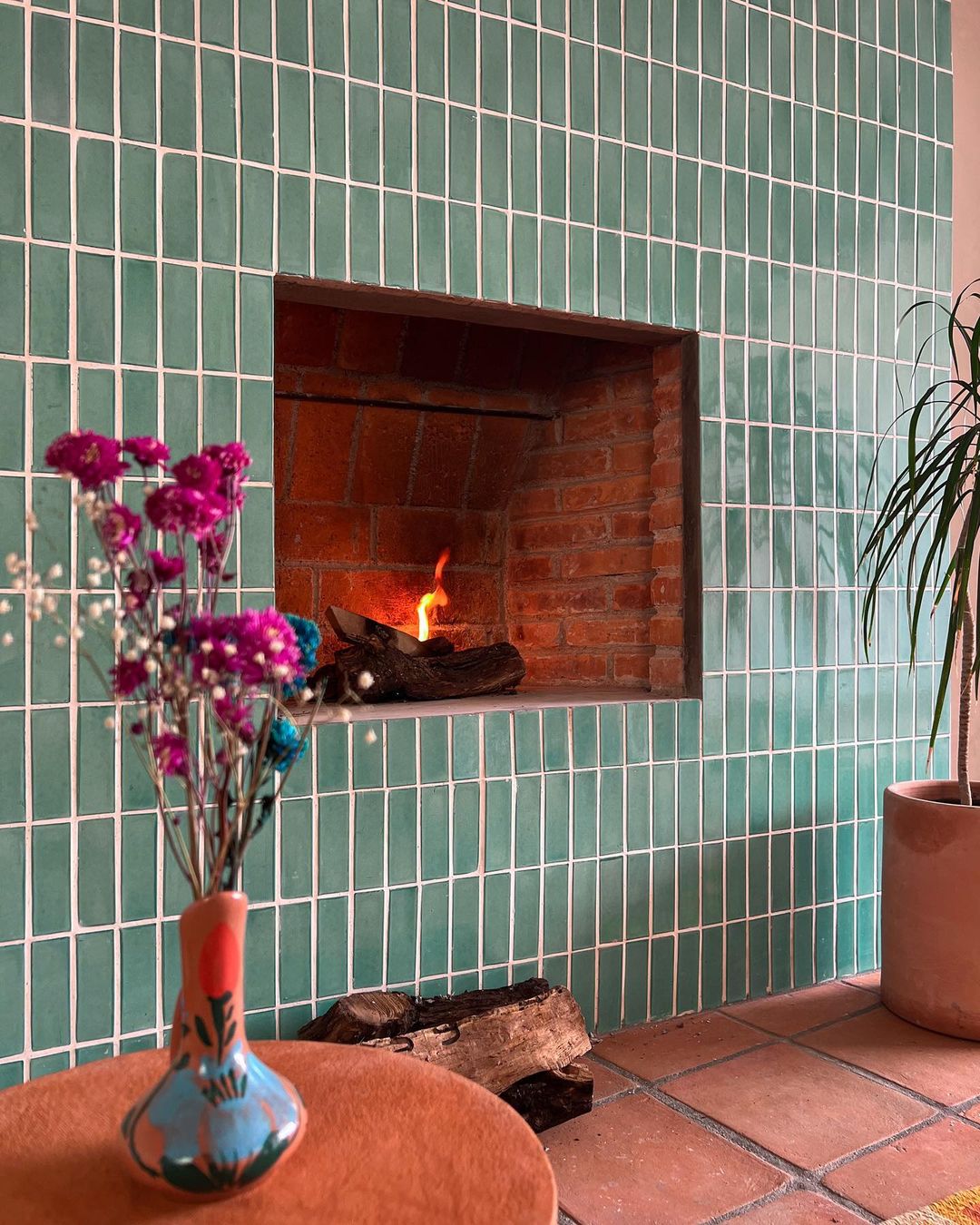 These are handmade subway tiles in 'ocean green glaze.'
They are set vertically, rather than the more usual horizontal placement. With the raised open fireplace, it's perfect!
13. French Farmhouse Fireplace Tiles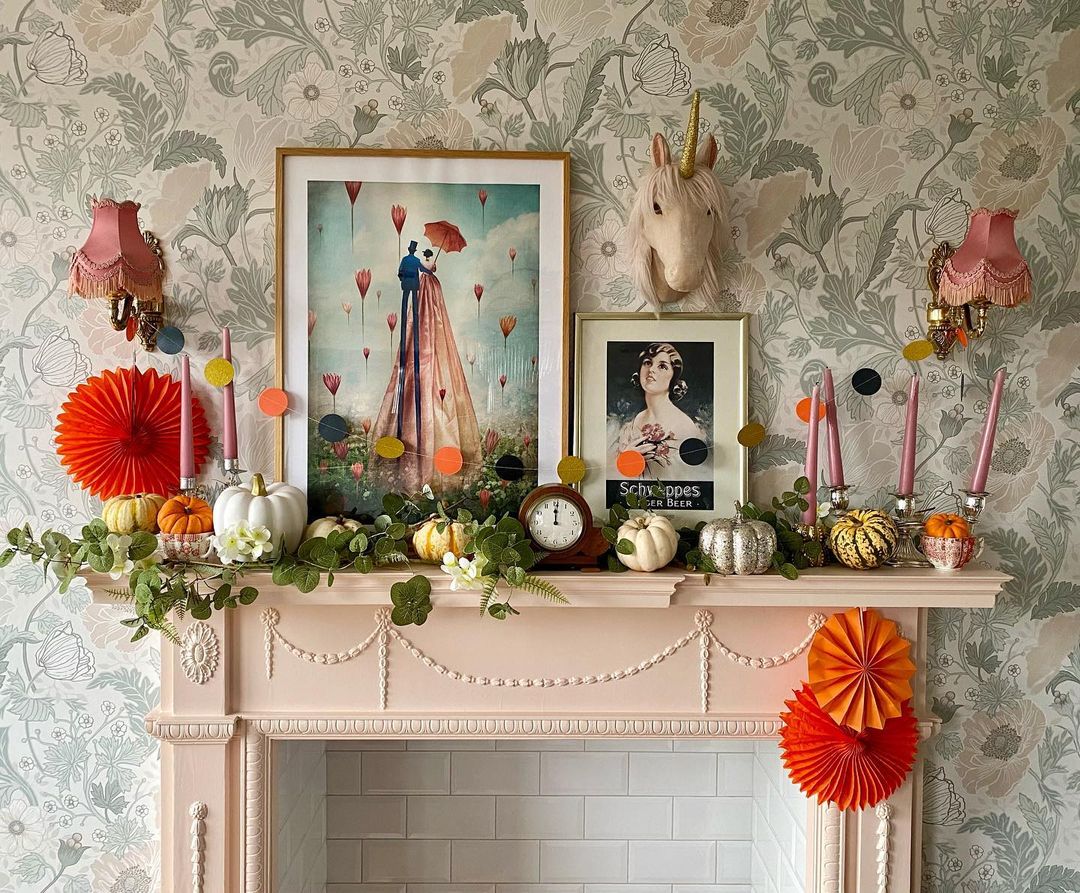 This fireplace has been decorated for Halloween, but check out the tiles at the back!
Because they're so lovely and white, it's unlikely this fireplace has ever been used since they were laid.
Although we use a lot of alternative heating appliances these days, such as electric fireplaces, it's still nice to keep these old spaces as a feature.
14. Herringbone Farmhouse Tiles
This light and bright room has a light and bright fireplace surround and hearth tiles.
It's a gas or electric fireplace insert, so the tiles aren't in any danger of being cracked by dropping a log or fireplace utensil on them.
15. Vintage Farmhouse Tiles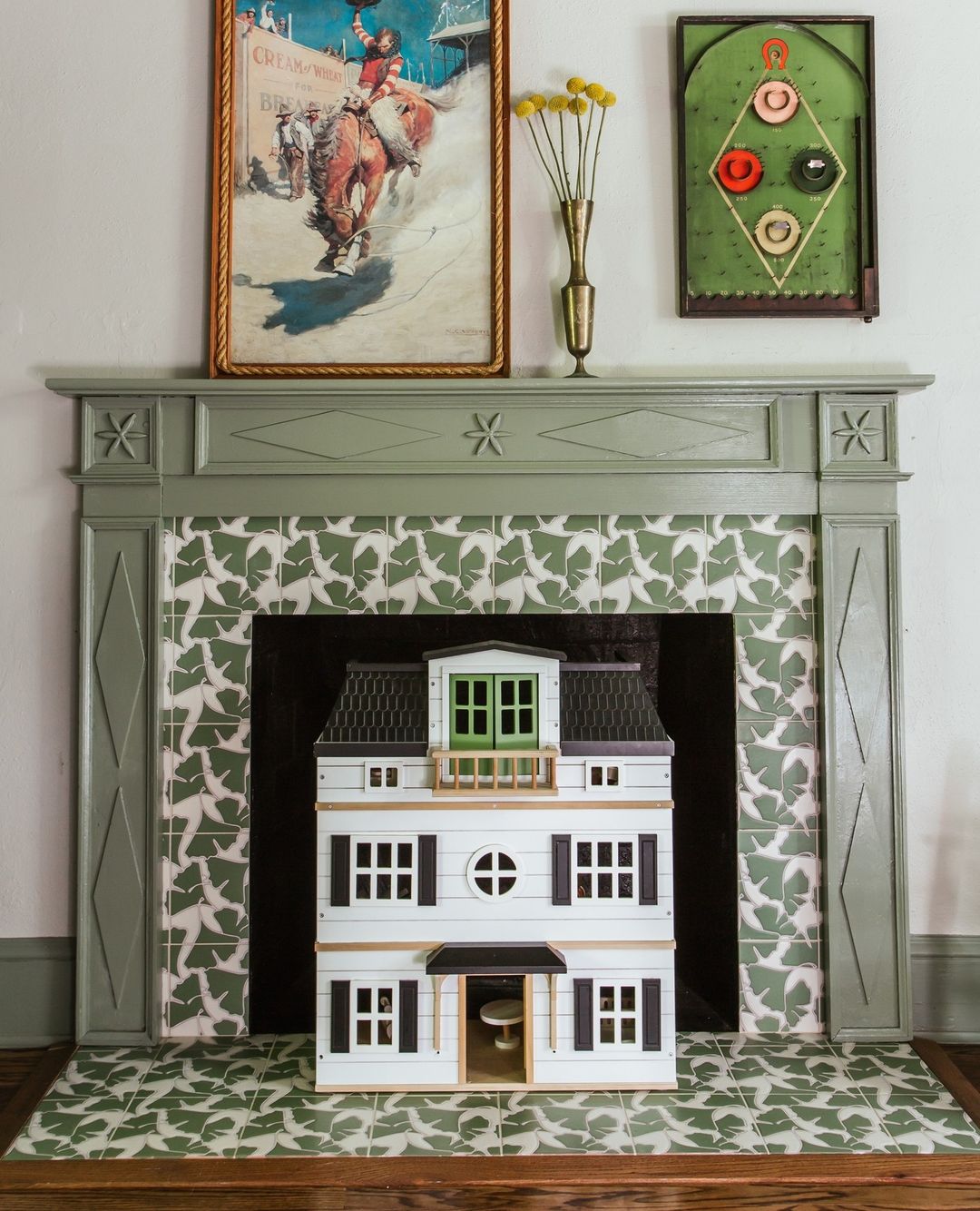 This is an excellent vintage farmhouse fireplace tile idea
The tile pattern, the color, and the shape all work in perfectly with the wood floors and fireplace mantel.
The post description says:
Home is where the Hearth is – A reclaimed hearth and Handpainted Ginkgo Tile in Green Motif frame this fireplace with one-of-a-kind foliage
Follow the account for more.
16. Grid Tiles For Farmhouse Fireplace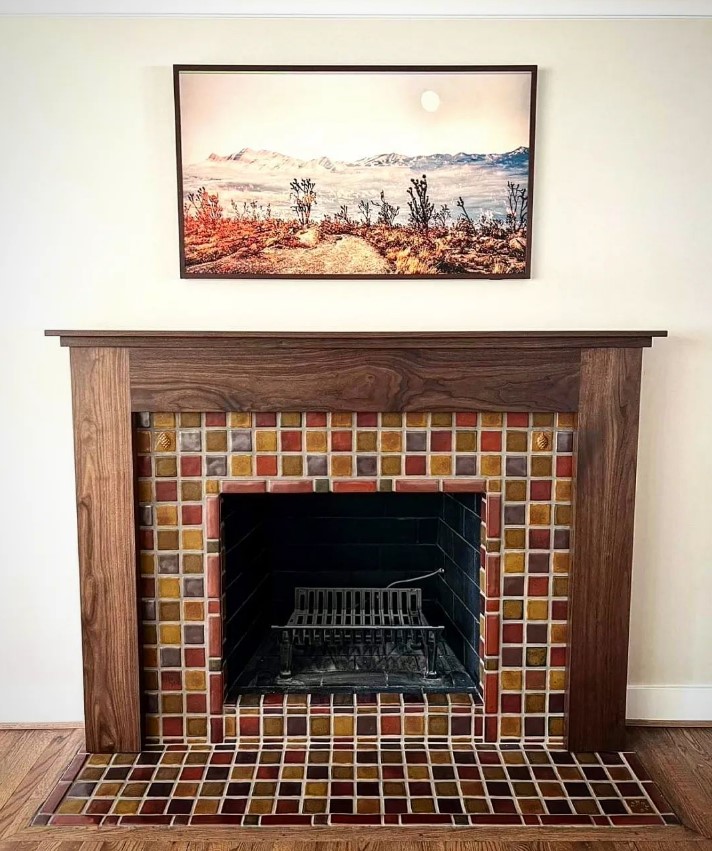 The tiles around this fireplace come from the same company.
They share:
It brings us so much joy to know that the ceramic tiles we make have found a wonderful space to call home.

Thank you @lindsay_doubleyou for sharing your new fireplace with us. We hope this focal point provides an inspiring place for you to relax, gather with loved ones, and to warm up on cold days.
It looks like they've got a lot of good farmhouse-style tiles for fireplaces.
17. Tiles For Wood Stove
Lastly, we have another wood stove rather than a fireplace, but it has a simple modern tile design.
The tiles are large, and while they look almost black in this image, they're actually emerald.
The account shared:
Tis' the season for those cozy wood-stoves to be lit. This Emerald colour tile is the perfect finishing touch to pull this room together.
Larger tiles can often be a bit cheaper to install.
Tile Around Fireplace Ideas
Hopefully, 2 or 3 of these examples have given you some direction on how to tile your farmhouse fireplace.
Make sure to follow the Instagram accounts of the styles you like and you will likely see more images of the same fireplace.
While fireplace tiles aren't as robust as the likes of fire pit pavers, they can still stand up to a fair bit of wear and tear, so long as they're designed for this use.
Most are easy to clean, especially with a good fireplace brick and tile cleaning product. And as long as you're burning well-seasoned wood, there shouldn't be a problem with staining tiles or anything like that.
Let us know your thoughts in the comment section below!