The Stihl MS380 is known as one of the "oddball" saws.
That's mostly because it was never sold in the USA because it didn't meet emissions standards. It was sold in South Africa, Australia, New Zealand, parts of Asia, and a few other countries.
It's a 72.2 cc saw designed for "very heavy-duty use on a wide variety of commercial or farming jobs." It is a pro saw and basically the same saw as the Stihl 038 Magnum.
Are they worth picking up?
Let's find out.
Stihl MS 380 Chainsaw
View this post on Instagram
I've not been able to find out the exact production years for the MS380, but I believe it's from around 1999 – 2007.
I can look at old versions of Stihl sites and see that it was listed for sale over this time period. It looks like it was sold in some countries long after 2007 as well.
David shared this about the 038, MS380, MS381, and MS382 in one of the Stihl FB groups:
They made 3 variants of this saw: 038 (or farmboss), 038 super(or AVS), and the 038 magnum (and magnum 2). All great saws.

They didn't meet EPA requirements in the USA so they stopped producing them in West Germany and continued the production of the most popular model, the 038 Magnum, in Brazil.

Since then they have updated to the MS380, then updated to the MS381, and now they have an MS382.
And Benjamin, who owns a 038 Magnum II shared:
Benjamin, who owns an MS380 said:
[The o38 Magnum is] an excellent all-purpose chainsaw.

I've got a 25″ bar on mine. Put a 20″ on the MS381 Magnum which is the last of that line of Stihl chainsaws.

038 Magnum, MS380 Magnum, then MS381 Magnum. They did make an MS382 Magnum but it is only available in South Africa for some reason. Replaced in the global market by the MS462.

The old 038, 380, and 381 are great saws. 72cc around the 4kw 12,500 – 13,500 RPM pure grunt torque saws. The ultimate Australian hardwood firewood chainsaws without going to an MS660 Magnum which is my biggest chainsaw currently running a 25″ as well.

All 3/8 semi chisel chains. All 3 are running 7 tooth rim sprockets.
For the most part, it's a popular saw, but it's hard to find good info on it.
MS380 Specs
This ad was pulled from an old Stihl Australia brochure where it was marketed as a 'Farm saw.'
Specs are:
72.2 cc
3.6–3.9 kW
4.9–5.3 bhp
52 mm bore, 34 mm stroke
2,500 rpm max idle
12,500 rpm max running
Electronic ignition
Bosch WSR 6 F, NGK BPMR 7 A, Champion RCJ 6 Y spark plugs
0.5 mm electrode gap
Weighs 6.6 kgs
Rollomatic 37, 40, 45, 50, 55 and 63 cm
Duromatic 37, 40, 45, 50, 55 and 63 cm
Check out the full specs in the Stihl MS380 manual here (instant download).
Being a pro saw it has a magnesium crankcase, decent anti-vibe system, auto oiler, chain brake, and so on.
MS380 Versions
Here are the specs from the manual.
You can see there are multiple versions of the 380 listed.
There is the base model which is listed as:
MS 380
Engine power 3.6–3.9 kW (4.9–5.3 bhp)
And there's a reference to the footnotes where it says "Depending on muffler version". The base model 380 is sold with different mufflers which alter the power output.
Then there is the N version.
MS 380 N
Engine power 3.3 kW (4.5 bhp)
The reference this time says that N on Stihl chainsaws means a low-compression engine.
It's the same with the MS181 – it has an N version. But it doesn't appear to have carried on through to the MS382.
Stihl MS380 Review
I read many reviews of the MS380 and most of them are very positive.
The most negative comment I saw said:
I just got a dog of a 380, the old 038 Magnums were awesome so I figured the 380 would be too. I sold mine and bought an MS441 instead and so far so good on it.
And the other problem involves finding parts for it, especially in the US or other countries where it wasn't sold (Canada?). And, hand in hand with this con, is that it's more difficult to find info on the saw since it wasn't as widely sold.
However, the 380 is great for farmers and makes for a very good firewood chainsaw.
Pros include:
It is a powerful and well-built pro saw
Can be run all-day
Easier to work on than some new saws
And someone else said, "It's a bit on the heavy side but so reliable I don't want to upgrade."
MS 380 Vs MS 381
The MS380 and MS381 are very similar saws.
The MS381 was slightly modernized and included some new features like ElastoStart.
For very heavy duty use on a wide variety of commercial or farming jobs. Deco valve to make starting easier. ElastoStart handle on pull cord for easier starting.
View this post on Instagram
Stihl MS381 specs:
3.9 kW engine power
6.6 kg dry weight
72.2 cc engine capacity
20" (50cm) max bar length
Both saws are equally good really.
Compared to something like the MS391, however, the 380 is much better as it's a pro saw with a better design.
Most people would choose the 038 Magnum over the 380, however.
Imitation Stihl MS380
There are a number of 380 clone saws that are Chinese-made.
There are kits that you assemble yourself which cost about $165 and $80 shipping from China, or there a fully built clones like the Neo-Tec.
Stihl warned about these imitation saws in a blog post here.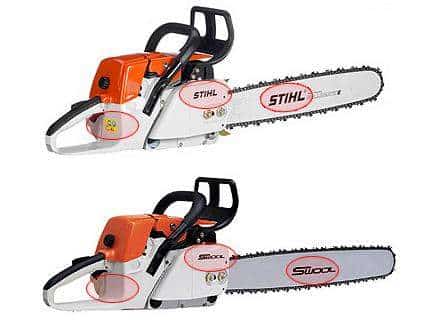 There are a number of ways you can identify a real Stihl chainsaw from a fake/clone which we wrote about in this article on buying a used chainsaw.
Generally speaking, these clone saws are not all bad, as long as you don't expect them to perform and last like the real deal.
Farmertec Holzfforma saws are Stihl clones that are actually pretty good for the price. The main problem is people trying to pass off clones as genuine.
Stihl MS380 Price
Lastly, to finish things off, what is an MS380 worth?
As always, it depends on the condition. A NIB or NOS MS380 would sell for a mint, but a well-loved but still running example might fetch around $300 US.
If it's made up of aftermarket parts it won't sell for as much, nor if it's been run hard and not looked after (obviously). There are plenty of people who are trying to collect all the Stihl saws, so it will have a higher value in their eyes, especially in the US.
Let us know your thoughts plus any more info you have on the MS380 in the comments below.
Let me know: what would you rather have, an MS380, an MS500i, or an 056?
All three are around the same power.