The Stihl MS382 is a follow-on from the 381 and 380, which were successors to the popular Stihl 038.
It is a 72.2 cc, 5.3 hp chainsaw that's described as "a beast" and often compared to other saws like the MS500i, MS460, and MS400.
Like the MS651, the 382 is not for sale in North America and other regions or countries with strict emissions and environmental standards. It's very popular in Africa, South America, and parts of Asia.
Stihl MS382 Vs 381 Vs 380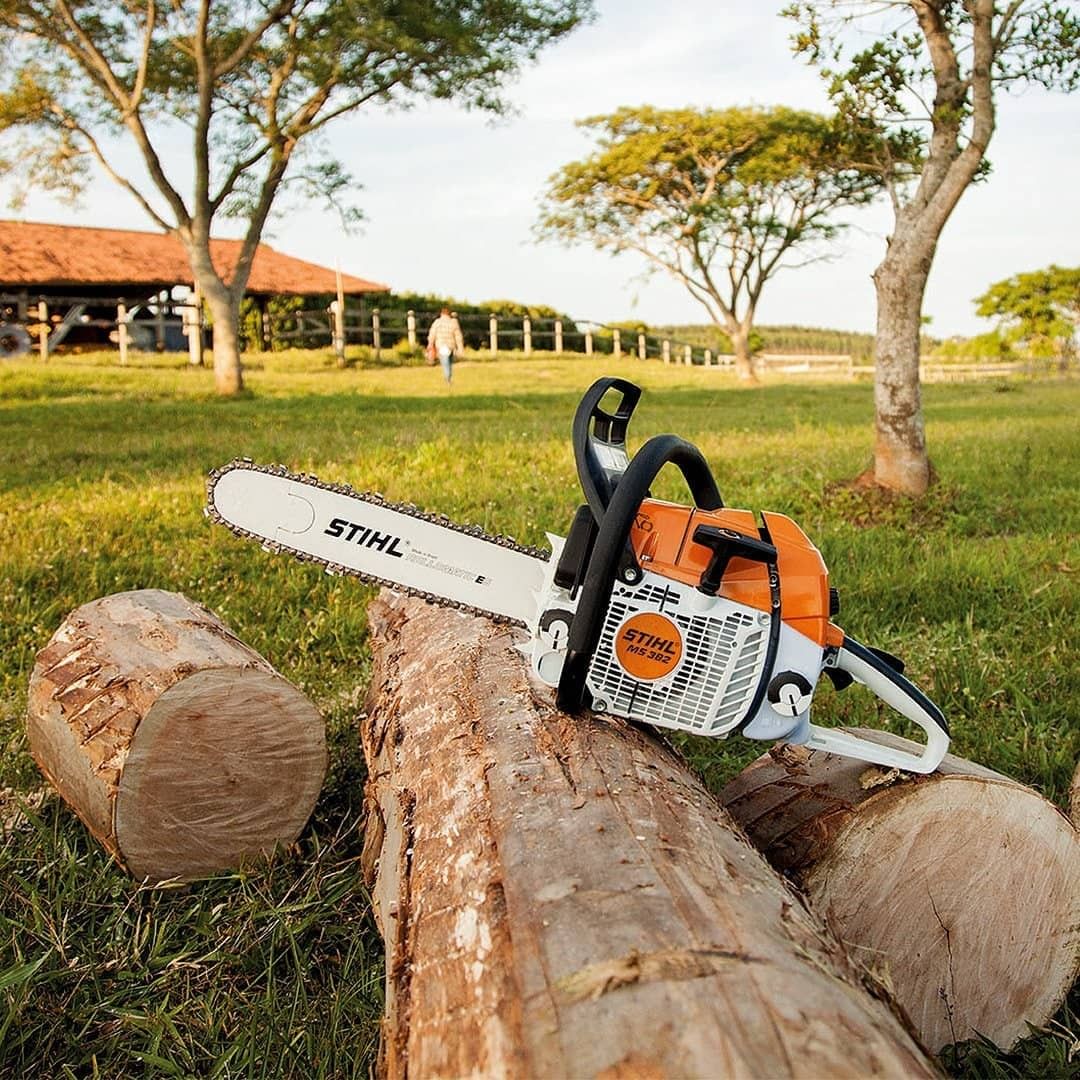 On Stihl South Africa's site, they say this about the 382:
The STIHL MS 382 chainsaw is ideal for felling and preparing medium-density trees in the forestry, agriculture or plantation industries.

Weighing 6.2 kg with a power to weight ratio of 1.6 kg/kW, this high-performance saw is extremely easy to guide. The robust MS 382 stands for a high level of reliability and easy servicing.
They sell it with a 15, 16, 18, 20, or 25″ bar.
Stihl Fiji shares:
This commercial Chainsaw provides power and performance for heavy-duty farming and commercial applications.

Ideal for logging and cutting firewood. This saw has a decompression valve and ElastoStart for easier starting.
The MS382 is often compared to the MS380 and 381, the two saws that came before it.
Here are some user comments on the differences and history:
The 382 is selling like hotcakes in South Africa; it's basically a reborn 381/038 with a 72.2cc engine. It's a beast… 52 mm piston.
In Argentina, the MS382 is a really common saw.
The 381 was a beautiful saw but its time had come. The 382 is just an upgrade of the 381. 382 is much lighter and basically the same power, just easier to handle in my opinion. They both use the same carb and air filters.
I've got a couple of 381s and they are exceptional saws. Very reliable and they run well. I'm not familiar with the 382 but they are a slight downgrade from what I've seen and more emission influenced with less power and more plastic parts.
381 is better but 382 has more speed and less torque than the 381.
The 381 came out after MS380. It uses the same body as the 038 and the only difference is the top shroud cover and it has no decomp valve. After that was the 381 and the most recent model is the MS382.
Compare specs and you'll see there are not a lot of differences.
| | | | |
| --- | --- | --- | --- |
| STIHL | MS380 | MS381 | MS382 |
| Displacement | 72.2 cc | 72.2 cc | 72.3 cc |
| Power | 3.9 kW / 5.3 hp | 3.9 kW / 5.3 hp | 3.8 kW / 5.2 hp |
| Weight | 6.6 kgs / 14.5 lbs | 6.6 kgs / 14.5 lbs | 6.2 kgs / 13.6 lbs |
| Bore | 52 mm | 52 mm | 52 mm |
| Stroke | 34 mm | 34 mm | 34 mm |
| Bar | 15 – 24″ | 15 – 24″ | 15 – 24″ |
These are the base model specs. There are lower compression versions available with lower power output. These are marked as N, for example, the MS 380 N or MS 381 N.
The MS381 is 3.9 kW/5.3 bhp while the MS381 N is 3.3 kW/4.5 bhp. The N version also has a lower idle rpm (2,400 compared to 2,200) but both are 72.2 cc with a max rpm of 9,500.
N is not a common designation on Stihl chainsaws, but it means the saw is lower compression than the base model. This shouldn't be confused with the N on Stihl brushcutters which means low noise.
Besides this, the 382 has slightly less power and weight compared to the previous models. Though not everyone thinks lighter is better.
One commenter in a Stihl FB group said:
They shed a lot of weight on the 382 to compete with the 372 XP. Light aluminium flywheel, new cases, new tank, new recoil, and new top and filter cover.
To which someone else replied:
Weight is not everything. Start shaving off weight from cylinders, chrome bores, and crank shafts and see how your long term durability goes. For a firewood saw, its perfect.
And:
They think lighter is better. When the weight is reduced a lot components are compromised structurally.
All in all, most users think the MS382 is better compared to the 381 and 380.
MS382 Specs And Features
These are the specs for the Stihl MS382 from the manual.
Here they are again:
STIHL single-cylinder two-stroke engine
Displacement: 72.2 cc
Bore: 52 mm
Stroke: 34 mm
Engine power to ISO 7293: 3.8 kW (5.2 bhp) at 9,500 rpm
Idle speed: 2,800 rpm
Electronic magneto ignition
Spark plug (resistor type): Bosch WSR 6 F, NGK BPMR 7 A
Electrode gap: 0.5 mm
All-position diaphragm carburetor with integral fuel pump
Fuel tank capacity: 680 cc (0.68 l)
Chain Lubrication: Fully automatic, speed-controlled reciprocating oil pump
Additional manual oil flow control
Oil tank capacity: 360 cc (0.36 l)
Weight 6.3 kg/13.8 lb
The 382 is not an M-Tronic saw.
One of the reasons the MS382 is not available everywhere is that it apparently does not have spark arrestors which the EPA and other environmental bodies require.
One owner from a non-regulated country said:
They aren't orderable as you guys have strict emissions and safety rules regarding spark arrestors as they have none. Why bother trying to get one in when you could wait the same amount of time for a 500i?
They have been available in Mexico so some go down and get them and bring them across the border.
Some else said:
They made the 038 and follow-up saws like the 382 in Brazil to bypass the EPA requirements. I've got one and it's my favorite saw.
Perhaps the made-in-America Stihl saws need to meet regulations just to be made there?
It's certainly not the case with the 070 which is still being made in Germany (maybe) despite not meeting regulations for use there.
MS382 Review
Those who use the Stihl MS382 love the chainsaw.
It's a good, powerful, pro chainsaw that's suitable for a range of tasks from felling trees to bucking firewood.
Some guys even use them for climbing!
View this post on Instagram
The MS382 gets mostly positive reviews, but not everyone likes it.
Here are the positive things said about it, followed by the negative.
Pros/positive comments:
The 382 is a mean machine, gets used extensively in our area!
I love mine, not many people have one in the US. No spark arrestor and dual ported from the factory…
MS382 is a beast. Strato engine, and the oiler doesn't screw up like the 038/381. I own 2, they team up really well with the 660.
I have a new MS 382, she is a beast!!
The 382 is my favorite saw in Stihl's 70cc class.
It's a good Pro saw but, unfortunately, not a lot of people have the opportunity to have one.
I have a couple of friends who prefer their 382s over their 461s actually.
I have both the MS382 (72cc) and a new MS500i (79cc). 500i would be a little bit faster in my case but the 382 is my favorite chainsaw.
They are awesome saws. I have a couple of friends who say that it's their favorite saw.
Everyone I've heard that's used them said they will outcut a 461/462 when they are stock. Also, every one of them said the specs are off about 3/4 lb. Maybe it's not the saw to have I've just watched several videos and looks like they are animals and haven't ever heard one bad thing about them.
Cons/negative comments:
They aren't a great saw, the 461 is MUCH better.
My 382s are soft and I only get 2 years out of them. The previous older saws were way stronger.
Basically the 391 of the Stihl pro saw line.
What's the point of this saw, really? Weights more than a 462 with less bhp and within a whisker of a 500i, weight-wise. Maybe the price?
Why would you want a 382? It's heavy and underpowered like a 441. Weighs about the same as a 460 but makes MS400c power. Also, I'd rather have a German-assembled saw as opposed to a Brazilian-made one.
Most of the bad reviews come from those who haven't used them, but not all. They're not the most loved saw, but certainly not the worst either.
Stihl MS382 Chainsaw
View this post on Instagram
Overall, the MS382 is a decent option for those needing a good work saw. It's also a great firewood saw as well.
While it doesn't get the praise of a 261, it does alright in the 70cc power class. Many prefer it to the 462, 500i, and other similarly powered chainsaws.
If you are using the Stihl MS382, let us know your thoughts and experiences in the comment section below.