The Stihl MS651 is a 91cc, 6.8 hp pro-chainsaw that's very similar to the 661.
The difference between the 651 and 661 is that the 651 is not M-Tronic, whereas the 661 is (most of the time). There are versions of the 661 that are also not M-Tronic, but there are no M-Tronic versions of the 651. There is only a carburetor version.
The MS651 is not sold in the USA, Canada, Germany, France (or the rest of Europe), Australia, or NZ, but is sold in South Africa, South East Asia, and South America.
It's said this is because the quality of fuel in these countries is not as reliable as in the West, so M-Tronic versions are not suitable. They need higher octane fuel which may not always be available.
Stihl MS651 Vs MS661
Just as the successor to the MS660 was the 661, the 651 is the successor to the 650.
Because you can't talk about the 651 without talking about the 661, let's compare the specs.
| | | |
| --- | --- | --- |
| STIHL | MS 651 | MS 661 C-M |
| CC | 91.1 cc | 91.1 cc |
| Power | 5 kW / 6.8 hp | 5 kW / 7.3 hp |
| Weight | 7.4 kg / 16.3 lb | 7.4 kg / 16.3 lb |
| Bore | 56 mm | 56 mm |
| Stroke | 37 mm | 37 mm |
| Bar | 20 – 36″ | 20 – 36″ |
These are comments from social media:
The only difference between 651 and 661 is the thickness of the base gasket. Thicker = less compression on the 651 to accommodate lower-grade fuels.
Low-compression adjustable carburetor version of a 661 that's only available in countries with potentially shitty fuel
Ms651 is the smaller brother of ms661 with an open port cylinder, I'd expect it'll produce less overall power than 661. Comes with adjustable carb
Interesting to see saws not available in the USA in videos. Had to research a little on what the MS651 is meant for. Good thing Stihl designs saws for markets where fuel quality is not as good. Sounds like it runs and cuts well.
651 (650) is nearly identical to the 661 (660), but a little less power, a little noisier, no MTronic option, and (a lot) worse anti-vibration.
It has low compression and runs a smaller venturi so it can get away with running low grade fuel.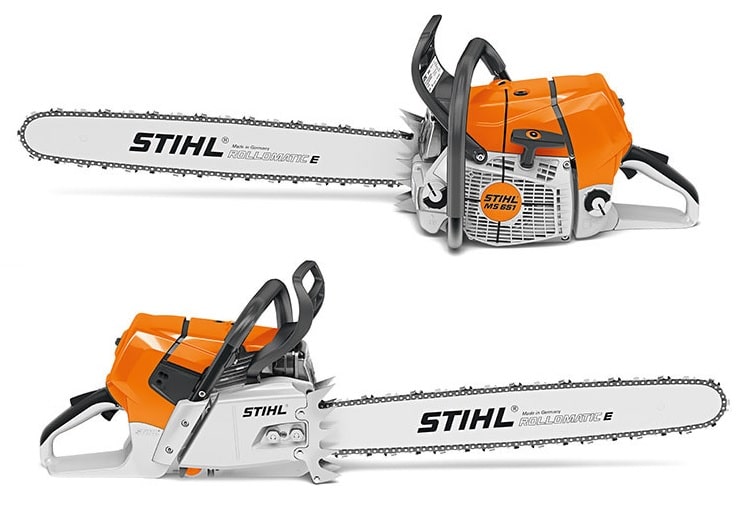 And over on the OPE Forum, user HP Ultra shared:
The MS 651 has a thicker cylinder gasket.

Low fuel quality yields higher probability of misfiring.

The thicker gasket reduces the compression and hence the probability of misfiring is lower.

That is… if STIHL offers the MS 651 in your country, your gasoline might not be the best stuff to get, maybe.
MS651 Specs
This is a comparison chart shared by Stihl that shows a few more differences between the 651 and 661.
Sound power and pressure levels are different, as well as vibration levels. This will have to do with the extra 0.5 hp the 661 outputs.
The weight of the 651 is listed as 7.3 kgs in this chart, but 7.4 in the manual. It's likely the 661 and 651 weigh the same.
Here are the specs from the 651 manual.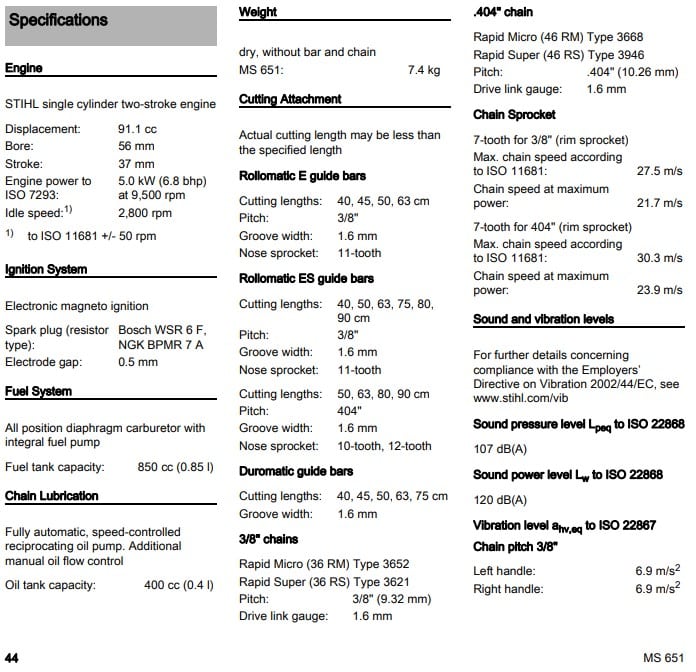 Stihl MS651 Specs/Features:
Displacement: 91.1 cc
Bore: 56 mm
Stroke: 37 mm
Weight: 7.5 kg
Engine power to 5.0 kW (6.8 bhp) at 9,500 rpm
Idle speed: 2,800 rpm
Electronic magneto ignition
All-position diaphragm carburetor with integral fuel pump
Chain Lubrication: Fully automatic, speed-controlled reciprocating oil pump. Additional manual oil flow control.
Spark plug (resistor type): Bosch WSR 6 F, NGK BPMR 7 A
Electrode gap: 0.5 mm
Fuel tank capacity: 850 cc (0.85 l)
Oil tank capacity: 400 cc (0.4 l)
The main thing separating the 651 from the 661 C-M is that the 651 has an adjustable carb rather than a computer controlling the mix.
Check out our Stihl 261 review in which we explain more fully the difference between MTronic and non-MTronic.
The 651 has Elasto-start, tool-free fuel caps, a decompression valve, and the Stihl Ematic system (reduces bar oil usage). It also has an improved anti-vibration system that has approximately 50% less vibration than the MS651.
MS651 Reviews
The guy in this video said "Yes, did not expect to run that good…" in response to positive comments about the 651.
The saw is powerful, runs well, and is easier to maintain and work on than M-Tronic saws.
Even Stihl, in their marketing of the saw, says:
Easy-to-repair technology

Thanks to smart engineering there is no need for computer software to do repairs.
They also share:
High-performance saw for demanding applications in high-density stands. STIHL anti-vibration system, HD2 filter with an excellent filtering effect, controlled-delivery high-performance oil pump for conveying high quantities of oil; roller chain catcher as standard.
All the comments and reviews of the 651 online are very positive. And those who see videos of it often share things like "I am not a fan of the M-Tronic saws after a few bad experiences. I'll be looking for a 651 in the future."
View this post on Instagram
So while it's only sold in countries like Jamaica, Columbia, and Brazil, there are plenty of people in other countries that would like to get their hands on one.
However, you can usually find non-M-Tronic 661s in most places now anyway, which is basically the same thing. This version wasn't always available but was made so due to popular demand.
The main 651 pro is that you don't need a computer to work on the carb like the M-Tronic system requires. It has the adjustable carb that most chainsaw guys prefer. However, in the US and other countries that don't sell the 651 it could be best to get a 661 for parts availability.
Stihl MS651 Chainsaw
View this post on Instagram
The MS651 is a very good Stihl chainsaw. It's a powerful and reliable workhorse.
Compared to the 661 M-Tronic, common consensus says it's better. But compared to the 661 without M-Tronic, it's equal. All of these big Stihl chainsaws are worth it (and not worth destroying)!
If you own or have used a Stihl MS651 then let us know your thoughts and experiences in the comments below. And check out these other pro-Stihl saws – the MS880, the Stihl Jetsaw, and Stihl Magnum saws.