An outdoor wood furnace (sometimes called an outdoor wood boiler) is an adaptation of a traditional indoor wood-burning stove.
The unit is kept outside and pumps heated water from its wood-burning fire into a house or other building. An outdoor wood furnace can be a great alternative to indoor heating, but how do you know what to look for?
This guide will give you all the information you need, including reviews of the best outdoor wood furnace brands, the situations in which an outdoor furnace is best, and some comparisons of the different home heating methods.
Let's begin!
Types of Outdoor Wood Furnace
When people talk about an outdoor wood boiler, they almost always refer to a standard outdoor wood furnace.
However, the multiple types of outdoor wood boilers are mainly differentiated by how they utilize the wood fire, capture heat, and how efficient they are.
You may find that any of the three types of outdoor wood furnaces listed below would work for your building. Still, several factors must be considered, including heat efficiency, sustainability, and environmental impact.
Here are three different types of outdoor wood boilers.
1. Standard Outdoor Wood Furnace
A standard outdoor wood furnace works through a mixture of air, heat, and fuel (wood).
Most standard outdoor wood stoves have a fire tank surrounded by a water jacket. The wood fire heats the water, which is transported through underground pipes and into a building for heating.
The efficiency of a standard wood boiler is dependent mainly on airflow.
If the unit has too little air, it will result in the wood smoldering and coating the furnace with pollutants. On the other hand, too much air will cause the wood to burn too fast, negatively impacting the furnace's heating efficiency.
A standard outdoor wood furnace is often less efficient and more labor-intensive than other, more modern outdoor wood furnaces. It is a good choice for supplemental or intermittent use.
2. Catalytic Outdoor Wood Boiler
Compared to a standard, non-catalytic furnace, a catalytic outdoor wood boiler provides extended burning and, therefore, a more sustained heat output. For this reason, a catalytic converter can be a good choice for stable, continuous usage over non-catalytic wood boilers.
An outdoor catalytic wood boiler achieves a better performance than standard outdoor wood furnaces because it uses a catalytic converter to treat the heated exhaust from the firebox.
While usually offering better performance, catalytic outdoor wood boilers are considerably more expensive than outdoor standard wood boilers. Outdoor catalytic wood boilers are much less common than outdoor wood furnaces that rely on gasification.
3. Secondary Combustion (Gasification) Outdoor Wood Boiler
A secondary combustion outdoor wood boiler uses a two-stage heating system.
First, the unit burns wood fuel to capture the heat and vapor of the wood. Then the furnace uses gasification to capture and burn the vapors as a second source of heat.
Gasification boilers are becoming more and more popular because they offer nearly complete combustion.

The best secondary combustion outdoor wood boilers can achieve over 80% heat efficiency, twice as much as conventional outdoor wood boilers.
Because a secondary combustion outdoor wood boiler uses its fuel so well, it's the most environmentally-friendly type of outdoor wood furnace. The best secondary combustion outdoor wood furnaces utilize a heat storage tank for even better performance.
Wood Furnace Brands
Now that you understand some common types of outdoor wood furnaces, it is time to look at the best brands of wood furnaces.
Each brand we've reviewed offers a variety of wood-burning furnaces and boilers. Some of these manufacturers also make biomass and coal-burning furnaces that you may want to research.
When researching the wood-burning furnaces from these five top brands, please pay special attention to the size of the furnace, the amount of heat output or BTUs they produce, and what size space the furnace can heat.
1. Central Boiler
Dennis Brazier founded the Central Boiler company in 1984 in Greenbush, Minnesota.
While the company started with a single welded metal box built in a small workshop, Central Boiler grew to be one of the leading manufacturers of outdoor wood furnaces and outdoor wood boilers.
Central Boiler prides itself on its innovation and holds several patents.
The company also boasts an impressive lineup of outdoor wood-burning furnaces and other products, including its FireStar Combustion Controller with E-Link Technology.
Central Boiler makes three series of outdoor furnaces:
Classic Outdoor Wood Furnace series
Classic Edge HDX Outdoor Wood Furnace series
Maxim Outdoor Wood Pellet Furnace series
Central Boiler Classic Outdoor Wood Furnace Series
The Classic series from Central Boiler is a line of four wood log-burning furnaces, including the CL 7260, CL 6048, CL 5036, and CL 4030. Central Boiler also offers an outdoor wood pellet furnace under the Classic series section of its website.
The Classic series wood furnaces can replace anywhere from 300 to 1,500 gallons of fuel oil per month.
Each model uses a water tank for heat transfer, with the most miniature model, the CL4030, holding 140 gallons, while the largest model, the CL7260, holds 764 gallons.
Central Boiler constructs every model in the Classic series with titanium-enhanced stainless steel and corrosion-resistant firebox and offers multiple attractive color choices.
Classic Edge Outdoor Wood Furnace Series
The Classic Edge HDX series is Central Boilers' product line of EPA-certified high-efficiency hydronic appliances that burn cleaner and more efficiently than old-school wood-burning furnaces.
Central Boiler makes four HDX models: the 960 HDX, 760 HDX, 560 HDX, and 360 HDX.
Each model has a titanium-enhanced stainless steel firebox that is corrosion-resistant and intended to last for the unit's lifetime.
Central Boiler's HDX furnaces are among the highest-performing and most durable outdoor wood furnaces available on the market today.
Maxim Outdoor Wood Pellet Furnace Series
The Maxim series from Central Boiler is an outdoor furnace that burns wood pellets instead of wood logs.
Central Boiler makes one unit in the Maxim series, named the Maxim M255 PE.
The M255 PE is EPA Step-2 certified and has a heating efficiency of 96.2% LHV. The unit has a water tank with a 90-gallon capacity and a pellet hopper that can hold up to 11 bushels (600 lbs.) of wood pellets.
Our Favorite Central Boiler Furnace: The 360 HDX Outdoor Wood Furnace
The 360 HDX has an overall heating efficiency of 88.4% LHV and a 150,000 BTU/HR output capacity.
The unit is relatively compact, measuring just 28 "L x 29 "H x 21 "W.
It is highly efficient, has WiFi capability for easier temperature adjustments, and Central Boiler provides easy financing options to help cover the cost.
2. Crown Royal Stoves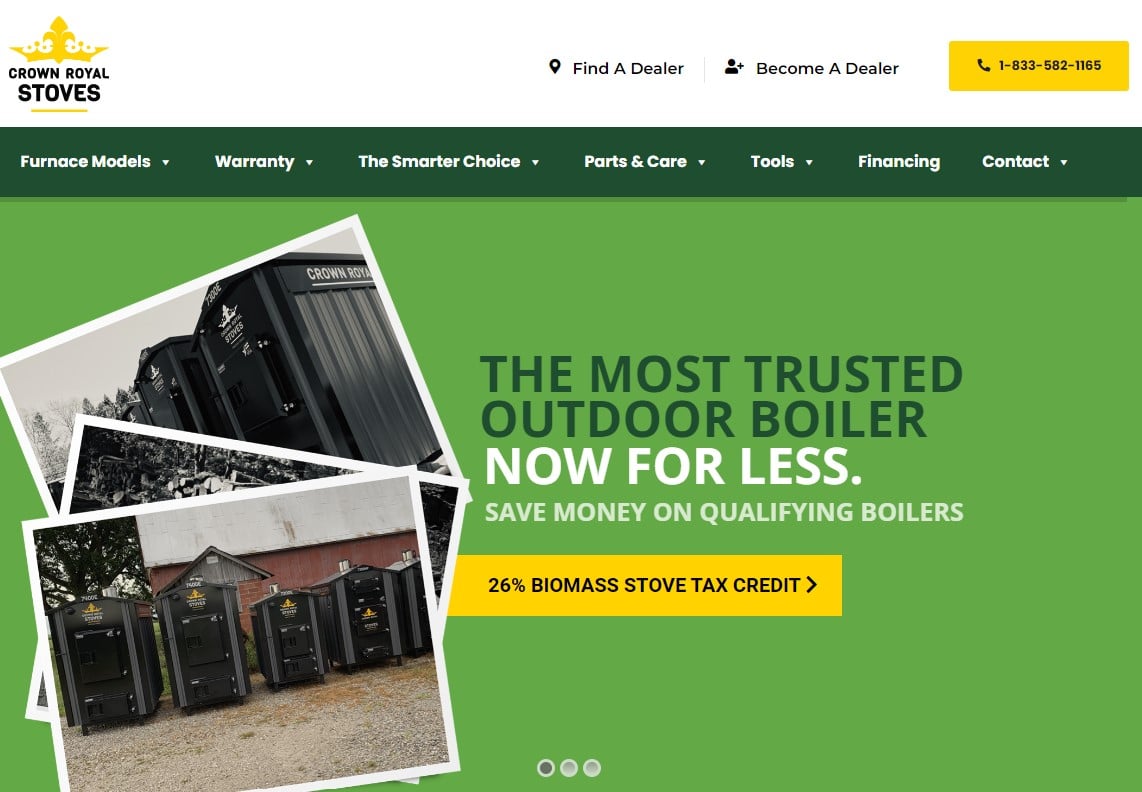 The family-owned Greentech Manufacturing Inc. in International Falls, Minnesota, manufactures all Crown Royal Stoves.
All Crown Royal Stoves are 100% American-manufactured, and every unit comes with a 20-Year limited warranty.
Crown Royal Stoves makes three series of outdoor wood furnaces:
Pristine Series
Multi-Pass Series
Automated Biomass
Pristine Series
The Pristine series is Crown Royal Stoves' line of high-efficiency, eco-conscious wood furnaces.
The Pristine series has three models: the 7200E, 7300E, and 7400E.
The company makes every Pristine model with 409 titanium-enhanced stainless steel and a double-walled, insulated stainless steel chimney.
Crown Royal Stoves designed the Pristine series with a gasification manifold that creates a highly-efficient heating method. The secondary combustion chamber of the Pristine units is capable of temperatures as hot as 2,300°F.
Depending on the Pristine unit you are looking at, the furnaces are appropriate for heating areas of 2,000 to 10,000 sq. ft.
Multi-Pass Series
Crown Royal Stoves named its Multi Pass series of furnaces for the triple pass heat exchanger located in the water jacket.
This unique heat exchanger transfers heat more sustainably and efficiently than traditional heat exchangers.
There are four models in the Multi-Pass series: the 7200MP, 7300MP, 7400MP, and 7500MP.
The 7200MP is the smallest unit and offers about 165,000 BTUs, while the largest appliance, the 7500MP, can put out roughly 750,000 BTUs.
Crown Royal Stoves constructs all Multi Pass wood furnaces with 409 titanium-enhanced stainless steel, multiple stainless steel heat exchanger tubes, and a turbo draft fan system.
Automated Biomass
The Automated Biomass series from Crown Royal Stoves is a group of boilers that can burn wood chips, wood pellets, coal, or corn.
The series has one model, the BIO950, which stands at 93″ H x 64″ W x 92″ L (+ Fuel Bin). It weighs about 4,000 lbs, and its water tank has a maximum capacity of 420 gallons.
The BIO950 has an automated feed system and a triple pass heat exchanger capable of putting out approximately 950,000 BTUs.
Our Favorite Crown Royal Stoves Outdoor Wood Furnace: The 7200MP Outdoor Wood Furnace
The 7200MP unit is a compact but powerful wood furnace that measures 81″ H x 47 1/2″ W x 62″ L. The furnace weighs roughly 1,400 lbs and has a water capacity of 140 gallons.
The 7200MP is the perfect, high-efficiency outdoor wood boiler for spaces between 2,000-3,000 feet thanks to its ability to supply up to 165,000 BTUs.
The model's shaker grate cleaning system, digitally illuminated control panel, and water level indicator makes it a fantastic choice for first-time outdoor furnace users.
3. WoodMaster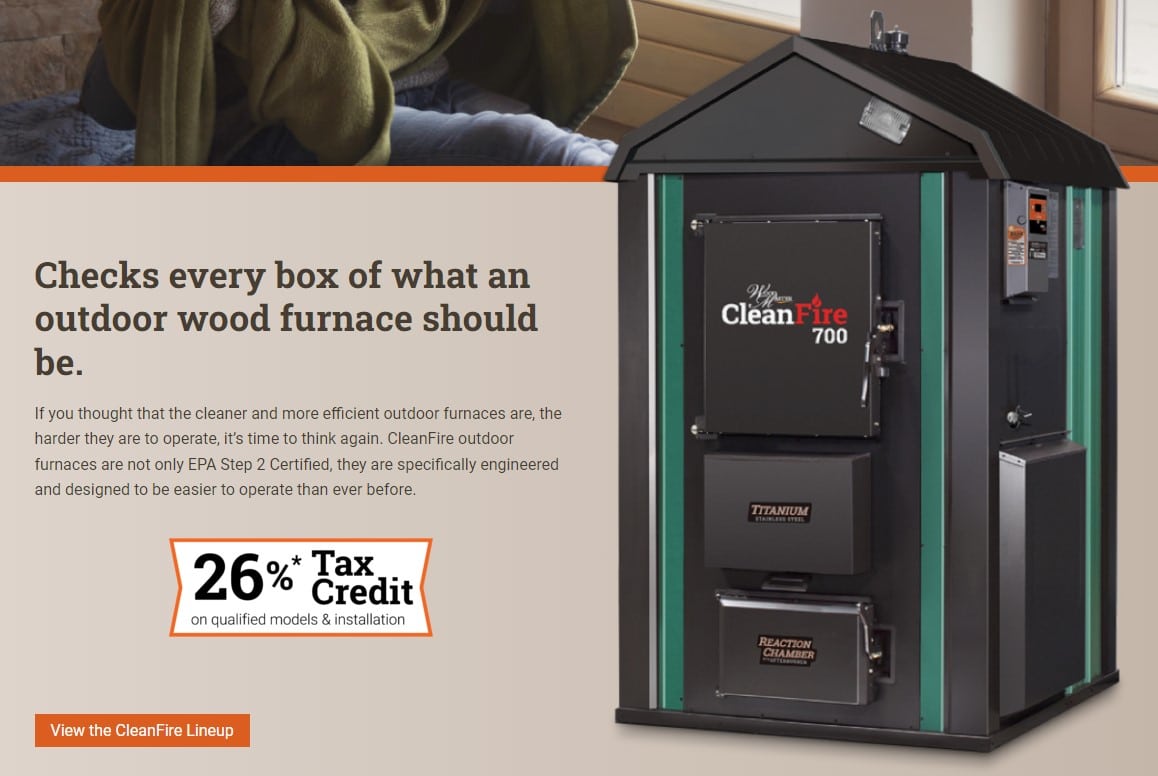 WoodMaster was founded in 1989 in Minnesota.
The company offers various products and services, including underfloor heating, water distribution systems, snow/ice melting systems, and outdoor wood furnaces.

The WoodMaster line of outdoor wood furnaces features two product lines:
CleanFire Outdoor Wood Furnace series
Traditional Outdoor Wood Furnace series
WoodMaster also sells the Maxim M255 PE from Central Boiler.
CleanFire Outdoor Wood Furnace Series
With a heat efficiency of 92% LHV and a high 300,000 BTU/HR rating, it is clear to see why WoodMaster's CleanFire series is popular among buyers looking for a fuel-efficient outdoor furnace.
There are four EPA Step-2 certified CleanFire series models, including the CleanFire 300, CleanFire 500, CleanFire 700, and CleanFire 900.
WoodMaster builds every CleanFire model with a titanium-enhanced steel firebox, an air delivery system, a vertical Easy View heat exchanger, and the FireStar Combustion Controller.
The CleanFire models range in size and power, offering between 150,000 BTU/HR and 400,000 BTU/HR.
Traditional Outdoor Wood Furnace Series
WoodMaster's Traditional Outdoor Wood Furnace series offers four models: WoodMaster 3300, WoodMaster 4400, WoodMaster 5500, and WoodMaster 6500.
The Traditional models are an excellent choice for economical heating that can handle anything from a 2,000 sq. ft. home to a 20,000 sq. ft. commercial building.
WoodMaster builds each Traditional series model with a titanium stainless steel firebox, draft control fan system, and a round chamber design that improves air and water circulation.
Outdoor Wood Pellet Furnace Series
The Outdoor Wood Pellet Furnace series from WoodMaster is the heading that the company uses to sell the Maxim M255 PE wood pellet burning furnace manufactured by Central Boiler.
We included a mention of it here because it may be easier to find a WoodMaster dealer in your area, or you may get a better financing deal through WoodMaster. Check with both companies to ensure you get the best deal on the Maxim M255 PE.
Our Favorite WoodMaster Outdoor Wood Furnace: The CleanFire 300 Outdoor Wood Furnace
The CleanFire 300 is a durable, robust wood furnace with a heating efficiency of 88.4% LHV and a maximum output of 150,000 BTU/HR.
It measures 28″ L x 29″ H x 21″ W, weighs about 1,365 lbs, and has a water capacity of 150 gallons. The furnace's small size and ten cu ft. firebox make it an intelligent choice for heating homes or other smaller buildings.
The CleanFire 300 also comes in four different dual color schemes, so you can choose a look that matches your existing building.
4. Wood Heating Solutions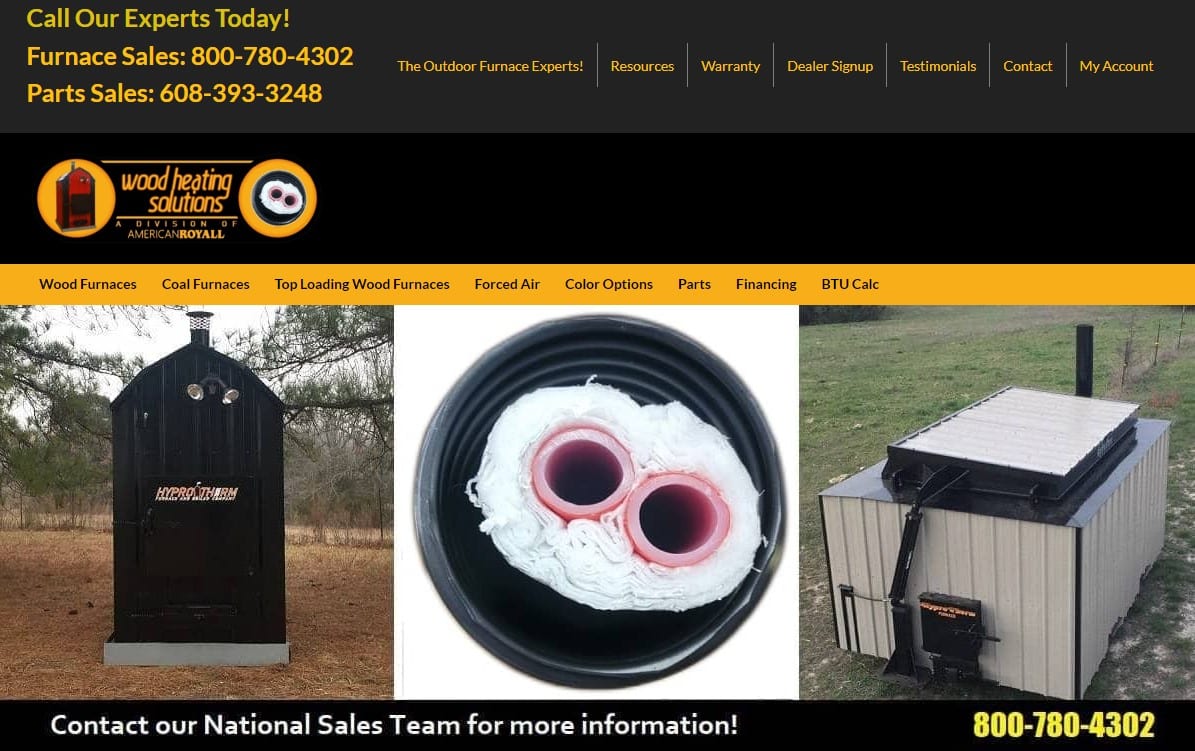 Wood Heating Solutions is a division of the American Royall company and is located in Westby, Wisconsin.
The product range at Wood Heating Solutions is extensive, with options for outdoor wood furnaces, outdoor coal boilers, American Royall indoor furnaces, outdoor wood boilers, outdoor forced air wood furnaces, and a ton of parts and PEX piping.
The outdoor wood-burning stoves that Wood Heating Solutions offers include:
Hyprotherm Outdoor Wood Boilers
Hyprotherm Top Loading Wood Boilers
Hyprotherm Outdoor Wood Boilers
The Hyprotherm Outdoor Wood Boilers at Wood Heating Solutions series includes seven models of various sizes.
This enables customers to easily find a unit that provides the right amount of heating for their home.
These outdoor wood boilers feature a firebox with 3/8″ walls and a water jacket with a 3/8″ bottom and 3/16″ sides. The thick material gives these boilers more durability and reliability over the unit's lifespan.
The most miniature model, the FLRH–85, holds 85 gallons of water, has a 15 cu ft. firebox, and can produce 95,243 BTUS at 180 degrees. This unit is well suited to heating spaces of approximately 2,300 sq. ft.
The largest model, the FLRH-400, holds 403 gallons of water, has a 41 cu ft. firebox, and can produce as much as 451,562 at 180 degrees. The FLRH-400 works well for spaces of approximately 11,288 sq. ft. or more.
Hyprotherm Top Loading Wood Boilers
Wood Heating Solutions' top-loading wood boilers use a lid on the top side of the unit to load wood.
Currently, the company offers dozens of different models with varying dimensions. Wood Heating Solutions categorizes its models by their fireboxes which range from 4″ to 14″ in size.
You can also select many different water tank capacities within the different firebox size categories.
The smallest and most affordable top-loading boiler is the TL-433-WT12/12. It has a 4″ firebox, a 348-gallon water jacket, and produces 389,934 BTUs. This outdoor furnace is appropriate for heating spaces of about 9,453 sq ft.
The largest of Wood Heating Solutions' top-loading boilers is the TL-1456-WTC12/12. It has a 14″ firebox, holds up to 2,214 gallons of water, and can produce over 2.4 BTUs. It is an excellent option for commercial buildings or large barns as it can heat up to 60,140 sq ft.
Our Favorite Wood Heating Solutions Outdoor Wood Boiler: Hyprotherm FLRH-100 Outdoor Wood Boiler
The FLRH-100 is Wood Heating Solutions' second smallest wood boiler, but it is the perfect size for heating the average house of around 2,800 sq ft.
It has a 100-gallon water jacket, a 16.5″ cu ft. firebox, and produces up to 112,050 at 180 degrees. The FLRH-100 is also easy to make space for since it only measures 64 ½" L x 46″ W x 87″ H.
5. HeatMaster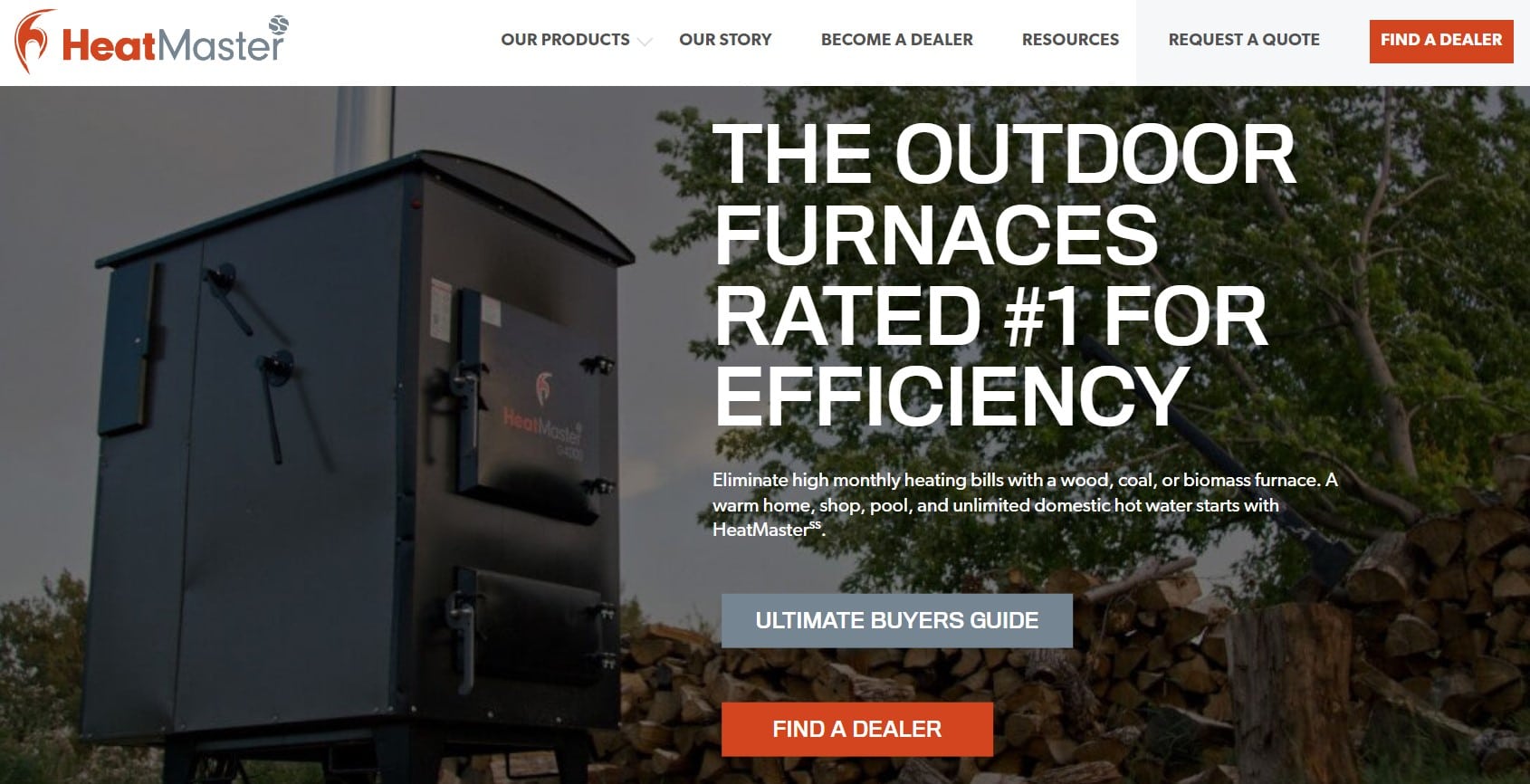 The HeatMaster brand is relatively new to the market.
The company was started in 2001 by two business partners in Winkler, Manitoba, Canada.
Since its humble beginnings, the company has grown, constructed an enormous manufacturing plant, and expanded to sell its products throughout Canada, the United States, and worldwide.
HeatMaster offers wood-burning furnaces for industrial and residential customers. Under its residential line, HeatMaster produces the G, B, and C series.
The C series is actually an outdoor coal-burning furnace that provides impressive performance and reliability but is outside the scope of this article. If you are interested in burning coal for heat, check out our article about the best coal stoves (inside models).
G Series
Their residential line consists of three models: the G4000, G7000, and G10000.
HeatMaster names each model of residential outdoor wood-burning furnace that it makes based on the heating space the unit can handle. For instance, the G4000 is the perfect heating solution for areas of approximately 4,000 sq ft.
All the G series furnaces from HeatMaster use a recirculation pump which provides heat extremely quickly by circulating water to keep the temperature in the water jacket consistent from top to bottom.
HeatMaster uses its patent-pending Tornado Combustion Chamber for all three wood furnace outdoor models. The Tornado Combustion Chamber is longer than a traditional combustion chamber and moves air in a spiral motion that conserves fuel and reduces heat loss.
B Series
The HeatMaster B Series furnaces, which include the B250, B500, and B1000, are biomass-burning furnaces that can use wood chips, pellets, coal, and more.
HeatMaster names the B series models for how many BTUs they produced multiplied by 1,000. For example, the B1000 produces 1,000,000 BTUs.
The B Series has automated fuel feeding, wireless monitoring controls, and a cleaning auger that automatically clears ash, so you don't have to.
These furnaces also use a high-efficiency firebox and vertical heat exchange tubes to transfer as much as 80% of the heat from the fire to the water.
Depending on availability and pricing, the B Series furnaces are good options for commercial buildings or customers who may need to change their fuel source occasionally.
Our Favorite HeatMaster Outdoor Wood Furnace: The HeatMaster G4000
The G4000 offers a great blend of size, affordability, and power for anyone who wants to heat an average home or similarly sized building.
The G4000 measures just 59″ L x 42″ W x 81″ H and weighs only 1,448 lbs.
It has an 8.5 cu ft. firebox, holds 118 gallons of water, and can produce 68,025 BTU/HR at an 8 hour burn rate. This furnace can accommodate wood lengths up to 20″ and has two sets of outlets (1 set = 1″ and 1 set = 1.5″).
Outdoor Wood Furnace Installation
Installing an outdoor wood furnace can be accomplished by yourself over a weekend but if you are apprehensive about your abilities, reach out to a local contractor for assistance.
If being environmentally friendly concerns you, visit the EPA to confirm that the outdoor wood boiler you want to install is EPA-certified. Go to the EPA-Certified Wood Stove Database and search for your furnace in the "Central Heaters" section.
Here is the basic process for installing an outdoor wood furnace:
Clear a section of ground where you will install your new outdoor wood furnace. The location of the furnaces should be level with the building you want to heat.
Pour a concrete base to hold your furnace. The concrete should be at least 4 inches deep, and it will be necessary to construct a form to pour it into.
Using a backhoe or similar equipment, dig a trench from the location of the furnace to your building. You need to dig the channel below the frost line. Use the National Weather Service's Frost Depth map to check your location's frost level.
Install your outdoor wood furnace on the concrete pad and measure the distance from your furnace to your building. Cut a section of PEX pipe to the length measurement you need and place it inside your trench. This pipe will be the way you funnel the hot water into your building.
Cut a section of 4×6 PVC pipe to the same length measurement and do the same with a 12/3 110V wire.
Run the wire through the PVC pipe and place the PVC pipe inside the trench.
Mount your heat exchanger on the outlet plenum of your outdoor wood furnace. When purchasing a heat exchanger, confirm that it fits the model number of your outdoor wood furnace.
Connect your PEX pipe to the wood-burning furnace. Connect a pump and the PEX pipe to your water heater using another pipe. You can also attach the heat exchanger to the water heater.
Attach your 110V wire to your circuit breaker and the furnace. You will also need to connect the thermostat at this point.
The final step is to fill the water jacket and start a fire.
Because an outdoor wood boiler can be an expensive investment, it's worthwhile to take a few additional steps to extend the unit's life cycle.
These actions are not strictly necessary, but they can keep your outdoor wood heaters functioning for many years with minimal issues.
Replace the thin chimney pipe with a longer, double-walled insulated pipe and a chimney cap. This will reduce smoke blowback and excessive corrosion buildup in the chimney.
Install a ground rod. A ground rod not only protects you from electrical shock, but it also protects the inside of the furnace from rusting caused by electrolysis of the water in the jacket.
Drain your boiler annually and replace the water. It is also a good idea to add an anti-corrosion chemical treatment. Many manufacturers include this activity as part of their warranty conditions.
Furnaces can even be used to heat a garage efficiently, especially important if the space is used for hobbies or as a workshop.
Outdoor Boilers Vs Other Heating Appliances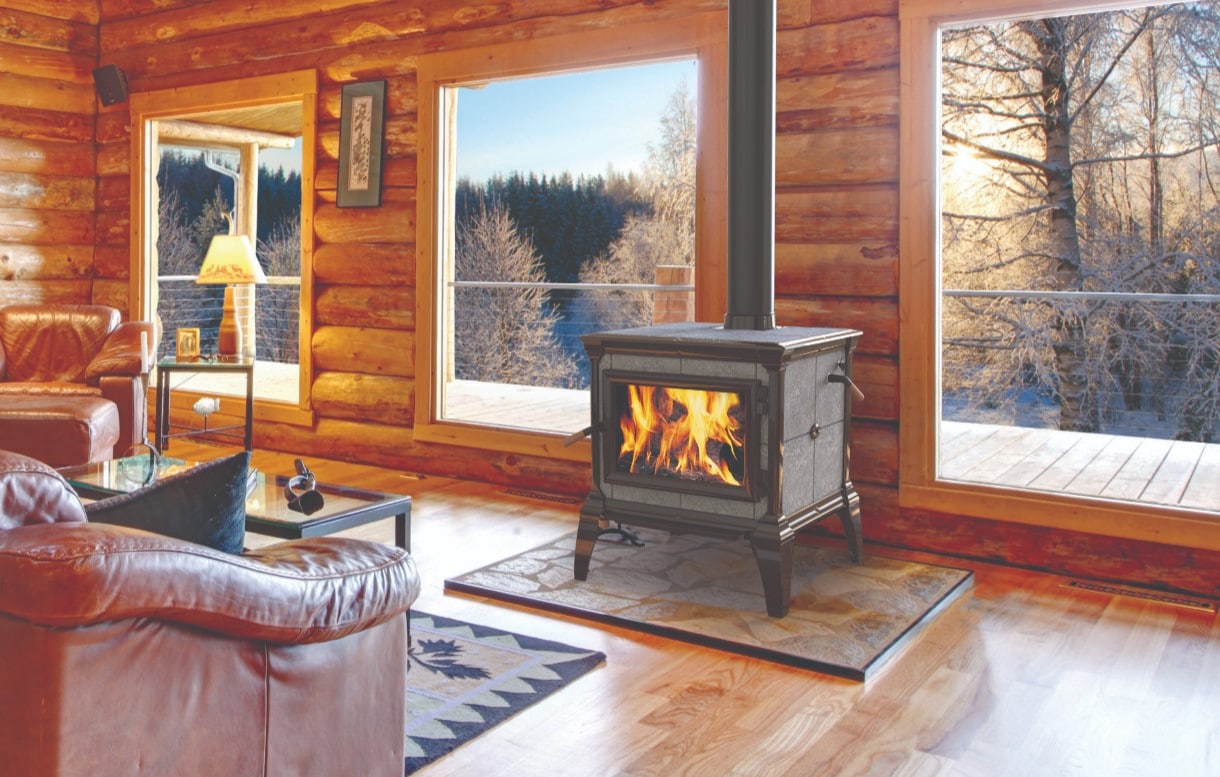 You've learned about the types of outdoor boilers and seen what some of the best outdoor wood furnace brands have to offer.
Now, you might recognize there are similarities between outdoor boilers and other heating appliances. Every appliance offers its own series of pros and cons.
Let's look at how outside wood burners compare to some of the most commonly used indoor heating appliances.
Indoor Wood Stoves
An indoor wood stove is a centuries-old invention that people often use to heat their homes, cook meals, and more.
Indoor wood stoves are a simple type of heating that can be described as a firebox with a chimney that provides airflow and an outlet for smoke.
The benefit of these is that you can see the fire and sit in front of it. It creates a nice atmosphere in the home. The downside is that you need to bring wood inside, it can give your home a smokey odor, and you can't easily force heat around the house.
An indoor wood stove is not as clean or efficient for whole-home heating as an outdoor wood boiler system. An indoor wood stove might be a good choice if you only need to heat a small space, such as a hunting cabin.
Fireplaces
A fireplace is most commonly a built-in section permanently installed in a wall.
The fireplace consists of an area for burning wood and a chimney for removing smoke and facilitating airflow.
A fireplace can be an attractive aesthetic element for a home or other building, but it requires frequent maintenance to maintain a fire and is not as efficient for home heating as an outdoor wood boiler.
Additionally, if your building doesn't already have a fireplace, it is a major construction project to have a fireplace and chimney installed.
Gas Heating
Natural gas heating is a popular method for home heating because it is clean, efficient, and doesn't require the homeowner to refill a fuel tank.
A building with gas heating does need a hook-up to municipal gas lines, so if your building is in a remote location, this may be a limiting factor.
Gas heating is clean, smokeless, and relatively cheap. However, wood-burning systems can be more affordable and more efficient if you purchase a high-efficiency outdoor furnace, such as gasification or a catalytic converter system.
Some studies even suggest wood burning is more environmentally-friendly than natural gas heating.
Electrical Appliances
There is a wide range of electrical appliances used for heating from electric fireplaces to panel heaters.
Some electrical heating appliances, such as infrared radiant heaters or fan heaters, are helpful for single rooms or small spaces. You can use large electrical devices such as underfloor heating systems and electric heat pumps to heat entire homes.
Electrical appliances offer the benefits of being effective, smokeless, and requiring no extra work from the homeowner.
On the other hand, electrical appliances need a constant draw of electricity which can become expensive, especially in the cold month when electricity suppliers raise the cost of their energy.
Who Is an Outdoor Wood Boiler Best For?
Deciding whether or not to buy an outdoor wood boiler can be challenging.
There are many factors to consider for the unit itself; as well as factors related to your unique situation. And regardless of what options interest you, any outdoor wood-burning furnace or boiler will be a financial investment.
Here are some guidelines you can use as a sort of checklist to determine if an outdoor wood burner is the best heating solution for you.
An outdoor wood boiler is best if…
…you who don't want to be dependent on electricity, gas, oil, or other heating sources. You can control your building's heat with an outdoor wood boiler.
…you want to save money. Wood is often a cheaper fuel source than gas or electricity. If you are willing to chop your own wood or have a local wood guy who will give you a reasonable price for firewood, you can save even more money.
…you live in a remote area. If natural gas lines, power lines, or other infrastructure is unavailable or simply unreliable in your area, an outdoor wood boiler can be a reliable alternative for home heating.
…you have more than one building that needs heating. If you have a barn, tool shed, pool, or other structure that needs heating, retrofitting your house's furnace for the extra heating can be difficult and expensive. You can quickly reroute heat to other buildings with an outdoor wood boiler.
…you want to eliminate/reduce the energy usage of appliances in your home. You can install an outdoor water boiler with a sidearm heat exchanger, which runs parallel to the plumbing for your water heater and heats the water. This process is commonly seen in solar-powered heating solutions and is called the thermosiphon process.
If you are still trying to decide if an outdoor wood boiler is right for you, consider the following scenarios that demonstrate when it might be a bad idea to use outdoor wood boilers.
An outdoor wood boiler is not the best if…
…you don't have much extra time or energy for physical labor. You will need to load an outdoor boiler at least once per day. You will also need to find, cut, and stack firewood frequently.
…you don't have access to sound wood. An outdoor wood boiler can be cost-effective and efficient, but if you can't get your hands on a reliable supply of affordable wood, those benefits go out the window.
…you don't have the space. You should install an outdoor wood boiler 50-150 ft from your building. You also need space to store and season your wood supply.
…you don't have the right tools for the job. Preparing wood for an outdoor boiler requires equipment. Axes, chainsaws, log splitters, hand saws, and other tools are all excellent choices, but if you don't have any of this equipment, you won't be able to keep an outdoor wood boiler going.
Outdoor Wood Boilers
An outdoor wood furnace or boiler can be a fantastic investment that can heat your buildings effectively while reducing energy bills.
There are many types of outside wood furnaces and boilers, each with its pros and cons. Fortunately, many brands offer an unparalleled selection of furnaces so you can find the perfect one for you.
They are not for everyone but work well in locations that have long cold winters. If you only have a small space to heat, check out these efficient tiny house stoves, or these mini wood stoves for RVs and campers – they're the other end of the scale compared to these wood furnaces!
Do you have experience with outdoor wood furnaces? Let us know in the comments. We love hearing from experienced users and getting the chance to learn more.