Is the Stihl 019T Chainsaw any good?
The Stihl 019T years made were 1997 – 2002. It's a 1.7 hp, 35.2 cc saw (like the 200T and 020T) and weighs in at 8.8 lbs.
To put it nicely, it's not amazing. In fact, it has the reputation of being one of the top 5 worst Stihl chainsaws. That's not to say that everyone hates it, or that it might not be right for you, but they are probably better options out there.
We'll get into some of the reasons below, but if you're able to find an MS200T or even an 020T, those are much better Stihl climbing saws.
The Stihl 019 T Chainsaw
The 019T is one of Stihl's older top handle saws and it has a bit of weight on the newer models.
In saying that though, it's still light enough and easy to manoeuver while pruning and limbing branches.
This is how Stihl described the saw when it was released.
Combines value and performance in a light-weight, compact chainsaw.

Designed for precision work in tight spaces, the 019T has excellent balance (center of gravity at throttle trigger) and a retractable carrying ring.

Exclusive, curved side handle allows tree trimmer to operate saw in various positions.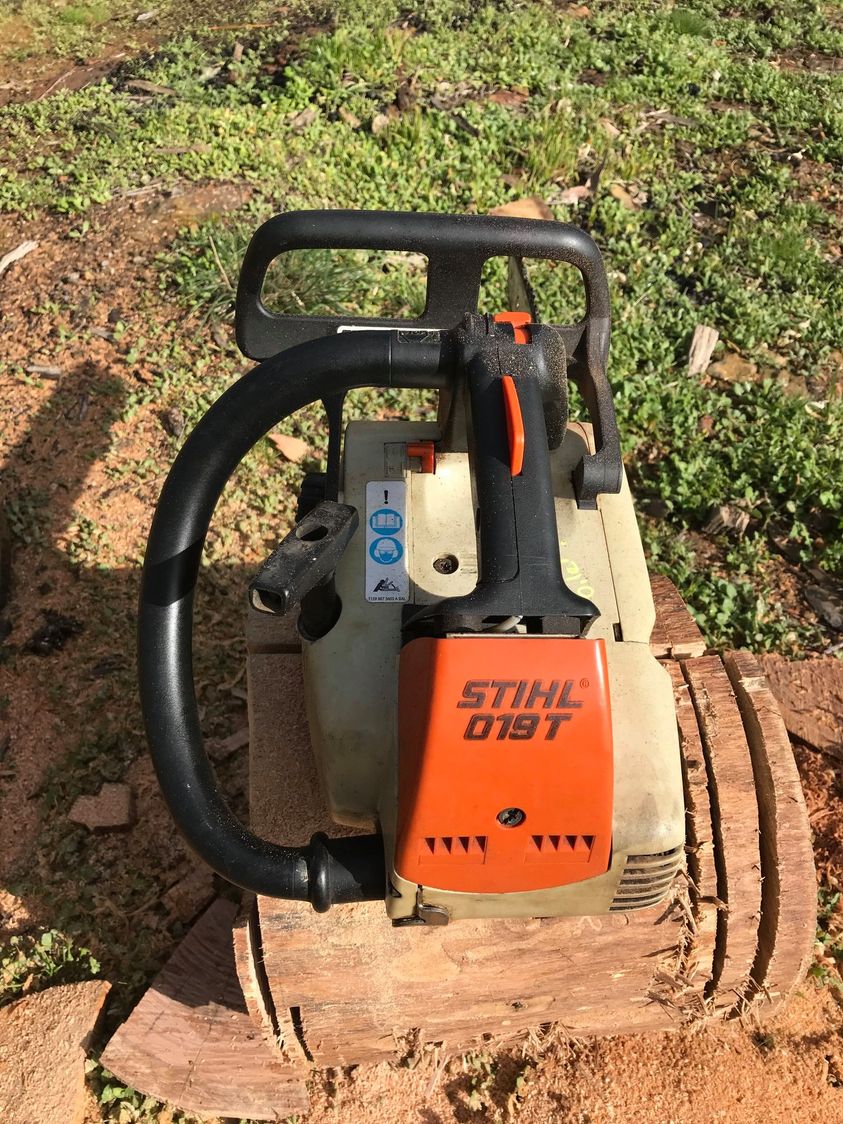 It was most often sold with a 14″ bar and could also be purchased with lanyards for tree workers.
The 020T was also on the market at the same time as the 019T, and the 109T was the lessor model.
The 191T was the saw that replaced it in 2002 – 2003 – this is a 45 cc, 1.9 hp saw also weighing 8.8 lbs. The two saws are often compared with one another but are quite different.
The 192T entered production in 2005.
Stihl 019T Specs
This screenshot comes from the original listing on the old Stihl website – love the design!
019T specs:
35.5 cc (2.15 cu in)
1.7 hp (1.3 kW)
8.8 lbs (4 kgs)
Bore – 40 mm (1.57 in)
Stroke – 28 mm (1.10 in)
2500 rpm idle speed
12,000 rpm max revs
Nylon mesh or felt mat air filter
And, as you can see in the description above, "Other features include Stihl Quickstop chain brake, ElastoStart shock-absorbing handle and a large capacity oil and fuel tank."
You can download the Stihl 019T manual here (instant download).
Stihl 019T Problems
*Watch part 2 of this Stihl 019T teardown on YouTube here.
One of the biggest problems with this saw is that it's hard to work on.
For example, if you wanted to replace the lube vent you would need to basically dismantle the entire chainsaw. It seems like every part of the saw is quite difficult to access and do work on.
Another example is that it's very hard to just get the trigger handle back together again if it is ever opened up. It's not easy with the switch and the wires.
Another problem is that parts are difficult to find – though not impossible. Some owners hate this saw so much that they give it up entire chainsaws for parts.
Another complaint is that it's a bit heavy for an arborist saw. It weighs 8.8 lbs, so it is definitely heavier than other Stihl climbing saws, and it's a lot heavier than ECHO's CS-2511T which weighs under 6 lbs!
However, if you know what you're doing you probably won't mind working on the 019, and at the end of the day, it's another piece of Stihl history.
Stihl 019T Price And Parts
Personally, if I saw an 019T in good condition for $100 – $150 I'd probably pick it up.
I've seen posts by some people who have found them for $50 – $75 which is a good deal (if there aren't any major problems).
Remember, 019T parts are difficult (but not impossible) to find.
Good spots to check:
An 019T might be one of the lower performing Stihl chainsaws, but it would still beat out a lot of the cheap chainsaw brands that you see out there.
When all else fails, check out the Husky T435 or the Holzfforma G111 top handle saws.