There are many advantages to a coal-burning stove.
A coal stove will provide warmth and comfort to your home and is an attractive heating option. Coal keeps a room warm longer than firewood and doesn't need refilling several times a day.
You understand the advantages, but which coal-burning stove is suitable for your home?
Finding the best coal heater is a breeze if you know the best coal stoves for sale and which features match your needs.
Here is a list of the top coal stoves for sale and what they offer.
Best Coal Burning Stoves
US Stove 1869 Railroad Potbelly Stove

Cast iron coal burner
168 lbs, 19 x 21 x 36 inches
80,000 BTU for up to 1500 sq ft

View On Tractor SupplyView On Walmart

US Stove Company SR57E

Cast iron coal stove
160 lbs, 20 x 24 x 28 inches
60,000 BTU for up to 1000 sq ft

View On AmazonView On Walmart

US Stove BCAC Automatic Coal Circulator

Efficient clean burning circulator
272 lbs, 21 x 33 x 34 inches
110,000 BTU for up to 180 sq ft

View On AmazonView On Northern Tool

Dwarf Mini Multi Fuel Stove

Multi fuel stove great for tiny homes, RVs, etc.
4 different sizes for sale
7500 BTU - 200,000 BTU options

View On Tiny Stoves

Etsy Coal Stoves

A fantastic outdoor coal stove
Use for camping
Easy to transport

View On Etsy
When choosing a coal stove, consider these features:
Reliability of the brand
Constructed with quality materials
Durability
Versatility
Efficiency
Functionality
Are consumers satisfied
This may seem like a long list of criteria.
However, you are investing in a system that will safely provide heat, is efficient, pleasing aesthetically, and is capable of performing well for years to come.
Coal wood stoves are a good investment as they will always provide heat and cooking options even when there is no electricity.
Let's take a look at some highly rated coal stoves for sale.
1. US Stove Potbelly Coal Heater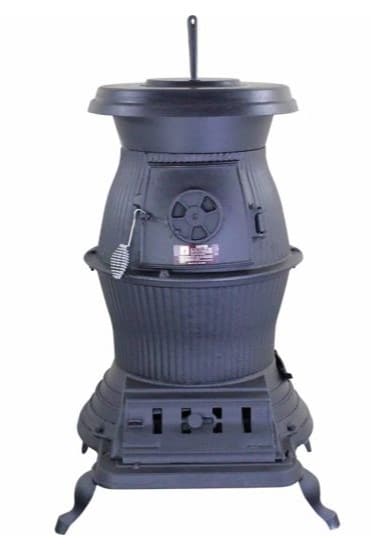 ON TRACTOR SUPPLY →
80,000 BTU
Heats up to 1500 sq ft
Cast iron for radiant heat
This model is one of the best-selling small coal ranges.
It's in the potbelly stove style and puts out a fair amount of heat – 80,000 BTUs!
It's designed for only burning coal, so you cannot use it for wood as well. This model is great for cooking on, something that is both important during electrical black-outs, but also a novelty during better times.
It is easy to feed fuel into the fire and easy to clean out the ashes. Overall, it's a good little coal heater.
Pros:
Reasonably cheap
Easy to install and then use
Good cooktop
Cons:
Not overly robust
Too small for some spaces
---
2. US Stove Company SR57E Cast Iron Stove
60,000 BTU rating
It uses a 6" flu
Can heat 1,000 ft. square area
Controls air intake with a spin draft
Dual-purpose – excellent for cooking and heating
It comes with a large ash pan for easy ash removal
The Rancher coal stove is ideal for heating and cooking.
It has a solid flair top and features four cook lids. The 8" lift-out lids will easily hold multiple pots at one time.
This coal heating stove does not burn wood but is perfect for small areas that get really cold.
Also, consider these log burners for sheds if that's the kind of space you're trying to heat – there are some more great wood and multi-fuel options there.
Some spaces would look good with an antique or old pot belly stove instead.
Pros:
Excellent quality
Great for cooking
It heats well even in the coldest weather
Holds up to heavy-duty use
Cons:
No damper built into the stove
Requires a good flue draft
---
3. US Stove BCAC Automatic Coal Circulator Heater
VIEW ON AMAZON →
Heavy-duty construction for durability and efficiency
High efficiency in coal circulation
Comfort control bi-metallic thermostat is non-electric
The cooking top has a safety latch
Easy-clean ash pan
The Coal Circulator will deliver heat with high performance. If you a looking for a clean and efficient coal heater, this product is ideal.
This is an automated system controlled by a thermostat, taking the guesswork out of climate control.
The BCAC has an easy-to-clean cook surface with a lifting top.
Pros:
Heavy-duty cast iron construction
Lined with fire bricks for durability
Highly efficient and low creosote buildup
It comes with a 6" flu
Cons:
The blower is purchased separately
Frequently out of stock
---
4. The Dwarf 3kw Multi Fuel Stove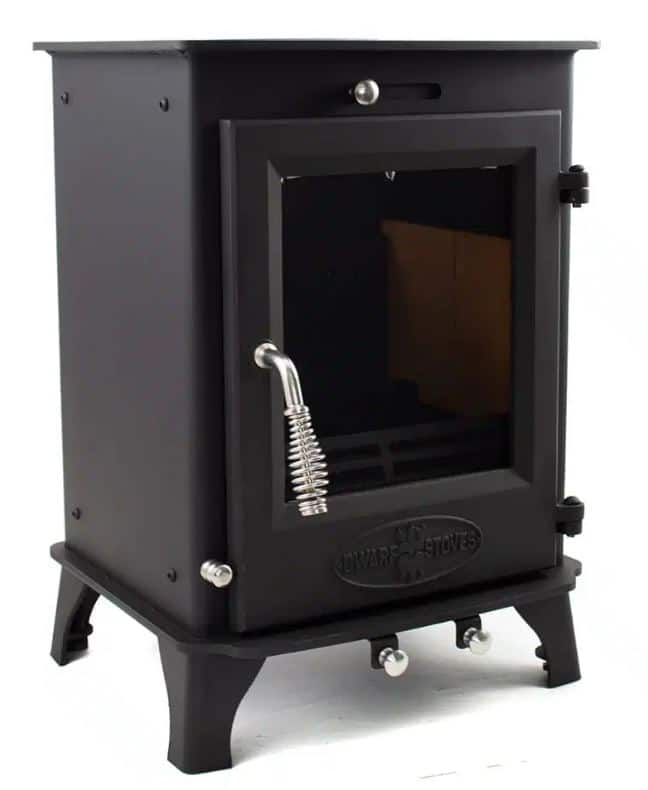 VIEW ON TINY STOVES →
Cast iron door and firebox
Big window to enjoy the fire
Adjustable flu
It comes with a cooking surface
Easy cleaning ash pan with riddling grate
Air-control adjustable
Looking for a compact wood and coal-burning stove that will fit in tiny spaces but is an excellent heat source?
Check out The Dwarf Tiny Wood Stove, an excellent multi-fuel stove. You can burn charcoal, wood, compressed logs, or anthracite coal in this tiny but impressive little heater.
This type of stove is great for its range of fuel options and many people use them for heating Tiny Houses. They can even be installed into vans, campers, and RVs!
Pros:
Add on adjustable cast iron legs
Add on wood storage stand
Doors come in a choice of colors
The spring handle stays cool to the touch
Cons:
Not certified as a residential heater
---
5. Coal Stove For Camping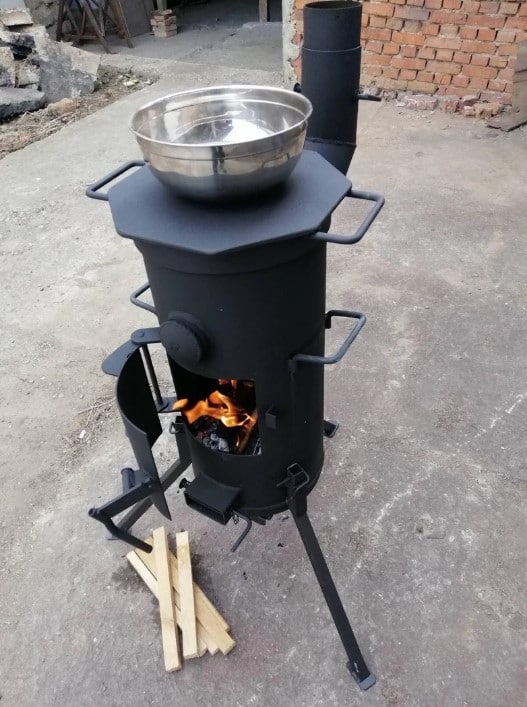 VIEW ON ETSY →
Forged steel, wrought iron
27″ tall
Portable
Are you looking for an excellent little portable heating and cooking stove?
Check out this great coal-burning camp stove. It's a handmade item (as many Etsy wood stoves are as well) that is more unique than what you'll find at the big box stores.
This one is very portable. The legs can and chimney are easy to remove for transportation.
Pros:
Easy to assemble
Built with quality material
Great value for the money
Chimney included
Cons:
---
Hitzler Coal Stoves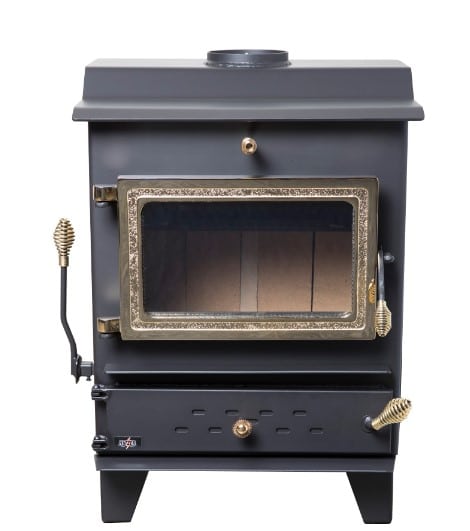 VIEW ON LEHMANS →
If you are searching for a top-quality coal stove from a company that has a solid reputation for quality and superior products, you will need to look no further than Hitzler.
Hitzler offers a wide selection of stoves and furnaces crafted by the Amish available through a dealer or ordered online.
You will find the perfect coal stove for your needs from the wide range of Hitzler stoves.
They offer three feed styles:
Front-loading
Gravity-fed
An integrated feed with thermostat control
Choose from freestanding, traditional front-loading stoves to the most state-of-the-art, efficient, and environmentally friendly stoves on the market.
Depending on the coal you would like to burn, the coal fuel options include anthracite, bituminous, or anthracite rice coal.
Hitzer 354 Blower and Hitzer 354 Radiant
These models will provide a permeating warmth and distribute it evenly throughout your home.
The classic design is elegant and straightforward. It's a perfect marriage of ultimate warming power and the ultimate design.
Hitzer 254 Blower and Hitzer 254 Radiant
The 254 Blower and Radiant coal stoves are known for their efficiency and versatility.
These classic freestanding stoves are powerhouses. They will heat 2,000 square feet and produce up to 60,000 BTUs. These are reliable coal stoves for providing even, warm temperatures for your home.
Hitzer 55 Furnace and Hitzer 55 UL
These models will heat your home through ductwork, or radiant heat, and distribute heat efficiently throughout your entire home.
These powerhouses rate very high in customer satisfaction. If you are looking for a coal furnace, the Hitzer 55s will not only get the job done. They will perform with perfection.
Hitzer 608 Stoker and Hitzer 710 Stroker Furnace
The Strokers are known for their innovative designs and for utilizing cutting-edge modern technology.
They have advanced capabilities and options for providing the ultimate coal heating solutions. They are award-winning and fan favorites.
Coal Stove Vs Wood Stove
What is the benefit of coal versus wood for your stove?
One of the main reasons coal may be a better choice is that it is one of the least expensive forms of stable energy.
Coal provides the US with 56% of its energy every day.
Coal is very dense, burning more efficiently and producing more heat than wood. You can burn less coal for more extended periods and get more heat. While wood does produce fewer carbon emissions, coal is more efficient over the long run.
Both wood and coal are energy-efficient and cost-effective heating options for your home. If you have many trees on your property, you may want to utilize that resource (get a good chainsaw). If you have less space for storage, coal is a good option.
Stacks of wood can take up space and be quite messy.
Coal has more options than wood when it comes to the forms available.
There are six different types of coal:
Peat – not commonly used in the US
Lignite – made from compressed peat, used in power stations in the UK
Bituminous or Sub Bituminous – made from compressed lignite, a very dense sedimentary form of coal made into briquettes
Steam Coal – used to fuel steam trains
Anthracite – the most ignitable of all the coals and primarily used for residential and commercial heating
Graphite – may be hard to ignite, so it's not often used for fuel
Only three are used for clean-burning stove heat.
Coal allows for an alternative form of energy with little impact on our nation's economy or negative environmental effects for home use.
To choose between a wood stove or a coal stove, you will have to decide which source of fuel will be best for you.
Coal Stove FAQs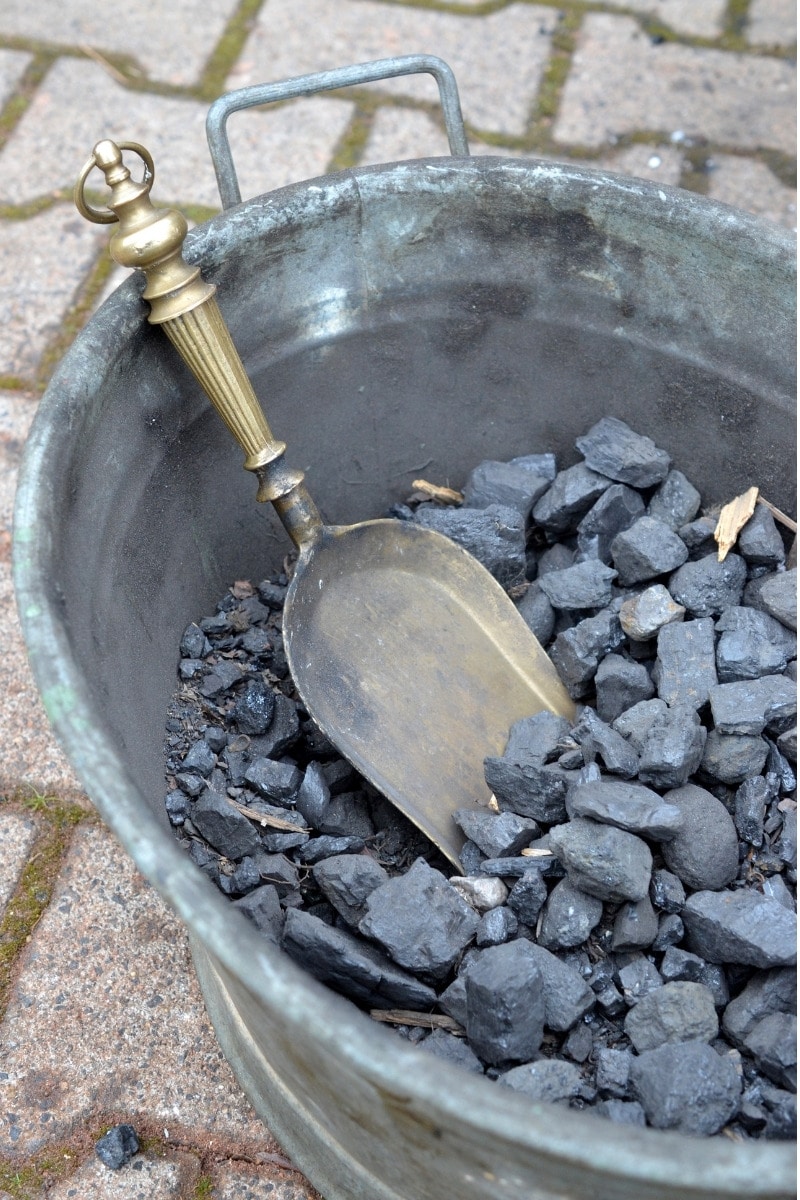 Do they still make coal stoves?
Yes. There is a wide array of stoves available, from mobile to fixed, and coal stoves that can heat one room or a whole house.
Stoves are made in basic and even portable styles, ideal for camping. You can also purchase a stove with technological advancements like automated temperature controls.
Are coal stoves efficient?
Yes. Coal stoves are so efficient that they create twice the BTUs or kW per hour than wood.
Coal burns longer and hotter than wood. There is more than one type of coal to choose from to burn in your coal stove. The better-quality coal you chose, the more heat the coal will produce.
Are coal stoves unhealthy?
Coal has elements that can be toxic to people if they are exposed.
With the proper ventilation and precautions taken, coal is safe to use to heat your home. The more modern advancements are made for coal stoves and the coal burned in them, the cleaner and more efficient coal is for creating heat.
Which is better, coal or pellet stoves?
The price of coal is slightly lower than pellets.
You have to burn more pellets than coal to produce the same amount of heat. Pellets are more harmful to the environment when burned than pellets.
Overall, coal is less expensive, and certain types of coal will be better for the environment.
Do coal stoves smell?
Poor quality coal can carry a high amount of sulfur which may cause an odor.
Good quality coal will not produce an odor. Proper ventilation will prevent the coal from causing any odor while used for heating or cooking.
Do you need a chimney for a coal stove?
There are some models of coal stoves that can be vented directly outside. It's preferable to have a flue or chimney.
There always needs to be some type of ventilation for a coal stove.
Can I burn wood in a coal stove?
A good-quality coal stove can be used to burn wood.
Coal burns hotter than wood, so the burn temperature of wood will not harm the stove. Chunk wood is best to use in conjunction with coal.
It's less likely that you'll be able to burn coal in a wood stove as they are designed very differently.
How long do coal stoves last?
If you purchase a quality coal stove, you can expect between 20 to 25 years of good service.
Picking a stove from a company with a history of quality stoves will increase the chances of your coal stove having a long life.
Are coal fires going to be banned?
No legislation has been passed in the United States banning homes from burning coal.
The US is reducing coal plants using coal commercially, but there are no laws in place banning burning coal in the home.
Is it safe to heat your house with coal?
A coal stove or furnace is a safe and efficient way to heat your home.
With advancements in technology, coal is becoming cleaner to burn. The coal stoves assist in creating a safe and clean way to heat your house.
Best Coal Heating Stove
With so many coal-burning stoves to choose from, it may be challenging to decide which one is best for your needs.
Study the features of the stoves, decide if you want to burn coal or wood and if you plan to cook or only heat your home with the stove or furnace.
Choose a coal stove from a quality company with a history of quality products, like Hitzer. Hitzer is a company that has been around for generations and produces renowned Amish quality coal and wood stoves.
It's important to have a solid, well-built, properly vented stove. You can go basic or state-of-the-art.
The bottom line is that you will love the warmth and comforting heat from your coal stove and the stylish addition it adds to your home.
Now, get it installed, fill up the coal bucket, and stay warm!