I bought the 2400 watt Noirot Panel Heater about 3 years ago to heat our living area during warmer months.
We usually focus on electric fireplaces (alongside fireplaces, wood stoves, etc.) rather than these types of heaters. But I have the Noirot Heater and I use it every day, so I thought 'why not?'.
To sum up my review before getting into the details, I think this heater is great for some situations, and not good for others. It's best for small spaces, but not for heating entire homes – unless you're in a warmer climate or you have many heaters throughout your home.
Compared to other panel heaters, I think it's really good, but make sure you're using it for the right space.
Now, the details!
Noirot Electric Panel Heater
The Noirot Heater is an electric panel heater that is designed and made in Frace but which (I think) is most popular in Australia and New Zealand.
It's not readily available in the US or Canada. As you'd expect, it is available in France and other parts of Europe.
It comes in 4 different sizes:
1500 watt – for up to 15 square meters
2000 watt – for up to 20 square meters
2400 watt – for up to 24 square meters
2400 watt with wifi connectivity
Well, I guess that's actually 3 sizes, but you can go fancy with the 2400-watt model and control it from your phone.
My Noirot Heater is just the plain 2400-watt model, the wifi version wasn't available when I bought it, though I don't think I'd have gone for it anyway.
There are also many older Noirot Heater models out there – my grandma has one and thinks it's great.
Noirot Heater Review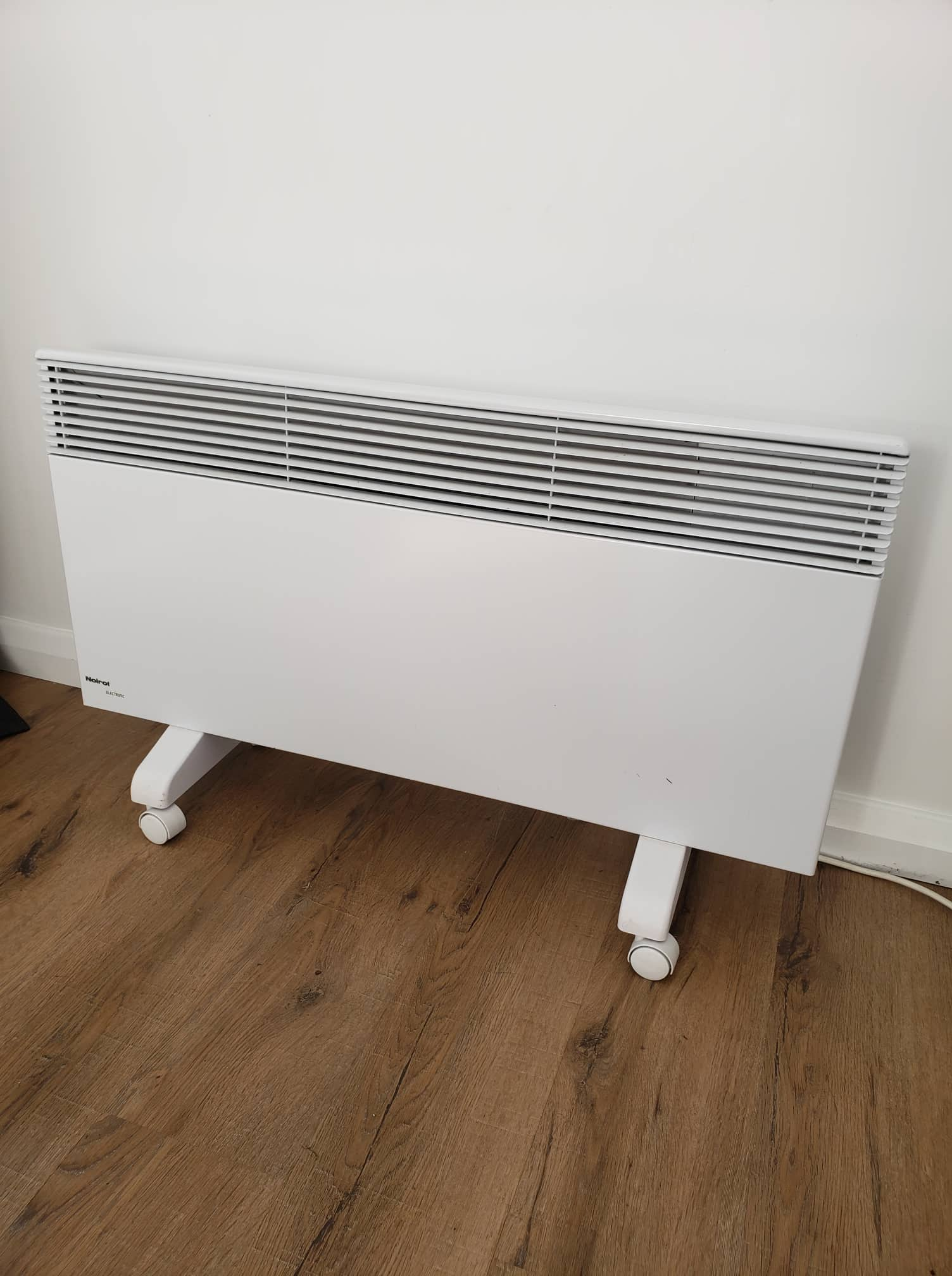 I bought a Noirot Heater because my brother and his family recommended them.
They use two Noirot Heaters to heat their entire home – one in their living area and one in the hallway outside their bedrooms.
I bought one as a heating appliance to warm the living area during those times when it didn't make sense to light the fire. For example, on warmer mornings in the spring and autumn.
We have a fantastic wood-burning stove that goes non-stop through the winter. However, I also wanted a heater to put on overnight for when the fire died down so that we could wake up to a warm home before relighting the fire.
My 2400-watt Noirot Heater FAILED at this task – a single heater wasn't enough to make much of a difference in our large-ish living area. It took the chill off the room, but it didn't heat the room up at all.
I was disappointed by how little difference it made as I had high hopes. I'd also heard how efficient it was to run, so was looking forward to cheaper energy bills compares to other types of heaters.
So, in the end, I decided to use it exclusively as my office heater. My office is separate from the house so it doesn't get heat from the wood stove at all.
The Noirot Panel Heater has been excellent in this much smaller area – about 15 – 18 square meters. In fact, it's probably overkill for this area. I end up cooking!
If I'd bought the heater especially for the office, I'd have gone for the 2000-watt or 1500-watt model. But anyway, it keeps me nice and toasty.
We ended up getting a large heat pump put into our living area to supplement the heat from the fire and to heat the house when we can't be bothered lighting it!
Overall, I'm glad to have the heater, it's just that my expectations for it were a little too high. It would have been a success if we'd bought another one or two of them, but they're not cheap so it made sense just to put that money toward a proper heat pump.
The Noirot Heater does seem to live up to its claim of being a cheap heater to run. We didn't really notice much change to our power bills once we started using it.
Other things I like about the heater include the fact that it's super simple to use, rolls about nicely on quality castors, is very light for when you want to carry it, and it looks semi-stylish (at least, it's not ugly).
Also, it lasts well – ours is still working perfectly after many years of solid use, and I know of many others that have been going far longer.
Noirot Heater Pros:
Good at heating appropriate areas
Efficient and cheap to run
Light and easy to move
Works well for many years
Different installation options
Very quiet operation
Noirot Heater Cons:
Not suitable for large areas (unless you have multiple)
One of the most expensive panel heaters in Aus/NZ
Noirot Heater Specs And Features
The Noirot Panel Heater has an easy-to-use digital control panel – there is a cover that flips over it but I took mine off and lost it.
Older models have a spinning dial to change the temperatures and settings, my model is called the 'Digital Timer Model.'
It's the Noirot Spot Plus – an electric convection panel heater.
I only use the on/off and temperature change buttons, but there are other settings:
Mode selector – timer, comfort, or frost-protection
Program – for setting on/off times
To be honest, I've only ever used the comfort setting which keeps the heater going at your set temperature until the room reaches it.
There is also a child lock feature that is achieved by holding down both the plus and minus buttons for three seconds. I used this when the kids were younger!
The thermostat is said to be 'ultra precise' and will maintain a temperature around 0.1°C of where you set it.
The Noirot Heater can be used with castors or you can attach it to the wall permanently with the brackets on the back.
We decided just to use the castors because it's nice to be able to move it around if wanted. In the office, I put it beside me when it's cold and then push it away once things have warmed up.
The castors are clipped into place and work really well on both floorboards and carpet. They roll smoothly and are very stable.
The only problem with the brackets is that the edges are quite sharp. It's best not to carry it while holding onto that part – you'll end up with metal splinters or metal cuts as I have done.
UPDATE: I just discovered you can remove the metal bracket in two clicks. It just pops out. I was reading through the manual and only just found it out. Wish I'd read the manual years ago!
As far as I'm aware, Noirot Heaters are sold with a regular cord and plug that you plug into the wall. However, you can also have the heater hardwired into the wall as in this next picture.
It's definitely a good choice for those installing it in a permanent position on the wall – which looks quite nice, doesn't it?
This heater has a 'Monobloc heating element and a non-expanding front pane' which means that it is basically silent when operating. It doesn't creak and groan when heating and cooler like other panel heaters.
However, when things are really quiet, I can hear it give a slight tick as it starts to heat up or cool down, but it's barely audible.
Other features of the heater not already mentioned:
It has a thermal safety cut-out and toughened outer coating
Asthma and allergy-friendly as it doesn't have a blower blowing dust around the room
Easy to clean and maintain by wiping with damp cloth
Comes with a 1.2 meter cord (usually, double-check your model)
Lifetime limited warranty (again, check with your retailer for more details)
And the dimensions of the 2400 watt model are 90 cm x 44 cm x 8 cm, so it's not large and has a small profile.
Noirot Vs Nobo Vs Heat Pump
What's best; Noirot or Nobo?
I don't know!
I haven't tried Nobo heaters so I don't want to comment.
However, compared to other panel heaters out there such as DeLongi, Arlec, Dimplex, Tiva, GoldAir, and so on, I think the French Noirot Heater is really good.
If you don't have someone in your home with allergies or asthma (as we do), a heater with a fan might be better for circulating the heat around the room or house.
We use a wood stove fan on our log burner for pushing heat through the house, but I like the convection heating the Noirot Heater utilizes.
When comparing the Noirot Heater to a heat pump (we have a large Daikin 'Air Conditioner'), a heat pump is far superior for larger areas.
A large heat pump can heat the entire house and do the job I, for some reason, thought this small panel heater was going to do. But you'd expect that given the Noirot Heater cost NZ$650 and the Daikin heat pump cost over NZ$6000 (including installation).
A Noirot Heater is best for small rooms OR used in tandem with 2 or 3 heaters – it's not going to heat more than the specs say it will (I think I missed that part before purchasing it).
Noirot Electric Heater
Hopefully, this has helped you to determine whether or not a Noirot Heater is right for your home.
Because it's cheap to run and good for smaller areas, it could be perfect for a tiny home (though I'd still recommend a tiny house wood stove as a primary heat source), a cabin, or an outside workspace like my office.
Let me know if you have any questions in the comment section below and I'd be happy to answer them.