Is a 20-ton log splitter right for you?
I've just spent the morning splitting wood with my neighbor using his 20-ton wood splitter. It's small compared to many of the other machines I've used, but it was just right for the job today.
A 20-ton log splitter is low to mid-range in terms of power. There are a lot smaller, less powerful models out there (down to 5-ton splitters) and there are plenty that are larger and much more powerful.
A 20-ton model is good for doing significant quantities of wood for home use, but you'd want something bigger and better for commercial use.
Best 20-Ton Wood Splitter
The 20-ton log splitter that I've been using is from a company called MTD.
It's an older model that's no longer available for sale, but it has served my neighbor very well. He's been using it for over a decade.
We were splitting large rounds of very heavy and dense gum for my large wood-burning stove and it performed really well. It's easy to use and had no trouble, even with really knotty bits of wood.
He adapted it a little bit by adding a table for the wood and an extra leg for greater stability at one end. But all-in-all, he's been really happy with it.
You might be able to find this MTD Log Splitter for sale on eBay, but we've got plenty of similar models that we're featuring in this post.
Here's a bit more info about 5 of my favorite 20-ton splitters (or around 20-ton).
1. SuperHandy 20-Ton Log Splitter
Horizontal operation
Alpha Works engine
7 hp
This SuperHandy model is one of the cheapest, if not THE cheapest 20-ton log splitter.
As you'd expect, it's not the absolute best for quality of build, engine brand, or overall features, but it's the best for price.
Can you rely on a cheap log splitter?
Definitely not for heavy and extensive use – unless you're really good with maintenance and know how to deal with the odd problem that might arise – but it's totally fine for infrequent and light use.
For example, if you're just using it for a single household's firewood requirements, it will be great. But if you're loaning it out to your friends, family, and neighbors, and you're doing 10 households' worth of wood with it, it won't be ideal.
Being a 20-ton model, it's much more powerful than the smallest log splitters, and it will be able to process large dense logs.
Features include tough transport wheels, a steel wedge, and an easy to use control valve.
Pros:
Cheap
Easy to move
Easy to use
Cons:
Some units will have faults
---
2. Champion 20-Ton Wood Splitter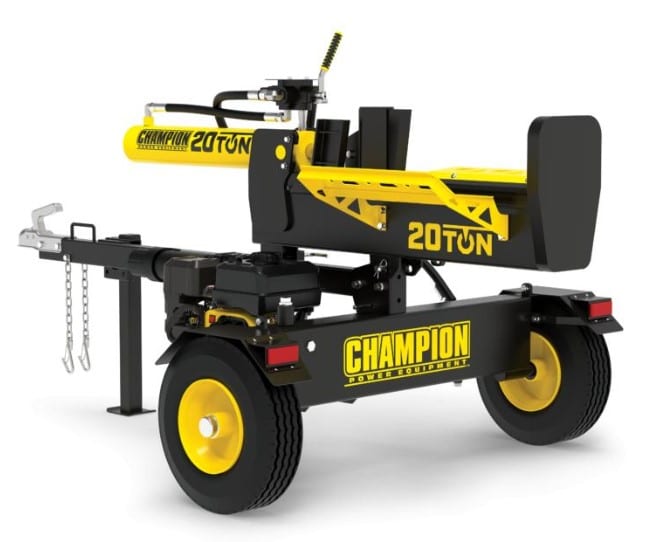 Horizontal and vertical operation
224cc Champion single-cylinder OHV engine
17 second cycle time
Champion Log Splitters are a step up in price, but they're also built better.
The difference between cheap log splitters and more expensive brands is that the materials are tougher, the componentry is better quality, and build aspects – such as the welding – are completed to a higher standard.
That being said, the Champion 20-ton splitter isn't unaffordable – it just costs a little bit more.
It has a quick 17 second cycle time, it can handle a max log weight of 100 lbs, and a max log length of 24 inches. Great for splitting the likes of oak for firewood.
It has log cradles and log catchers and a single hardened steel wedge.
The Hydraulic pump is a 2-stage model with a 4 gal oil capacity and internal/external filter.
Champion also has plenty of other sizes besides 20-ton, both lower and higher.
Pros:
Extra features
Quality build
Fast cycle
Cons:
20-ton model hard to find
---
3. CountryLine 25-Ton Log Splitter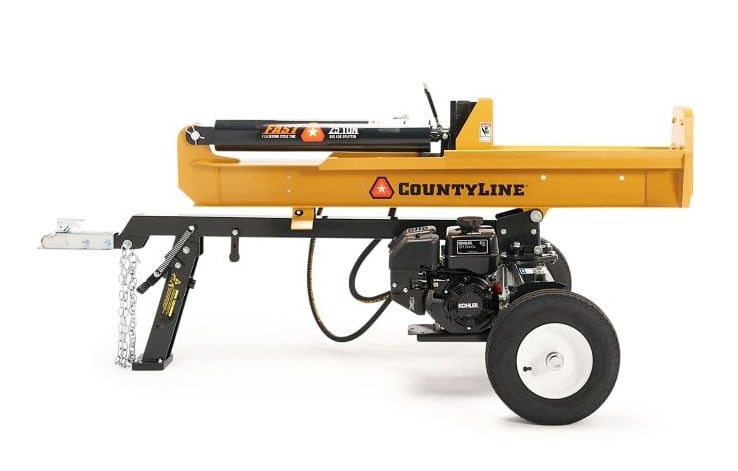 Horizontal and vertical operation
196 cc Kohler engine
6.5 hp
This 25-ton CountryLine Log Splitter has plenty of power for splitting logs great and small.
CountryLine itself is a respected brand and known to be very reliable. Their machines are built well and have all the features you need to make processing firewood easy.
The wheels are DOT approved for the roads, it has an auto-return valve, a built-in log cradle, and a 20-quart hydraulic fluid reservoir.
It's rated for splitting logs up to 36 inches wide or up to 26 inches long with a max PSI of 3800.
It has a tow hitch and can be towed safely at a maximum speed of 45 mph.
This CountryLine unit is a high-performance hydraulic log splitter that's great for homeowners – they also have a 40-ton unit here.
Pros:
Very affordable
Reliable
Parts are available
Cons:
No table-top for resting wood
---
4. DR Power 22-Ton Wood Splitter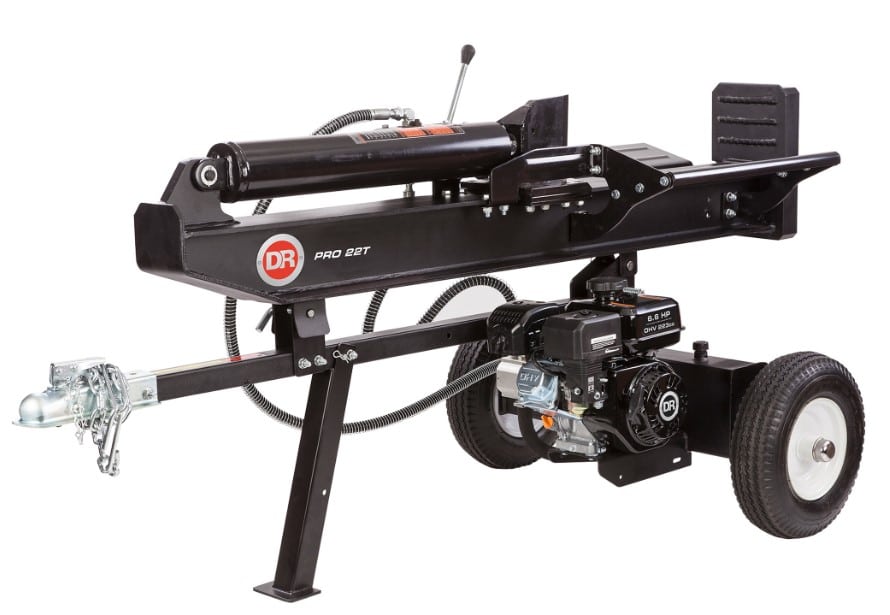 Horizontal and vertical operation
3400 PSI
6.6 hp, 223 OHV engine
This DR Power Log Splitter has the same engine as the Champion model above.
It's good for splitting logs up to 30″ wide and 25″ long with a fast 16-second cycle.
As with many other models here, it can be used both horizontally and vertically.
As with the MTD Splitter I've been using, you'll probably only use it in the horizontal position. The vertical style isn't very user-friendly on these 20-ton models.
You basically end up sitting on the ground – which is kind of the point. The idea is that if you have a log that's too heavy to lift onto the splitter you can do it on the ground.
It is good for this type of thing temporarily, but you'll put it back to horizontal once the log is light enough to lift. The DR Power splitter is good because it can transition quickly by removing a single pin.
Also check out the DR Power Stump Grinders as you might be able to get a deal on multiple machines.
Pros:
Quality engine
Good build
Easy transition from horizontal to vertical
Cons:
Comparatively more expensive
---
5. NorthStar 24-ton Log Splitter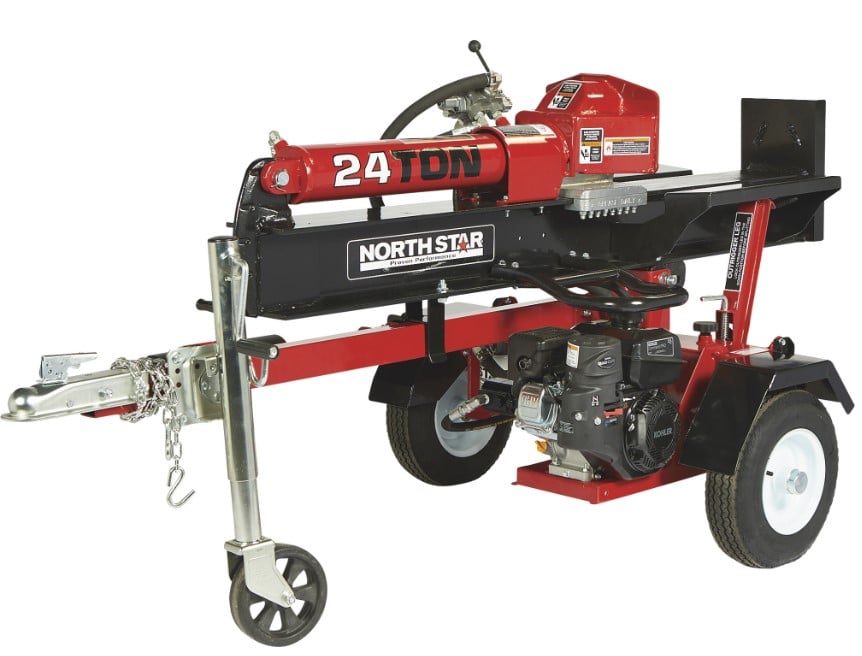 Horizontal/vertical
13 second cycle time
177 cc Kohler engine
This is slightly more powerful than 20-tons if you wanted to take things a little bigger.
NorthStar Splitters are highly reliable and very well built. This 24-ton option has a very fast cycle time compared to other options, taking only 13 seconds to complete.
It can take a max log size of 25″ long and 16″ wide with a max PSI of 3500.
Features include an adjustable jack, a small log table, a log stripper that removes wood that gets stuck on the wedge, and engine guards for protection against falling logs and debris.
Pros:
Heavy-duty
US made pump and valve
Steel-reinforced hose
Cons:
One of the more expensive models
---
20-Ton Electric Log Splitter
To be honest, I couldn't find any electric 20-ton log splitters – that may be a bit more pressure than electricity can give us right now.
However, one of the highest-powered electric models I came across was the 14-ton SuperHandy model above.
It looks very similar to their 20-ton gas log splitter, but it has their EZ-Start Electro-Motor.
It's a 15 Amp, 2.5e hp, brushless motor that can provide sustained power with longer run times.
Specs and features:
2-Stage 10.5GPM hydraulic gear pump
Splits logs 14″ wide, 20″ long
Sturdy wheels for transport
Horizontal use only
Still requires hydraulic fluid
The benefits of an electric splitter like this are that it's a lot quieter to use with no gas engine and there are no fumes.
The downsides are that you need to be near a power outlet and you don't get the same higher-powered models with electricity. It's only a home-use version.
It's very much the same story with gas, electric, and battery chainsaws.
Buy 20-Ton Log Splitter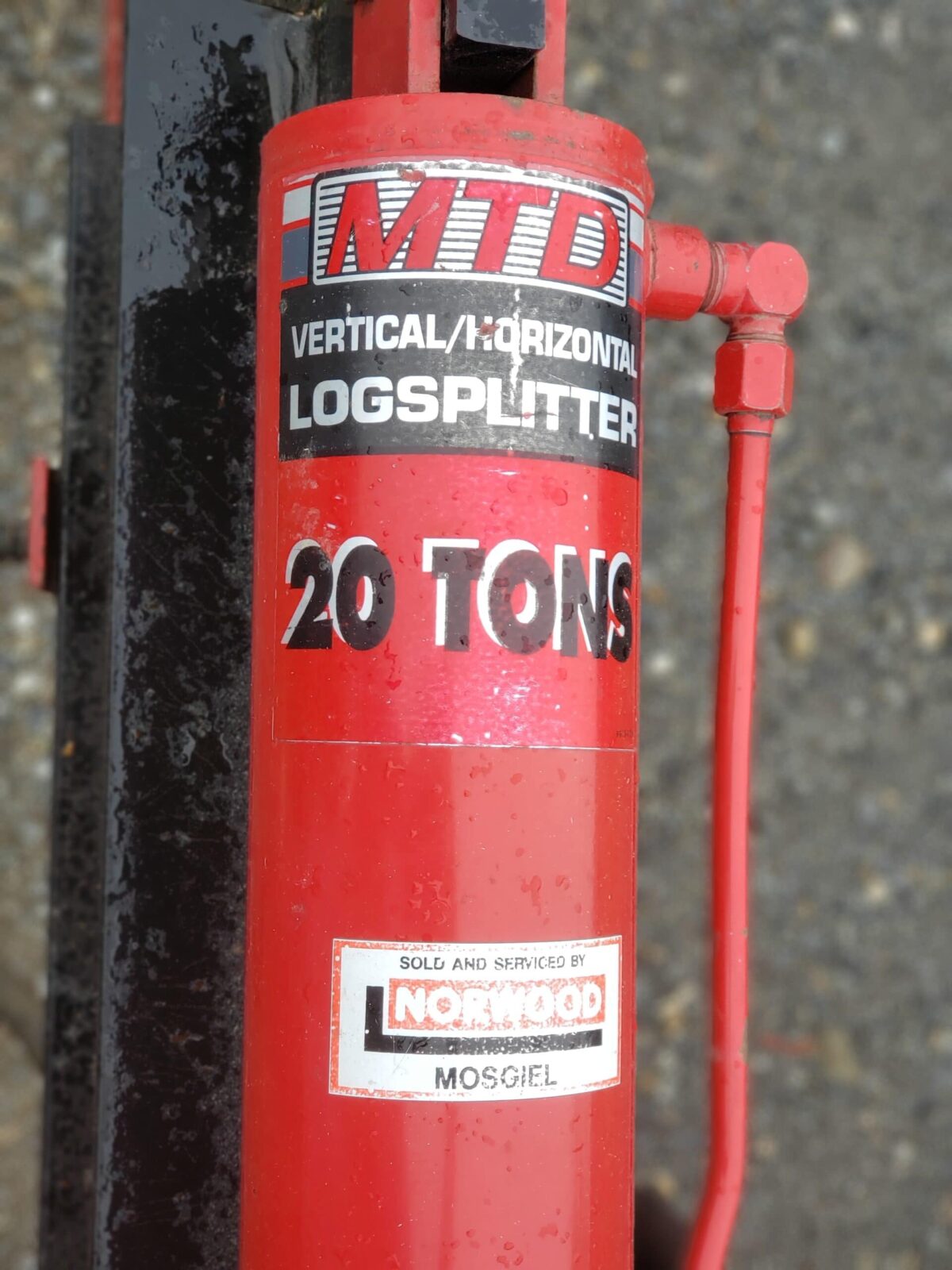 Where should you buy your 20-ton splitter?
Harbor Freight, Northern Tool, Tractor Supply, Amazon, or Walmart?
Really, it depends on what brand you want. The cheaper brands can be picked up from Amazon and Walmart, while the higher quality models are available at Northern Tool and Tractor supply.
Tractor Supply log splitters are some of the most popular and reliable.
Other brands like the Predator 20-ton log splitter or the Speeco splitter can be found at locals dealers or maybe even second hand online.
If you are buying a used splitter, it's definitely better to go and view and test it before purchase. You never know what might be wrong with it if you buy it sight unseen.
Set your budget and work out your preferred log splitter brand and go from there.
20-Ton Splitter FAQs
Is a 20 ton log splitter big enough?
A 20-ton log splitter is plenty big enough for lots of people.
As already stated, that's what I've been using and it's a perfect size for doing 10 – 20 cords of wood per year – or even more if you have to.
However, if you want a machine that's faster and maybe has some better features – like one that has a better table-top or can go vertical without being on the ground – you will either need to spend a bit more or get a larger more powerful splitter.
Keep in mind that there are a lot of 5, 7, 10, 15, and other splitters much less powerful than 20-ton, so this size is by no means small or weak.
What can a 20-ton log splitter do?
A 20-ton splitter can happily process 10 – 20 cords of logs each year – quality models could go all day every day with top-of-the-line maintenance and care.
The size of logs you can split will depend on the individual model, but generally, they can do anything 25″ long by 15″ wide and under.
What is a good ton log splitter?
For home users, anything from 15 – 25 tons is a good tonnage for splitting firewood for a household.
Anything less is a bit slow and large logs are harder to split, and anything bigger is great but much more expensive.
What is a good cycle time for a log splitter?
Anything under 20-seconds is a good cycle time, and I think all of the recommended models here are under that.
Closer to 10-seconds is better as you'll be moving faster, but you won't notice much difference with units at the 15 or 16 second cycle time.
I've been using splitters that are both very fast and on the slower end, and it doesn't make a huge amount of difference if you're working with two people.
One person needs time to load up the next piece and can only work so fast.
Are Harbor Freight log splitters good?
The Harbor Freight log splitter range includes the Predator and Central Machinery lines of splitters.
These are affordable machines that perform well overall.
Are gas or electric log splitters better?
In my opinion, gas log splitters are much better.
That's because they can be towed anywhere – like into the paddocks or forest where you have cut down the tree. You don't need to worry about finding a power outlet.
Also, gas splitters just have more power.
Electric splitters are good for light use at home – you don't get the fumes or the noise, but they're just not as cool, right?
Which engines are best for 20-ton splitters?
Honda, Kohler, and OHV are all very good engines for log splitters.
You can expect high performance over many, many years, assuming you look after them.
What is the best 20-ton log splitter brand?
There are many good brands, including those we've listed here already, but also others. Yard Machine, Performance Built, and Blue Max also make splitters in this power range.
Champion splitters are definitely very popular and well-reviewed, but it's all going to depend on your budget and requirements.
The range of splitter brands from Northern Tool is also very good.
20-Ton Log Splitter Reviews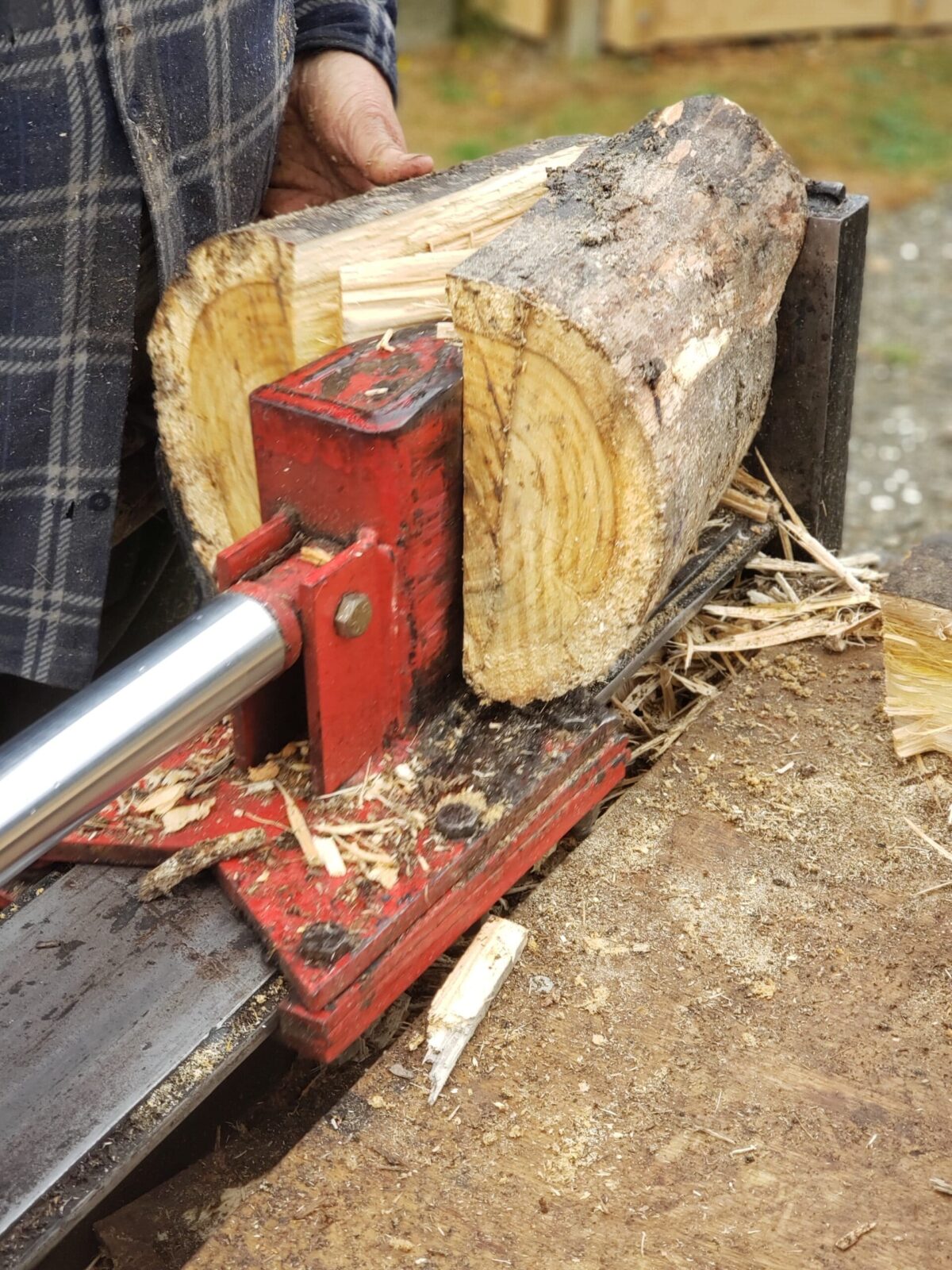 Personally, I think 20-ton splitters are very good.
They're not so big that they cost a lot or are difficult to move and store, but they're not so small so as to be ineffective at splitting wood.
And, let's be honest, it beats using a splitting ax or a wood splitting maul to do all the work!
The 20-ton log splitter that I have been using is extra good because of the additional features that my neighbor added to it, such as the tabletop and extra leg for stability.
When you buy a new 20-ton wood splitter, 99% of them don't have a really good table surface, which is a big downside. You can add this yourself if you're able, though keep in mind it might void the warranty.
These units can process wood that is large and heavy, but it's difficult without the table (and always ensure your unit is very stable and won't become unbalanced).
Working with 2 people is always the best idea as you can get through things a lot faster and keep an eye on one another. Safety first!
Let me know if you have any questions about the 20-ton splitter that I have been using or anything else mentioned in this article.
Whether you're splitting wood for the fire pit or even a wood stove for an RV or camper – a log splitter is definitely the way to do it in style!