Natural gas heaters are, as the name suggests, heating systems that use natural gas as a fuel source to generate heat. These heaters are typically installed in garages, workshops, and other spaces that aren't connected to a home's main heating system but still need to be kept warm. They can either be forced air heaters, which blow warm air into the space, or infrared heaters, which heat objects and surfaces in the space directly.
You do require existing infrastructure to install a natural gas garage heater. Specifically, you need a natural gas supply line that can be extended to the location where the heater will be installed. This gas line must be correctly fitted and safely connected to the heater. Additionally, you also need a proper ventilation system, as natural gas heaters produce exhaust gases, including carbon monoxide, which must be safely vented outside. The installation process can be complex and should be carried out by a certified professional to ensure that all safety standards and regulations are met.
Here are the top recommended natural gas heaters for garages along with advice on which homes are best suited for them.
Best Natural Gas Heaters For Garages
Mr Heater Big Maxx Garage Heaters

3 sizes: 50,000 BTUs, 80,000 BTUs, 125,000 BTUs
For heating much larger garages
Can also convert for propane use

View On AmazonView On Northern Tool

Mr Heater Small Gas Heater

A small 30,000 BTU natural gas heater
Comfortably heats areas up to 1000 sq ft
Also 10,000 and 20,000 BTU versions available

View On AmazonView On Acme Tools

Dyna-Glo Infrared Heater

Wall mounted 12,000 BTU infrared natural gas heater
Heats up to 300 square feet
Multiple other sizes available

View On AmazonView On Home Depot
The are many different ways to heat a garage. Here are a few situations where natural gas garage heaters can be the best choice:
Cold Climates: If you live in an area with harsh winters, a natural gas heater can keep your garage warm, preventing any damage to your vehicles or equipment that could be caused by extreme cold.
Large Spaces: If your garage or workshop is quite large, a natural gas heater may be a good choice. They are often more powerful than electric heaters and can warm larger spaces more effectively.
Frequent Use: If you use your garage or workshop frequently, especially for tasks that require warmth (like certain types of woodworking or car repair), a natural gas heater can maintain a comfortable temperature more easily than other types of heaters.
Cost-Effective Heating: In some areas, natural gas is a cheaper source of energy than electricity, so a natural gas heater could be more cost-effective over time.
Availability of Natural Gas: Natural gas heaters are ideal if your home has an existing natural gas supply. They are less practical if you don't already have natural gas service to your home.
Here are reviews of the best gas heaters for garages.
1. Mr Heater Big Maxx Heater F260550
The Mr Heater Big Maxx Natural Gas Garage/Workshop Unit Heater is a powerful, 50,000 BTU heating solution perfect for 2-3 car garages or large workshops. Its quiet operation and low-profile design, requiring only a 1-inch clearance from the ceiling, make it an unobtrusive choice.
This unit offers versatility with features such as a power exhaust allowing for vertical or horizontal venting, and easy 180° rotation for right or left side piping, electrical and flue connections. A tubular heat exchanger and spark ignition ensures efficient operation with an approximate 81% operating efficiency. The heater comes with an LP conversion kit for those using propane, while the thermostat is sold separately.
Remember, installation requires an 8ft. clearance from the floor for code compliance and local codes and ordinances should be checked for further installation and usage guidelines. Venting kits and electrical supply requirements are not included and must be purchased separately.
There are two other larger models: the 80,000 BTU MHU80NG model and 125,000 BTU MHU125NG model which are similar, just larger.
Pros:
The Mr. Heater Big Maxx offers an efficient heating solution, capable of heating large spaces like 2-3 car garages or sizable workshops. It reportedly performs well even in sub-zero temperatures.
The unit is praised for its durability, with some users reporting continuous operation for up to three years with no problems.
Users have noted that despite the initial loud ignition noise, the unit runs quietly, reducing disruption in a working environment.
The heater provides good value for its cost, as some reviewers have highlighted.
Cons:
Installation can be complex and time-consuming, especially for those not familiar with such tasks. It may involve gas and electric line installation, ceiling mounting, and vent exhaust running.
Some units arrived with dents and deformations in the panels, indicating potential quality control issues. However, these aesthetic issues didn't affect the heater's performance.
Several users pointed out that the unit's venting accessories can be expensive, adding to the overall cost.
Customer service from the manufacturer, Mr. Heater, received mixed reviews, with some users experiencing difficulty getting help or resolving issues.
The recommended mechanical thermostat was reported as unsatisfactory by some users who preferred a digital option.
A few users also reported intermittent noise and performance issues after a few days of operation.
2. Mr Heater Vent Free Natural Gas Heater
The Mr. Heater 30,000 BTU Vent Free Blue Flame Natural Gas Heater is an ideal solution for heating areas up to 1,000 square feet. This model features a blue flame burner that provides even convection heat and a low oxygen shut-off system (ODS) for safety, earning it CSA certification.
It includes a thermostat for automatic temperature control, making it highly user-friendly. The heater can be either wall-mounted or freestanding, with necessary mounting brackets, fasteners, and feet included in the package. Its clean burning blue flame tube burner uses natural convection to circulate warm, comfortable air throughout your space.
One of its key features is its ability to operate without electricity. This makes it a reliable heating solution during power outages. However, it is not recommended for use in bathrooms, bedrooms, or recreational vehicles (an RV wood-burning stove would be better in the latter).
The unit comes equipped with a battery-powered electronic ignition for easy start-ups, and the battery is included. A wire guard is also present to prevent direct contact with the burner.
However, it's important to note that this heater may not operate effectively at altitudes over 4,500 feet above sea level, as this could cause the pilot/ODS to shut down the heater. The product is not available for sale in Canada and California.
Pros:
High Performance: The heater works excellently in various spaces, effectively warming up garages, basements, and old houses. Many users noted the device could heat areas larger than its 1,000 square feet rating, up to 1,500 square feet.
Energy-Efficient: The unit operates on natural gas, which is more cost-effective and reliable than electricity. It's a great choice for areas prone to power outages or for users who want to reduce their dependence on electrical heating.
Easy to Operate: Users reported that the device is user-friendly and easy to control. It has a thermostat that automatically controls the temperature, and the electronic ignition simplifies the starting process.
Safety Features: It includes an automatic low oxygen shut-off system (ODS), ensuring the device turns off if there's insufficient ventilation.
Robust and Durable: Despite concerns about packaging damage, the heaters arrived in good condition, demonstrating their durability.
Cons:
Oxygen Depletion Sensor (ODS): While the ODS is a safety feature, it can also be a drawback because it may shut the heater down at high altitudes (over 4,500 feet). However, one user was able to operate it at 6,500 feet by ensuring proper ventilation.
Packaging: Multiple users reported that the packaging was damaged upon arrival. Although the heater itself was undamaged, this could be a concern for potential buyers.
Slight Gas Smell: One user noted a minor gas-like smell when operating the heater, which could be a concern for some, although no leaks were found.
Condensation: The heater can cause condensation, which could potentially lead to mold growth if not properly managed.
Maintenance: The unit may require regular cleaning to prevent dust clogs and maintain optimal performance.
3. Dyna-Glo Ventless Natural Gas Garage Heater
The Dyna-Glo 12,000 BTU Natural Gas Infrared Vent Free Wall Heater is a reliable indoor heating solution, with similar models available in 10,000 and 20,000 BTU versions.
Key features include:
Natural Gas Ready: The heater uses natural gas, with no fuel conversion allowed.
Infrared Technology: Like the sun, it radiates heat to warm objects before warming the air, effectively heating up to 300 sq. ft.
Adjustable Heat Settings: It has a LOW-HI variable control knob for customizable heat settings.
No Electricity Required: This makes the heater an excellent backup during power outages.
Optional Add-ons: The heater's functionality can be improved with separately sold optional fan (WHF100) for improved heat distribution and optional base legs (WBL100) for stable floor mounting.
Safe to Use: The heater has a built-in oxygen depletion sensor (ODS) that shuts down the heater if it detects carbon monoxide or lack of oxygen.
Easy Ignition: The heater has a battery-assisted igniter for quick and effortless ignition.
Versatile: It comes with all necessary hardware and brackets for wall mounting.
Warranty: The product comes with a 1-year warranty.
This heater is perfect for everyday heating or emergency use in your home, cabin, or garage. It operates with 99.9% efficiency on Natural Gas and does not require a flue or chimney. Note that it is not for sale in California or Canada. Always check your local regulations on installation restrictions and requirements.
Pros:
Easy to install for individuals with some knowledge of gas pipe installation.
It radiates a pleasant and powerful amount of heat, enough to warm large areas.
It is highly cost-effective, with some users noting it paid for itself within a month due to its natural gas operation versus electricity.
It serves well as a supplemental heating source to central heating systems, allowing for heating specific rooms only.
The heater comes with a control knob which is easy to operate once understood.
It has been reported to work reliably over long periods (up to a couple of years as per one user).
It's portable and easy to store away during warmer months.
It provides adjustable heat settings (low or high).
Cons:
Routing natural gas to the heater can be a challenging process depending on the setup.
The control knob operation can initially be unclear as instructions are not precise.
The knock-out for adding a fan is hard to access and may require disassembly of the heater.
The switch for an additional fan is located behind the unit, making it hard to reach.
The initial ignition process can be tricky and might need getting used to.
Choosing A Natural Gas Heater
When buying a natural gas garage heater, you should consider the following:
Size and BTUs: Consider the size of your garage and the amount of heat you'll need. This is often measured in BTUs (British Thermal Units). Generally, you'll need about 45-50 BTUs per square foot for a poorly insulated garage, and around 20 BTUs per square foot for a well-insulated one.
Insulation: Check the insulation of your garage. If your garage is poorly insulated, it will require a more powerful heater. It may also be worth investing in better insulation to save on heating costs.
Safety Features: Ensure that the heater has safety features like an oxygen depletion sensor (ODS) and a tip-over switch. An ODS will shut off the heater if oxygen levels in the room drop too low. A tip-over switch will turn the heater off if it gets knocked over.
Venting: Decide whether you want a vented or a vent-free unit. Vented units are typically safer because they eliminate any gases or fumes outside the garage. Vent-free units, however, are easier to install and are more energy-efficient.
Installation: Consider the complexity of installation. Some units can be complex and may require a professional to install. Check if the heater comes with a detailed and easy-to-understand manual. On balance, they can be easier to install than alternatives like outdoor wood-burning furnaces.
Thermostat: A thermostat can be a useful feature for maintaining a consistent temperature. Some models come with built-in thermostats.
Noise Level: Some heaters can be quite noisy. If noise is a concern for you, look for models known for operating quietly.
Energy Efficiency: Look for energy-efficient models to help reduce your heating costs.
Durability: Check reviews to make sure the heater is made with quality materials and is built to last.
Warranty: Check if the product comes with a warranty, as this can provide peace of mind.
Remember, always adhere to safety guidelines when using natural gas heaters. Make sure to follow the manufacturer's instructions for installation, ventilation, and operation.
Natural Gas Heater For Garage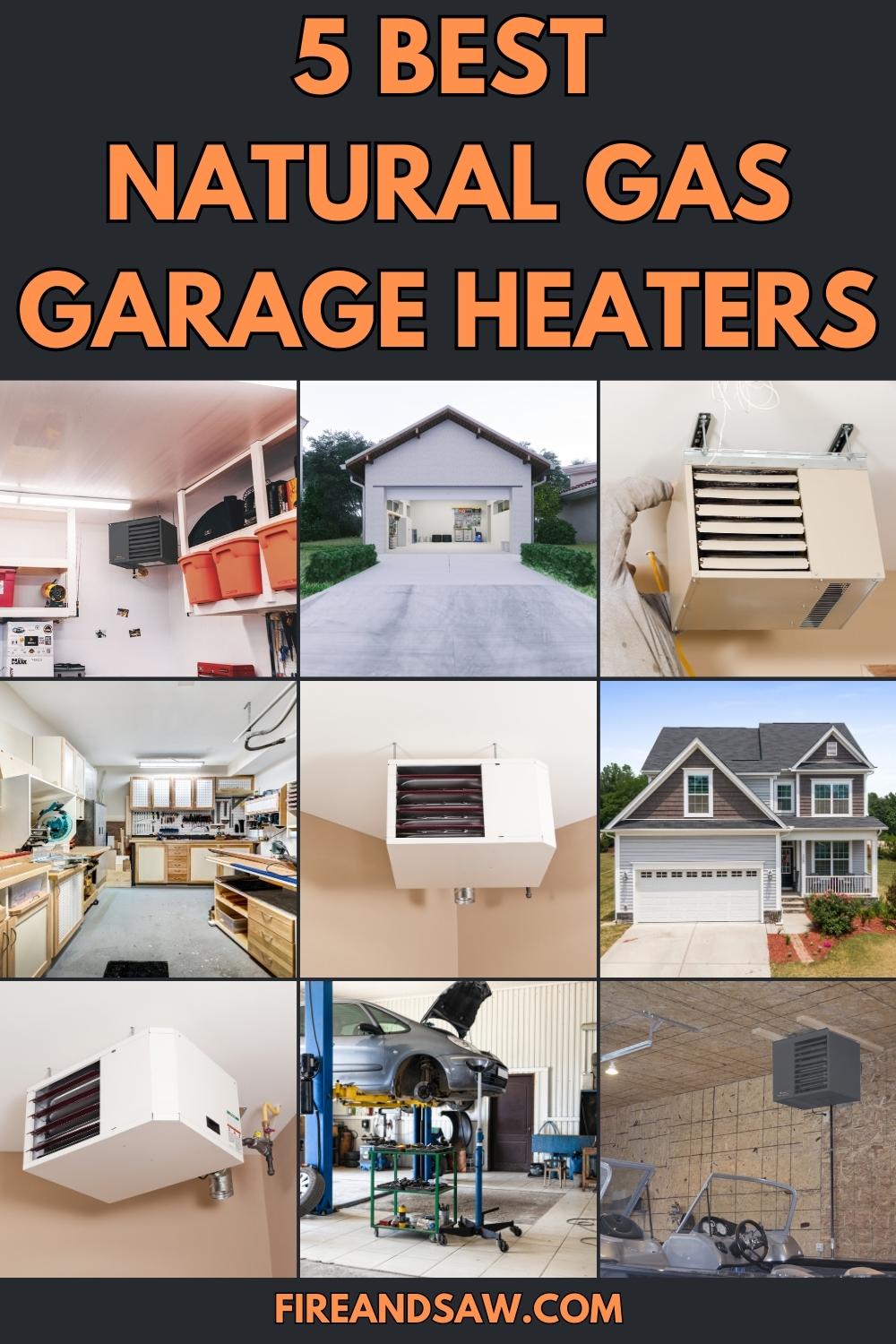 The Mr. Heater F260560 Big Maxx is often hailed as the best natural gas garage heater due to its high BTU output, advanced safety features, and efficient heat distribution capabilities. Its ability to heat large areas of up to 2000 square feet makes it suitable for both commercial and residential use. The convenience of a thermostat for temperature control and an electric ignition for easy operation sets it apart from many other heaters. This unit also stands out for its flexible venting options, allowing both horizontal and vertical installation.
On the other hand, the Dyna-Glo Natural Gas Infrared Wall Heater has received positive reviews for its versatility and value for money. The Dyna-Glo heater comes in 10,000, 12,000, and 20,000 BTU versions, providing flexibility based on your needs. It utilizes infrared technology, similar to the sun, to warm objects directly for efficient heating.
Other heating appliances you might like to consider are these wood stoves for sheds and these top electric fireplaces. These alternatives are especially good for those who don't yet have a natural gas connection to their home.