Firstly, the reason I'm putting this article together…
We have a popular list of the best fire pit chairs that has the featured image below ?
It's a picture of log chairs or chairs made of raw-style wood logs.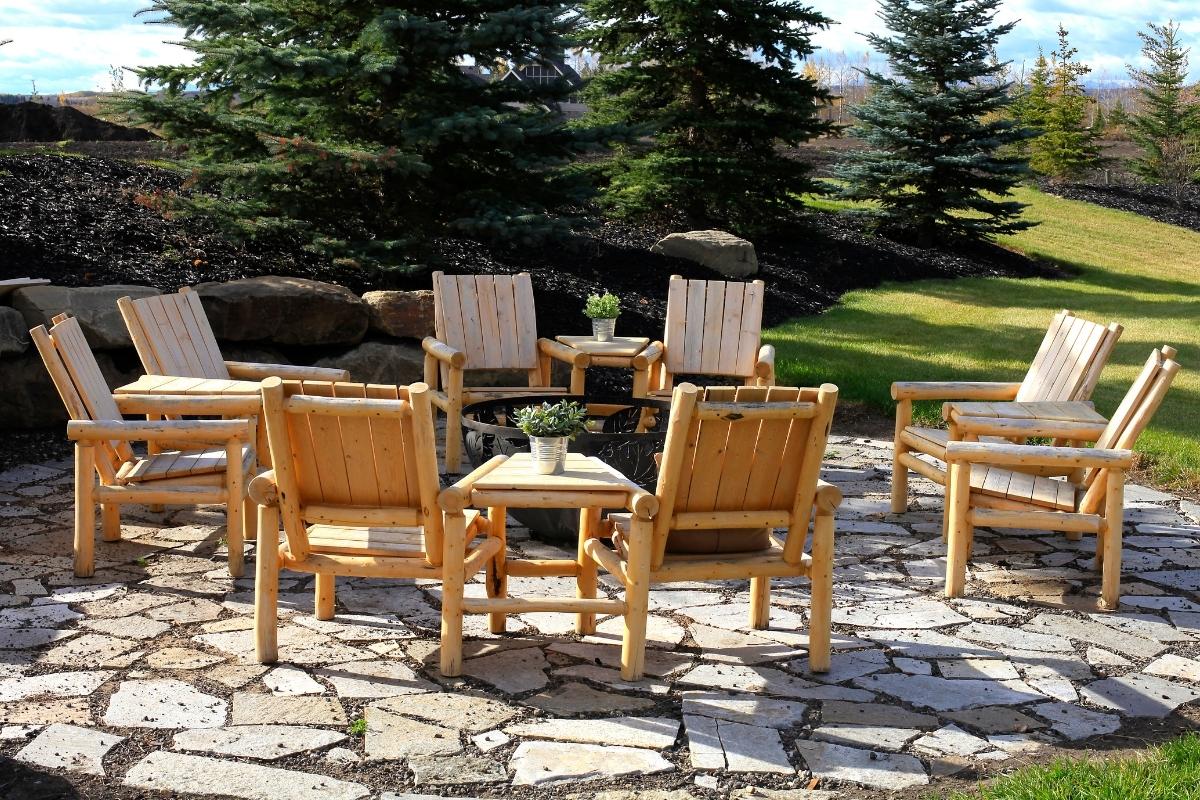 The chair arms also connect to form a table – love it!
Well, the reason I'm putting together this quick post is that I've had quite a few inquiries about these chairs. People keep asking where they can buy them.
I admit they are pretty cool chairs, especially for around a fire pit (though are they as cool as a conversation set?).
While I haven't been able to pin down these exact chairs, here are a few similar outdoor log chairs.
Outdoor Log Seating
I really love this log Adirondack chair.
It's made by a company called Lakeland Mills – they sell on Amazon here.
Their furniture is made from white cedar logs which are both insect and weather-resistant. And, if you're putting them around the fire pit, they're better than plastic when it comes to flying sparks and embers!
Here's another model from Lakeland Mills…
This version is more like the version in the original picture.
It's also made of white cedar, but it is a two-seater with a table in the middle.
It's made in the USA and is stated to be easy-to-assemble. I'm not sure in what state it arrives – partially assembled or fully disassembled?
Either way, it looks comfortable and could be suitable for a rustic firepit setting.
Here's another one…
ON NORTHERN TOOL →
This is the 'Stonegate Designs Log Adirondack Rocking Chair' – another cool design.
It's made of fir wood and is said to have a smooth rocking motion and an "extra-wide seat."
While the color is a bit boring, it will weather, or you can stain it a darker color to give it a bit more character.
VIEW ON ETSY →
Etsy is also a great spot to look for the perfect log chair or log furniture.
There are examples like the chair pictured above, but you'll also find swinging sets, log recliners, oversized chairs, cabin-style log seating, and much more.
Etsy is good for these types of handmade rustic log furniture, and you can often find someone doing it nearby.
The Red Shed brand of outdoor log seating and furniture is very popular on Tractor Supply.
They say it's for indoor or outdoor use, but it would be ideal for any large patio.
Many memories are made on this type of furniture, and it's not all that expensive either (surprisingly affordable, in my opinion).
Log Table And Chairs
So those are some spots to check out if you want some log chairs, whether it's for around the fire pit, outdoor fireplace, on the porch, or anywhere else.
Log chairs make for good outdoor furniture because they generally won't blow away in the wind, they can be very comfortable (add cushions if necessary), and they are strong.
Let us know if have any more questions below!