Jesse James Dupree is no stranger to a chainsaw, and when he appeared on Tom Green's talk show in 2002, he brought his Stihl along with him.
Green knew that Dupree would be appearing on The Tom Green Show with his chainsaw he but believed Dupree would be using it for musical performance.
Jesse James had invented a guitar that could hold a chainsaw below the main body and fretboard, which he would use for a 'chainsaw solo.'
However, when Tom invites Jesse James on stage, he starts up the saw and proceeds to Tom's name into the $10,000 desk – and Tom is NOT happy about it!
Watch both the chainsaw desk incident and the chainsaw guitar performance below!
The Tom Green Chainsaw Desk Incident
The clip went viral on Facebook and other platforms garnering millions of views – the quality in the video above isn't great, but you can also watch it here on Facebook.
Tom Green is legitimately mad that his very expensive desk has just been chewed up by a Stihl Wood Boss.
Most comments are tearing into Tom Green who is an actor and comedian who is well known for doing shocking and insane acts as part of his routine.
For example: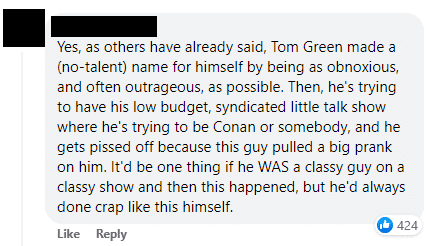 And:

As you can expect there are also plenty of comments referring to Leatherface and his chainsaw as well.
Jesse James Dupree is the frontman for the band Jackyl and was appearing on the show to promote their new album Relentless, and also to show off his chainsaw guitar invention.
After the chainsaw stunt, Tom Green isn't much into the interview and doesn't want to be part of the show anymore. He half-heartedly goes about the motions for a bit.
I hope [the record company] are prepared to pay for it. To be honest I'm p*****d off right now.
The desk was specially made for the Tom Green Show. It was a replica of Johnny Carson's desk and cost $10,000 to build.
It also didn't come easy, Tom had to really work to convince the producers of the show for it, so it's easy to understand his anger at Jesse James.
Staged Or Real?
Everyone always wonders, was it staged or was it real?
While Tom Green now says 'both,' we can better understand it as 'yes, it was real.'
Green appeared on the Legion Of Skanks podcast in 2020 and talks about the incident – see the video here on YouTube.
He shares that yes, he was very angry about what happened, BUT he played up his anger because he thought that would be a funnier reaction than other alternatives.
Unplanned, he comes out and saws up my new desk which I've just lobbied MTV for and spent $10,000 on. And now he's sawing it and I know I'm going to be in trouble… so I got mad…
He had no idea that Jesse James was going to do a chainsaw carving demonstration on his desk, and that was a legitimate surprise.
Ultimately, he states he was 'happy to be mad.'
Jesse James Dupree Chainsaw Guitar
You can check out Jesse James on the chainsaw in this music video from Jackyl – The Lumberjack.
I'm a lumberjack baby
I'm gonna cut you down to size
I'm a lumberjack baby
And you're the one that gets my prize
And when you hear my motor running
You know I surely be coppin' a rise
So I'm gonna crank it up and cut it down
He seems to use a range of chainsaws in his performances, but most often Stihl brand – and often with a customized black Stihl chainsaw.
If you know the model numbers, let us know in the comments below.
As you'd expect, the chain brake seems to be on during the performances, and it's likely got a toothless chain on it – though the chain used on Tom Green's desk had a bit of bite to it.
It is definitely dodgy to go randomly cutting into furniture as you're likely to hit screws, nails, and other bits of metal that can cause chainsaw kickback and damage your saw.
Always wear safety chaps and other protective gear, and don't follow Jesse's example!