The best toy chainsaws have all the working features.
Yes, you can get a cheap chainsaw toy, but it probably won't do anything cool. Premium toys have moving chains, a working pull cord, and sound effects. There's even an awesome LEGO chainsaw with a working chain brake – an amazing feature!
These are the best pretend chainsaws with all the bells and whistles.
1. STIHL Toy Chainsaw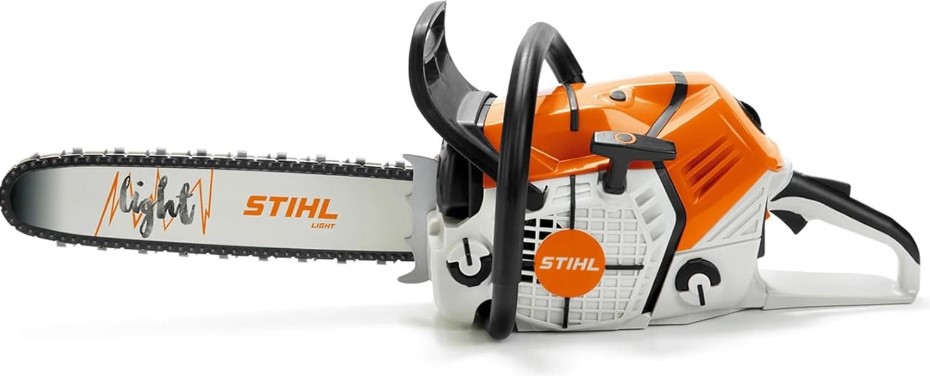 VIEW ON AMAZON →
The STIHL Battery Operated Chainsaw with Sound is a popular toy designed to give kids a realistic chainsaw experience. It's based on the popular MS 500 i model.
It features a recoil function that mimics a real chainsaw, recorded sounds with volume control, a child-safe spinning chain action that stops upon contact, and a long-lasting battery-powered motor.
While many users, especially children, love the product and its realistic design, some find issues with its durability, especially the pull cord, which can break if pulled too hard.
The toy can be considered slightly expensive by some, given its primarily plastic construction. However, its brand appeal and realistic features make it a kid's favorite.
Features:
Recoil function for a realistic experience
Recorded chainsaw sounds with volume control
Child-safe spinning chain action
Battery-powered motor
Accessories include a tool for undoing screws and an extra chain
2. Husqvarna Toy Chainsaw
The Husqvarna 550XP toy chainsaw is enjoyed by children and parents alike, who admire its realistic design and features, such as the authentic sound and rotating chain.
It's celebrated for its likeness to a real chainsaw, safety feature that stops the chain on contact, and the engaging play it provides for young kids.
However, there are notable issues: some customers received units with dead or missing batteries, and there were occasional reports of missing battery compartment covers, which might indicate a quality control concern.
Despite these drawbacks, the 550 XP toy seems to be a beloved addition to many children's playtimes, especially for those with an interest in working with dad in the garden.
Features:
Realistic Husqvarna 550XP design
Suitable for children aged 3+
Realistic chainsaw sound and rotating chain
Safety feature that stops the chain on contact
Husqvarna X-Force bar
Issues with battery life and compartment integrity
Some reports of damage or defects upon arrival
3. ECHO (Look-A-Like) Chainsaw
The Hey! Play! Toy Chainsaw provides kids with an engaging pretend play experience, featuring realistic sounds, a rotating plastic chain, and a pull cord, mimicking a real chainsaw. While it's not listed as an ECHO, it looks a lot like the CS-590 Timber Wolf.
It's well-received for these authentic features and considered a great value for the price. However, some users find it smaller than expected and potentially difficult for younger children to operate due to its realistic functionality.
Others express concerns over its durability and the obnoxiousness of the constant noise it can generate (but that's the point, right?). Overall, it's a toy that children enjoy, but it may require parental help for younger kids to use it effectively.
Features:
Rotating plastic chain
Pull cord with on/off switch
Realistic chainsaw sounds
Suitable for pretend play
Requires 2 AA batteries (not included)
4. Pretend Craftsman Chainsaw
Toy Choi's Pretend Play Series Chainsaw Toy Tool Set, which looks a lot like a Craftsman chainsaw, offers a realistic experience for young children interested in mimicking outdoor construction work.
With its design mirroring a real chainsaw, it includes features such as a starter engine sound, pull cord effect sound, and a safely rotating chain equipped with a mechanical spring to prevent jamming.
The toy is made from high-quality ABS plastic, ensuring durability, non-inflammability, and rigidity. Safety is a highlighted priority, as the chain stops when it meets resistance to prevent injury.
The set also comes with a practical, child-friendly tape measure, sturdy and impact-resistant goggles, and good packaging design. The manufacturers emphasize their commitment to safety by choosing top-grade materials like ABS, known for wear resistance and non-toxicity, despite their higher cost.
Features:
Rotatable chain with a built-in mechanical spring to avoid jamming
Realistic sound effects for engine starting and chain rotation
Made from durable and safe ABS plastic
Safety features that stop the chain upon resistance
Includes a tape measure with accurate inch and centimeter scales
Wearable, sturdy goggles with impact-resistant lenses
Secure, clean packaging with a focus on product integrity
Commitment to using high-quality, safe materials for children's toys
5. Bosch Chainsaw Toy
The Bosch toy chainsaw is a detailed replica of the original Bosch design, crafted from high-quality plastic, which makes it appealing to children who want to mimic the actions of adults safely.
Its realistic sawing sounds and flashing light enhance the experience, making children feel like they're handling a real chainsaw while actually being in a safe, controlled environment.
This toy is a great tool for fostering motor skills and safe tool-handling practices among young aspiring craftsmen and women.
Despite some concerns over the size and packaging condition upon arrival, it has received positive feedback, especially for the joy it brings to children, as noted in a review where a four-year-old greatly appreciated it as a birthday gift.
Features:
Exact replica of the Bosch chainsaw
High-quality plastic construction
Realistic sawing sounds
Flashing light during use
Promotes safe tool handling
Develops motor skills
Toy Chainsaws
Any or all of these chainsaws could also be used for Halloween, though if you want to dress up as Leatherface then the Poulan 306 A is the chainsaw you want.
The STIHL and Husqvarna toy saws are certainly the most popular for kids, and the best version is usually whatever brand Dad loves most. The 500i is pricey, but it will likely last for generations of kids.
There are also plenty of other STIHL kids toys and clothing that are worth checking out.