What is ECHO CS-310 Chainsaw like?
ECHO is a well-established company that is personally among my favorite chainsaw brands.
They are popular among homeowners and more professional users alike – though the CS310 is a lower-powered gas chainsaw that is best for light work.
The CS 310 chainsaw is a compact chainsaw, but it delivers significant power.
It's a 30.5cc chainsaw that is usually sold with a 14 or 16-inch bar. It's a small, lightweight, and durable chainsaw with decent fuel efficiency and good maneuverability.
The Echo CS-310 Chainsaw
The Echo CS 310 is a great chainsaw for small tasks around the home or farm.
It's also a pretty nice option for taking climbing up trees – though if you're going to be regularly doing that type of thing, consider a proper climbing chainsaw.
If you have a property that needs a bit of clearing work done, this would be suitable – as long as you're not wanting to drop large trees.
Or, if you have a smoker, fire pit, or fireplace, and you want to process some thinner logs, the CS 310 chainsaw could be just what you need.
Now, how you use the chainsaw determines what power chainsaw and bar length you need.
The CS-310 is suitable for:
Landscaping
Shrubs
Small trees
Pruning
The ECHO CS400 is a more powerful chainsaw with a longer bar for those needing more flexibility on the tasks you want to complete.
ECHO CS 310 Specs
Here are some of the important ECHO 310 Specs:
30.5 cc
1.86 horsepower
Weighs 8.8 lbs
50:1 fuel oil mix
Felt air filter
Low kickback bar and chain
When you purchase this chainsaw it comes fully assembled.
However, you'll need to ensure the bar and chain have not come loose before starting it up.
ECHO CS-310 Features And Benefits
And a few of the features:
Purge bulb for easy starting
Low vibration system
There's a two-piece flocked air filter that's easily cleaned
You get better durability with the dual-post chain brake
The Inertia-type chain brake is a useful safety feature
Fast and simple, starting with an integrated choke and fast idle trigger release
The Echo has side access chain tensioning to make quick adjustments
Great features for an all-around homeowner saw for light work.
ECHO CS310 Review
Overall, we like the ECHO CS 310 when it's used for what it was designed for – light tasks!
When it's not stretched beyond its limits, it's very capable of getting the job done.
It's not going to fall apart on you or die (like some other cheap chainsaw brands).
Here's a quick, overview of the Echo 310 Chainsaw.
Pros
Very affordable
Good Performance
Easy to start
Cuts through softwood with ease.
Good oil and chain tension systems
Lightweight
Cons
Recoil or loosening chains are a pair of problems
The device can have trouble starting in cold weather
Take care as it can leak oil when left idle for long periods
Not for heavy-duty tasks
CS-310 Alternatives
You've got a good idea of what the Echo can do, but here are some alternatives for comparison.
1. CRAFTSMAN 42cc Gas Chainsaw
If you need more power than the Echo offers, take a look at this CRAFTSMAN 42cc Chainsaw.
It has a durable, lightweight poly build and can be used with a longer bar than the CS310.
2. Husqvarna 435 Gas Chainsaw
The Husqvarna saw is great for firewood cutting, tree pruning, and yard cleanups.
It has a side-mounted system for tensioning for adjustments while working.
Check out our Husky 435 review for more info.
3. Greenworks Battery Chainsaw
The Greenworks cordless saw comes with a 2.0Ah battery that promises fade-free power.
The wrap-around handle offers a range of cutting positions while being easy to use for the same types of tasks as the CS310.
Check out the complete range of Greenworks chainsaws for more info.
Echo CS 310 FAQs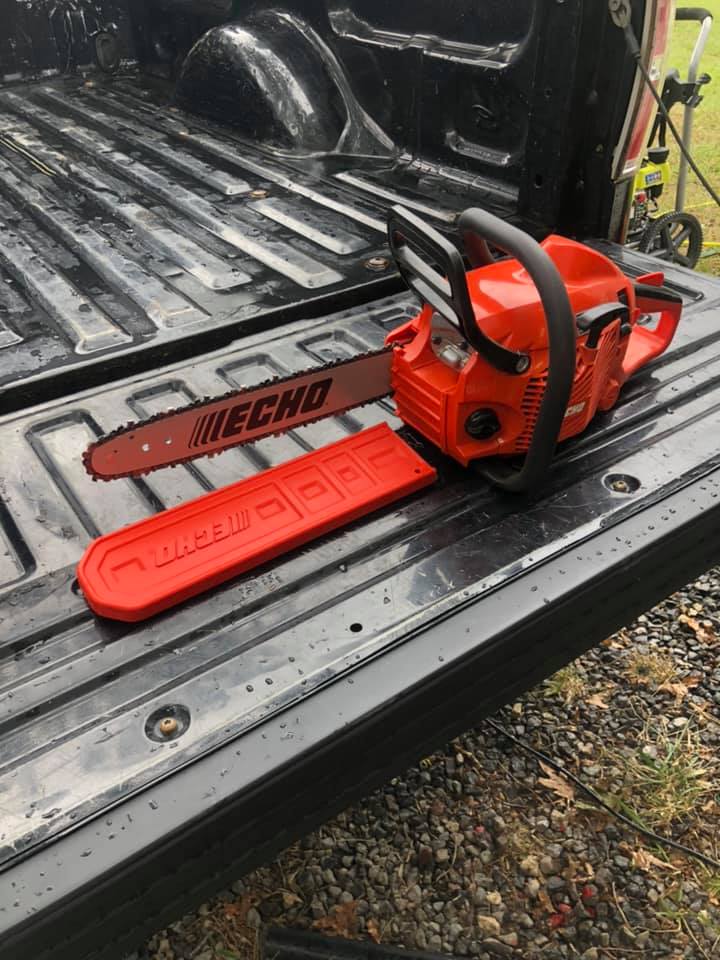 And here are some of the commonly asked questions we get about this chainsaw.
How much does an ECHO CS 310 weigh?
The Echo 310 powerhead comes in at a lightweight 8.8 pounds, without fuel and oil.
Fully fueled with bar and chain it will weigh almost 11 pounds. That's relatively lightweight compared to the higher-powered chainsaws.
How many CCs is an Echo 310 chainsaw?
The Echo 310 is a 30.5cc chainsaw with 1.86 horsepower engine.
For a more powerful saw, check out the ECHO Timberwolf – a 59cc saw.
What chain does an ECHO CS 310 take?
Every Echo chain matches its model to get the most power from your saw.
They're sorted by model number to ensure you get the appropriate bar and chain length along with a solid link count, pitch, gauge, and file size.
Here is a chain you can use for the CS310.
Are there any ECHO 310 problems?
The biggest complaint I've come across is the 310 will get stuck as you bare down on wood.
The issue is often attributed to glitches with the adjustment screws. Remember not to tackle logs too big for the saw.
What's the longest bar you can have?
The longest bar you can have is 16 inches, but it's best run with a 14-inch or even 12-inch bar.
16 inches is really too much for it and you'll lose a lot of power.
ECHO CS310 Chainsaw
The ECHO CS-310 is a good chainsaw for the right person.
The ECHO company is known for manufacturing quality, durable chainsaws.
Keep in mind that it's not designed to be used for processing large volumes of firewood or clearing thick trees. Nor is it made to be run all day every day.
The 310 is made for light, infrequent work around the home. It's good for limbing, pruning, or cutting up tree branches for composting or burning.
Not everyone needs one of the very best chainsaws – sometimes a product like the ECHO 310 is all you need. It'll be perfect for many!