Fire pits make a great addition to household patios and yards, but propane tanks and gas lines are an eyesore.
If you can't buy a propane fire pit where the tank is already hidden inside, these extra items on your patio can also be tripping hazards or simply take up too much space.
But worry not, you can hide propane tanks and gas lines easily so everyone can enjoy their time around the fire. These ideas and pictures will show you what's possible and help you to decide what's best for your home.
Ways To Hide a Fire Pit Propane Tank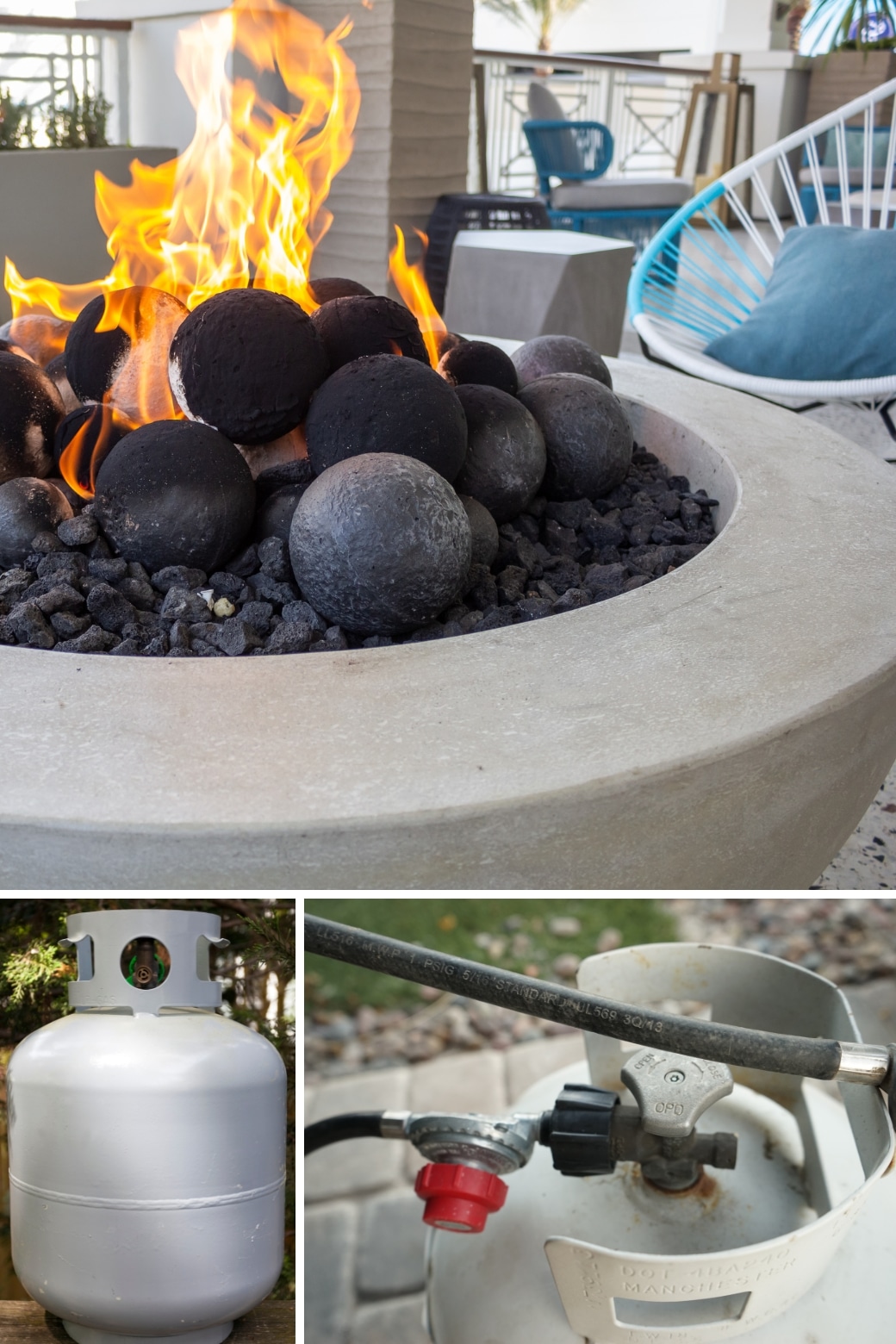 I holiday in a camper and own a portable gas fire pit to complete the outdoor living space. However, the gas line and propane tank made the space seem uninviting. We made a DIY end table to go in between our lawn chairs. This end table has a door we can open to place and hide our propane tank.
The table serves several purposes:
It hides the propane tank
Provides a place to put our drinks
Serves as an addition to the outdoor decor
You only need to be creative with hiding your tank to pull together your entire outdoor living space. But bear in mind that you may need to purchase a longer fuel line to hide the tank properly.
Most fire pits come with a short fuel line, thus making it harder to hide your propane tank. Here are a few other creative ideas for how to hide a propane tank.
1. Hidden Tank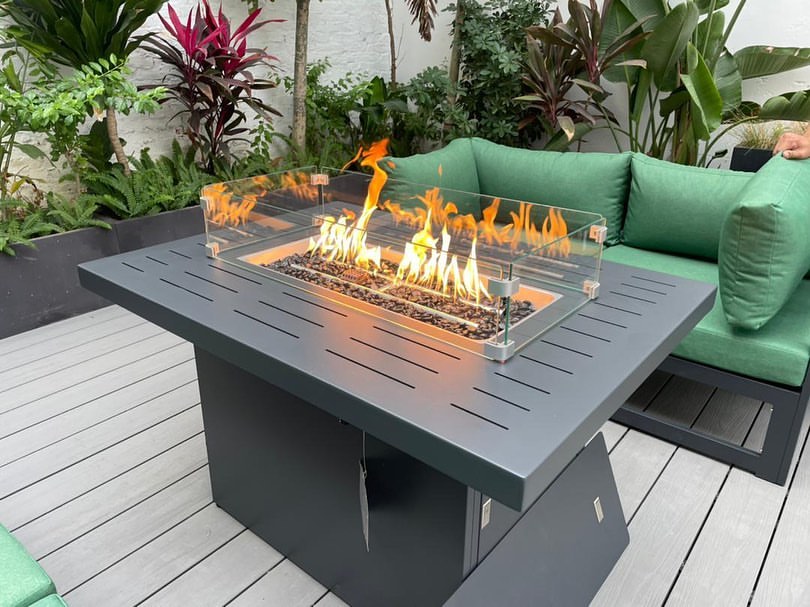 The best option is to buy a fire pit with a propane tank inside, though they can be expensive. These types of fire pits typically come up to the waist or higher so there is enough room for a hidden compartment underneath.
The base is where you will find a hidden compartment to hide your propane tank. Behind the cabinet door, you will find all the hookups and space required for a propane tank.
This option is ideal because you don't need to worry about extra items to hide your fuel tank and lines. However, it's not always possible. Even some high-end fire pits, such as the Elementi range, require a gas line and tank rather than being hidden inside.
2. Purchase A Separate Tank Hideaway
If you select a fire pit that cannot fit a propane tank inside, try a tank hideaway. Tank hideaways come in all shapes, sizes, and styles. They range from barrels to storage bins. You can place these hideaways by furniture to make it look like an end table.
This picture shows the cover that can be bought along with a UKIAH Fire Pit. These fire pits are special as they also contain Bluetooth speakers and the flames beat to the music!
3. Propane Tank Table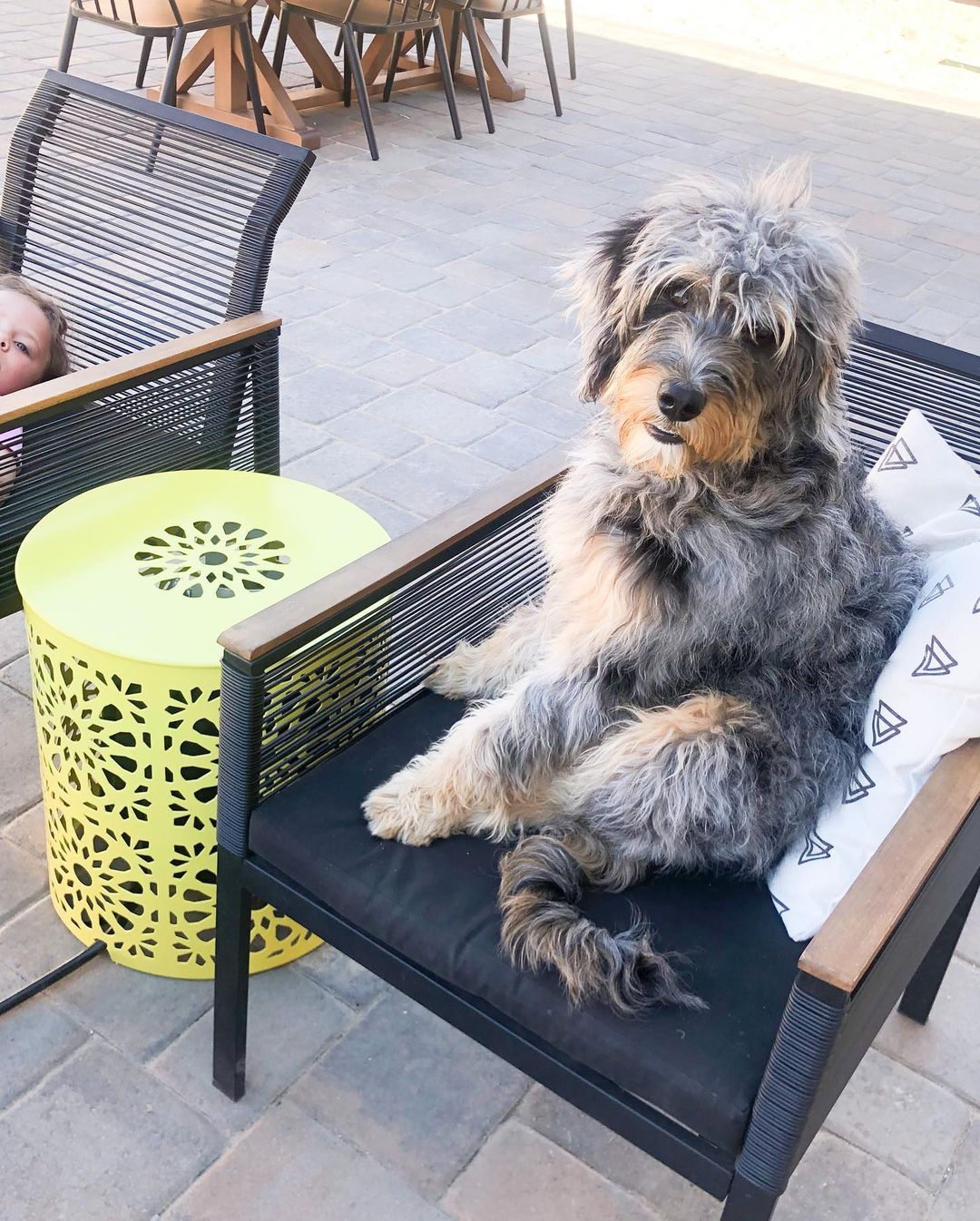 You may have items lying around the house that you have no use for. Don't get rid of those items just yet. You could save extra cash by building your own end table propane tank concealer.
When you make your own table to hide a propane tank for your fire pit, either make a door that opens up or leave a space open in the back to access your tank.
Alternatively, you can find propane tank cover tables for sale on Amazon here. There are plenty of options. Sometimes buying something designed for this purpose is better than DIYing it because propane tanks aren't toys!
4. Use A Decorative Rock Or Cover
You may have seen decorative boulders in other people's yards, or you may have one of your own. These boulders help hide items like wells or other eyesores in your yard. You can use this idea to hide propane tanks. It will also add to your yard because it looks like decoration.
These decorative rocks are extremely lightweight and hollow inside. Place your propane tank in the desired area of your yard and cover it with a decorative boulder.
You can find these decorations at your local hardware store in the garden section. Propane tank covers are another way to conceal tanks. They can also be purchased online or in stores, or, some people make their own.
5. Build A Separator Wall
Another DIY option is to build a decorative wall to hide a propane tank from your fire pit. This option is ideal for patio areas close to the house or garage. You could even attach the wall to the house if you would like.
You can make any wall look like a decoration piece. You can use pallet board for a rustic look or show off your art skills by painting a mural.
All it takes is one wall to hide a propane tank, but you can create three sides for extra visual effect. If you only design one wall make sure your propane tank hides behind it so you can't see it while in your patio area.
6. Build Your Own Tabletop Firepit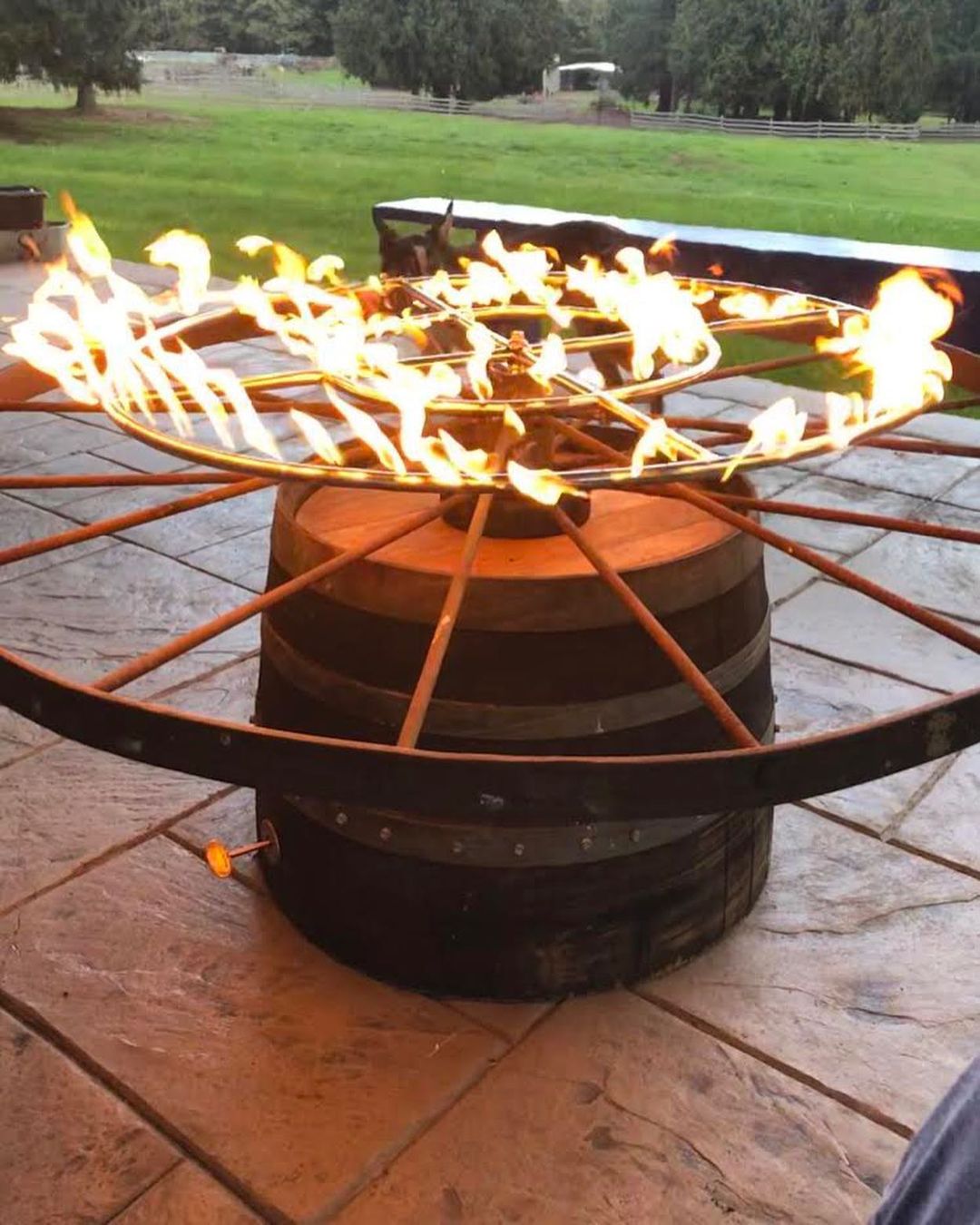 You can build a table to put your fire pit on top of and design a storage area underneath. When you make the top, make sure you fasten the fire pit so it doesn't topple over. When creating the bottom, make sure the propane tank has enough room to breathe.
There should be leftover space on the top and sides of the propane tank when stored under the table. This idea will only work for small fire pits, and obviously won't be possible if you're trying to hide the tank from a gas fire pit table.
7. Plant Shrubbery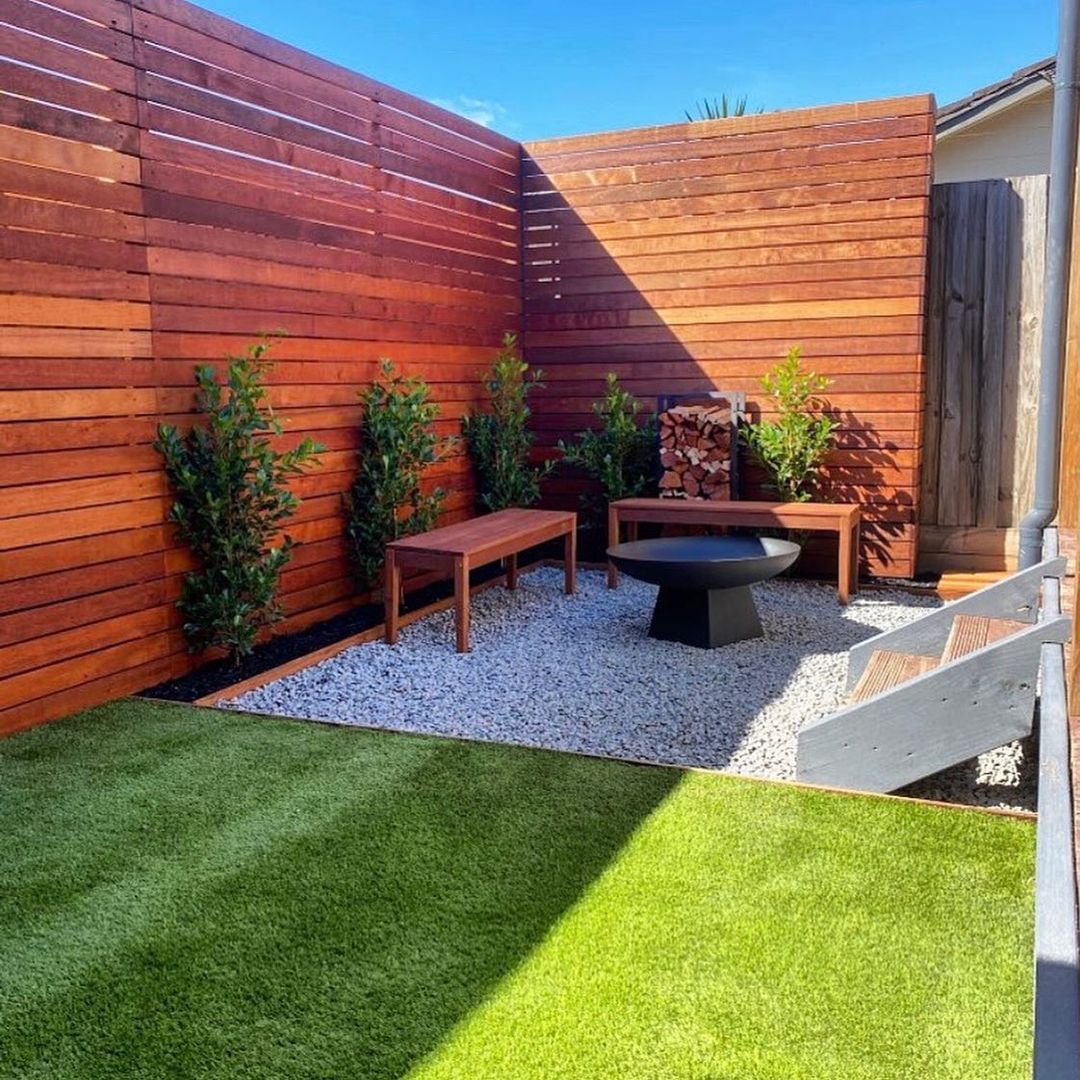 You could have your designated propane tank area inside your garden or behind tall plants. Make sure these plants will also cover it in the wintertime. You may need to purchase a longer fuel line to get the propane tank far enough away. Fire pits usually come with a very short line you can't do much with.
Potted plants are great, especially if the pots are tall enough to cover your propane tanks. Hiding the tank behind plants will hide the tank and allow for easy access when you need to change the tank out. Measure the distance between your fire pit and the area you want to store your propane tank before you purchase a new line.
How To Hide Gas Line To Fire Pit
The fire pit propane tank isn't the only eyesore on your backyard patio setup.
The gas line is unpleasant and a tripping hazard. When you have a tripping hazard around a fire pit, you also have a fire hazard.
When you hide your gas line, you are creating a safer area for your family and guests. Thankfully there are several ways you can do this.
1. Cut A Hole In An Outdoor Rug
If you plan to hide your propane fuel line, make sure the materials are not a fire hazard. Read product labels. If the item is fireproof it will be on the label.
You could purchase an outdoor fireproof rug, cut a small opening next to the fire pit, and run the line underneath the rug.
You could be safer and place the line in a cord hider or PVC pipe, then run it underneath the rug.
Since it's not a good idea to place a carpet underneath your fire pit, try a longer rug specifically for your fuel line. Run the rug across your line to fully conceal it.
2. Purchase A Cord Hider
Cord hiders are made of plastic or rubber and are durable enough for heavy foot traffic.
Some of these hiders are designed for small areas in the home, so you may need to purchase a few and attach them. Look for longer cord hiders for even easier installation.
You can run the fuel line through the cord hider and along the grass, gravel, or rug to your propane tank.
Unfortunately, you can still see the cord hider unless you conceal it with rocks or a rug. You can also purchase a hider that is the same color as the surrounding area or paint it.
Even if you can see the line, you are still creating a safer area because no one's foot will get caught in the cord.
3. Hide Under Gravel
The last option to hiding that unsightly fuel line is to dig a small rut into your gravel or fire pit pavers.
You can place your fuel line into the ground and cover it with the surrounding rock.
This option will only work if your fire pit area is covered in gravel.
You will need PVC pipe and gorilla glue for this process. Either purchase the pipe with a cut down the middle or cut it yourself.
Here are some simple steps you can do for this option:
Place the line through the cut in the PVC pipe.
Tape the PVC pipe down the middle along the cut and tape any openings. This step prevents rocks from crowding your line.
Use Gorilla glue, or something similar, to coat the PVC pipe. You can use a paintbrush to cover the line.
Take the existing gravel and place it on the glue.
Once the pipe has dried, dig a small rut where you want your line to run.
Place the PVC pipe with your line in the rut and cover it with loose gravel.
Hide A Fire Pit Propane Tank
There are many modern fire pits with a propane tank inside, but they're not always possible to get for budgetary or style reasons.
Most propane fire pits or outdoor fireplaces, don't have the option to hide away a propane tank underneath it for a beautiful patio display. And the ones that do are expensive.
But on a positive note, there are many ideas to help you hide the propane tank so you can stay safe and enjoy your patio area. We hope that our suggestions have made your creative juices start flowing and that you're going to put these ideas into practice right away.