Is the Stihl 028 chainsaw any good?
It's an old Stihl series 1118 chainsaw that was produced with varying designations from 1979 – 1990. That's one of the longest chainsaw runs out there. Therefore, there are always plenty of used models for sale.
Keep in mind that the different 028 chainsaws – from the base model Stihl 028 through to the Stihl 028 AV Super Wood Boss – all have slightly different specs and features.
Here's what you need to know about it to determine whether or not the 028 is a good chainsaw for you.
Stihl 028 Chainsaw
The 028 is a somewhat low-powered chainsaw at the higher end of their homeowner range.
The various different saws sit around the 50cc mark, making them good for felling small trees and bucking firewood.
However, if you're wanting to process larger logs, you'll want something a bit bigger like the 064 (another saw from the same era).
It's a good chainsaw for homeowners and those wanting something for infrequent use.
Stihl 028 Specs
The 028 was manufactured for over two decades, so there is a lot of variance between a 1979 model and a 1990 model – as I'm sure you can imagine.
That makes listing exact specifications tricky because you really need to know the exact year and designations for your particular saw to find out precise specs.
There are 4 main different Stihl 028 Chainsaw models:
028 AV
028 Super
028 Wood Boss
028 Super Wood Boss
Most of the 028s also have the AV designation for the Anti Vibration system, and 95% of the machines around today have this. However, some of the earliest models did not have this AV system (see the featured image, for example).
Wood Boss chainsaws are still around today (as with Stihl Farm Boss) but they are applied to different models now.
Here are the specs for the 3 most common 028 saws – remembering they can vary depending on the production year.
| | | | |
| --- | --- | --- | --- |
| The Stihl 028 | 028 AV | 028 Wood Boss | 028 Super |
| CCs | 47 ccs | 47 ccs | 51.5 ccs |
| Horsepower | 3 hp | 3 hp | 3.2 hp |
| Displacement | 2.87 cu in | 2.87 cu in | 3.14 cu in |
| Weight | 12.6 lbs | 11.5 lbs | 12.6 lbs |
| Bar Length | 13″ to 18″ | 13″ to 18″ | 13″ to 20″ |
The 028 Series 1118 Stihl production years:
028 AV – 1979 – 1980
028 Wood Boss – 1979 – 1980
028 AV Electronic Quickstart – 1979 – 1983
028 AV Super – 1983 – 1990
In some respects, you can say the first edition 028 is a completely different saw from the final edition 'Stihl 028 AV Super Wood Boss with Electronic Quickstart' – and what a title!
Stihl Series 1118 Features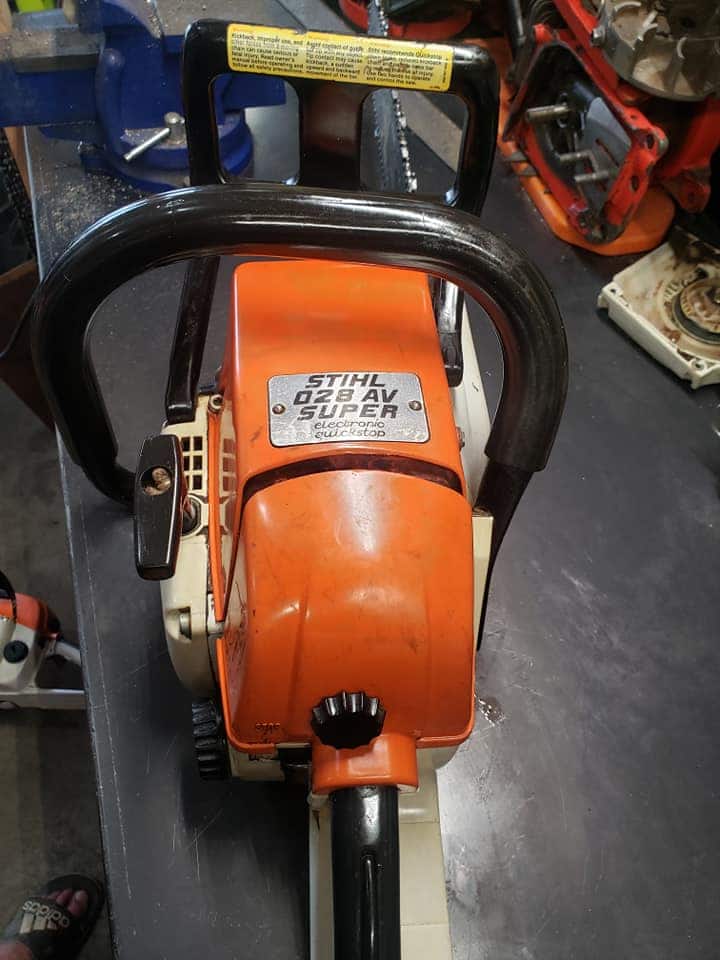 As with the specs, the features of the 028 vary a lot depending on the year made and particular designation.
For example, the anti-vibration technology changed a lot from 1979 to 1990, so those later models are going to have a higher level of comfort when in use.
Also, some of the earlier models had a front chain tensioning screw (the older style), while the newer saws have an easier side-tensioner.
You can expect the following types of features:
Auto chain oiler
Easy access air filters for cleaning
Chain brake (not on all – some only have handguard)
That last feature is also the designation 'Electronic Quickstop' that you see listed on many of the 028s – it's what we now call a chain brake that stops the saw immediately when activated.
Stihl 028 Price And Parts
As with everything else to do with the 028, the price varies!
I've seen them listed, or heard of people finding them for literally $20. Then at the other extreme, you will find see them selling for between $300 all the way up to $400.
It's going to come down to a few factors:
Year it was made – its features and specs
Condition – a barely used model can go high
Modifications – if there are any and whether it was done with aftermarket or OEM parts
As far as where to find parts for the Stihl 028, there are a number of good spots, but OEM is expensive.
Compare parts prices:
Ebay also usually has entire old chainsaws that can be bought cheaply for parts – sometimes these saws can even be repaired by the right person.
Stihl 028 Chainsaw Review
What do people say about the 082?
Some of the comments I've heard from friends or read online include things like, 'It's a top saw that is undervalued since the 026 came out,' or, 'One of their best saws – bought a used one in 1990 and it still goes great with no mods.'
One of my favorite 028 reviews says, 'Not the biggest or most powerful but the best all-around saw ever made.'
Those who prefer the most powerful Stihl chainsaws aren't going to think a whole lot of the 028, but those who are simply fans of all Stihl saws think it's pretty great.
Pros:
Lots of original or OEM parts
Hard-working saw that runs well (if maintained)
Great for firewood or clearing small trees
Cons:
So many variations
Parts can be very expensive
Stihl 028 FAQs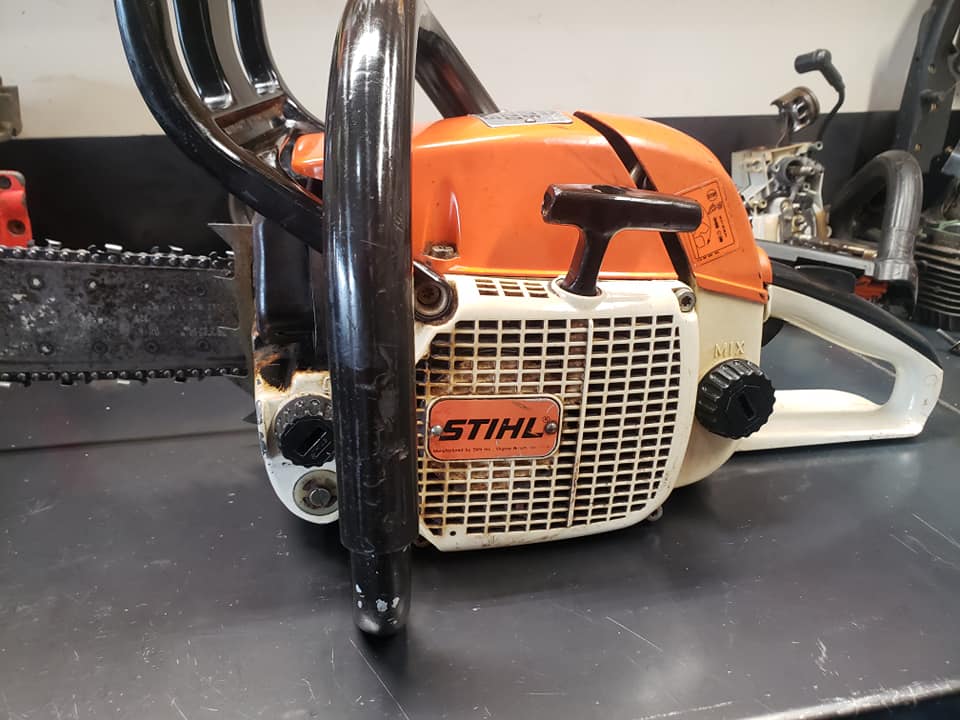 What year did Stihl make the 028?
The Stihl 028 years made were:
028 AV – 1979 – 1980
028 Wood Boss – 1979 – 1980
028 AV Electronic Quickstart – 1979 – 1983
028 AV Super – 1983 – 1990
How many CC does a Stihl 028 have?
The CCs of different models:
028 AV – 47 ccs
028 Wood Boss – 47 ccs
028 Super – 51.5 ccs
What chain does a Stihl 028 Super use?
You can use this semi-chisel chain from Walmart or if you prefer, this ripping chain from Amazon.
What is the best Stihl chainsaw of all time?
That is certainly up for debate and everybody will give you a different answer.
The Stihl 261 is a very good all-rounder, but other more powerful saws like the 880 or 881 have a lot of fans.
Is a Stihl 028 AV Super a pro saw?
The 028 Super is a mid-range saw from Stihl.
It's not a professional logging or forestry saw like the 026, but it's certainly more powerful than small homeowner saws like the Stihl 011 AV.
Though there are plenty of small, lower-powered saws that are still professional-grade. The Stihl MS200T, for example, is a 35cc pro arborist saw.
What does AV mean on Stihl chainsaws?
AV stands for Anti-Vibration.
It's just one of the many chainsaw designations out there from the MS, MSA, and MSE on all modern saws, to features like Quick Chain Adjuster (C-B).
Should You Get An 028?
The 028 Chainsaw is a great old Stihl that's worth picking up for the right price.
I've read about multiple people who inherit them from fathers or grandfathers, and who intend on keeping and using them forever.
They're a really handy saw to have around – a bit heavier and a bit more sluggish than newer models like the MS230, but good nonetheless.
Let me know if you have any comments or questions down below. I'd love to hear your thoughts on and experiences with the 028 as well, alongside any more info on the Stihl 028 history.