In the 1974 horror film "The Texas Chain Saw Massacre," directed by Tobe Hooper, the character Leatherface, portrayed by Gunnar Hansen, uses a chainsaw as his weapon of choice.
The chainsaw used in the original film is often identified as a Poulan 306a, though some reports suggest it might be the similar-looking Poulan 245a. The truth is likely somewhere in between (hint: the 306a with parts from the 245a), but we'll get into that below!
The Poulan brand was a popular choice for chainsaws in the 70s, and their use in the film has become iconic.
*Check eBay for current Poulan 306a listings.
The Texas Chainsaw Massacre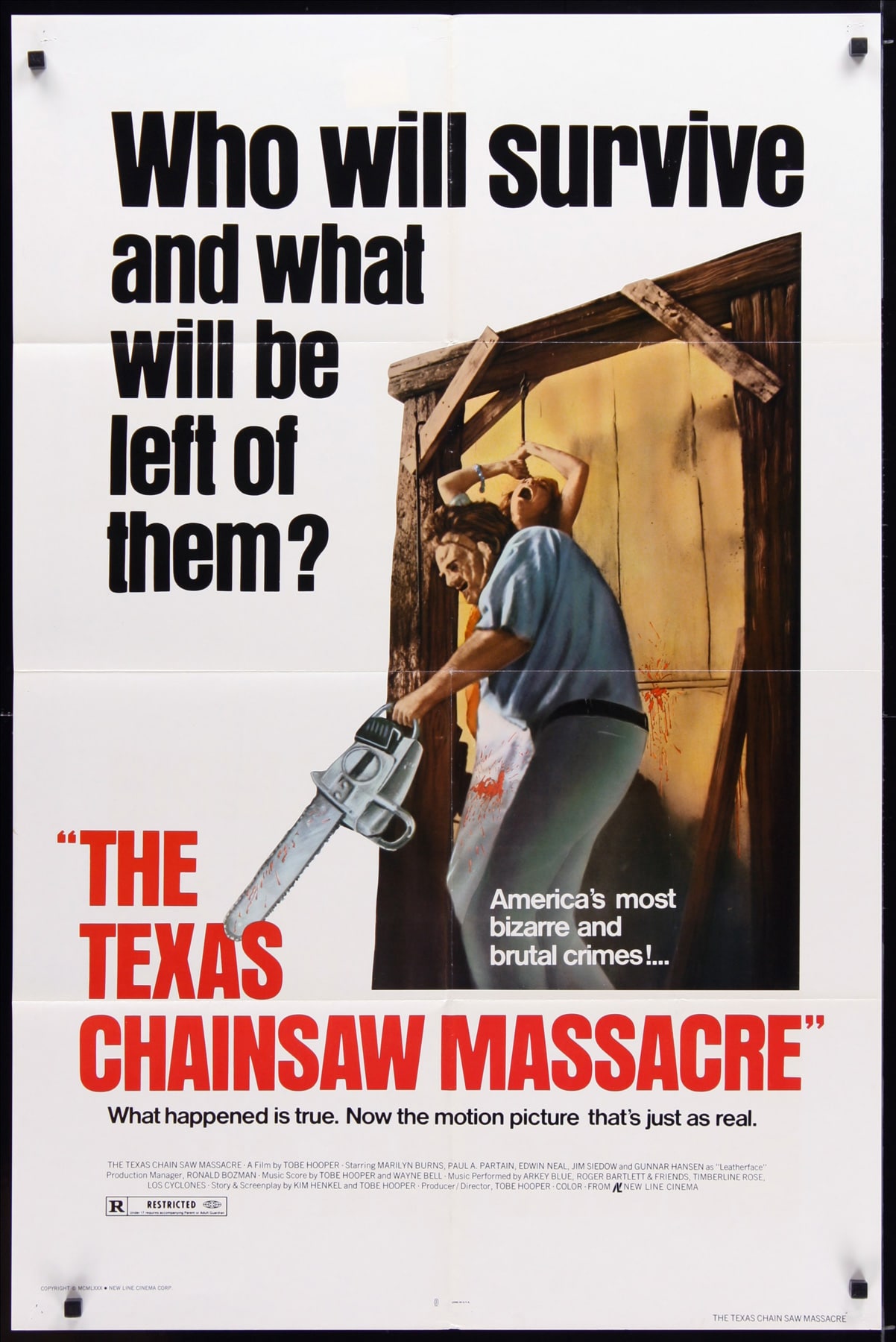 The original Texas Chainsaw Massacre movie was released on 1 October 1974.
The character Leatherface is said to be based on the real-life serial killer Ed Gein (also known as the Butcher of Plainfield). However, as far as we know, the real Ed Gein did not use a chainsaw to commit crimes.
While the chainsaw part in the movie is completely made up, the horrific use of human skin masks is unfortunately not (though we won't get into that here)!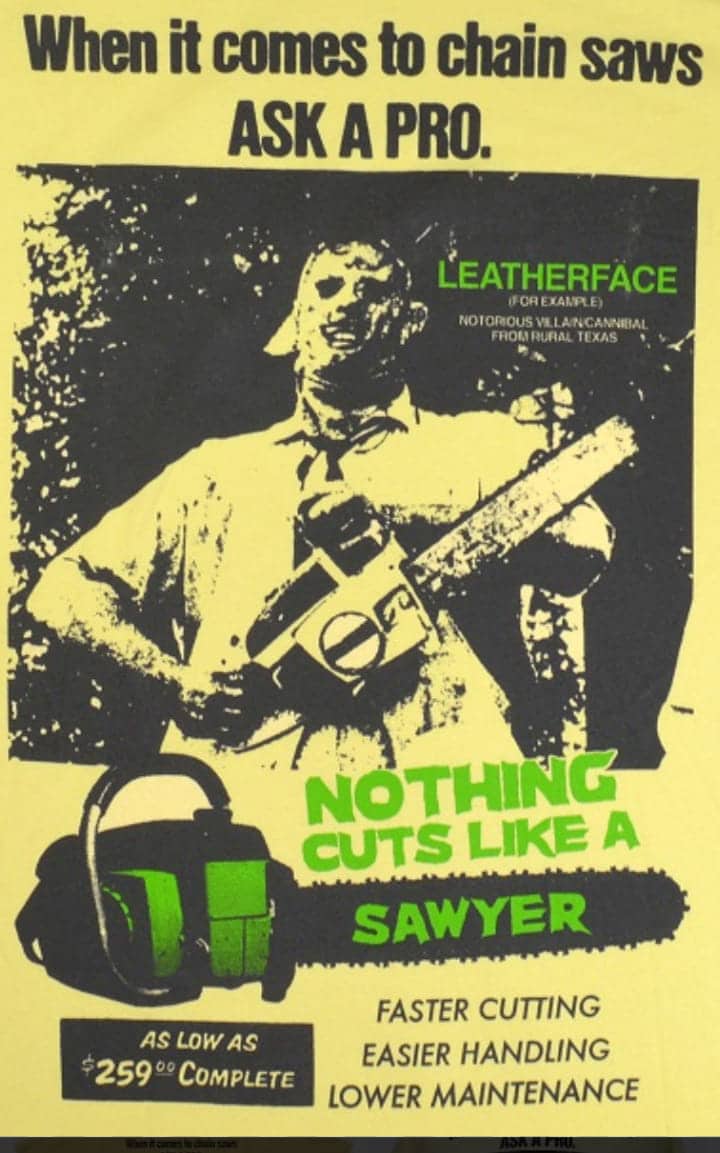 Here's a good synopsis of the original film from Google:
When Sally (Marilyn Burns) hears that her grandfather's grave may have been vandalized, she and her paraplegic brother, Franklin (Paul A. Partain), set out with their friends to investigate.

After a detour to their family's old farmhouse, they discover a group of crazed, murderous outcasts living next door.

As the group is attacked one by one by the chainsaw-wielding Leatherface (Gunnar Hansen), who wears a mask of human skin, the survivors must do everything they can to escape.
So that's what the movie is about (and it's reminiscent of the reason chainsaws were invented), but, more importantly, what chainsaw does Leatherface use in the film?
What Chainsaw Did Leatherface Use?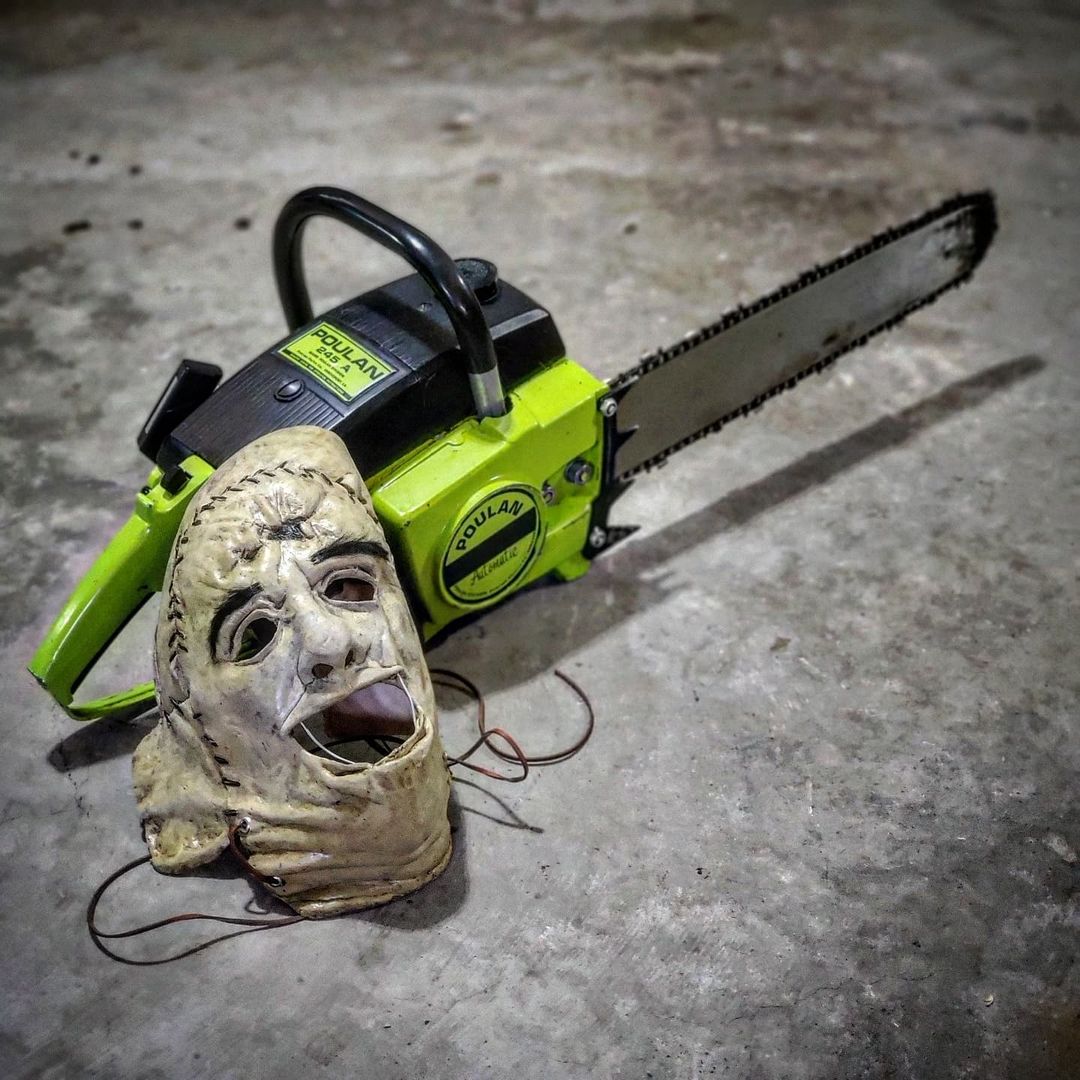 Leatherface uses either a Poulan 306a chainsaw or a Poulan 245a in the original 1974 film.
However, as we alluded to in the introduction, the chainsaw used in the 1974 Texas Chainsaw Massacre movie was likely a Poulan 306a with parts from a Poulan 245a.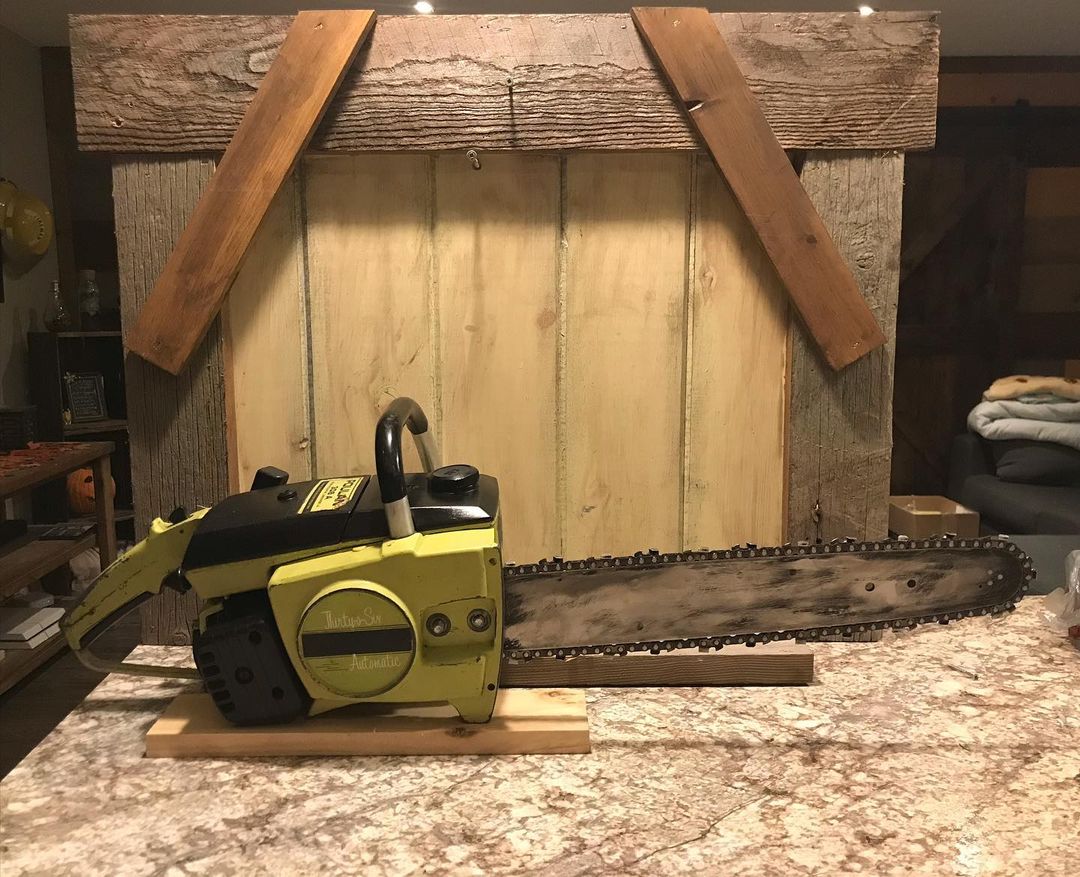 Both chainsaws are very similar, and another account on Instagram shares:
Just fitted the new 245a handlebar, fuel cover/carb cover and muffler to my Poulan 306a chainsaw..

Sounds so sweet!

My new Poulan 306a/245 chainsaw. Just like Leatherface
Which, after investigation, seems like the correct answer.
Both models are classic Poulan chainsaws that are long out of production. At the time of writing, there aren't even any for sale on eBay (though there are plenty of Poulan parts here). If you want one, you can find them listed on online marketplaces from time to time. They do get picked up by collectors quickly.
At 12 lbs, both saws are reasonably lightweight compared to the far larger saws used in subsequent Texas Chainsaw Massacre movies. Some of those are said to have weighed up to 60 lbs.
1. The Poulan 306a Chainsaw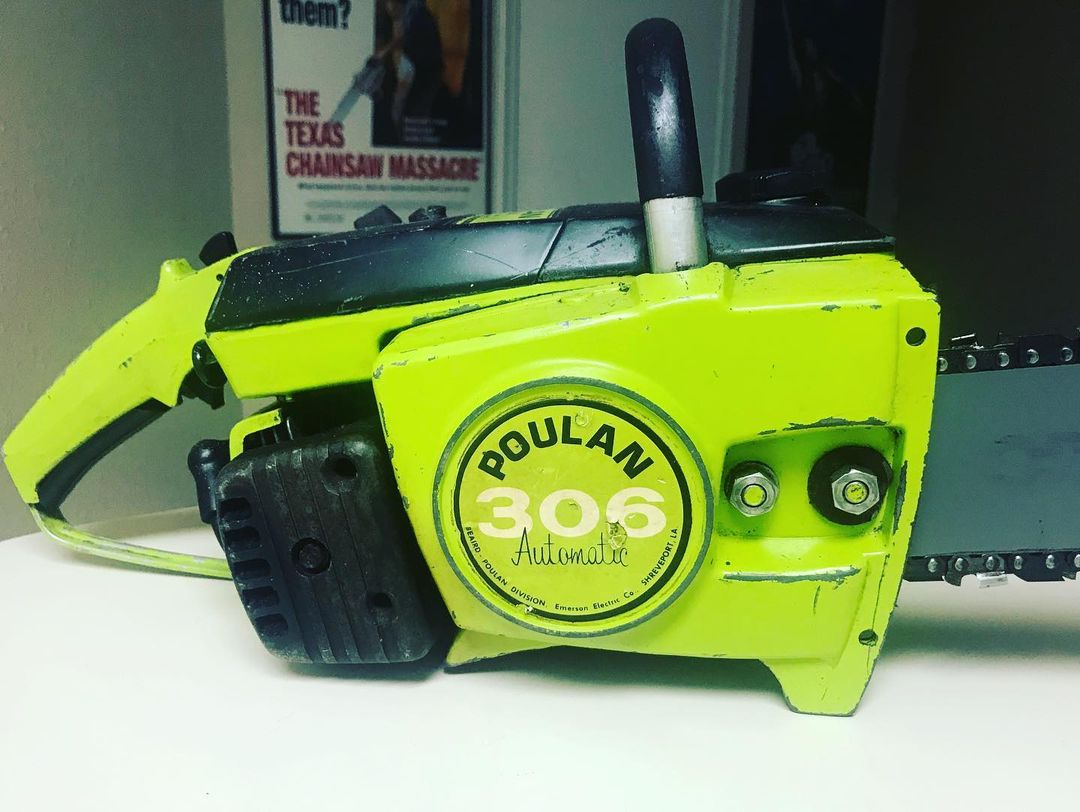 The Poulan 306a is a vintage chainsaw that gained fame not just for its performance but also for its cinematic appearance in the iconic horror film, "The Texas Chain Saw Massacre."
Manufactured by Poulan (Beaird Poulan) in Shreveport, LA, this saw was in production from 1970 until 1980 and was officially obsoleted in 1987. With a 3.6 cu. in. (59cc) engine and a weight of just 12-3/4 lbs, the 306a was designed for one-man operation and offered a blend of power and portability.
Its chrome-plated aluminum cylinder, rigid handlebar system, and die-cast magnesium construction suggest a focus on durability. Its eye-catching color scheme of lime green with black top covers makes it instantly recognizable to enthusiasts and collectors alike.
Key Specs:
Engine Displacement: 3.6 cu. in. (59cc)
Cylinder Type: Chrome plated Aluminum
Carburetor: Tillotson HS-59A, B HS-198A series
Maximum Engine RPM: Approximately 6,500
Chain Pitch: 3/8 in.
Longest Guide Bar Supplied: 24 in. (61 cm)
Shortest Guide Bar Supplied: 16 in. (40 cm)
Weight: 12-3/4 lbs
Fuel Tank Capacity: 18 fl. oz.
Color Scheme: Poulan Lime Green with Black top covers
These specifications offer an overview of what made the Poulan 306a a favorite among users during its decade-long run and why it still holds a special place in the hearts of chainsaw collectors today.
2. The Poulan 245a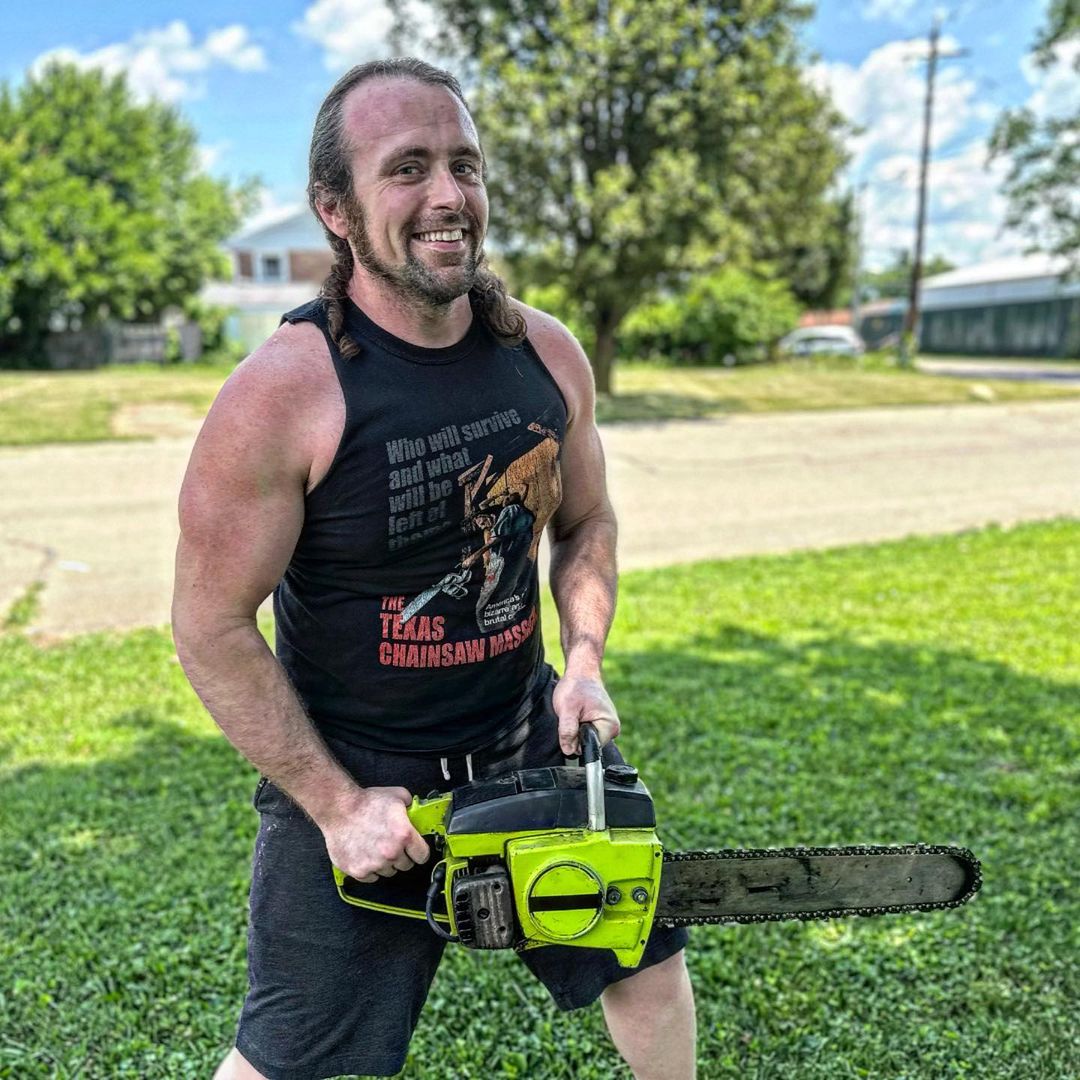 The Poulan 245a is a classic chainsaw that was in production from 1971 to 1980, making it a nostalgic piece for collectors and enthusiasts. With its 4.5 cu. in. (74cc) engine, it was designed to be a robust and reliable option for home and semi-professional use.
Unlike modern chainsaws, it lacks certain safety features like a chain brake, but its chrome-plated aluminum cylinder and rigid handlebar system make it a durable choice. The saw is a one-man operation unit, sporting the eye-catching Poulan lime green with a black top cover and fuel tank cover, a color scheme that is instantly recognizable to those familiar with the brand's vintage models.
Key Specs:
Engine Displacement: 4.5 cu. in. (74cc)
Cylinder Type: Chrome plated aluminum
Carburetor: Tillotson HS-59A, B series
Intake Method: Reed valves
Chain Pitch: 3/8 in.
Longest Guide Bar Supplied: 25 in. (63 cm)
Shortest Guide Bar Supplied: 16 in. (40 cm)
Construction Material: Die-cast magnesium
Fuel Oil Ratio: 16:1 (32:1 with Poulan oil)
Color Scheme: Poulan Lime Green with Black top cover and fuel tank cover
These specs highlight the Poulan 245a's key features, offering a glimpse into what made this chainsaw a go-to choice during its production years.
Texas Chainsaw Massacre Movies Chainsaws
Of course, there were many other films in the franchise – eight to date with more in the works. These are the chainsaws used in each of the Texas Chainsaw Massacre movies.
The Texas Chainsaw Massacre 2
This came out in 1986. Leatherface uses a Craftsman 4300 chainsaw in this film, while Grandma briefly uses a Poulan 361, harkening back to the original TCM chainsaw brand.
The Texas Chainsaw Massacre Massacre III
The third movie came out in 1990 and had one of the most recognizable chainsaws of the lot.
In this movie, Leatherface has upgraded to a custom Stihl 034 Magnum with a 36″ bar (not the 066 as is sometimes claimed). The saw used in the film was not for public sale, having been produced exclusively for the movie by Paul Byer.
The saw for the third film has a great name: The Excalibur Chainsaw.
The Return Of The Texas Chainsaw Massacre (also titled Texas Chainsaw Massacre: The Next Generation)
Next up, this film came out in 1995. Despite starring Matthew McConaughey and Renee Zellweger, it didn't perform too well at the box office.
This film used a McCulloch 700 Chainsaw which you can see sitting on the table in this kill count video at the 14-minute mark.
The Texas Chainsaw Massacre
Released in 2003 was this remake of the original film. Leatherface uses a Husqvarna 359 with a 28″ bar in this film. It's no longer for sale new but used models can be found for sale on eBay and other online marketplaces.
The Texas Chainsaw Massacre: The Beginning
From 2006 is this prequel to the 2003 film. This film also used the Husky 359 chainsaw.
Texas Chainsaw 3D
This came out in 2013 and was made as a sequel to the original 1974 movie. You can get a good look at Leatherface's chainsaw at the 12:20 mark in this video.
I'm not sure what model, but it looks like another Husqvarna chainsaw to me. Again, let us know in the comment below if you have a definitely make and/or model!
Leatherface
This came out in 2017. This tells the origin story of Leatherface, and yes, it includes chainsaws. Because this is set before the original film which was set in 1974, the chainsaws used are what we'd now consider collectibles and antiques.
Unfortunately, I'm not 100% sure what the chainsaw used in this film is. Let us know in the comments below if you have it confirmed before this is updated!
Texas Chainsaw Massacre 2022
There was a new Texas Chainsaw Massacre released in 2022 – watch the trailer above!
We don't learn a lot about the movie from the trailer – there are dark stairways, old gloomy framed family photos, and dangling meat hooks – but we do catch a glimpse of a chainsaw at the 38-second mark.
And guess what? It looks like the lime-green Poulan 306a chainsaw from the original movie!
Leatherface Chainsaw Merch
This is one of the best Leatherface Chainsaw t-shirts on the market.
We love the retro style. Yes, nothing cuts like a Sawyer!
VIEW ON AMAZON →
A Funko Pop Leatherface with chainsaw figurine is another option.
I like this one because they got the lime green chainsaw right – other figurines are holding orange chainsaws (which might be based on other movies after the original, I guess).
These prop chainsaws are popular among those dressing up as Leatherface for Halloween.
They're much lighter than the real thing, don't have real chain teeth, and, thankfully, can't be used to cut up much more than a slice of bread. Could they also be used as a good juggling chainsaw?
Chainsaw Movies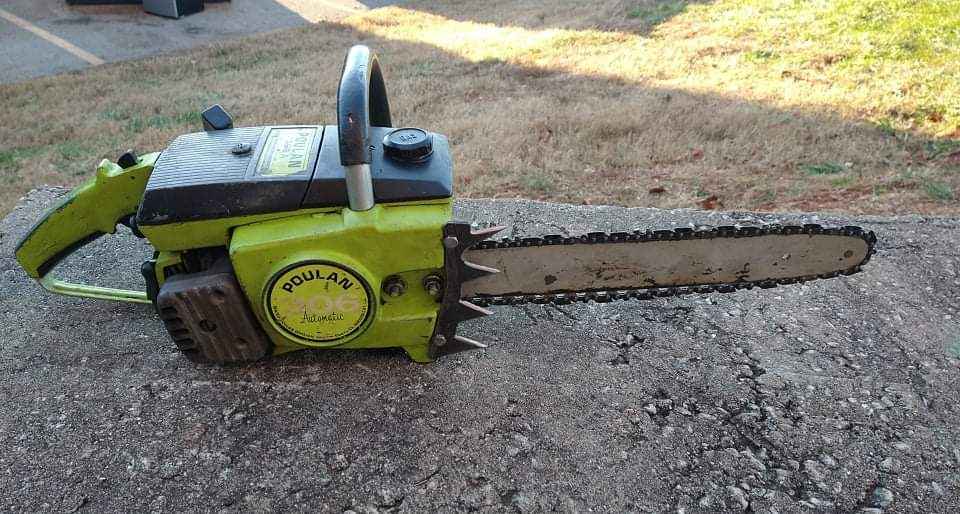 So those are the chainsaws of Leatherface for you!
There has been a variety of brands and sizes used across the 9 movies, but it's nice to see them getting back to the original style for the 2022 release. One has to ask – might we see Leatherface throwing axes at some point in the future…?