This is what you need to know about the Husqvarna 395 XP:
It's considered to be a "legendary chainsaw" by Husqvarna fans
It is a 93.6 cc, 7.1 horsepower professional chainsaw
It's heavy, weighing 17.4 lbs or 7.9 kgs
It's recommended for use with a 20″, 24″, 28″, 32″ or 36″ bar
The 395 XP was made in both Sweden and Brazil – assembly was moved to Brazil to bypass emissions requirements
The 395 XP is still in production, but it will be discontinued soon and is already not available in many countries
Those are the basics, but there's plenty more info down below.
*Images come from eBay seller Sherman_Saws and are used with permission. This Husqvarna 395 XP (with a scored piston) was for sale in September 2023 (sold for US $549.99).
Husqvarna 395 XP Price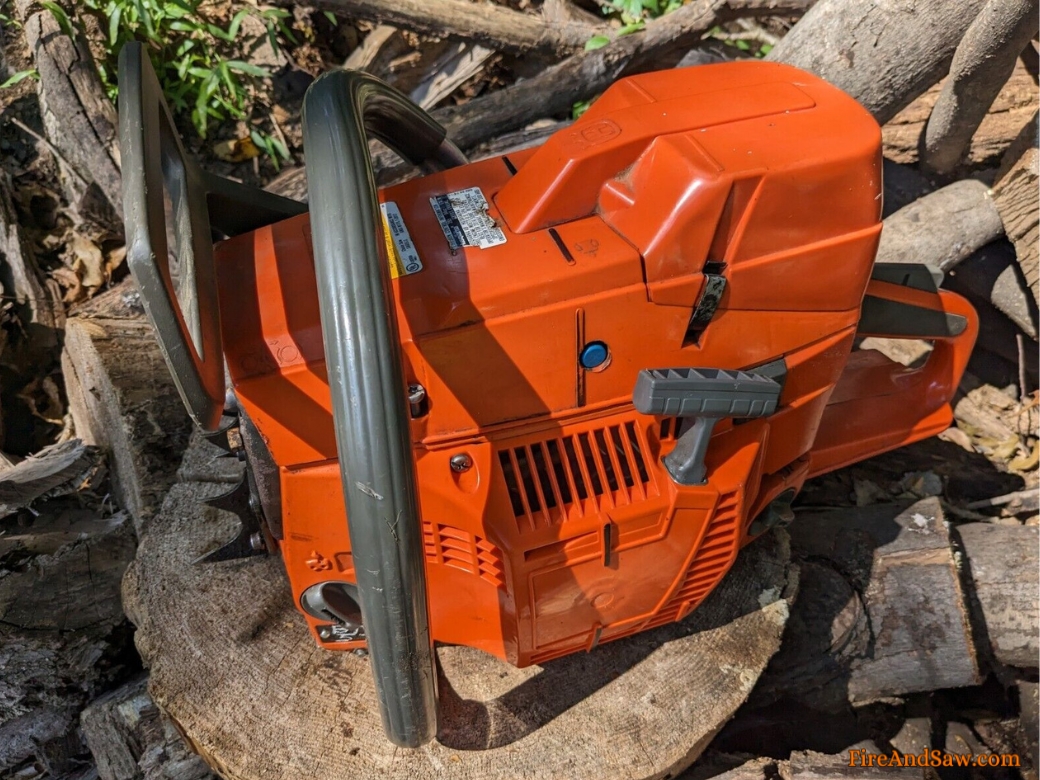 This is the eBay description for the pictured 395 XP:
This is a Husqvarna 395 XP chainsaw that has a scored piston looking through the exhaust port. I do not know anything else about this saw other that it looks pretty nice cosmetically. It will need a rebuild before it will run again.
And it sold for $549.99 which gives you an indication of the value of these saws. Brand new in 2023, the 395 XP costs between US $1,389.99 and $1,449.99 depending on the bar length (20 – 36″).
Husqvarna 395 XP Reviews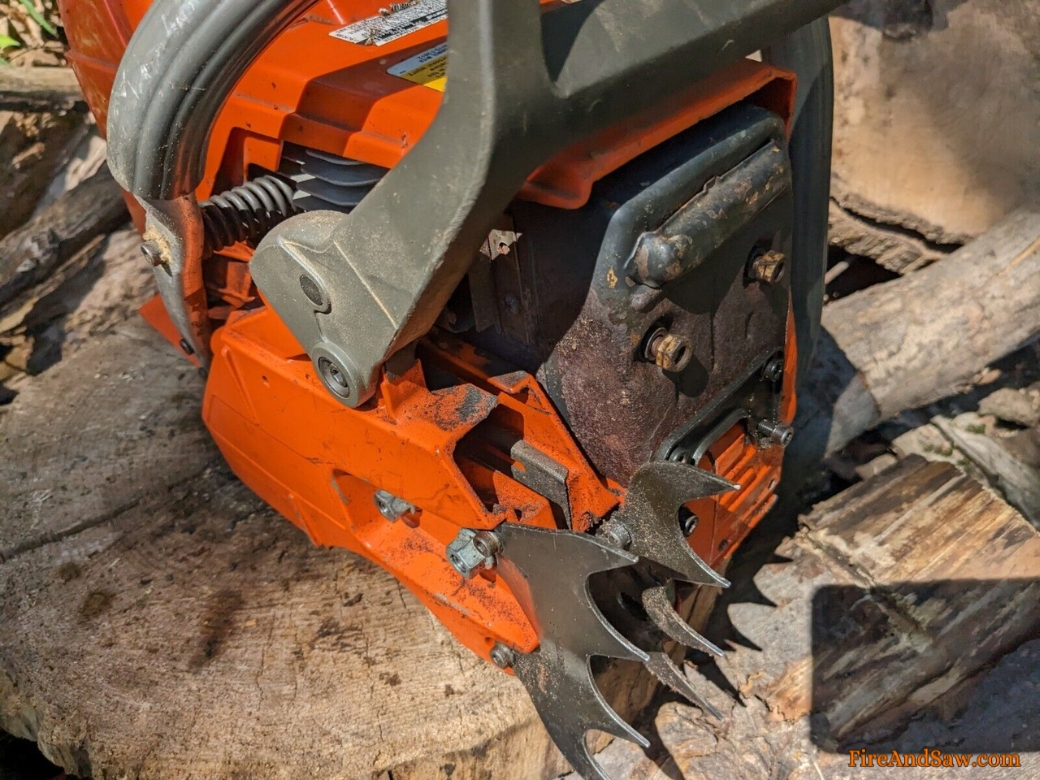 The saw is very well-reviewed by users, including when compared to other saws in the same class like the 390 XP or 592 XP.
Here are some helpful comments from the Husqvarna Chainsaws FB group:
About the 395 XP, Craig said:
There's no replacement for Displacement.

I use it on Australian hard wood with a really strong bark that clogs the chain. 3/8 Full Chisel Oregon hand filled to 25 degrees.
Ryan said:
A 395 is a legendary saw whether it's a Swedish made saw or Brazil. However it is a heavy saw to carry around.
Some people don't like the old-style fuel caps. Joe said:
I have a 395 for a few years now and is performed nothing but flawlessly… and you can add the flippy caps.
Jarrod ordered more in anticipation of them being discontinued, saying:
Just got some in as they are being discontinued. Same saw as 30 yrs ago.
Stefan said:
Assembled in Brazil to bypass emission requirments in Europe. I've got a Brazil 395 and goes hard unmodified.
Austin said:
Nothing wrong with a Brazil 395. I have one bone stock with muffler mod and it hasn't skipped a beat.
And some shorter reviews and comments:
John said, "That best saw Husqvarna ever made."
Tristan said, "One hell of a saw love mine 👌💪."
Pascel said, "I have a 395XP, made in Brazil. It's a reliable great beast of a saw."
Delmer said, "I hate my 592, wish I bought a 390 or 395."
Blake said, "My 395 is an absolute beast. Bought it new about 3 years ago."
Scott said: "I'll tell you one thing for sure, my ported 395 is a beast!"
395 XP Vs 390 XP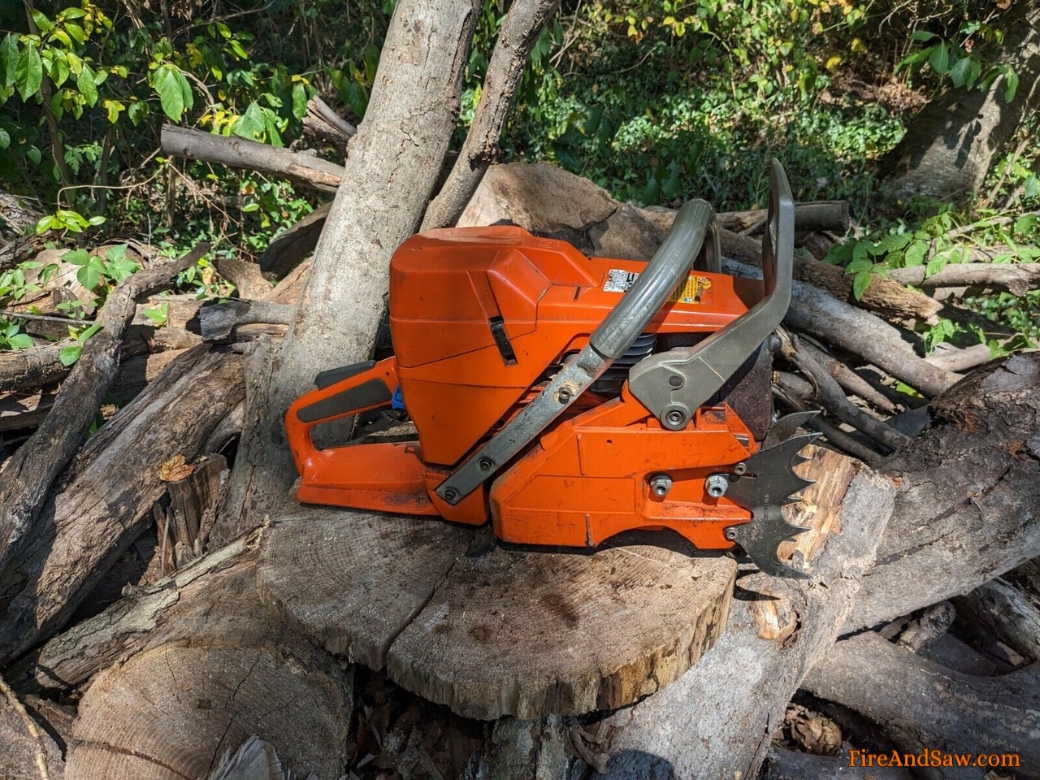 Comments on the 395 XP vs the 390 XP usually favor the 395. Here are some examples.
Matt said:
395 all day.

I have both and love the 385/90 but it's not as tuff not as strong and real close to same weight as 395. Also 395 handles better, has better balance, oils better, and has better air filtration.

Front tensioners are excellent on them, they hold where you want it and seldom break, and if they do they're easily fixed. Also has outboard clutch less heat in the case for long bars. Good muffler mod an Loctite the bolts in and you're ready for hardwood.
Robert said:
Both will handle milling. 395 is an impressive saw. The 390 has more grunt than a 372 XP but not as impressive as 395. For a milling and bucking saw I'd say 390 is a good pick.
And chainsaw expert Corey said:
I would personally go with the 395.

About the same price, more power, better oiler, built tougher in general. Porting isnt really necessary but more power never hurts – at least a good flowing muffler to help it run cooler.

The front chain tensioner to me is great – I like them myself, they're not problematic or anything. I also like the out board clutch because it keeps the heat off the seal and bearing.
And Nelson said:
I ran 395s since the day they were introduced. The tensioners are good, you'll get used to looking behind the bar, where you don't even think about it.

They are the most durable saw out there. Modding is definitely not a must but it really makes them snappy if done correctly. I ran many for years without the mods and they work great.

I'm not a 390 fan because of power to weight ratio just isn't worth it and imo not as durable.
Specs And Features
| | |
| --- | --- |
| Specifications | Husqvarna 395 XP |
| Production years | 2001 – current |
| Engine Displacement: | 93.6 ccm / 5.7 cu. in. |
| Cylinder Bore: | 56 mm /2.20 inches |
| Piston Stroke: | 38 mm / 1.5 inches |
| Piston Ring Thickness: | 1.5 mm / 0.05 inch |
| Power: | 7.1 hp / 5.2 kW |
| Weight: | 17.4 lbs / 7.9 kgs |
| Handlebar System: | Anti-vibration |
| Chain Brake: | Inertia activated |
| Clutch: | Centrifugal |
| Drive Type: | Direct |
| Construction: | Die-cast magnesium |
| Magneto Type: | Electronic |
| Carburetor: | Tillotson |
| Air Filter System: | Nylon mesh element |
| Starter Type: | Automatic rewind |
| Oil Pump: | Automatic, adjustable |
| Maximum Engine RPM: | 12,500 free, 8,500 under load |
| Idle RPM: | 2,500 |
| Ignition Timing: | fixed |
| Breaker Point Setting: | na |
| Spark Plug Type: | Champion RCJ7Y, NGK BPMR7A |
| Spark Plug Gap: | 0.5 mm /0.020 inch |
| Crankshaft Main Bearings: | Ball |
| Fuel Tank Capacity: | 30.4 fl. oz. |
| Fuel Oil Ratio: | 50:1 |
| Chain Pitch: | 3/8 in. |
| Chain Type: | Oregon 73JG Chisel |
| Bar Mount Pattern: | 17 link |
| Bar length | 20 – 36 inches |
The 395 XP in our pictures has 94 ccs on the label.
The model number tag on this particular saw had been covered with a permanent marker.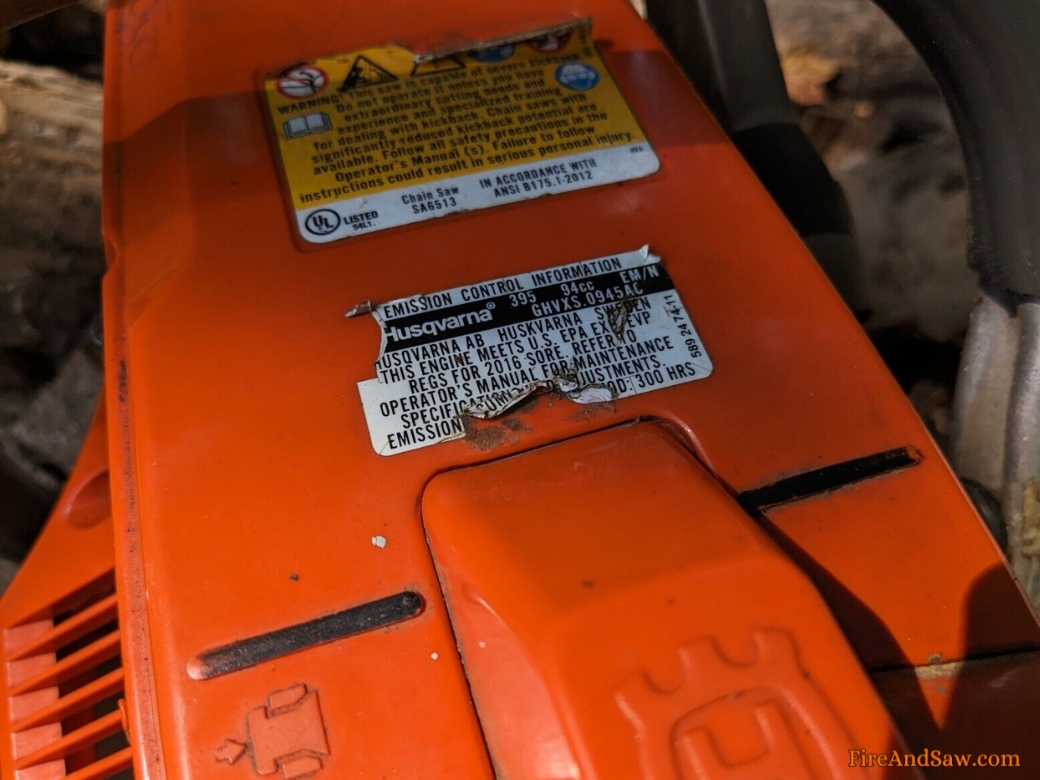 Because the 395 XP had a long production run, some features vary from saw to saw depending on when and where it was made.
Husqvarna says to run a 50:1 fuel oil mix, but many users recommend 40:1. Because of environmental regulations chainsaw companies need to state 50:1 mix as it looks better in the specs and/or helps it to be passed for production.
Always use ethanol-free gas.
Here are some of the general features of the 395 XP:
Air Injection System: Reduces air filter cleanings and improves engine longevity by filtering out larger debris before it reaches the air filter
Customizable Oil Pump: Allows adjustment of oil flow to suit different tasks and weather conditions
Magnesium Crankcase: Built for durability, it withstands high RPMs and tough usage, ensuring long-term service
Three-Piece Crankshaft: Engineered for robust performance and durability
LowVibration Technology: Minimizes operator fatigue by reducing vibrations from the chainsaw
Effortless Start Mechanism: Simplifies the starting process for user convenience
Ergonomically Designed Front Handle: Enhances comfort and control during use
Clear Felling Marks: Aids in precision cutting and felling accuracy
Inertia-Activated Chain Brake: Increases safety by stopping the chain instantly during unexpected movements or impacts
Husqvarna 395 XP Chainsaw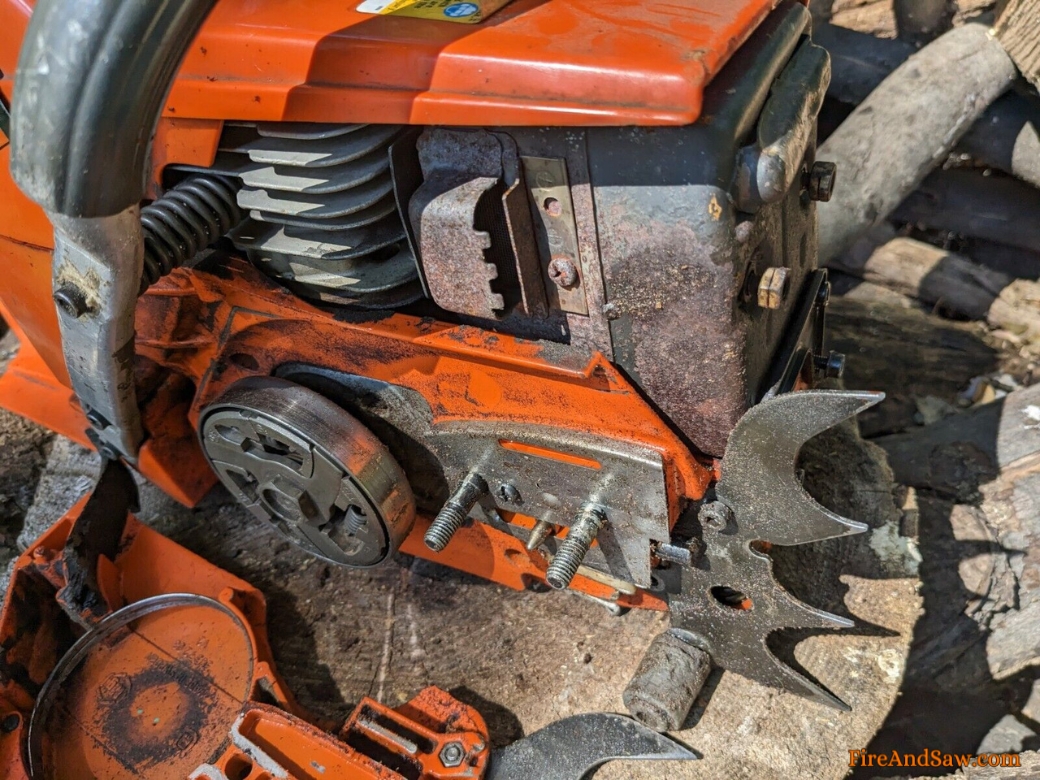 Overall the Husqvarna 395 XP pro chainsaw is a very good saw.
It's designed for professional use but is also commonly used non-commercially for heavy firewood duties, felling, and milling. It's a popular saw with a great reputation, so the resale value is good.
In particular, as there will be fewer models out there once it's discontinued, its value will likely rise. Parts for the 395 are not hard to come by and can be easily found on eBay or other online marketplaces.
Newer Husqvarna models in the 90cc class include the 592 XP which has received mixed reviews.