Black Friday is here, and the Black Friday chainsaw sales have begun.
The best time to buy a chainsaw is probably during a Black Friday sale. While there are sales all year round, they're just better on this day, right?
TOP DEALS: LIVE On Amazon Now!
Some of these chainsaws and chainsaw accessories are premium and pro-brand products, like Husqvarna, ECHO, and Oregon, while others are from the homeowner or construction range of products, like EGO, Dewalt, and Makita
This post is updated constantly during Black Friday, but because prices can change from day to day, you'll need to double-check your choices are still on sale today. Happy shopping!
AMAZON Black Friday Chainsaw Deals
Amazon is the king of Black Friday, and they have a lot of Black Friday deals that are underway here.
There are products for sale in all categories, from chainsaws and chainsaw accessories to chainsaw parts, safety gear, bars, chains, and other types of saws.
Deals are updated frequently during Black Friday to be kept up to date as much as possible.
A massive range of Makita tools are discounted for Black Friday.
There are chainsaws, impact drivers, sheet metal nibblers, rotary hammers, and batteries for their electric tools. A great opportunity to get what you need.
This Oregon electric chainsaw sharpener can be used with most types and sizes of chains.
This makes sharpening your chainsaw chains so much easier and faster – especially if you need to do so often or if you have many to get through.
This DEWALT Table saw is super cheap, along with a massive range of other DEWALT tools.
There are drills and drivers, reciprocating saws, miter saws, scroll saws, and basically any other saw you can imagine – it's all going at dramatically reduced prices.
This Greenworks chainsaw is significantly discounted right now.
It's the 40v battery-powered model that comes with a 16-inch bar and includes the battery (4Ah) and charger. It's an extremely popular option for those wanting to prune branches around the home.
Battery saws are quieter, less-smelly, and usually cheaper than their gas counterparts.
This lower-powered model from Greenworks is also on sale.
It's also 40v but is sold with a 12-inch bar, so it's slightly smaller. It also has a battery that is 2Ah, as opposed to 4Ah, so you won't get the same length of time out of it.
It can be purchased with or without a battery and charger.
The Smith & Wesson throwing knife and axe set is a Black Friday deal.
This is one of the best selling products of its kind. The WATL Competition Thrower is also on sale and is a good axe for beginners.
The very popular Black & Decker battery chainsaw is on sale for Black Friday.
It's a basic chainsaw that is great for light work around the home – pruning tree branches, bushes, that sort of thing. It's a 20-volt model with 10″ bar.
This 18″ Oregon self-sharpening chainsaw has a big discount on it.
It's a corded electric chainsaw, so best for work near the home.
This SunJoe Pole Saw is exceptionally cheap this Black Friday.
It weighs 8.4 lbs and can be used as a convertible tool: both chainsaw and pole saw. It's not the hardiest option out there, but at this price, it might be worth taking a risk on!
The 50cc Husqvarna 450 Rancher is on sale at the moment (18″ bar).
I own this chainsaw myself and can highly recommend it if it's within the range you're looking for. It's a 50cc chainsaw.
The popular DEWALT chainsaw is on sale as we head into Black Friday.
It can also be bought with or without batteries, and it is a strong performer. It's a 20v chainsaw that is good for pruning, limbing, and climbing.
The Black + Decker battery saw is discounted right now.
It's a strong competitor to the DEWALT that is usually $30-$40 cheaper. It's also a 20v chainsaw that is suitable for light backyard work.
Battery life is good and it's been a best seller for many years.
The EGO Power+ CS1400 is also greatly reduced for a limited time.
It's another cordless chainsaw, but it has a 14-inch bar and is 56v. The battery and charger are not included in the sale, so if you are not already part of their EGO Power+ range of tools, you'll need to factor in the cost of those too.
EGO is a very well-reviewed brand in the outdoor garden tool market.
The Sun Joe Pole Saw isn't the most premium pole saw, but it is cheap!
It's an 8 amp corded model that can be used with or without the 15-foot pole, making it a mini chainsaw as well. Good for pruning branches near the house.
Keep in mind that corded electric products can be more limiting.
This set of Husqvarna safety gear is on sale, which includes chaps, gloves, and a helmet.
Gear like this is a must-have when working with a chainsaw and can protect you from major injury or accident. Anyone can lose focus while working, so it's better to be safe than sorry.
And, when it's at such a great discounted price, why not?
A selection of Husqvarna chains is on sale this week on Amazon.
This includes chains for their entire chainsaw range like the Homeowner and Rancher series. For an even bigger discount, you can buy 3 chains at once.
Options for all pitches and gauges, and includes low-kickback, low vibration chains, etc.
This is a cheap gas chainsaw that's further discounted in the lead-up to Black Friday – Cyber Monday.
While you shouldn't expect chainsaws like this to last a long time, they're good if you only need them for a couple of smaller projects. It's still powerful at 62cc.
These Husqvarna chainsaw chaps are excellent, and they're discounted at the moment.
Chainsaw chaps are essential to put on whenever you're using a chainsaw as they will protect your legs from injury if your chainsaw slips.
These Husky chaps are very strong and comfortable, and they look better than most!
Best Black Friday Chainsaw Discounts
Amazon Chainsaw Discounts

Amazon have frequent sales on chainsaws and chainsaw accessories
Commonly find discounts on Black + Decker, Greenworks, and Husqvarna products
With free shipping and other coupons you can save big here

View Chainsaw SalesView Accessories Sales

Northern Tool Chainsaws Reduced

Northern Tool are running a strong early Black Friday sale
Deals on all things logging, home, garden, and improvement
Chainsaw sharpeners, logging tools, wood storage, wood splitting

View Chainsaw SalesView Accessories Sales

Home Depot Chainsaw Deals

Home Depot have a wide range of chainsaw brands
You'll find all sorts in the clearance department, from ECHO to Ego
Large selection of chains, oils, bars, also on sale at times

View Chainsaw SalesView Accessories Sales

Tractor Supply Chainsaw Sales

TSC sell Husqvarna, Poulan Pro, Greenworks, Makita, Worx chainsaw
Both gas and battery chainsaw and accessories
Plenty of gear for tree workers and loggers

View Chainsaw Sales

Acme Tools Chainsaw Clearance

Dealers of Stihl, Husqvarna, ECHO, Makita, Dewalt, Ego, Black + Decker chainsaws (and many more brands)
Good sales running year round with big discounts
Acme also sell reconditioned chainsaws that are much cheaper

View Chainsaw Sales

Ace Hardware Specials

Stockists of Stihl, Craftsman, Ego, and Milwaukee chainsaws
Often running sales on a revolving selection of chainsaws and accessories
Chainsaws available for online only sales

View Chainsaw Sales

Ebay Chainsaw Sale

Many brands: STIHL, Husky, McCulloch, Poulan, Jonsered, and all the rest
Many limited time sales running at any given time
Discounted chains, bars, chaps, gloves, helmets, etc.

View Chainsaw Sales
These are the sales pages of a number of popular retailers that frequently run sales and/or offer coupons on chainsaws and accessories.
They are also running Black Friday sales, so check to see what's available leading up to Friday, November 26.
NORTHERN TOOL Black Friday Deals
Northern Tool isn't afraid of a Black Friday – Cyber Monday sale – in fact, they've got tons of items in stock and ready to ship.
They have a massive range of chainsaw, logging, and firewood-related products, including all the top brands like STIHL, Generac, Husqvarna, Honda engines, Briggs & Stratton, and so on.
As part of their Cyber Monday sale they have the likes of the following deals:
There are also a ton of chainsaw chains, bars, covers, log splitters, stump grinders, on sale as well. As well as chainsaw sharpeners and sawmilling equipment.
Check out all the deals here, where I'm sure more and more deals will be added each day leading up to the best time to go shopping.
ACME TOOLS Black Friday Chainsaw Sales
Acme Tools is well and truly into their Black Friday – Cyber Monday sale.
They have a ton of discounted tools and accessories, including chainsaw deals.
For example, right now you'll find:
There are hundreds of other Black Friday deals on over at Acme Tools, so check out the selection and compare prices with other retailers.
HOME DEPOT Black Friday Chainsaw Discounts
Home Depot is also running Black Friday discounts on chainsaws and other chainsaw-related products.
For example, they have:
Also, the Power King Stump Grinder (here) is also on a big discount for Black Friday. You can read our Power King grinder review here for more info, but it's a good homeowner or small business model.
There are literally thousands of items of discounted outdoor equipment over at Home Depot. From stump grinders and pressure washers to snow blowers and chainsaws, and everything in between. Also, they're all the best brands. Now's the time to get what you need.
See all the Home Depot Black Friday outdoor tool deals here.
When Do Stihl Chainsaws Go On Sale?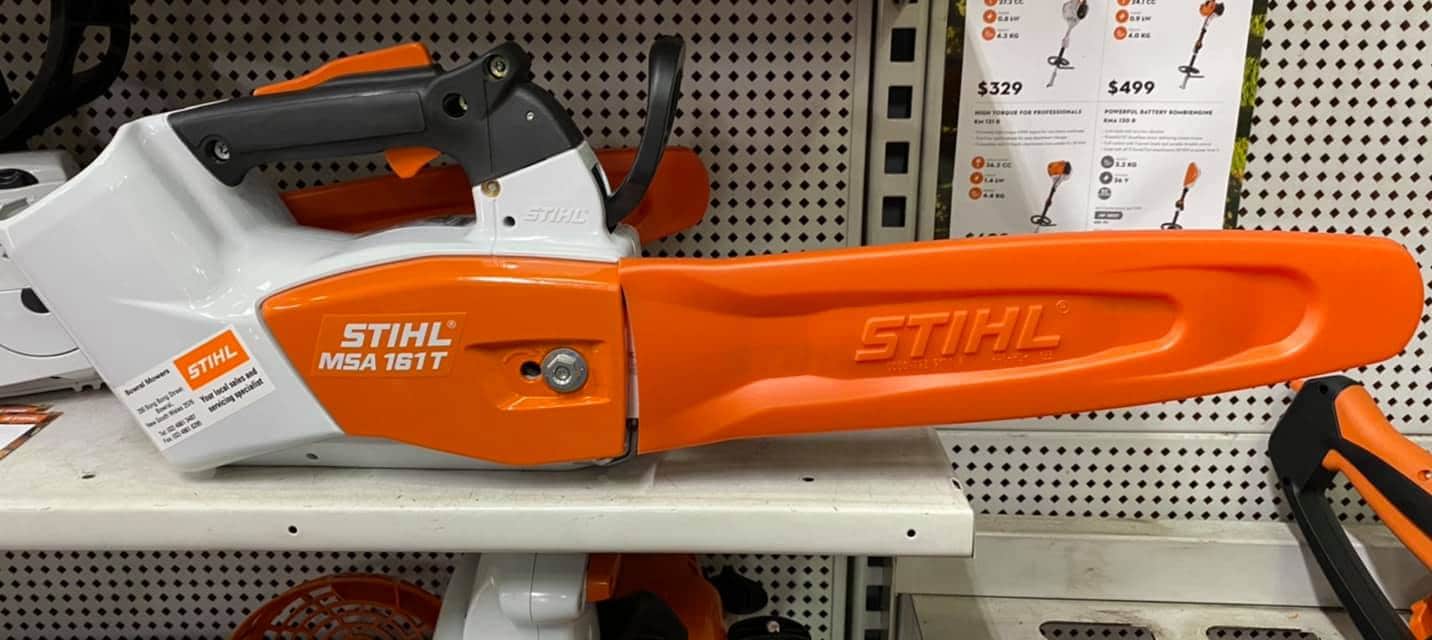 Many people wonder and ask, 'does Stihl ever have sales?'
The answer is yes, but you're not likely to see them with a discount online as much as you are with your local dealer. Stihl often runs 10 – 15% off a range of their chainsaws in my state, but it varies from state to state.
One of the best ways to get a cheap Stihl chainsaw is to buy a used Stihl chainsaw.
At the time of writing, I can see older Stihl models that are very reasonably priced, from the 009 to the MS241. I can also see unboxed new Stihl chainsaws like the electric GTA26 or the gas-powered MS170 that are also pretty cheap.
Compare the prices on eBay with the store prices:
And remember to only buy from reputable sellers on eBay so that you're not stung by a scammer!
Black Friday – Cyber Monday Chainsaw Deals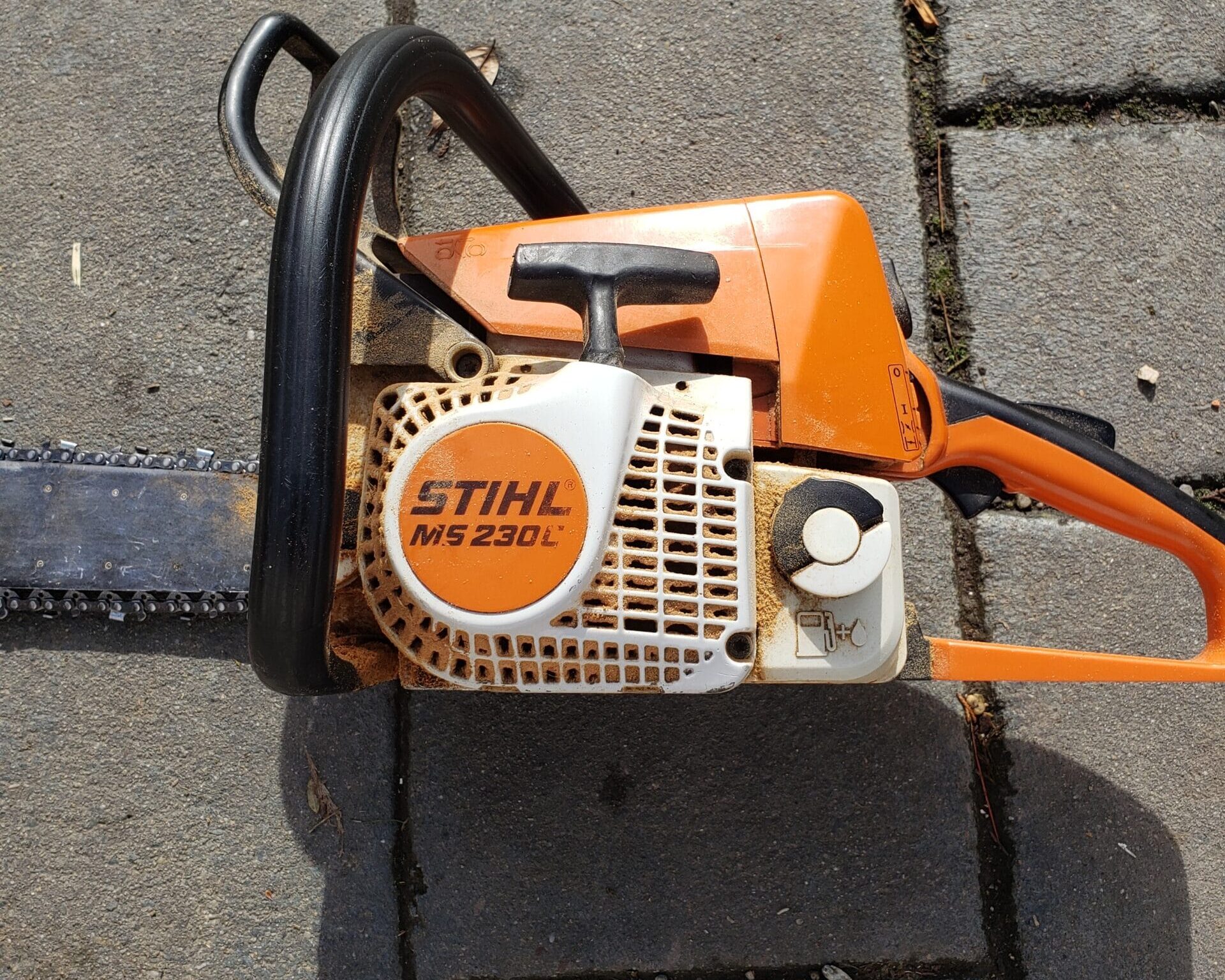 Black Friday will be held on Friday 25th November 2022, while Cyber Monday will be held on Monday, November 29, 2022.
Many consider it to be the best time to buy a chainsaw, and it is a good time to get the best deals on chainsaws – especially the homeowner ranges.
During previous chainsaw sales, we've seen deals on brands such as Greenworks, Ego, Black + Decker, DEWALT, Milwaukee (the M18), and Husqvarna.
STIHL and Husqvarna chainsaws don't tend to go on sale as often, and the discounts are never as significant as with cheaper brands.
Best Time To Buy A Chainsaw
The best time of year to buy a chainsaw is when you need one.
There are always some chainsaws on sale all year round, so I would personally just grab the best chainsaw for the money at the time you need one.
Stihl and Husqvarna often have their best sales during the Fall months as that's when most people are thinking about getting firewood in for the Winter. However, it's not uncommon to find chainsaw discounts in the Spring or at other times of the year as well.
If you're just after a cheap homeowner chainsaw, you'll find something on sale year-round. But, with that being said, extra special deals can be picked up over the Black Friday – Cyber Monday sales, or earlier in the year during Amazon Prime Day.
It's better to get the best chainsaw for you, rather than the cheapest chainsaw on the day, so make sure you do your research and get one that's going to meet your specific needs.
Personally, I'm a Husky or Stihl guy because I'm doing a lot of firewood, but there's nothing wrong with the many cheap battery-powered chainsaws you can regularly find for sale.