The Caboose Tiny Wood Stove is a new best-selling model offered by Flame Innovation.
It's a small wood stove that is designed for tiny living spaces. Think tiny houses, RVs, campers, yurts, canal boats, cabins, sheds, and so on. Basically, any area that's between 200 and 600 feet, depending on home insulation quality.
The Caboose, which you can see on the Flame Innovation site here, even has some unique design features that may make it better than the competitors as well…
Caboose Tiny Wood Stove From Flame Innovation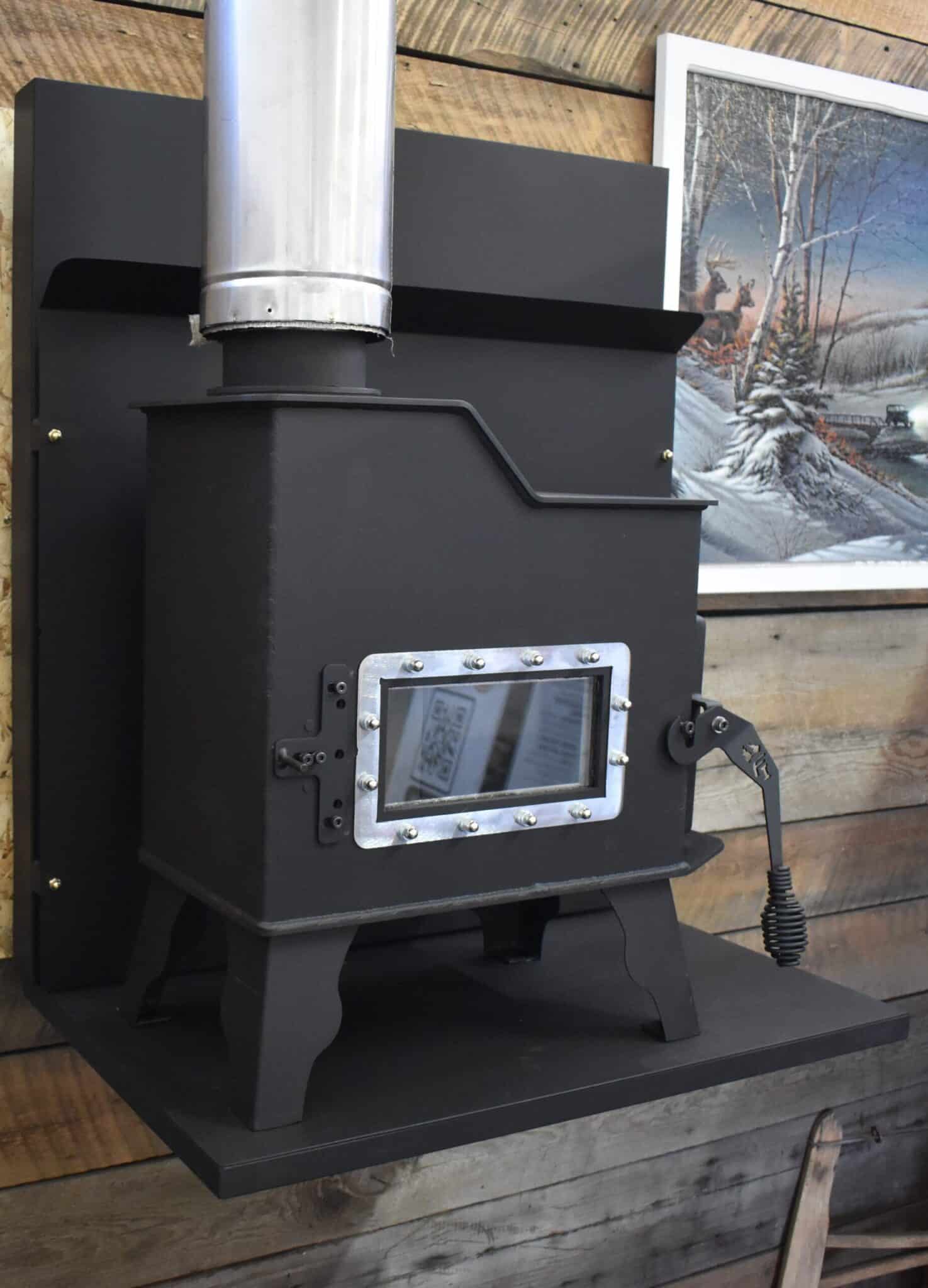 Flame Innovation, headed up by Dusty Henderson, is known for innovation.
We recently reviewed one of their other tiny stoves, the Mini Me, which can burn for up to 12 hours. It's a really cool system!
The only downside is that it can only achieve those burn times using densified logs (compressed sawdust), which not everyone wants to use – not that there's anything wrong with them, but if you've got a good firewood source, better to use that.
The Caboose is Flame Innovation's alternative tiny stove that IS designed to burn wood. And, it can achieve impressive burn times of 4 – 8 hours depending on the wood you're burning and how you fill the firebox.
At its release in September 2022 they shared:
We've taken feedback from builders and leaders in the tiny living movement to design our newest tiny wood stove, "The Caboose."

The Caboose is entirely American Made, from start to finish, in our Post Falls, Idaho workshop. It can be mounted on the wall or stay freestanding like conventional stoves.

It's the first of its kind to be wall mounted and, pass UL safety testing – no need for you to cut tiny pieces of wood to constantly feed your stove!

With a burn time averaging up to six hours and top-of-the-line quality – we know you will fall in love with it as much as we have.
Having the door on the side, which we'll see next, is an excellent feature that means you can more easily put larger logs on the fire.
Caboose Specs And Features
This video is worth watching if you're considering buying the Caboose Tiny Wood Stove.
It starts by showing the wall bracket, which can helpfully slide 10.5″ either way once installed. After that, the video moves on to reveal more about the burner itself.
Specs include:
3/16″ steel construction
Neo-ceram glass
Air wash feature for keeping the glass clean
Your choice of stainless steel trim ring for the window
Weighs 75 lbs
Stove measures 24″ tall, 10″ deep, and 21″ long
Firebox measures 14.5" deep x 7" Wide x 8" Tall
UL approved for insurance as a safe stove, but it is not EPA approved
Draft control in the door
Brick lined with a refractory brick baffle up top
An outside combustion air feature
The freestanding version has heat shields attached to two sides of the stove. The wall mount version does not, but instead includes heat shields that should be attached to the wall.
It can be vented up through the ceiling or out through the wall at a 45-degree angle. It uses a 4″ stove pipe or an insulated pipe that works out to be 6″.
You can cook on the top as there is a cooking space measuring about 8" x 10" – a very important feature for many!
In the video, we also get a glimpse into how the wood stove is made. It shows a welder crafting together a stove before it goes off to be painted.
Flame Innovation state:
The Caboose is made in Post Falls Idaho by our team of fully certified craftsmen that hand weld each stove.

We also have skilled painters and assembly personnel that pay special attention to details from start to finish.
There are very few appliances like this that are still made in the US and it's nice to know that with Flame Innovation you'll receive helpful local support.
Caboose Vs Grizzly Vs Dwarf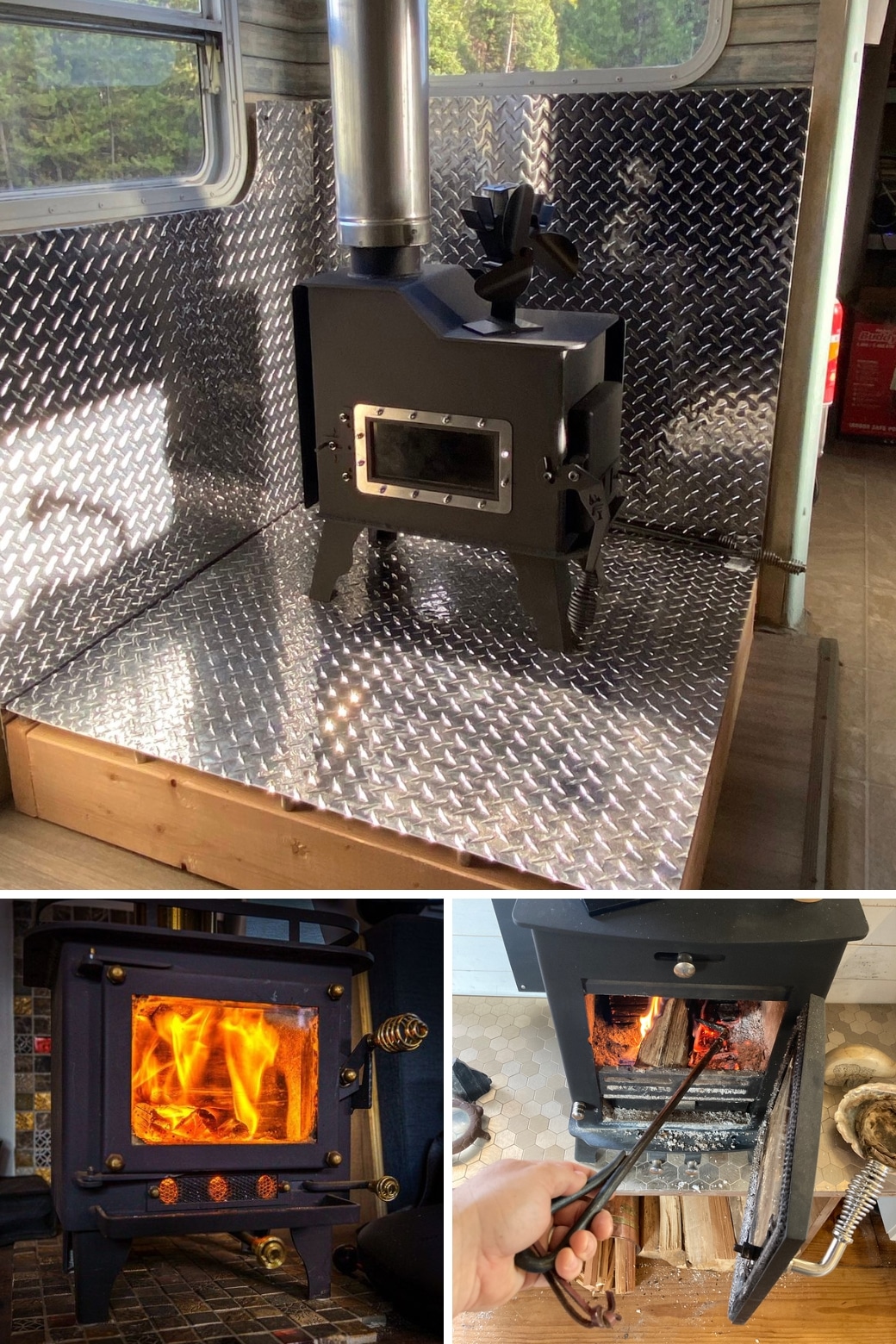 The Caboose is competing with the likes of the Cubic Mini Grizzly and the 5 kW Dwarf from Tiny Wood Stoves, and it has some definite advantages over those models.
The big one is that you load the firebox from the end of the stove, rather than from the front. This means it can fit longer lengths of wood, and you can likely fill it up a bit more too, resulting in longer burn times.
The Caboose burns 6 hours on a regular basis, without having to cut your wood in 4 to 7-inch pieces like the competitors – the Caboose takes 14 to 15 " wood.
There is no window on the door of the Caboose Stove, but this is on the side instead. It's an interesting design and really sets it apart from other models.
Here are how the specs, features, and prices compare.
| | | | |
| --- | --- | --- | --- |
| | Caboose | GRIZZLY | Dwarf 5kw |
| Measurements | 25" H x 10" D x 22" W | 15" H x 12″ D x 13" W | 22" H x 11" D x 14" W |
| Fuel | Wood | Wood | Wood and coal |
| Output | 8000, 20,000+ BTU | 8000 – 18,000 BTU | 14,500 – 20,000 BTU |
| Heat Capacity | 200 – 600 sq ft | 200 – 400 sq ft | Up to 500 sq ft |
| Weight | 75 lbs | 39 lbs | 150 lbs |
| Material | Steel | Steel | Cast iron and steel |
| Price | $999 | $996 | $1095 |
*Click through on price to check if there are any sales on right now!
The Grizzly is made from thinner steel which is why it's so much lighter than the others – that's good if you need something light, but the stove is ultimately unlikely to be as durable and hard-wearing.
I think the Caboose is the only one of these three stoves made in America.
The Cubic Mini CUB and GRIZZLY are made in Quebec, Canada. I haven't been able to find a definite answer as to where the Dwarf stove is made, but I'll keep asking around and update this when I find out.
Caboose Mini Wood Stove Review
View this post on Instagram

Because the Caboose is so new to the market, it is hard to find user reviews.
At the time of writing, it's only been out for 2 or 3 months, but it is selling a lot of units, so I expect we'll get more feedback soon.
You can see one comment from a happy buyer in the Insta thread above, "The caboose is fantastic ?".
The other comments I've seen from people who have started using it are very positive. They have said it's extremely efficient, puts out more heat than you would expect, and that it's easier to load than other burners they've used.
I haven't read any negative comments.
The glass air wash, side access to the firebox, cooktop, and quality thick steel construction make this a wood stove worthy of serious consideration.
Compared to other small and mini wood stoves it is definitely a contender for the best. It performs well against the Grizzly and Dwarf stoves which are probably its biggest competitors.
Caboose Pros:
Quality construction
Made in the USA – good support
Efficient wood burner
Make use of the cooktop
Fit more wood in for longer burns
Caboose Cons:
Price adds up when you factor in stove pipe, exit kits, fans, and other accessories – unavoidable with any wood stove installation
Not rated for mobile home use
There aren't any tiny wood stoves that are rated for mobile homes.
However, the Caboose is the only one that is UL Tested so people can put it in a garage or little shop and still get insurance in the case of an accident (though always talk with your insurance company to confirm – don't rely on this statement).
Caboose Tiny Wood Burning Stove
The Caboose Tiny Wood Stove looks to be a popular new addition to the RV, camper, and skoolie wood stove market.
It's a well-made heating appliance for small homes that will keep you warm through winter. With the price of diesel fuel and power increasing exponentially, a wood stove can be a good way to save money on heating as well – especially if you can process your own wood.
All you would really need is a small chainsaw – even a battery-powered one like the DEWALT 20V Max XR (which I use) – and you would be able to cut up branches and thin logs.
Let us know if you have any comments down below – we'll be updating this article as we find out more about the Caboose!