There's nothing worse than an electric fireplace with a tacky fire display – the more realistic the better, right!?
My mother-in-law has a freestanding electric fireplace that has a very unrealistic hot coal lighting effect, and even worse, it puts out barely any heat. It's not ideal on a number of levels.
Generally speaking, to the most realistic fireplace – whether that's an insert, wall-mount, recessed, or free-standing model – you need to spend a bit more money. The higher your budget, the more realistic the fire, flames, and ember displays will be.
However, there are some very decent options for those not wanting to spend so much. I'll share some 'fake fireplaces that look real' for all budgets!
If you are truly looking for an electric fireplace with the most realistic flames, we recommend you visit Modern Blaze. They have the best brands and top range of premium fireplaces in this style.
Most Realistic Electric Fireplaces
R.W. Flame Realistic Fireplace

Best-selling recessed or wall mounted fireplace, thin and quiet operation
30, 36, 42, 50, 60, and 68" (some w/ log sets), 750W & 1500W modes
Remote controlled: 12 flame and LED settings, plus 5 brightness levels

View On AmazonView On Fire Pit Surplus

PuraFlame Klaus Real Look Fire Insert

An electric fireplace insert w/ 3-sided interior faux brick wall
The entire design gives it an authentic fireplace look and feel
Only suitable for up to 400 sq ft - not an excellent heater

View On AmazonView On Modern Blaze

Ameriwood Electric Fireplace TV Stand

A freestanding electric fireplace w realistic flame effects and TV stand/storage
Fire effect can be used with or without heat
Flame and heat setting controlled with remote

View On AmazonView On Patio & Pizza
There are many different types of electric fireplaces:
Wall-mounted – attached to the wall with a mount (not always supplied)
Built-in or recessed – installed in order to be flush (or close to flush) with the wall
Linear – the same as recessed fireplaces
Freestanding – units that plug into the wall and can be shifted
Inserts and fireboxes – installed into existing fireplaces
Log sets – give the look of a traditional fireplace
2 or 3-sided – built-in and visible from more than just front on
TV stands – the fireplace is part of a larger unit of shelves with a tv stand
Wall-mounted or recessed units are far and away the most common style of realistic electric fireplace purchased.
Inserts tend to not be all that realistic, as with freestanding and TV stands.
Here's a selection of the best-selling electric fireplaces that look real.
1. R.W.FLAME Electric Fireplace
Recessed or wall-mounted
9+ sizes from 30″ to 68″
Adjustable 750W & 1500W modes
Heats up to 400 sq ft
The RW Flame range of electric fireplaces is probably the best-selling model in this category – in fact, it won the award for best all-round electric fireplace.
The reason for this, according to the reviews, is that the unit looks good, performs well, comes in a helpful range of sizes, and it's affordable.
While no fake fireplace can ever mimic real flames 100%, the flame effects on these models are indeed very realistic. Or, at least, they are still nice to look at.
You have a lot of options when it comes to how the flames display, including 12 different modes for the ember bed, 5 flame speed modes, 5 flame brightness levels, among other settings.
The flames are attractive and mesmerizing, just like a real fire.
On the Amazon listing, you can choose a 25″ freestanding electric stove (less realistic than the wall mount/recess model and comparable to the Duraflame Infrared Heater) or one of the 6 differently sized wall-mounted models. There is also a version with a log set that comes in 3 different sizes.
The log set version perhaps gives it more of a real look – given that real fire needs to be burning something – but the version without the logs is just as nice, if not nicer.
There are hundreds, if not thousands, of reviews on this product, and it has a very high star rating.
One of the main complaints is that some units make a clicking sound while they're operating. However, there is a fix.
PsyniiGianni S. shared:
Take the glass off and then turn the fireplace upside down. Take the bottom panel off which will be 9 or so screws. Plug the fireplace in and then turn it on.

You will see a rod that has these little reflective plastic pieces.

What happens is that these pieces rub when the rod turns in a circle. All you have to do it take note of which ones are rubbing and just take a nail clipper and just trim them a bit. It's probably no more that 2 or 3 of them.

Once you've done that and you no longer hear the noise, just put the panel back on and everything should be fine.
Reading this makes it sound a little complicated, so only try it if you're confident!
Positive feedback on this fireplace includes:
that it's easy to install
puts out a decent amount of heat (though not too much – it wouldn't be suitable for a large space in cold climates)
goes well in a farmhouse-style home
children like watching the flickering flames
it's a beautiful electric fireplace
Downsides or cons shared in reviews:
the remote doesn't work from far away
it worked well initially but then had problems
the clicking noise when operating
customer service isn't great (though others say it was/is)
doesn't put out enough heat
---
2. PuraFlame Klaus Electric Fireplace Insert
Fireplace insert for existing fireplace
750 or 1500 w settings, 5000 BTUs
5 different sizes based on universal standard fireplace spaces
weighs just under 50 lbs
Crackling sound effects
The PuraFlame Electric Fireplace is another popular realistic-looking model for empty fireplaces.
It has a high and low setting which translates to a 750-watt or 1500-watt heater, 6 crackling sounds, and 3 flame effects.
The logs in the insert are described as being "life-like resin logs" – and they do appear to resemble the real deal!
The other stand-out feature that makes this a realistic electric fireplace insert is everything around the glowing logs. The fireplace door, brick interior (with faux soot stains), and fireplace surround all serve to make this all the more genuine.
On top of all that, it has "real fireplace sounds" – it snaps, crackles, and pops like a real fire.
While some people say "it looks just like a real fire," others will say "the flames are not realistic on any setting" – if you have high expectations, I recommend you check out the more premium models over at Modern Blaze.
The seller states that it shouldn't be used as the main heat source in your home – unless you are only heating a small space of 400 sq ft or less. Also, if you were in a warmer climate – California or Florida, for example – it may be suitable.
An insert is a good way of filling an empty fireplace space, and it can be used without heat. This could be more of a decorative piece than anything else if you have a real wood-burning stove or another heat source.
Pros:
real-looking flames and logs
sturdy construction is durable
crackling sounds add aesthetic and atmosphere
fits well in the right holes and "looks expensive"
remote controls everything well
Cons:
some people have problems with the glass door
doesn't come with battery for remote
heat output was minimal
---
3. Ameriwood Electric Fireplace TV Stand
TV stand model
50 or 60-inch versions
The display can be used without heat
Top shelf and 2 side cabinets
Next up is the Ameriwood Fireplace TV Stand – another model with thousands of ratings.
To be honest, it's not the most realistic electric fireplace in this category, but the price point makes it an attractive option.
Some people consider the range of Walker Edison Fireplace TV Stands to have a more realistic fire display, so they're worth checking out as well. If you're wanting something for a corner, check out these corner electric fireplaces instead.
These products usually arrive as a flat pack and need to be assembled. At least, the furniture portion of it does, the 23″ fireplace is good to go – it just needs to be inserted.
The heater is only suitable for up to 400 square feet, so it won't work as a primary heating appliance in the cold. It is rated to heat from 64-82 degrees, but actual capabilities will depend on the size being heated.
The flame has 3 brightness settings ("Exclusive AltraFlame built-in reflectors use patented technology for a realistic flame effect"), and the heat can be set to a timer to turn on and off automatically.
Pros:
a good height for having a tv on top
the blower is surprisingly quiet
really nice design for the price
a solid unit with useful storage
Cons:
assembly can be a bit tricky
warning decal on top of unit difficult to remove
not so good for areas of high humidity as it can take on moisture
---
4. Touchstone Sideline Electric Fireplace
In-built wall recessed
9 sizes from 28″ to 100″
Can be installed below a TV – needs 8″ clearance
Touchstone electric fireplaces are similar to RW Flame, but are designed only to be recessed (not wall-mounted).
Wall-mounted electric fireplaces are the easiest to install (after freestanding, of course), but recessed definitely look better and are usually worth the extra work or installation costs.
It is a modern style suited to new or modern renovated homes, but it will really look good anywhere.
This model has 5 realistic LED flame settings and 3 flame colors, orange, blue, and orange-blue. You can use it all year round as it also has separate controls for the flame and heat – one can be one without the other.
This is a good electric fireplace if you have children in the home as well. The front remains cool, the heat comes from the blower higher up the unit.
The seller states that it's good for heating small rooms, but that it wouldn't be good for larger areas (thinking about the heat function). It can even be installed in RVs or motor homes!
Pros:
looks really good when installed
the fan is really quiet (though others disagree on this)
much easier to use than gas or wood-burning fireplaces
choose between crystals or logs in the display
Cons:
some models may make a clicking noise
some people find it doesn't last long – malfunctions
"a $20 space heater would put out more heat"
---
5. Dimplex Revillusion Electric Log Set
Log fireplace insert
20 or 25″ models
5000 BTU heat output
Programmable heat and flame settings
The Dimplex Revillusion Log Set is one of the best options in this style.
These faux logs are really easy to install in an existing fireplace space and give the appearance of a real wood fire.
They have 3 different styles of logs: birch logs, fresh-cut logs, and the burning logs pictured above.
As with most of these electric fireplaces, the heat output isn't amazing. This option is good for up to 400 square feet.
Check out these other electric fireplace inserts for more powerful models.
Pros:
very fast and easy assembly/installation
enough to take the chill off a cool room
realistic fire coloring and movement, especially from a slight distance
Cons:
not as realistic up close
difficult to get customer service when needed
potential problems with the remote
---
6. Napoleon Electric Fireplaces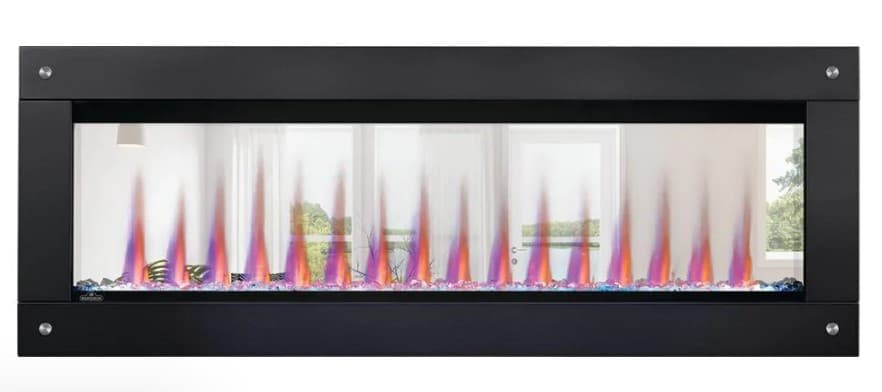 High end electric fireplaces
2 and 3-sided realistic fireplaces
Wall-mount and recessed models
Fireplace inserts and logs
Napoleon Electric Fireplaces are a high-end product for those wanting a truly realistic flame effect and top user experience.
These fireplaces can heat much larger areas than those we've previously listed, and they have better features.
They come with good remote controls that change flame, heat, color, brightness, and blower settings, and the overall experience is much more customizable.
You get what you pay for, and these models do offer a higher quality product compared to the low-end options.
See-through fireplaces – whether two-sided or three-sided – are always spectacular and add a little something extra to the home.
Most electric fireplaces have black surroundings, but Napoleon has some white electric fireplaces for those who want to keep with a white theme.
In one review of the Napoleon Alluravision, Angie says:
Our home has several fireplaces both gas and electric. The Napoleon fireplace is by far our favorite. The flame is realistic. The fireplace is thin and mounts flush in the wall. It is of high quality materials.
And of the Napoleon Woodland Log Set, TKO shared:
If you do not have the capability of using gas to install gas logs, or otherwise do not want gas logs, these electric logs are a really great option.

The LED-simulated ember glow and flames are really quite realistic looking, and can be turned on with or without turning on the electric heat. No, the electric heat will not even come close to the heat output of a good set of gas logs, (think, output similar to a portable electric space heater) but this electric log set is a great way to get close to the ambiance of a log fire, with some heat as well.

Also, this electric log set can be installed in a fireplace or virtually anywhere else. I was doubtful when ordering it, but am well pleased with the product. Everyone that has seen it is also impressed. I ordered it for my mother who has a log fireplace with no gas access in her house. She had been regretting that she had no gas to install gas logs, so we gave this a try and are not disappointed.
These are really nice fireplaces for those wanting the best.
---
7. Modern Flames Real-Look Fireplaces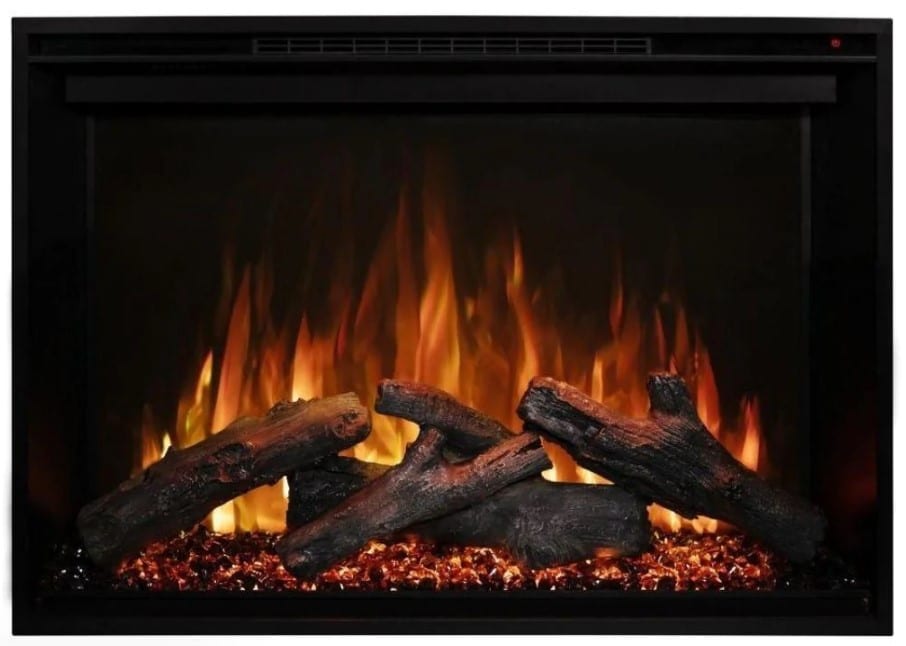 Wide range of styles
Zone heating and smart home connect
Offering full control over displays
Both very large and small fireplaces are available
Lastly, another high-end electric fireplace brand that offers realistic flame and embers, is Modern Flame.
They sell really good inserts, as well as wall-mounted, linear, recessed, and multi-sided electric fireplaces that look real.
About their 3-sided smart electric fireplace Kiana shared:
We were so nervous buying an electric fireplace that it would look fake and "cheap".

This fireplace is BEAUTIFUL!

The flame looks so real, the heat is amazing, and the color options are such a unique touch. We purchased the cabinet and it looks gorgeous. A perfect fit that gives the fireplace a custom look.

We would 100% recommend this fireplace to others. We've already received countless compliments on it.
Which is exactly what you want!
About the large Modern Flames Redstone insert (pictured above), Linda said:
We had several questions throughout the process of purchasing our electric insert and Customer Service responded quickly to each of our emails and told us exactly what we needed to know.

The insert arrived very quickly and the installation was simple without any problems. We would definitely purchase from Modern Blaze again!
It's all good buying off of Amazon whaen you know exactly what you need, but when you need a bit of help, when you have questions, it's best to go with smaller alternative retailers like Modern Blaze.
---
Electric Fireplaces With Real Looking Flames
Those are my top picks for the most realistic electric fireplaces.
As I said, if you spend more, you'll get a fireplace that has more realistic fire and ember effects. You can't expect too much from a cheap model, though most of them still aren't bad.
Ultimately, it's the flames that set an electric fireplace apart from a regular panel heater or another space heater, so everybody wants them to look good – not cheap, fake, and tacky. Shop around, read the reviews, and find the perfect appliance for your space.
If you're only heating a small area, have you considered a tiny or small wood burning stove – yes, you have to collect or buy wood, but you'll get a real flame and likely much better heat!
Let me know if you have any questions in the comment section below.