This is a review of 7 of the best corner electric fireplaces available right now!
A corner electric fireplace can be an elegant piece of furniture, and add a signature warmth and elegance to any room.
Even traditional fireplaces (those not adapted for corners) can be set at corners, leaving more wall space for other furniture. A corner electric fireplace is a perfect spot for placing your TV where they also act as entertainment centers with space available for placing electric gadgets like cable boxes and game consoles.
However, it can be tricky to settle on the best choice with many corner electric fireplaces to choose from. Fortunately, I put together these top seven brands for a variety of unique needs.
Whether you need the best overall product and will work a room around it, you need the most affordable option, or you need a fireplace that can accommodate your TV, this list has something for everyone.
Best Electric Corner Fireplace
Walker Edison Corner Fireplace

Affordable, attractive corner fireplace
Suitable for sitting TV on top
Heats up to 400 sq. ft. (4600 BTU)

View On AmazonView On Home Depot

Walker Edison Corner Fireplace Stand

A good option as TV stand
No electrician required - just plug in
For heating up to 400 sq. ft

View On AmazonView On Tractor Supply

SEI Convertible Fireplace

Faux stone corner electric fireplace
Not vented
Offers supplemental heat for up to 400 square feet

View On AmazonView On Home Depot

TURBRO Suburbs Infrared Heater

Free-standing electric fireplace -realistic flames
Non-vented - can be placed into a corner
4,777 BTU heat output

View On AmazonView On Home Depot

HEARTHPRO 5-Sided Infrared Stove

Perfect electric fireplace for room corner
No vent, classic design
For warming areas up to 1000 ft

View On AmazonView On Home Depot

SEI Furniture Corner Fireplace

Clean white electric corner heater
Realistic moving flames
Heats up to 400 square feet area

View On AmazonView On Home Depot

Real Flame Churchill Electric Fireplace

Premium electric corner fireplace
Oak finish with plenty of storage
1400w heater rated over 4700 BTU heat output

View On AmazonView On Home Depot
1. Walker Edison Corner Fireplace With Storage – Best Budget
If you want to find an elegant fireplace combined with a classic glass door without breaking the bank, Walker Edison Alcott is the brand for you.
The espresso color on wood blends easily in any room, and its size is perfect for a TV up to 55 inches.
Its corner design makes this an excellent unit for saving on space while maintaining a tasteful entertainment space. They are manufactured with high-grade MDF and a durable finish. Moreover, the fireplace is a plugin, so you'll save money on installation costs.
The top surface can support 100 pounds and its four adjustable shelves can support 20 pounds each.
The fireplace display and heat can be operated distinctly, and it can heat up to 4600 BTU or up to 400 sq. ft. The fire also looks excellent, and this fireplace is worth your money.
Check out our full Walker Edison Fireplace TV Stand reviews to learn more and see the other models in the range.
Pros:
Affordable
Durable
Attractive design
Cons:
Some users report difficulty of installation
---
2. SEI Furniture Corner Media Fireplace – Runner Up
The Merrimack is our runner-up for a reason: rustic cottage chic comes to life in a crisp white electric fireplace.
It is designed to conveniently nest in a corner to warm your space in the traditional style. The dimensional woodwork enhances the pillars, framing white simulated stacked stone.
Merrimack comes with an easy-to-use corner convertible tab that ensures no space goes to waste. It can support up to 85 pounds. The energy-efficient LED bulbs light up the fire, a cost-effective method to bring bliss into any room without the need for a technician.
The user-friendly remote control features four-way adjustability to customize the convertible fireplace from the comfort of your sofa. It has options for warmth, glow, and flame of the logs.
An auto-shutoff and glass that stays cool while the fireplace is turned on ensure the fireplace warms up safely.
Pros:
Long-life energy-efficient LED bulbs
Beautiful and sturdy
It can be used as either corner or wall installations
Life-like flames
Glass remains cool to touch
Clean, coastal-inspired traditional style
Cons:
The firebox does not have a child safety lock
---
3. Walker Edison Corner Electric Fireplace TV Stand– Best for TV
Walker Edison is renowned for producing fireplaces that create natural, relaxing vibes, and this model is no exception.
The four open cubbies on the sides of the media center would be perfectly accentuated by potted plants or picture frames.
It makes a perfect choice for anyone who would love to cozy up next to a warm fireplace while relaxing. You can flip on the heat with one switch and the LED flames with another. Its entertainment center fits in perfectly in any small space due to its corner design.
The midcentury-style made with mahogany-colored wood makes it a great addition to most homes. It is a simple plugin unit that does not need the help of a technician to install. The fireplace can heat up to 4600 BTU (400 sq. ft.).
Pros:
It comes with cable/cord management systems
Elegant modern design
Open shelves for easy storage
Tapered metal legs with adjustable rubber feet
Cons:
Some users report not receiving instructions for assembly
---
4. TURBO Electric Fireplace – Most Realistic Flames
Since 2013, TURBO has made ground-breaking products that help homeowners enhance the comfort of their homes.
The Suburbs series exemplifies this mission by creating a vintage electric fireplace's charm, comfort, and warmth without the hassle, mess, or risks of the traditional gas or wood-burning stove.
The fireplace doors can be opened to give you or your visitors up-close access to the life-like flames. It also has a 3-sided scenic design that offers a view of the flames from the sides and front.
Heat is spread throughout the room without eliminating moisture via the infrared heater. What's more, the infrared heaters operate quietly with an adjustable thermostat that allows you to customize the temperature to your liking.
Pros
Portable and convenient to move
Cool to touch
Instant warmth
Cons
It's lacking in storage space
---
5. HEARTHPRO 5-Sided Infrared Corner Fireplace – Best Infrared
An infrared electric fireplace uses infrared heating technology to warm up a space or room. They are more instantaneous and heat more extensive areas, unlike the conventional fan-forced heaters.
The best infrared fireplace is the HEARTHPRO 5-Sided Stove fireplace. It features a classic and innovative design for an elegant fireplace that is compact and durable. Its material makes it more durable and also gives an attractive appearance of fire crackle logs.
HearthPro is an excellent option for those who would like a unique statement piece with great functionality in their home. Its advanced infrared heater can heat an area of up to 1,000 sq. ft.
It is a safe, powerful, small electric fireplace that can heat larger areas in no time. Its design also highlights the beautiful flame crackle effects up to 180 degrees.
Pros
Classic and innovative design
Reliable
Heats larger areas
Economical and faster-heating
Cozy and comfortable
Easy to operate
Cons
The heat doesn't linger after turning the fireplace off
---
6. SEI Furniture Corner Fireplace With Mantel – Best Stone
The Redden corner fireplace comes in espresso and faux stone around the electric fire.
It has an open entertainment center on top of the unit with cabinets on either side where you can showcase your accessories. The unit also features LED lighting that is incorporated into the cabinets.
The LED-lit flames appear lifelike, and the fireplace's fans can warm a living space up to 400 sq. ft. Additionally, you can change the flames' brightness to your preference.
Redden convertible corner fireplace can also be changed to have a flat back to lean against the wall. It conveniently plugs into a standard wall outlet, and installation is not required.
Pros
Works with or without the heater being turned on
Adjustable flame brightness
Side glass cabinets for displays
Great craftsmanship
It puts out great heat
High-quality finish
Cons
Some users report complicated assembly
---
7. Real Flame Churchill – Premium Corner Electric Fireplace
The Churchill Corner oak fireplace can be found in either dark espresso or oak finishes. Some of the outstanding features include open storage cabinets on either side and above the electric fireplace, realistic LED flames, flame brightness settings, and a 400 sq. ft. fan heater.
The unit can support flat screens of up to 50 inches and has enough space for your electronic gadgets, making it an ideal entertainment spot.
The fireplace mantel offers the convenience of portability, and it is also straightforward to install. One of its premium features is hidden storage space perfect for storing writing utensils, small trinkets, and keepsakes.
Pros:
Life-like flame
Very attractive
Saves on space
Portable
Great storage space
Cons:
Some users report a time-consuming assembly process
---
Corner Electric Fireplace Buying Guide
Typically, corner electric fireplaces do not differ in terms of sizes because there is only so much space available at the corner of your house.
Before settling on a corner fireplace to buy, it is essential to consider various features to find the perfect fireplace to blend seamlessly into your home. These features include
Design and style
How life-like the flames look
Storage space in the unit
Heat output of the fireplace
Color of the unit
Settings options, e.g., brightness adjustment and flame color
Whether you plan to place a TV on top and the size of the TV
Proximity to an electricity outlet
Corner Electric Fireplace Pros and Cons
A corner fireplace is an excellent accessory for warmth and elegance in any room. Are you considering buying a corner electric fireplace? If so, consider these pros and cons:
Pros
The corner location leaves plenty of wall space to work with different designs and easy furniture arrangements. Most people choose a corner fireplace because it takes up less space than traditional fireplaces.
Corner electric fireplaces come in many designs and décor possibilities. It is plausible that you can find a fireplace that meets your home's present décor while creating a fashionable focal point for your home.
Installation is always easy, often without the help of a technician. Moreover, they have a much longer lifespan than most types of fireplaces.
If you frequently move between houses, condos, or apartments, an electric fireplace is usually easy to carry around. This portability also means they are easy to carry from one room to the next.
A corner electric fireplace is usually easier to install into an existing structure. Unlike traditional fireplaces, a corner fireplace doesn't require venting, and walls are not damaged during installation.
Wood burning fireplaces can smell and you need to prepare wood. They're a lot more work. An electric fireplace won't smell!
Cons
Not every room can accommodate one
Rooms with many door and window openings may appear awkward to add a fireplace. Rooms that have built-in features like entertainment centers or bookshelves may not have enough space for these units.
Warm climates may only reap aesthetic benefits
If you live in a climate that's warm year-round, you may love the idea of a fireplace. But, you're rarely going to use it for anything other than aesthetic purposes if your local temperatures never drop below 60 degrees. Consider purchasing an entertainment center or shelving unit instead.
Storage and Space
All the corner electric fireplaces on this list have unique designs, affecting space for electric devices. Some units may not be designed to support a TV stand or an entertainment center; hence it will simply serve its purpose to warm up your home.
If you are looking for a corner fireplace, buy one that has enough storage to hold all your devices.
However, if you simply want an electric fireplace designed for a corner, there are plenty of options similar to a traditional open fireplace with a mantel for your decorations.
Infrared Fireplace Vs Standard Electric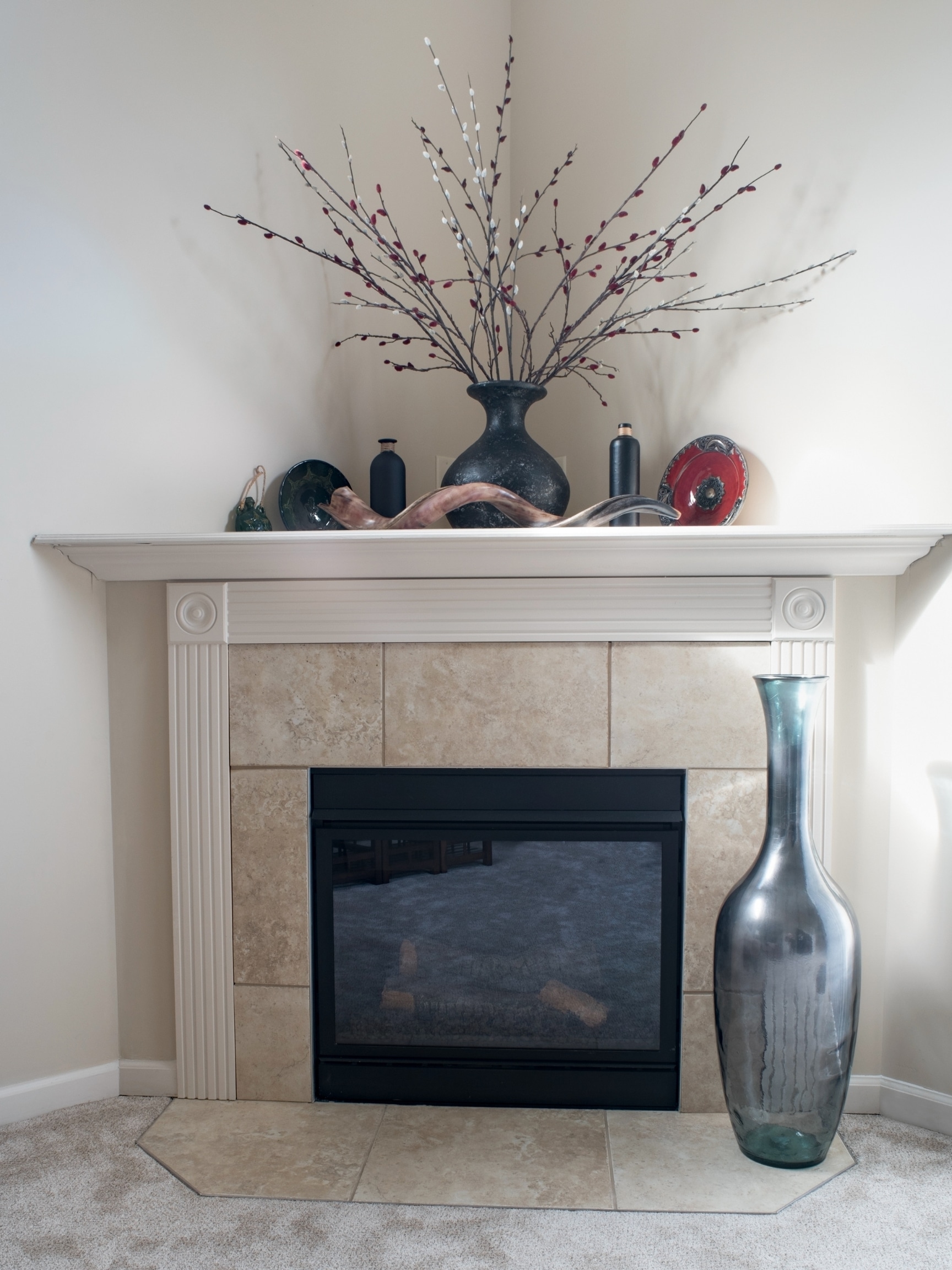 An electric fireplace produces heat from electricity.
The primary difference between a corner infrared fireplace and a corner electric fireplace is that the typical electric fireplaces require fan-forced heating elements for heating. In contrast, infrared electric fireplaces utilize infrared technology to heat.
Standard fireplaces that use the fan heating system heat areas up to 400 sq. ft. They also take some time before they heat up, but the warmth is retained in the room even after it's turned off.
An infrared electric fireplace produces an infrared light that produces warmth in a room. However, it has no fan; hence it is usually quieter in operation. But, the heat dissipates as soon as you turn it off.
Large Vs Small Corner Electric Fireplaces
Whether you have a small house or do not want your fireplace to take up a lot of space, a small corner electric fireplace is a great choice.
Fortunately, smaller fireplaces do not compromise on features. You will still enjoy a life-like flame and warmth in your room.
Bigger corner electric fireplaces have bigger panels to view the flames, or they include some extra furniture such as a TV stand. A larger electric fireplace will be a great option if you need such additional spaces for placing your décor.
Wall Mounting Corner Electric Fireplaces
A wall mounting corner electric fireplace can be installed on any wall, just like a piece of art or a flat-screen TV. However, you need to settle on the most suitable option that is not exposed to moisture.
A corner electric fireplace does not require venting, so it is easy to mount on any corner of your home.
Heating Power
The more watts in an electric fireplace, the more the heat it emanates.
Standard corner electric fireplaces are rated between 750 watts to 1,500 watts. For a small room, 750 watts should be enough. However, larger rooms will require more wattage if users want to heat the entire room.
750 watts are adequate for a 200 sq. ft. room, and 1,500 watts are ideal for rooms as big as 400 sq. ft. Most fireplaces will indicate the size of the room they are made to be placed in.
Frequently Asked Questions
How much does a corner electric fireplace cost?
The average cost for a corner fireplace project is $800, which includes purchase and installation.
Depending on the size and features, you could spend as little as $200. They are typically more affordable than traditional fireplaces, which cost from $850 to $3,500.
Moreover, an electric fireplace does not add much to your bill, and it is easy and affordable to maintain.
This type of heating is generally a lot cheaper than a see-through fireplace insert or other more specialized options.
If I put stuff on top of the corner electric fireplace, can it be damaged?
An electric fireplace does not harm your TV or any other items placed on top of it. This is because most electric fireplaces are designed to blow heat either out from the bottom or front. The heat output ranges from 2500 BTUs to 9200 BTUs.
However, due care must be taken to ensure your items aren't damaged by redirecting heat away from the TV and things above the fireplace.
How much heat do these put out, or are they mainly for decoration?
The heat produced by corner electric fireplaces ranges around 5000 BTUs for standard units. Some produce up to 10,000 BTUs, although they are mostly limited due to the normal electrical sockets in our homes. This is enough heat for small rooms to larger rooms sized 400 sq. ft.
What is the most realistic electric fireplace?
The TURBO TS20 Suburbs Electric Fireplace is the most realistic because it has authentic features, including life-like flames that stand out. It also delivers convenience with the cozy ambiance of wood-burning fire less the work.
How much would it cost to install an electric fireplace?
The average cost of installation of an electric fireplace is $630 to $2,525. Labor costs are about $65 per hour if you require a professional, while other costs factored in may include a trim kit, timers, a remote, and more.
However, most plugin models are cheaper and are installed faster than they can be removed from the packaging.
Best Corner Electric Fireplace
Fireplaces complement your home's design charmingly to provide ambiance, warmth, and entertainment.
The corner fireplaces on this list are handpicked from the best and are sure to please.
Whether you're looking for an innovative heating solution or just want to add some cottage flair to your home, consider a corner electric fireplace.
For pimping your patio or outdoor area, check out our top picks for the best outdoor fireplaces!