A wall mounted electric fireplace, such as the R.W. Flame, is an excellent alternative for the modern-style home and residences without a fireplace.
These units bring the experience of having an actual fire in your space without taking up too much of it.
Electric fireplaces come in two flavors: recessed and wall mounted. Each model on the market offers different heating coverages, finishes, media options, and sizes.
While it may sound intimidating, we're here to help you choose the best wall-hanging electric fireplace for your space.
Below is a review of the top units in various sizes, shapes, and price points in recessed and wall mount configurations.
Best Wall Mount Electric Fireplace Reviews
R.W.Flame Wall Fireplace

Recessed or wall mounted, thin and quiet
36", 50", 60", 68" modern fireplaces
750W & 1500W modes

View On AmazonView On Walmart

Tangkula Electric Fireplace

Recessed or wall mounted, remote control and touch screen
30", 36", 42", 50", 60" wall heaters
750W & 1500W modes

View On AmazonView On Walmart

Home Decorators Infrared Fireplace

Wall mounted infrared electric fireplace
42" model with 7 level flame settings
5200 BTUs

View On Home DepotView On EBAY

Touchstone Sideline Electric Fireplace

In wall recessed electric fireplace
9 sizes from 28" - 84"
5000 BTUs

View On AmazonView On Tractor Supply

Modern Flames Spectrum Series Slimline

Built in or wall mounted
50", 60", 74", and 100"
5000 BTUs

View On AmazonView On Modern Blaze
Those are our top picks!
It's important to first determine whether you need a recessed fireplace that sits flush against the wall or a wall mounted unit – assuming an electric fireplace insert isn't on the table.
Here's more info about these top wall hanging models.
1. R.W. Flame Wall Mount Fireplace – Best Overall
This electric fireplace wall mount and recessed model from R.W. Flame boasts infrared quartz, one of the latest heating technologies.
The unit heats up to 500 square feet, making it an excellent choice for small spaces.
This slim wall mount panel is easy to mount anywhere on a wall or mantelpiece, and it won't stand out much.
The R.W. Flame is available in various neutral colors that work with any décor scheme in your home.
An included remote control makes turning on or off the flame effect easy without moving from your favorite couch.
Pros:
Elegant design
50 inches long electric fireplace
Available in other sizes
Thinnest electric fireplace on the market
Easy installation recessed or in-wall
Touchscreen and remote controlling
12 flame and bed colors
5 flame speeds
5 brightness modes
Offers 750 watts and 1,500 watts power modes
Timer settings
Heats up to 400 square foot spaces
Auto heat kill safety
ETL certified safety compliant
Safe for use around children
Excellent customization options
38 dB low noise operation
Cons:
Flames could be more realistic
Lacks pebbles or logs to change the ember bed
---
2. LifePlus Electric Fireplace Heater – Best Small
This LifePlus model is a 26-inch unit capable of wall mounting and standing on its own to bring warmth to your space.
The unit boasts two heating modes and a 59-degree to 95-degree temperature adjustment range to meet the multiple heating requirements of a family.
A built-in 12-hour timer allows setting the time before going to bed at night so you don't worry about being on longer than necessary.
Pros:
Heats as expected
Small size saves space
Auto-shutoff safety features
Realistic LED effects
Attractive unit
Cons:
Plastic feet
Poor quality remote
---
3. Tangkula Hanging Electric Fireplace – Best Affordable
The Tangkula electric fireplaces offer five flame brightness intensities and flame speed modes.
An additional automatic switch design allows you to make a perfect atmosphere change.
For example, dull the lights in sleep mode after a certain time and warm up the room.
These electric fireplaces feature ultraviolet heat to sustain your room's humidity levels while ensuring the air isn't dry.
The Tangkula 60-inch model has twelve beds and flame colors. Crystal glass magnifies the colors for an authentic feel and look.
You can save up on space by installing the unit into a wall or hanging it on your wall.
Pros:
Quality and durable materials
Authentic looking flames
Offers multiple color options to set different moods
Heats a room evenly
Cons:
Brightness affects both flames and decorations
Poor heat output in rooms with high ceilings
Fan is loud
---
4. Home Decorators Infrared Wall Fireplace – Best Infrared
The Home Decorators Collection model is an excellent option for a modern wall heater fireplace with a mount and stand.
This fireplace unit offers infrared heating technology, so you don't worry about drying the room's air while keeping it at a comfortable relative humidity.
The Home Collection fireplace offers multiple flame and ember bed brightness settings to suit your mood. Plus, you can adjust the LED flame effect with or without heat.
This Home Collection wall mount electric fireplace blends best with contemporary and traditional settings, making it the perfect all-round choice for different décor ideas.
Pros:
Effective infrared heating technology
Doesn't dry out indoor air
Included remote control function
Multiple flame and ember bed brightness settings
Push-button controls
Easy to install
Cons:
---
5. Cambridge Wall Mount Electric Fireplace – Large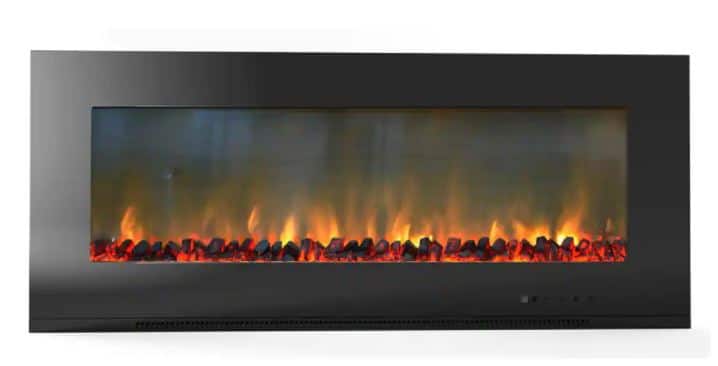 This Cambridge Metropolitan electric fireplace can heat an area of up to 210 square feet to help you fight the cold in the winter months.
The unit boasts realistic logs and adjustable flame effects that help create an inviting ambiance in your den, bedroom, or living room. The flame feature also works without heat for year-round aesthetic appeal.
This Cambridge Metropolitan fireplace has a wall-mount and flat panel design that adds a stylish accent to your wall.
The fireplace has an automatic thermal safety switch to reduce the risk of injury or fire, while the included remote allows adjusting the setting from across the room.
Pros:
No venting necessary
Remote control
Adjustable heat output, speed, and brightness
Cons:
---
6. Touchstone 8004 Sideline Fireplace – Best Recessed
If you prefer the minimalist, clean look of recessed fireplaces, we recommend the Touchstone 8004 Sideline.
The in-wall installation design ensures the fireplace sits seamlessly with your walls for a modern look, while glass crystal embers and faux logs offer the appearance of a real burning fire.
This unit covers up to 400 square feet, and remote control operation adds convenience.
Operate the 8004 Sideline wall electric fireplace in flame-only mode, and set the time for automatic shutoff.
The 1,500 watts of power provide a max heat output of 5,100 BTUs over high and low heat settings. A heating vent on the fireplace front helps warm air circulate quickly.
Pros:
Perfect for contemporary, minimalist style spaces
Adjustable flame color and brightness
Interchangeable crystals and logs
Built-in heater
Easy DIY installation
Cons:
---
7. Modern Flames Slimline Wall Electric Fireplace – Premium
The Modern Flames' range of Spectrum products is a fast favorite for many, and the Slimline branch is a slimmer and improved version.
Key specs of the Slimline are a 1,465 W electric power input capable of heating up to 500 square feet and a built-in thermostat and timer.
Hybrid-FX is a patented technology that has seen Modern Flames earn several awards.
The technology combines 12 flame colors and bed colors with five intensities and three speeds.
This Modern Flames Spectrum Slimline fireplace is the slimmest unit with Hybrid-FX measuring 4.6 inches deep. The narrow depth makes this model visually appealing and easy to install on or in the wall.
Pro:
Includes award-winning Hybrid-FX technology
Slimmest wall mounted electric fireplace
A new version of market-favorite Spectrum fireplaces
Comes from a reputable brand
Cons:
Expensive
No short model
High noise levels
---
Electric Wall Fireplace Features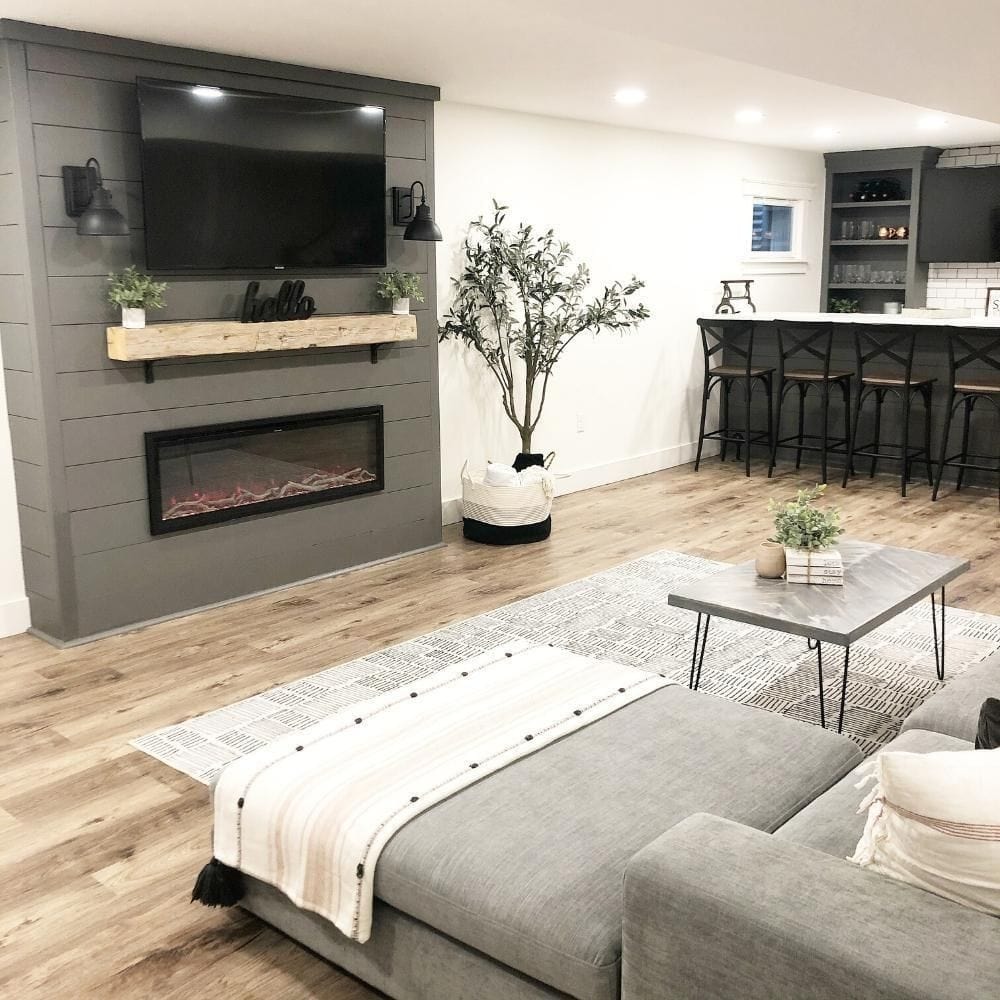 The first thing to consider is the design elements and features most important to you.
This strategy will help narrow down the options considerably because there are many models on the market in various styles and with different functions.
Here are some key factors to consider when choosing the best wall-mounted fireplace heater.
Size
A critical factor for consideration is the size. You need to break down the factor into the size of the electric fire you want and the size of your room.
Install a mounted fireplace with a greater width if you have an enormous space. Installing anything small will look odd.
Likewise, choose a shorter-width electric fireplace that sits comfortably within the confines of smaller wall spaces.
However, make sure there are at least six inches of clearance space around all the fireplace edges. Measure the wall in question before making a purchase.
You also need to work out your room's square footage while measuring the wall.
Trying to warm a room too big for the fireplace will cause it to take longer to get it warm, which affects energy use.
A good corner fireplace heater is another idea if you don't have a lot of options.
Installation Ease
Electric fireplaces don't require professional installation help.
Installation should be straightforward, but creating space for a recessed LED wall mount fireplace may take some planning.
The Walker Edison Electric Fireplace TV Stands are another great option if you also want some storage and don't want the hassle of installing anything.
Flame Settings
The settings include everything from flame brightness to flicker speed.
Many wall mounted fireplaces feature buttons on the base or provide a remote control device for the settings—others have both options.
Safety
The best part of a wall fireplace heater is you don't have to worry about nodding off in front of a flame.
Flames are contained, and some models have built-in timers that automatically shut down the units.
Some wall fireplaces are self-regulating, so they'll shut off after meeting the desired temperature.
Heat Control
A mounted fireplace makes controlling the temperature and the heat amount produced easy.
Some models come with up to three heat settings, and others have a built-in adjustable thermostat.
Some are more decorative and don't put out much heat at all – you could even put a fish tank over the fireplace!
Wall Mounted Vs Recessed Vs Freestanding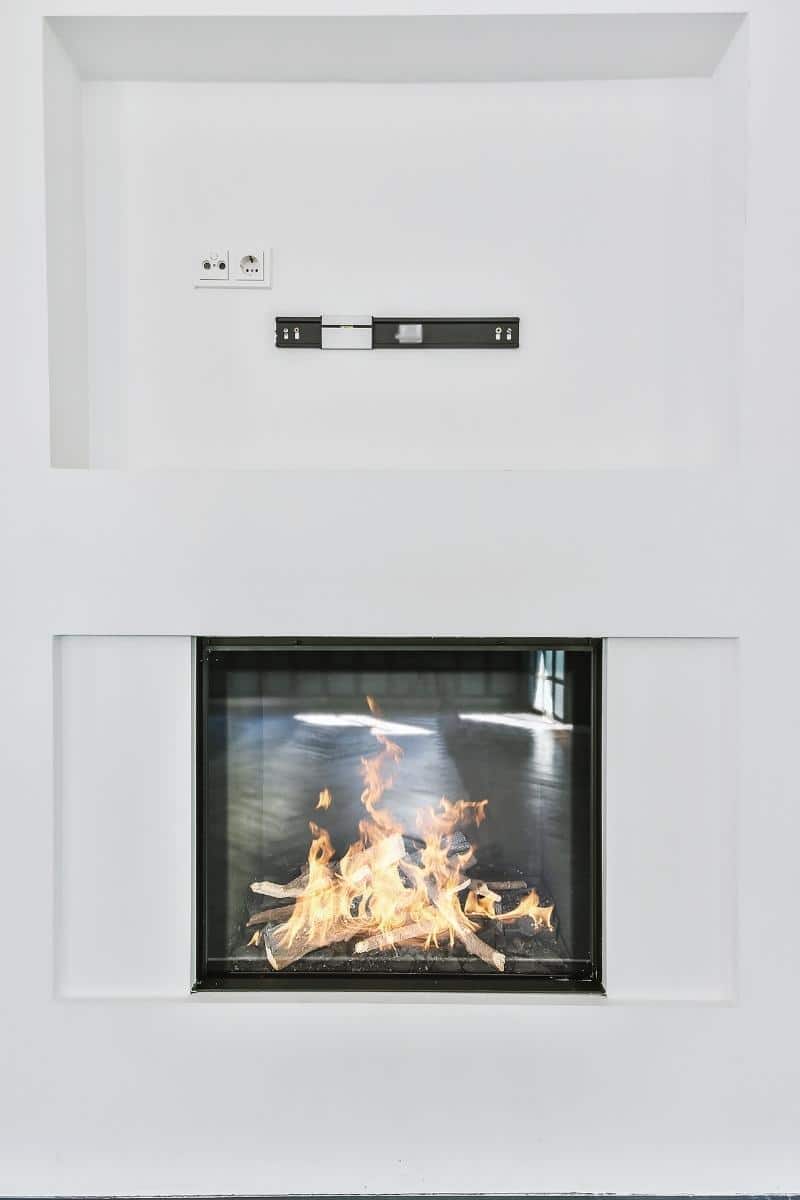 You can separate electric fireplaces into three primary categories.
Wall Mounted Electric Fireplaces
A wall-hanging fireplace resembles an HD TV. Many homeowners will install the electric fire under their current flat-screen television.
These units introduce a touch of modern design into your room.
Recessed Electric Fireplaces
Recessed or insert electric fireplaces fit into spaces on your walls.
The versatile fireplaces only require plugging in to work.
Freestanding Electric Fireplaces
Freestanding, or stove, electric fireplaces have a rustic, old design.
The freestanding models are portable for effortless movement when required. Plus, you can open the unit's doors and use the roomy interior for warming food.
Installing Wall Mounted Electric Fireplaces
Before installation, make sure the LED wall mount fireplace is functioning.
Plug the unit in, test the lights and heat, and move on to these installation steps:
Find a safe location closest to a power outlet
Ensure there are clearances from flammable objects around the unit and don't use an extension cord
Attach wall-mounting brackets to the wall and use plastic anchors or studs for strength
Attach brackets to the fireplace for extra support
Hang the electric fireplace on the bracket
Secure the fireplace's bottom to the wall
Plug the unit's power cord and enjoy
If in doubt, call in a professional or a friend who has done this thought of thing before.
Wall Mounted Fireplace FAQs
Do wall mounted fireplaces deliver heat?
A wall mount fireplace heater gives off heat, but not as much as gas or wood-burning fireplaces.
You can turn the heating element in most fireplaces on or off separately from the flame.
Wall mounted fireplaces give off about 5,000 BTUs of heat.
Are wall mounted fireplaces good?
Fireplace on wall devices are an excellent investment.
The fireplaces are better for the environment, and installation is cheaper when compared to traditional fireplaces.
Most electric fireplaces allow users to change the look of flames and backlighting to set the mood.
The fireplaces are also low maintenance because you don't need to worry about cleaning your chimney, getting firewood, or cleaning up ash.
What are the best wall mounted fireplaces?
It all depends on your requirements.
For example, if you seek a premium device that offers a large viewing area and independent control over the flame and ember bed colors, the Modern Flames Slimline is an excellent solution.
Do wall mounted fireplaces need to be vented?
Your mounted fireplace doesn't burn wood or produce smoke, so a vent isn't necessary.
Lack of a fuel source means the unit doesn't emit chemicals or smoke, improving indoor air quality.
What is the quietest wall mounted electric fire?
Winters can be a quiet and cozy time, but a noisy fireplace can ruin the ambiance of your room.
Electric fireplaces produce blower noises that vary between manufacturers, some units such as the R.W.Flame electric fireplace have low decibel ratings perfect for the living room.
Some things that make a wall mounted electric fire noisy include:
The fan—Used for blowing air into a room and improving heat circulation.
Loose connections—Loose screws can cause vibration and rattling noises.
Motor—Old motors will produce an unpleasant grinding sound once you turn the fire on. You have an option to replace the motor or get a new fireplace.
Contact the manufacturer for a warranty repair if your new wall fireplace electric device produces excessive noise.
Conclusion
In conclusion, if you're looking for the best wall mounted electric fireplace, R.W.Flame's Recessed and Wall Mount Fireplace is the ideal option.
You get near endless flame color and speed customization options along with auto heat kill safety to avoid superheating issues, making it the best wall mounted electric fireplace on this list.
However, if you have large wall space, the Cambridge Metropolitan 56-inch wall mount electric fireplace is an excellent solution. The unit can heat space as large as 210 square feet, and it comes with a host of safety features.
If none of the options above don't address your needs, check out this selection of the best white electric fireplaces for some more options.