The Husqvarna 45 Chainsaw is a good little firewood saw for processing the not-so-thick stuff!
It's not a pro saw or a saw that should be relied upon for heavy use, but it's fine for felling small trees, limbing trees, property maintenance, pruning trees, and that sort of thing.
The Husky 45 is a 44cc chainsaw that is usually run with a 16″ bar, so it's not suitable for bucking large logs. Also, if you have a lot of hardwood that needs cutting up, you'd be better off getting something a bit more powerful.
Husqvarna 45 Chainsaw
I went and checked out my friend's Husqvarna 45 – that's it pictured throughout this post.
He runs it alongside his Stihl 064 – a much larger pro chainsaw that he uses for felling and bucking big trees. I think he also uses it for a bit of milling when the opportunity arises.
The 45 is the chainsaw for cutting smaller-width trees, pruning branches, and limbing the big trees that have been dropped with the 064.
This small Husky is lightweight which makes it nice to use for extended periods of time, but it's not designed to be used all day every day.
It's a good homeowner chainsaw that can be chucked on the back of the truck or farm bike and have on hand when needed.
The Husky 45 was manufactured from 1987 to 1995 and was based on the old Partner 400 series chainsaws.
That's because Electrolux, the company that bought Husqvarna in 1978, also bought the Partner chainsaw brand (among many others). There was some design/brand mixing that went on such as with the 45.
After the 45 came the Husqvarna 345, which entered production around 1998, and then was itself discontinued in 2007.
The 345 was replaced by the Husqvarna 445, which is a comparable model to the 45 that is available to buy new today.
What's more, there is now also the Husqvarna 545, which has additional capacity and functionality over the 445.
But this gives you a picture of how old the original Husqvarna 45 is… it's a chainsaw that's a few generations old, and it's not getting any younger. However, that doesn't mean it's a bad saw by any means.
Yes, it is lacking some of the more modern features and improvements (for example, the anti-vibration systems are much better on today's chainsaws), but it still cuts wood just fine.
Husqvarna 45 Specs And Features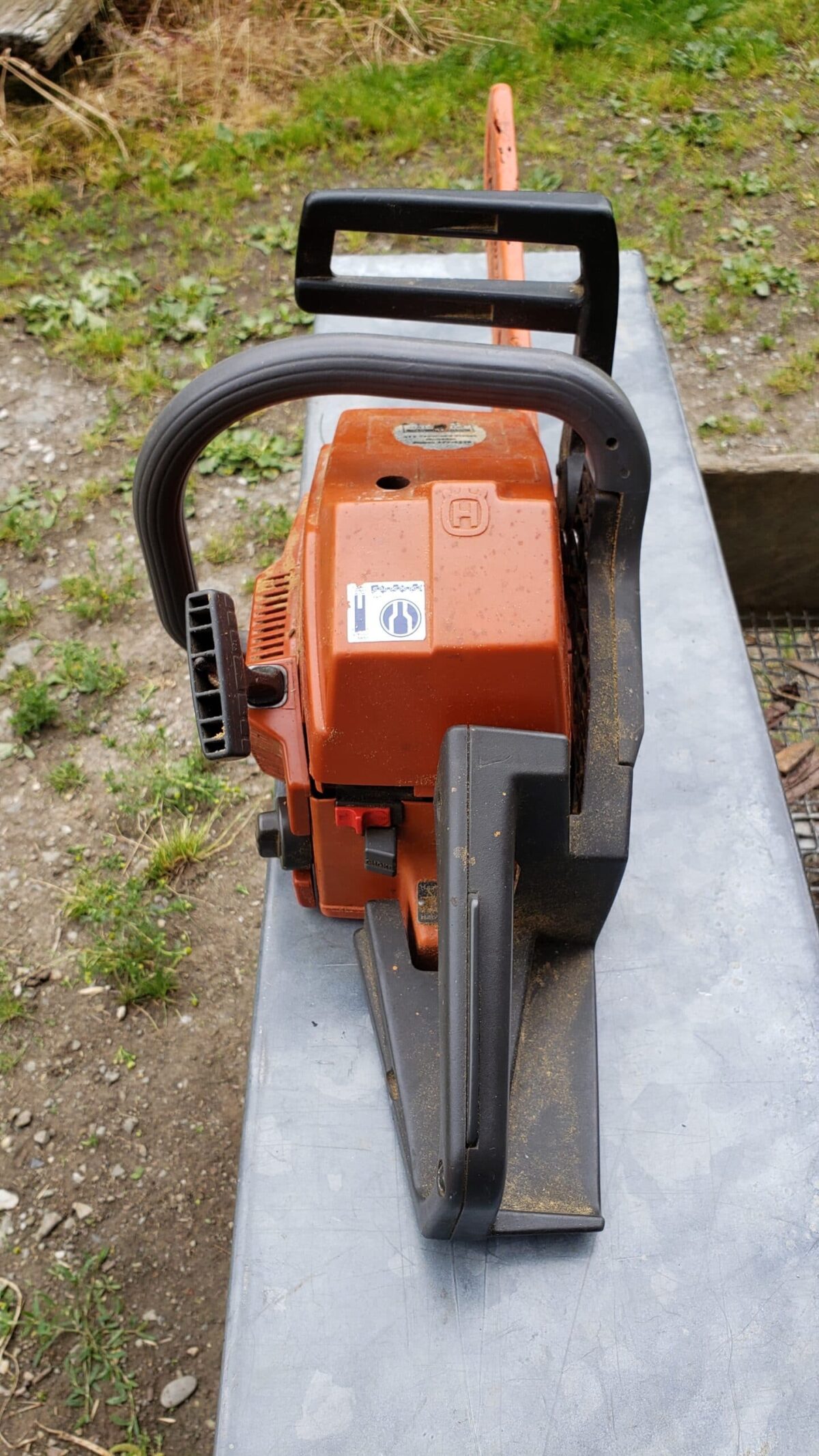 As already stated, the Husky 45 is a 44cc 2.7hp chainsaw.
Other specs of note include:
Dry weight 10.7 lbs
Walbro (WT-17A) and Zama carburetor (C1Q-EL5)
Champion RCJ 7Y spark plug
Spur sprocket
2500 RPM idle
9000 RPM max loaded speed
42mm cylinder bore
32mm piston
If you'd like more info, see the technical data page in the Husqvarna 45/49 manual here (automatic download).
It has all of the features that you'd expect on a saw of the late 80s early 90s, including a decent anti-vibration system, automatic oiler, and easy access chain tensioner.
Husqvarna 45 Price And Parts
Old Husky 45s still pop up from time to time on eBay, Facebook Marketplace, and other online selling platforms.
Depending on the condition, you will find them for sale from $20 to $200.
Those in great condition can command a reasonable price because by this stage they're becoming a collector's item as well – and there are plenty of people out there collecting Husqvarna chainsaws.
Husky 45 for sale and/or parts:
Check out the manual linked in the specs above for more info on the ignition and fuel and lubrication systems, along with the engine and chainsaw and bar.
Husqvarna 45 Chainsaw Review
The Husqvarna 51 is a good saw for around the home or as a light-work saw on the farm.
Obviously, it's not for cutting thicker width logs, nor should you take it out with you logging an acre a day, but when used for what it was designed, it's a good chainsaw.
I believe that my friend bought his 45 new, and so it has been with him for many years and I know he puts it to use. It's still going strong which is a testament to its quality.
Pros:
A well built saw
Reliable/durable
Reasonably light
Cons:
Not for all tasks
OEM parts becoming harder to find
Husqvarna 45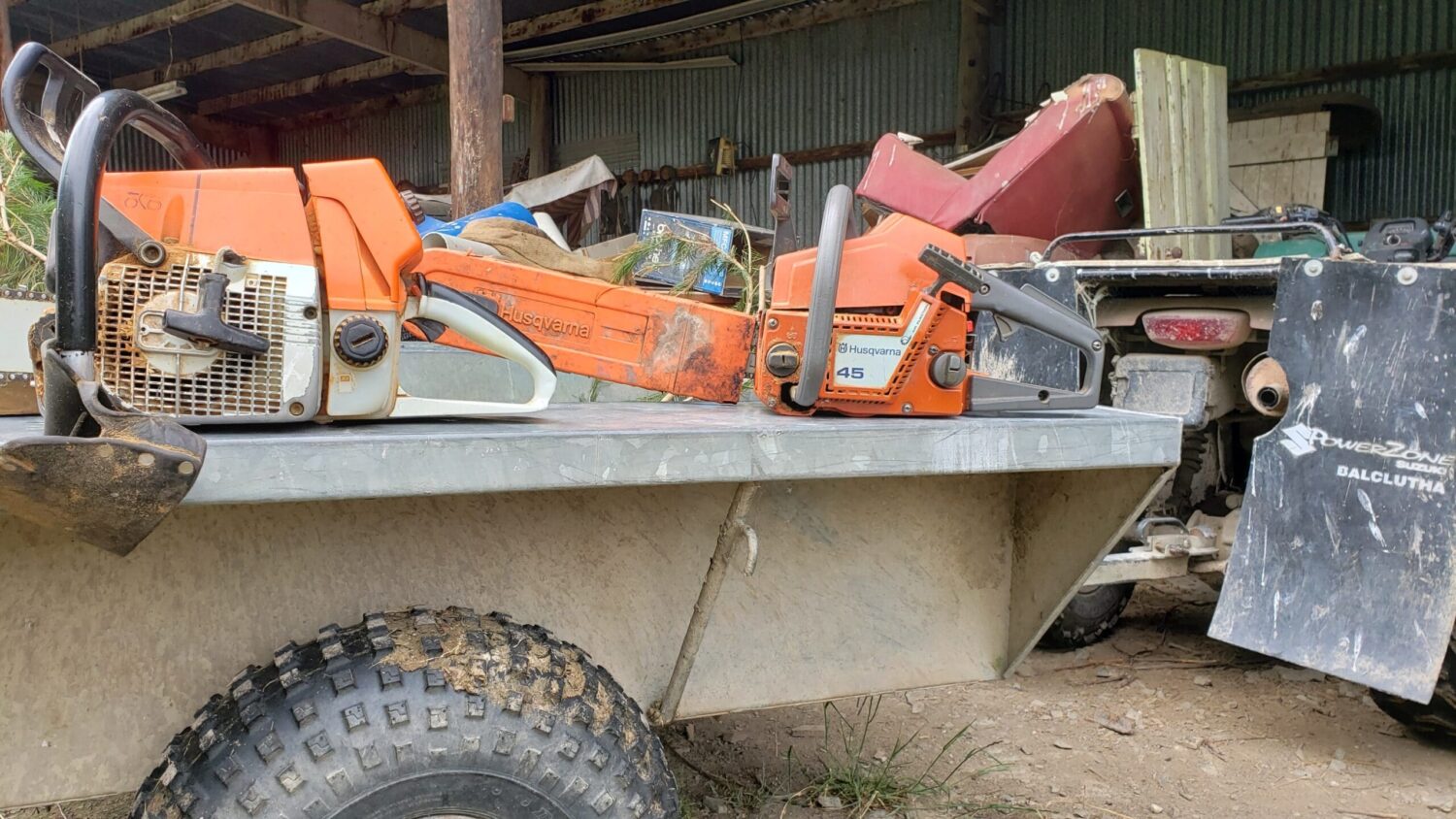 If you find a Husky 45 in good condition, there are not many reasons not to get it.
It's a reliable saw that can be put to use on a range of tasks around the home, orchard, hobby farm, or farm.
It won't offer the most comfortable ease of use or give you the most power, but it's another one of those old chainsaws like the Husqvarna 51 that is popular and well respected.
The 45 is another quality Husqvarna chainsaw model that has its place in Husky history. Let me know your experiences, along with any other comments or questions, in the comment section down below.