If you are considering purchasing a high-efficiency wood stove, you've likely done some preliminary brand research.
One of the many great brands in North America is the Canadian-made Drolet wood stoves and fireplace inserts – their products are best sellers for a number of reasons.
In this review, we're sharing an assortment of Drolet's best stove models with a mini-review for each. You will learn whether Drolet is the right brand for you and which Drolet stove might fit in your home.
Drolet Wood Stoves
Drolet HT-3000 Wood Stove

Drolet's largest wood stove, the HT-2000 is the same but smaller
For 1,000 - 2,700 ft², 110,000 BTU/h (32.2 kW) output
Up to 10 hour burn times taking up to 22" logs

View On Fire Pit SurplusView On Northern Tool

Drolet Escape Fireplace Insert

Drolet's best selling insert: with blower, ceramic glass, ash lip, air damper
For 500 - 2,100 ft², 75,000 BTU/h (22.0 kW) output
Up to 8 hour burn times taking up to 20" logs

View On Fire Pit SurplusView On Amazon

Drolet Deco Nano Wood Stove

A fantastic small/mini wood burning stove for small spaces
For 900 - 2,300 ft², 90,000 BTU/h (26.4 kW) output
Up to 5 hour burn time taking up to 17" logs

View On Fire Pit SurplusView On Ebay
Drolet has been making wood stoves since the company's inception in 1788.
The inventor, François-Xavier Drolet, was a pioneer in wood-burning stoves with lower emissions.
Since then, the company has focused on eco-friendly wood stoves. They currently ship to America, Canada, and Australia from their Canadian wood stove factory.
Here are the seven most popular Drolet wood stoves, with all the necessary details and some reviews.
1. Drolet HT 3000
The Drolet HT 3000 is the largest Drolet high-efficiency wood stove.
This enormous wood stove can efficiently heat up to 2,700 square feet and produces an impressive 110,000 BTU/hr. This is the model for you if only the biggest and the best Drolet stove will do.
Like all Drolet stoves, the Drolet HT-3000 heats up quickly and has very little ash or smoke. This makes the stove easy to clean and reheat (wood might catch fire from warm coals).
Users give this stove an average of 4.5 stars, with the biggest complaint being how hot the stove can get.
In the YouTube comments, Jedidiah said:
I have the HT2000 great stove my place is 2 levels approx 2000sq' (95,000btu's)and its more than enough heat. The 3000 at 110,000 thats a lot of heat.
To which Drolet replied:
HT-2000 is a beast, can't go wrong with that!! Very similar to the HT-3000, which is the EPA 2020 version with an update of the look.
Of course, no stove is perfect, and the Drolet HT-3000 isn't for everyone. This stove isn't suitable for you if you are trying to save money or have a smaller house.
The HT-3000 is a really good alternative to the Blaze King Wood Stove – it's usually a bit cheaper but still achieves a long burn time.
Pros:
Heats a large area very quickly
Super long burn times (up to 8 hours)
Fits large logs
Virtually no smoke or ash
Cons:
It can get extremely hot (dangerous if misused)
Paint takes a few days to bake on the stove and will smell
Large and expensive
---
2. Drolet Escape 1800 Wood Insert
If you already have a fireplace and are looking for an upgrade, the Drolet Escape 1800 is a wood insert instead of a standalone stove.
It will fit into a standard fireplace opening, upgrading your current setup and reducing your emissions.
Although the Drolet works in most fireplaces, it does require a professional installation. You will need to hire someone or work through the instructions carefully to ensure that you install the fireplace safely.
Customers who self-install might have problems with smoke and water leaks.
However, the Drolet is a great choice for those who have fireplaces built in their houses.
You can receive a tax credit for upgrading to a low-emissions fireplace. This insert will heat the whole home without taking up as much room as a regular stove.
On Fire Pit Surplus, Jay left the following review:
It's my second winter using this wood stove insert and it's been great so far. The wood stove heats our 2 storey house with 1450 sq ft. area.

Our old house was drafty and the insulation was terrible. But the wood stove has been keeping us warm all winter, and I'm actually really happy with it. It's a great way to save money on heating costs, and it's also good for the environment.

I highly recommend this wood stove to anyone looking for an affordable and eco-friendly option.
You can read more reviews like this, plus any negative ones, on the website here.
Pros:
Heats up to 2,100 square feet
Some purchases are eligible for a tax credit
Works with most existing fireplaces
Less expensive than a standalone stove
Cons:
Flame doesn't get very high
Any accessories are additionally priced
Installation can be difficult (many people hire a professional)
It might not fit in every fireplace
---
3. Drolet Deco Nano Wood Stove
Besides the wood inserts, the Deco Nano stove is the smallest in the Drolet lineup.
However, it's still one of the most popular models because of its price and size.
Customers who have smaller homes or don't have the room for a huge wood stove will often start with the small but mighty Deco Nano.
The Drolet Deco Nano is the most highly reviewed of all the models, most likely because it's the most affordable. For many people, the 1,200 heating area is perfect.
The Deco Nano is also one of the best-performing Drolet stoves. From one of the top wood stove brands in the world, this model might be the best of the best.
Unlike other models, the Deco Nano isn't too heavy to move with a partner or friend. It can be installed quickly and put to work immediately.
It's probably too large and hot-burning for the likes of a tiny house or an RV/camper, but it could possibly work in larger ones.
Because it's a small wood stove, this stove meets the air standards of even the strictest HOAs or residential areas. Honestly, there aren't many cons to the Deco Nano, except that it is too small for large spaces.
Neal said about this stove:
We love how sleek and compact this product looks.

The size is perfect for what we need-a nice spot near our living room fireplace that can also serve as an oven!

We've always had great luck with Drolet products so hopefully these stoves will be just as reliable too.
While Malcome said:
The Deco Nano wood stove is the perfect solution for my house.

I live in an area that requires high air quality standards, and this model meets them with ease! The stove is well made and arrives ahead of schedule.

The customer service from Fire Pit Surplus was amazing, too!
Visit Fire Pit Surplus here to read more reviews.
Pros:
More compact than most models works in small apartments
Heats up to 1,800 square feet
Least expensive Drolet model
Easy to install
Meets most residential air standards
Cons:
Not ideal for larger homes
All accessories cost extra money
---
4. Drolet HT 2000
Although it's not the biggest in the lineup, the Drolet HT 2000 might be the best for the average homeowner.
It heats up to 2,400 square feet and has a window for the ideal fire viewing.
Like most Drolet stoves, customers love the Drolet HT 2000. Most choose to put it in a basement and let it heat the whole house.
The biggest downside of the Drolet HT 2000 is that it's mostly only available in Canada. If you live in the United States, you'll need to look for a different model or get it shipped from Canada.
Fire Pit Surplus has similar models that aren't mentioned elsewhere in this post: the Columbia II Wood Stove, the Blackcomb II Wood Stove, or the Drolet Heritage Wood Stove.
Pros:
Heats up to 2,400 square feet
Can heat several floors at once
Bigger firebox for larger logs
7-9 hours max burn time
Cons:
Only available in Canada
Not often on sale
Extremely heavy
---
5. Drolet Deco II
Although it hasn't been released yet, many people eagerly wait to buy the Drolet Deco II.
Like the Deco I, this model includes a storage area for wood. Instead of standing in the middle of the room, it can sit against the wall, making it ideal for smaller homes.
The sleek, against-the-wall design is hugely popular, especially for customers who don't have a ton of extra floor space. In addition, wood storage beneath the stove is convenient.
Tina shared:
Great stove. Good size fire box. Quality is good. Produces approximately 65000 btu . Efficiency is also good. Top plate on stove is thick like 1/4 in… Best quality for money.
It's very hard to find negative reviews of Drolet heating appliances.
Pros:
The latest Drolet technology
Sleek and space-saving design
Storage for firewood
Holds up to 18-inch logs
Cons:
Not available until July 2023
More expensive than older models
Not many user reviews yet
---
6. Drolet Legend III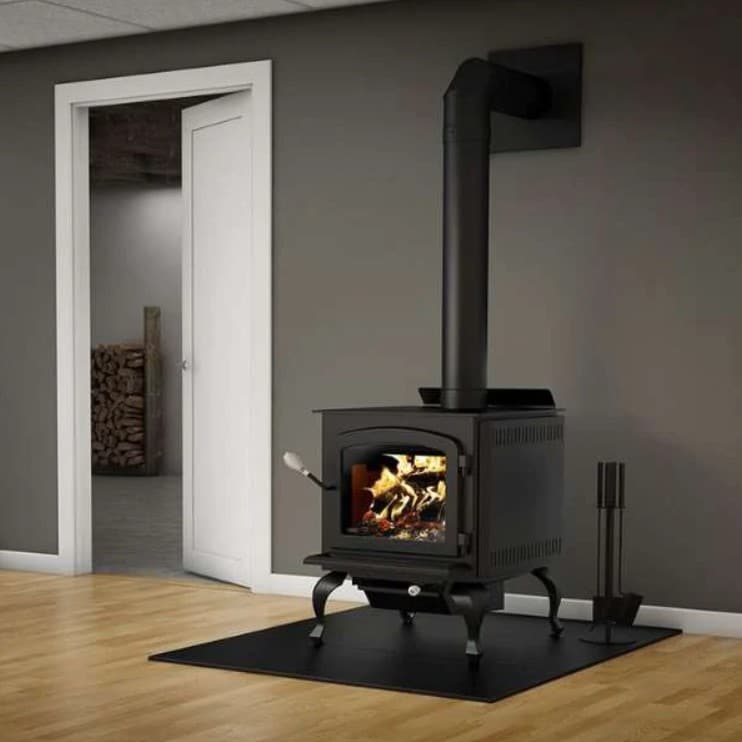 The Drolet Legend III fits the bill for those looking for a traditional wood-burning stove with a front window and legs.
It looks like it belongs in a hunting lodge or wood cabin but performs like a wood stove from the 21st century. With the lowest market emissions, this stove is a legend.
The cons of this stove have more to do with the pricing and the size than anything.
If you don't have room for a stove this big, you won't like the Legend III. However, it has extremely strong performance and heats a house fully overnight (or even longer).
Pros:
Classic wood stove design
Heats for up to 12 hours
Logs up to 20."
78% emissions efficiency
Cons:
Extremely heavy
Takes up a lot of space
Expensive
---
7. Drolet Bistro Wood Burning Cookstove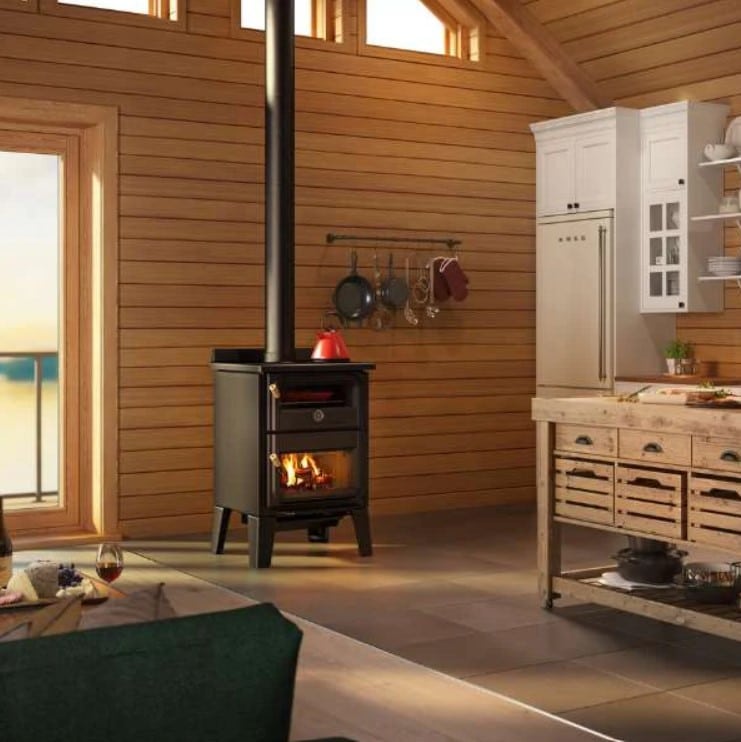 Unlike other Drolet stoves, the wood-burning cookstove has a small standard oven installed above the wood-burning stove.
You can make meals, roast meat, and cook stews in this little oven while you're heating your home.
Like many dual-function appliances, this stove is the best of both worlds. You can cook while you heat your home without using two separate ovens.
However, some users have issues with the exactness of the oven temperature (it might be best to avoid baking a wedding cake in it). However, it works well enough to be worth the purchase!
There are many other wood cook stoves out there, but these Drolet models are really nice. They have a more modern look compared to other brands.
Drolet also has the Drolet Outback Chef Wood Burning Cook Stove – a much larger cook stove – and the Drolet Chic-Choc Wood Burning Cookstove– even larger still.
Pros:
Ideal for cooking and heating
Uses the heat from the oven, saving energy
Compact and sleek design
Cons:
The oven temperature isn't exact
Wood-burning stove section is not as effective at heating home
It can be difficult to do both well
---
Types of Drolet Heating Appliances
View this post on Instagram

As you might be able to tell from the list above, Drolet offers several types of heating appliances.
Before you decide which model you want in your home, you might want to consider which type of stove is best for you and your family. Here are the five main appliances offered by Drolet.
Wood Burning Stoves
Of course, its most significant product of Drolet is the wood-burning stove.
A staple in heating appliances for several hundred years, the wood-burning stove continues to powerfully and effectively heat homes throughout the winter. It's a classic for a reason.
Nano Wood Stoves
A nano wood stove is a smaller version of the classic wood-burning stove.
Instead of standing independently and heating an entire house, the nano wood stove usually only heats the room it's in. It's ideal for condominiums or bedrooms when the rest of the house has heating.
Fireplace Inserts
Drolet also offers fireplace inserts – smaller wood-burning stoves that fit into empty fireplaces and improve the heating capabilities of the current fireplace.
These are ideal for homes with existing fireplaces and chimneys because they use the space and strengthen heating throughout the house.
Cook Stoves
Cook stoves are a great way to combine winter cooking with heating.
The wood stove portion heats the house while allowing a certain amount of heat to make it into the oven. This part can be used to cook meals, bake, or create warm, hearty stews. It's a great combination of uses.
Compare Drolet's cook stoves to the Pioneer Princess or the Vermont Bun Baker and you'll see what we mean when we say Drolet's are more modern!
Pellet Stoves
Although we haven't reviewed one here, Drolet also makes pellet stoves.
Unlike wood-burning stoves, pellet stoves use wood pellets and burn them one at a time. They are generally considered to be more energy efficient and eco-friendly, but you'll have to purchase the pellets separately.
Drolet Wood Burning Stove FAQs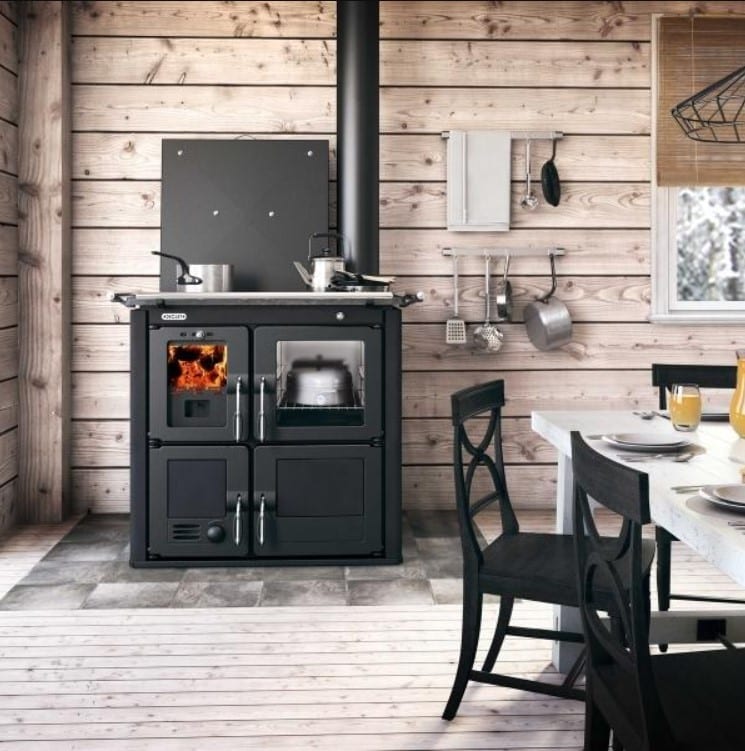 Here are some frequently asked questions about Drolet wood stoves and their answers.
Hopefully, they answer your questions and help you find the perfect wood stove!
Where are Drolet wood stoves made?
Drolet wood stoves are Canadian-made wood stoves since the company's founding in 1788.
Currently, the manufacturing plant is outside Quebec. All the Drolet wood stoves are made there and shipped to Canada, the United States, and Australia.
Who makes Drolet?
Canadian craftsmen make Drolet stoves.
François-Xavier Drolet, a French explorer and inventor, founded the company. He created a new type of wood-burning stove that let out fewer emissions and burned less smoke.
What is the smallest Drolet wood stove?
The Deco Nano is the smallest Drolet wood furnace, measuring only 18 ½" X 29″ X 32 ½".
Although it is a small wood-burning stove, the Nano can heat up to 1,200 square feet when properly used. It could be the perfect wood stove for a cabin or shed.
What is the biggest Drolet wood stove?
On the other end of the spectrum, the largest Drolet wood stove is the Drolet HT-3000.
It can heat up to 2,700 square feet and is best suited for larger homes with open spaces. However, like all Drolet wood stoves, it has low emissions and doesn't release smoke inside the house.
Can you cook on a Drolet stove?
Although you can't cook on a standard Drolet wood-burning stove, Drolet has an entire line of cookstoves that have ovens or cooktops on top of them.
They were created to use the power and heat of the wood-burning range to create an ideal and safe cooking surface. If the stove is a cookstove, then it's perfect for food creation.
There is also the Drolet camp stove (here on FPS) that can be used with cooking attachments.
Should I get a fireplace insert or wood burning stove?
Both a Drolet fireplace insert and a wood-burning stove are excellent products.
However, it depends on your budget and your household needs. If you are trying to heat the whole house and you have the space and funding for a wood-burning stove, that might be the better option.
A fireplace insert is better for homes with pre-existing fireplaces that simply need an upgrade. With a Drolet wood stove insert, you will experience more heat and fewer emissions.
It's also a great way to save money if you can't reasonably afford a standalone Drolet wood-burning stove yet.
Is the Drolet Furnace good?
The Drolet Heat Commander Wood Furnace is a good option for central heating.
The listing states that it's the "perfect furnace for those who want an EPA certified system that can heat up a large space quickly. With its 310,000 BTU capacity, this furnace can easily take care of spaces up to 2,500 ft². Plus, its overall thermal power is much higher than most other comparable systems, making it a great choice for anyone looking for efficient heating."
Check out these outdoor wood furnaces for more powerful options.
Drolet High Efficiency Wood Stoves
With these wood-burning stoves, you'll be able to heat your whole house and save money on electricity this winter.
Whether you choose a fireplace insert, cooking stove, or classic standalone wood-burning stove, you can feel confident choosing a 1,000 sq. ft. wood stove.
They sell a very good range of heating appliances, so there's really something for everybody (though if you want to cook pizza, I'd recommend checking out the Stoke pizza oven range)!