The Pioneer Princess Wood Cook Stove is the ideal model for large families or for those who just want the biggest and the best.
Wood cooking stoves have become very desirable as more people experience devastating power outages and rising power costs. Cookstoves will heat your home, allow you to continue cooking as normal, and can also be used to heat your home's hot water – among other things.
The Amish-made Pioneer Princess (here on Lehman's) is one of the largest and best cookstoves out there, it's an upgrade from the Pioneer Bakers choice oven (here on Lehman's), and here's what you need to know about it.
Pioneer Princess Wood Cook Stove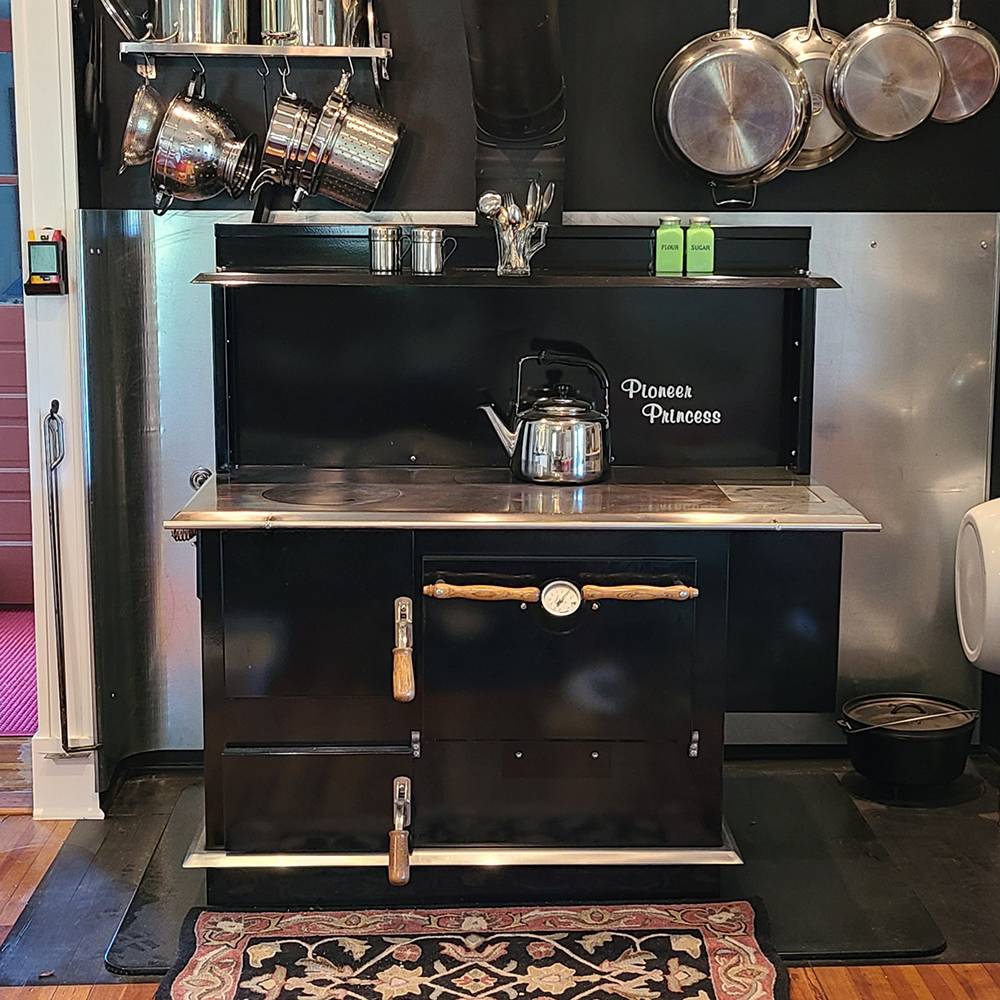 What can this wood cookstove do? – OR, as some like to put it, what CAN'T this wood stove do?
As with any wood-burning stove, it has all of those features and functions that are so useful. Cookstoves in particular are multifunction appliances that can really pay for themselves in time and even allow you to live completely off-grid.
The Pioneer Princess can be used for:
Heating your home
As a stovetop
As a baking oven
Heats water
As a benchtop when not in use
Will dry out your washing in the room
Dehydrating fruit and other foods
And a whole lot more. Plus, wood stove heat can't be compared to that from gas or electric heaters. It's qualitatively better – at least in my opinion!
The Pioneer Princess wood cook stove can be used with both wood and coal and is constructed of twelve-gauge welded steel. The internal parts are made of stainless steel which prevents any corrosion.
It can also be purchased with or without a water reservoir, though I believe more people opt to have it (costs an additional $400 or so). This addition will ensure you have up to 9 gallons of hot water whenever the fire's on.
Pioneer Princess Stove Specs
This wood cook stove is suitable for heating areas of up to 2000 sq. ft.
Traditionally it has been a favorite among homesteaders, those with cabins, and those seeking an off-grid lifestyle.
However, more people that aren't necessarily part of these alternative communities are beginning to see the value of being a little more self-sufficient and less reliant on the system. They too are looking at cookstoves like the Princess.
They are Amish made and there is a wait time for them of up to 6 months at times. If that's a little too long for you to wait, consider the Vermont Bun Baker Cook Stove as another great alternative.
Here are the technical specs for the Pioneer Princess:
| | | |
| --- | --- | --- |
| | Stove Without Reservior | Stove With Reservior |
| Width | 45″ | 55″ |
| Overall Height | 51-1/2″ | 53-1/2″ |
| Cooking Surface Height | 32-1/2″ | 32-1/2″ |
| Cooktop Size | 22-1/2″ x 43″ | 22-1/2″ x 52″ |
| Firebox Size | 18-1/2″ L x 13-1/2″ W x 18-1/2″ D | 18-1/2″ L x 13-1/2″ W x 18-1/2″ D |
| Oven Size | 22″ W x 19-1/2″ D x 13″ H | 22″ W x 19-1/2″ D x 13″ H |
| Reservoir Capacity | No reservoir | 9 Gallons |
| Shipping Weight | 550 lbs. | 650 lbs. |
| Price (Lehman's) | $3,999.00 | $4,399.00 |
| SKU | 17120810 | 17120805 |
| Buyers Choice | Fewer buy without | Most buy with |
Other Pioneer Princess specs common to both buying options include:
Requires a 7″ stove pipe
Safety tested to UL 1482
Ashpan size 20″L x 10-1⁄4″W x 4″D
Required clearance of 25″ all around (less with heat shields)
Two 11″ stove lids
Download the Pioneer Princess User Manual here.
Now let's check out the features.
Pioneer Princess Stove Features
I've already mentioned a lot of the Pioneer Princess Wood Burning Cook Stove features, but here are a few more.
The video above gives a really good overview of the appliance, including a full walk-through of all the different things it can do. Plus you'll get to take a look inside the firebox, water reservoir, baking oven, and so on.
Features:
Load wood into firebox from the front or top
Porcelain bottomed cookstove with 2 racks
Black porcelain finished exterior
Front ash drawer for easy no-fuss cleaning
Shaker grates for cleaning ash out of the firebox
Wood handles that stay cool (though will deteriorate over time from heat)
Thermostatic control draft for the perfect room temperature
Splashback and shelf
Refractory brick liners
And the stove is said to hold its heat well overnight and be easy to get going again in the morning. The complaint that many have about other woodstoves is that you need to feed them wood constantly (the Cubic Mini Grizzy, for example), but that's not so with these larger units.
The Princess is not made cheaply – it's a robust and heavy-duty cook stove that will last decades with the proper care and maintenance.
Pioneer Princess Wood Cookstove Review
This video review of the Pioneer Princess Stove from Renewed Grounds Homestead is another one well worth watching.
He ended up with the model without the water reservoir but wasn't overly upset about it. He states that the fire is large enough already without it, and he can put a stockpot on the stove with water if required.
The reservoir option is not always necessary, but many believe it is!
Princess Pros:
Multifunction
An effective heater and cooking stove
Well designed
Well build
Quality components
Great features
Princess Cons:
Can't use in summer
Takes up a lot of space
Can be dangerous with small children in the house
The other thing to keep in mind with wood cookstoves is that you can't really use them for cooking in the summer – it's too hot to have the wood burner going.
In a review on the Lehman's site here, a woman shares the following:
When it's too warm to use it in the summer, I missed it [as a cooker] so I came up with another way to use it.

We bought a round steel Grover's Rocket Stove that fits in the firebox of our Princess. Setting it on a cement block so the rocket stove is raised up enough to feed scraps of wood into it and get air through it (leave the door of the firebox open). The fire is directed right at the front lid/hole on the top of the Princess.

Take off the lid and set a cast-iron skillet/pot on there. The rocket stove heats the pan without heating the whole stove. The rocket stove burns clean and it vents out through the stovepipe on the Princess.

This is how I use it in the summer without heating up the whole stove…
So that's one POTENTIAL way to use the cookstove in the summer without cooking yourself in your home. However, I would recommend talking to your Pioneer Princess dealer and getting their advice on the tactic before actually doing it!
Overall, the Princess is a very good Amish cookstove – it will serve you well for many years.
Pioneer Wood Cook Stoves
The Princess is the largest of all the Pioneer Wood Stoves, and the Pioneer Maid Bakers Oven is the next size down from it.
If you have a cabin or other smaller space, the smaller cookstove might be better for you, but otherwise, go with the Pioneer Princess. And, if you decide to get it, I hope it doesn't take too long to manufacture.
If you don't want to buy a new model, you will find second-hand Pioneer Princess Cook Stoves for sale on Facebook Marketplace. They won't always be one available in your area, but the do pop up reasonably frequently.
Let us know if you have any comments or questions down below, and if you've got a tiny space to heat as well, check out the Dwarf stove from Tiny Wood Homes!