A camping trip isn't complete without a campfire, guitar, and some great sing-along songs.
As the sun sets, break out the guitar and enjoy singing with friends and family. It brings everyone together, creates fun and laughter, and can make the occasion so much more memorable.
We still remember how fun it was camping in a cave at a nearby beach during college. We always ensured we had a rick of wood (or thereabouts) for the campfire and someone with a guitar. We'd spend hours singing together into the night.
Here are our top 50 campfire songs to learn for your next trip, or for around the fire pit in the backyard!
Old Traditional Campfire Songs
You Are My Sunshine, Traditional
A song that most of us heard starting in childhood, it's just as popular around the campfire. The chords aren't difficult to learn, so you'll be singing this favorite in no time.
Kumbaya, Traditional
Kumbaya was originally an African American spiritual song. These days it's practically synonymous with campfires and happy groups of people.
Molly Malone, Traditional
Nothing beats a rendition of the Irish traditional song Molly Malone, the fishmonger whose ghost roams the streets of Dublin.
Somewhere Over The Rainbow, Harold Arlen
Somewhere Over The Rainbow has been covered by every instrument imaginably, including the ukulele. It's easy to play on the guitar as well.
Swing Low, Sweet Chariot, Traditional
Swing Low, Sweet Chariot is a traditional spiritual song that is easy to learn. It's been popular with groups for centuries, both as a campfire singalong song and elsewhere.
Edelweiss, Richard Rodgers
Edelweiss was originally composed for guitar, and it's a simple song to learn. This mournful tribute to one's homeland is a perfect song for around the campfire.
Amazing Grace, Traditional
There are few people alive that don't know the words to this heart-rending spiritual. It's a perfect song for the guitar that you can learn quickly.
Good Campfire Songs For Kids
My Bonnie Lies Over The Ocean, Traditional
Another great song to share with kids (or anyone who loves the simple old songs!) My Bonnie Lies Over The Ocean is easy and fun to play.
When The Saints Go Marching In, Traditional
When The Saints Go Marching In started as a spiritual song, but these days it's more associated with children's nursery rhymes. It's a great song if you have a younger crowd around the campfire.
My Grandfather's Clock, Traditional
Modern songs are great, but you should have a few classic campfire songs in your repertoire as well. "But it stopped short never to go again when the old man died…"
Bicycle Built For Two, Traditional
Sometimes simple camp songs for kids are the best for around the campfire. If you're camping with kids or just love some of these old songs yourself, Bicycle Built For Two is a classic.
Kookaburra, Traditional
In case you didn't know, a kookaburra is a small bird native to Australia. The song has a lot of variation in lyrics ("eating all the gumdrops it can see…") which makes it a fun, silly song to sing in a group.
She'll Be Comin' Round The Mountain, Traditional
Almost every kid knows the song She'll Be Comin' Round The Mountain and can sing along. There are lots of interactive parts, which make it fun for a group.
Classic Sing Along Campfire Songs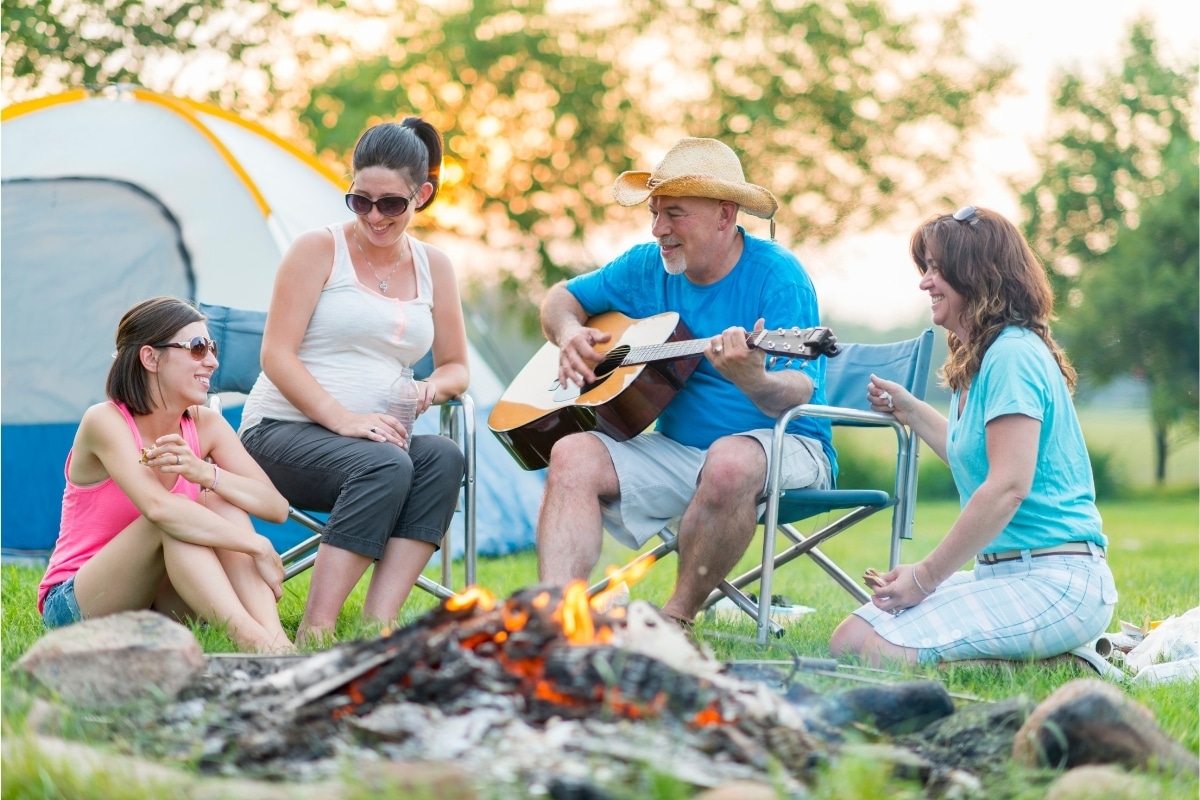 All I Have To Do Is Dream, The Everly Brothers
Did you know that the Everly Brothers' 1958 hit is counted among the 500 Greatest Songs of All Time? It's not overly difficult to learn, which means you'll be strumming along in no time at all.
Me And Bobby McGee, Janis Joplin
Me And Bobby McGee is a famous Joplin track, but it wasn't released until after her death! Since then, it's remained a favorite for guitar players everywhere.
Catch The Wind, Donovan
Catch The Wind is a lesser-known song from the 60s, but it's perfect for a soft acoustic guitar. Once you get a hang of it, it will be a delightful song to sing around a campfire.
Daydream Believer, The Monkees
Classics are classics for a reason, like this 1967 hit from The Monkees. It's remained popular ever since, and it's sure to be a hit campfire guitar song.
Take Me Home, Country Roads, John Denver
This sweet and heartfelt tribute to West Virginia is beloved by everyone, even those who have never seen the Blue Ridge Mountains.
Blowin' In The Wind, Bob Dylan
Blowin' In The Wind is synonymous with the cultural upheaval of the sixties. This simple song for guitar is a delight to play and hear.
Mrs. Robinson, Simon And Garfunkel
Simon and Garfunkel's songs were written for guitar and are still popular choices for players in all venues today."Here's to you, Mrs. Robinson, Jesus loves you more than you will know…"
Ring of Fire, Johnny Cash
Most of us can't achieve Johnny Cash's caliber of performance, but you'll still have fun singing that famous chorus: "And it burned, burned, burned, the ring of fire, the ring of fire…"
I'll Be Your Baby Tonight, Bob Dylan
It's not Dylan's most famous song, but I'll Be Your Baby Tonight is a great song to learn to play. You'll enjoy sharing it with others at a campfire.
Stand By Me, Ben E. King
Another song that immediately gets people singing along, Stand By Me has been a crowd-pleaser since it was first written in 1961. The chords aren't difficult, so you can learn them in a heartbeat.
Camping Songs For Adults
Hallelujah, Leonard Cohen
Leonard Cohen's Hallelujah is a favorite for guitar players. Its mournful chords and lyrics will give you chills while sitting around a fire.
California Dreamin', The Mamas And The Papas
California Dreamin' is a throwback when it comes to campfire songs, but it's still a classic. It won't take you long to learn, and it's a perennial favorite.
Wonderwall, Oasis
Wonderwall reached cult status as a rock song, but it was recorded with acoustic guitars and remains a great song for playing fireside. You can find both classic guitar chords and simplified versions online.
Let It Be, The Beatles
Let It Be is one of the most well-known songs by the Beatles, and it remains a favorite to this day. Though it was originally performed on piano, it's not difficult to play on the guitar!
Sweet Caroline, Neil Diamond
Even if you don't know a Caroline, this song is bound to get you moving. Neil Diamond's classic has barely wavered in popularity since it was written in 1969.
Imagine, John Lennon
With his popularity among the hippie crowd, Lennon's Imagine has remained one of the most popular camp songs over the decades. It's still a great song for any guitarist to have in their repertoire.
Sugar Mountain, Neil Young
Neil Young's Sugar Mountain has been adapted for many instruments, but nothing beats the song on a classic acoustic guitar.
No Woman, No Cry, Bob Marley
Every Bob Marley fan needs to learn to play No Woman, No Cry. The lyrics and melody are impossible to resist, which will get the whole crowd singing along.
Hurt, Johnny Cash
Johnny Cash's haunting ballad "Hurt" catches your attention the moment those first guitar notes play. It's the perfect song to listen to while watching the campfire flicker.
Good People, Jack Johnson
Good People is a lesser-known song of Johnson's, but still an excellent summer campfire song.
Free Fallin', Tom Petty
There aren't many people unfamiliar with Petty's famous chorus. You'll have a blast performing it around the campfire and singing along.
Have You Ever Seen The Rain, Creedence Clearwater Revival
Believe it or not, this song is already half a century old. But it's still popular among guitar players for a good reason!
Proud Mary, Creedence Clearwater Revival
Most of the world remembers Tina Turner's dynamic rock version of Proud Mary. But it began as a blues and Gospel-inspired version by Creedence Clearwater Revival.
Chasing Cars, Snow Patrol
Chasing Cars might not be from long ago, but it still makes you want to sing along. "If I lay here, if I just lay here, would you lie with me and just forget the world?"
Hey Joe, Jimi Hendrix
It might be about a man going to shoot his unfaithful wife, but Hey Joe is hard not to enjoy. Every guitar player wants to be like Hendrix!
I Will Follow You Into The Dark, Death Cab For Cutie
With its opening lyrics "Love of mine, someday you will die," I Will Follow You Into The Dark is a bit morbid. But it's also a beautiful song for the guitar and hard not to sing along.
Sittin' On The Dock Of The Bay, Otis Redding
Few songs better capture the lazy feeling of relaxing by the water in the sunshine. If you can pull off that famous whistled chorus, you'll be an instant hit!
Popular Modern Camp Songs
I'm Yours, Jason Mraz
Jason Mraz's song I'm Yours became an instantaneous hit when it dropped in 2008. It's hard to resist those clever lyrics accompanied by acoustic guitar. This modern campfire song might be a challenge, but it's worth it!
Lean On Me, Bill Withers
Lean On Me is a song that gets people singing along. How can you resist joining in on lyrics that are literally about being friends and taking care of one another?
American Pie, Don McLean
Few people are unfamiliar with the classic Don McLean tribute to "the day the music died." It's a song that can instantly get everyone joining in as soon as the chorus drops: "So bye-bye, Miss American Pie…"
Wagon Wheel, Old Crow Medicine Show
Wagon Wheel experienced a resurgence in popularity when it was covered by Darius Rucker, but it's been a favorite ever since it was written. It was composed for banjo but works well on guitar.
Three Little Birds, Bob Marley
No one can resist this classic Marley song. When the guitar beat picks up, the whole group will be singing: "Don't you worry 'bout a thing, 'cause every little thing is gonna be all right…
Margaritavilla, Jimmy Buffet
Jimmy Buffet made a name for himself singing about life on the beach, but Margaritaville is a hit by the fire, too. Buffet's preferred instrument was the guitar, so his songs are easy and fun to learn.
Sweet Home Alabama, Lynyrd Skynyrd
It doesn't matter where you're from — Sweet Home Alabama is hard to resist. This perennial crowd-pleaser is a great fireside song, no matter where you've set up camp.
Brown-Eyed Girl, Van Morrisson
Few songs can get a crowd going like "Brown-Eyed Girl". The moment everyone hears that opening line: "Hey where did we go, days when the rains came", they're bound to start singing along.
Hey Jude, The Beatles
Hey Jude is arguably one of the most famous Beatles songs. No other song can make a chorus with no lyrics sound so good.
Africa, Toto
It may have been nearly 40 years since Toto released their song Africa, but it remains popular to this day. How can you not find yourself singing along to that hypnotic chorus?
Best Campfire Songs
Singing songs around the campfire is surely one of life's great pleasures.
It creates a remarkable atmosphere like none other and allows you to connect with friends and family in a very special way. We hope you enjoy your next camping trip with these songs in your arsenal.
Aternatives to a traditional campfire, for those who want to "leave no trace", include these good smokeless fire pits. They are designed to be transported and then packed away again.
A bought fire pit grill can be better for cooking on compared to a traditional campfire. We often cook on the BioLite FirePit+ and sing along to tunes in our backyard.