What is the best chainsaw winch or "come along"?
Whether you're a logger, a hunter, a homesteader, or whatever, from time to time there's the need to pull heavy items in areas that are less accessible. Whether that's logs, trees, or an animal, one of the most adaptable tools to do this with is a gas-powered chainsaw winch.
These chainsaw winch attachments turn your chainsaw into a load-lifting machine that has a remarkable amount of pull. Some have cable that can pull 4000 lbs, while others can take up to 8000 lbs.
Here are 3 of the best chainsaw winches along with 2 very good alternatives.
Best Chainsaw Winch
Lewis Chainsaw Winch

The best chainsaw winch - made in BC, Canada
Comes with a Universal Adaptor Kit so it works with any chainsaw
Steel gears and shafts, 150 feet of extremely strong aircraft cable

View On Amazon

Holzfforma CSW8000 Chainsaw Winch

An imitation Lewis winch for half the price - made in China
Universal adapter kit for use with almost any chainsaw
150 feet long galvanized aircraft cable, 1/8" or 3/16" for pulling 4000 or 8000 lbs

View On Ebay

Streamline Industrial Winch

A lower weight chainsaw winch with 4000 lb cap
Suitable for use with most large saw models
Comes with 150 Feet of 3/16" cable

View On Amazon
What is a chainsaw winch?
It is a versatile multi-purpose winching device used to haul heavy items using the power of a chainsaw motor. They are most commonly used for retrieving logs, pulling big beasts, home milling operations, and off-road vehicle recovery.
To use a chainsaw winch, the bar and chain are removed from the powerhead, and the powerhead is attached to the winch. The chainsaw winch then needs to be secured to an anchor point, like a tree or vehicle, before you can attach your load to the cable.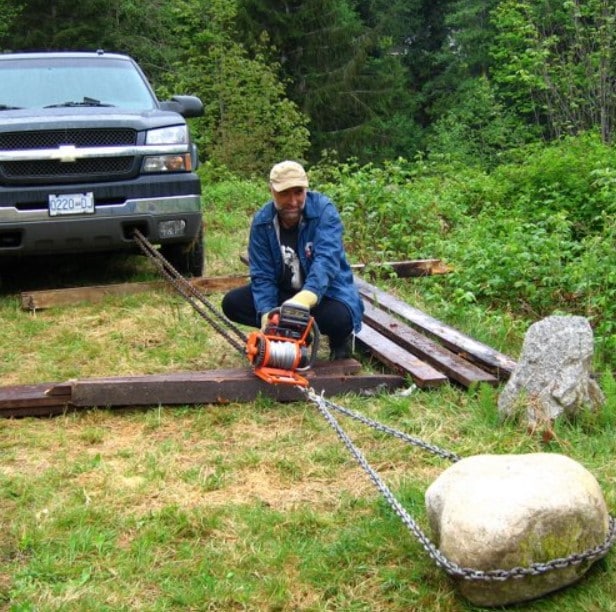 Once you're anchored and your load is secure, you can start the chainsaw engine and begin pulling. Winches are geared down, a bit like the Stihl Jetsaw, so you don't get crazy speeds on retraction.
Chainsaw winches typically pull at a rate of 60 feet per minute, but the actual speed will depend on the size of the load, how far it is from the winch, and the chainsaw model you're using. A Stihl MS880 will pull better than an MS261, for example.
Any decent logging chainsaw could be used with these winches, but you'll need to check the exact specifications of the winch you purchase before buying.
Let's look at the three best chainsaw winches with videos that will help show their capabilities. Also, we'll consider two alternative winches that are popular alternatives to the chainsaw winch style.
1. Lewis Chainsaw Winch 400 MK2 – Best Buy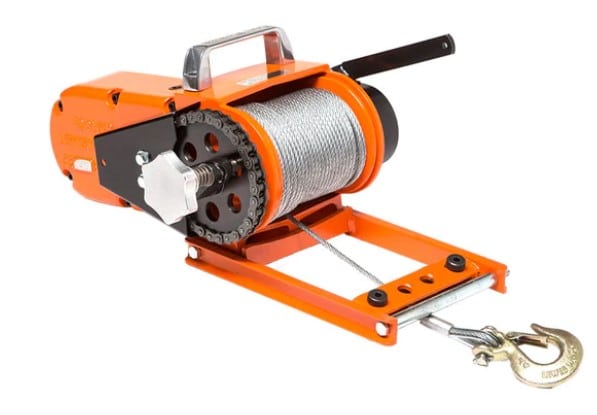 VIEW ON AMAZON →
Made in BC, Canada
Weighs 38 lbs
A variable line speed of 60 to 80 ft per minute
Universal Adaptor Kits to fit almost all chainsaws
150 feet long 3/16″ galvanized aircraft cable with a safety hook
One-year free-replacement warranty from the manufacturer
Made by a Canadian-based chainsaw manufacturer, the Lewis chainsaw winch model 400 is the best, both in our opinion and that of many chainsaw pros.
You can find it for sale here on Amazon or here on eBay (both new and used). However, if you're buying used, keep in mind that the design changed in 2012. The newer version is slightly better than the old one.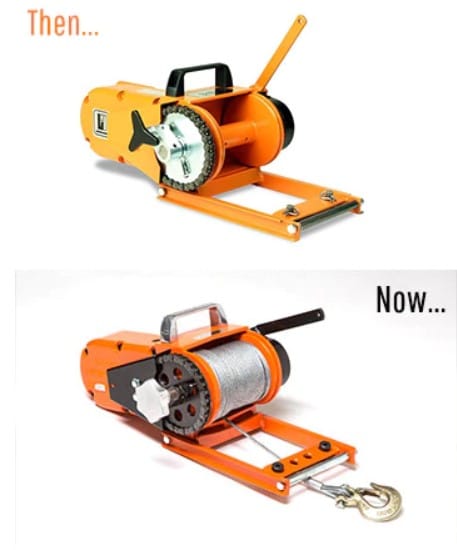 The winch is made of aluminum alloy. It's durable and can withstand harsh conditions and terrains.
It weighs 38 pounds, and you can anchor it in multiple ways. Most people fix it to a tree, vehicle, or boulder with the help of a hitch mount.
For better performance, the manufacturer recommends using the winch with a chainsaw 50cc and above. So, for example, the Husqvarna 460 Rancher would be fine, despite not being a pro chainsaw, but it's not ideal.
A more powerful Stihl chainsaw is what most people opt for; something like the 70cc MS382, 50cc 026, 260, 261, or 76cc MS461. Cheap but powerful chainsaw models like the Holzfforma saws are a really good choice for this type of application, as well.
The winch comes with a 150ft air-craft grade galvanized steel cable that spools at a rate of up to 80 ft per minute, which should be more than fast enough for most people.
Its notable features include:
A pulling capacity of up to 4000 lbs in a straight line
With a snatch block, it can pull up to 8000lbs
150ft long 3/16 inch cable with a hook
Variable speed of 60 to 80ft per minute
Comes with a universal adapter kit that fits all chainsaws
It's made of durable cast aluminum alloy
This winch offers high pulling capacity and transfers great power making it suitable for pulling heavy loads. It also has a direct drive hookup, a feature not found in many winches.
This video from the Zaccheus YouTube Channel shares some of the main downsides of the Lewis Winch. This includes the fact that you have to be very hands-on with the winch and throttling the chainsaw, which can be dodgy if something, like the anchor rope, breaks.
400 MK2 Pros:
Has a universal mounting lit
Lightweight and strong
Made of durable aluminum material
The galvanized steel rope comes with a safety hook
Has an automated brake and clutch system
400 MK2 Cons:
Despite the durable alloy, it also has plastic parts
You'll need to spend more on this model, but it's worth it
2. Holzfforma CSW8000 Portable Chainsaw Winch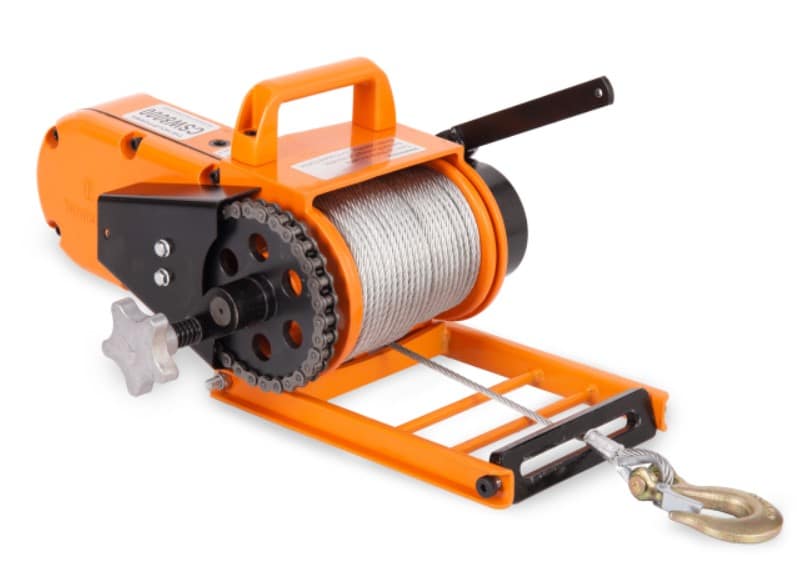 VIEW ON EBAY →
Made in China
Weighs 34 lbs/15.8 kgs
Requires a saw of at least 3 bhp
Works off a 3/8″ pitch chain
Needs at least 5 ounces of gear oil in the gear box at all times
Also good for 4000 – 8000 lbs
Comes with a universal adapter to fit most saws
The Holzfforma CSW8000 is a knock-off of the Lewis Winch (in my opinion).
Just as the Farmertec Holzfforma and Jon Cutter Chainsaws are clones of other brands' saws, the CSW8000 is a clone of the Lewis 400 MK2. This bothers some people, but for those who can't or don't want to afford the real thing, this is an adequate alternative.
Here are some comments about this winch from guys in a Facebook chainsaw group.
Josh said:
I would like to try one. Obviously wouldn't try and pull a train with it but it's fine for light use. Would be great for off-roading or winter with 150 ft. of cable if you didn't have a winch on your vehicle.
Cade said
A good winch aint cheap, a cheap winch ain't good. I wouldn't even wanna work around that thing let alone rely on it.
And Merle said:
The very sad thing for any country is the number of imports vs exports. When either exceeds the opposite there are economic problems in sight.

China copies things, sells cheap, and the quality lacks in many ways. They are getting better but still suffer from this. It's ok to have imports, some cannot afford or don't want to buy the real items. Way of the world and times.
Most guys were against the Holzfforma winch simply because it's a Chinese clone and didn't think it would be up to the same standards as Canadian or American-made winches. US-made cable is generally tested and certified by 3rd party facilities to a much higher level.
Both this and the Lewis Winch can pull 4000 lbs or 8000 lbs with a snatch block. A snatch block is a type of pulley used in various rigging and lifting applications, including winching, towing, and load handling. It is designed to change the direction of a cable or rope, increase the mechanical advantage, or both.
CSW800 Winch Pros:
Much cheaper than the alternatives
Same specs and features as the Lewis Winch at half(ish) the price
May be quicker to buy as there have been delays getting a Lewis Winch
CSW800 Winch Cons:
It's very new to the market and still relatively untested
You're buying something that's a copy
May not be made to the same standards as the Lewis Winch
3. Streamline Industrial Chainsaw Winch
VIEW ON AMAZON →
4000 lbs max load limit
Comes with 150 ft of 3/16″ cable
Also imitates/copies the Lewis Winch (which was the original)
If you are on a budget and want a chainsaw winch, the Streamline Industrial winch was your best option. However, now that the Holzfforma model has come out, that one's even cheaper (usually).
Nevertheless, this one is sturdy, built well, and has features that make it stand out. Although it doesn't work with chainsaws with internal clutches, it's straightforward to maneuver once you get a good grip on its handle.
It has a max load capacity of 4000 pounds, making it easy to haul large logs and games without difficulty, though this is under the 8000 lb limit of the other winches. However, though the listing only states 4000 lbs, it's likely it can do 8000 with a snatch block as well. As it's also a clone of the Lewis Winch, I assume this is the case, but you'll need to double-check the owner's manual.
With a thick hook and thick wire rope, the winch is well-suited for frequent loggers, hunters, and off-roaders. The hook and the wire help wrap the logs and put them at the back of your car. However, they are not ideal for dragging an animal. You can adapt other types of lines for this.
Pros:
Has a durable hook for securing the load
Comes with a durable casing
Has a thick grip for easy control
Cons:
It's not the real Lewis Winch
May have a lower weight limit
4. Portable Winch With Honda GHX-50 Engine
VIEW ON AMAZON →
This winch, powered by a Honda GHX-50 engine, is a good alternative if you don't want to use a chainsaw powerhead.
The Portable Winch has a robust design, and it's said that once you understand how to use it properly, it's excellent. One guy in the Amazon reviews shared, "once you understand the physics of it and all the forces at play, once you understand how to redirect and make 2-1 3-1 or even 5-1 systems, this thing is a beast."
This model applies the capstan winch concept that allows you to pull an endless rope length without losing power. This is opposed to the chainsaw winches above which spool the cable around a drum.
The capstan drums are interchangeable, and hence the PCW-5000 winch can offer two-speed options, allowing you to choose the one that matches your needs.
The standard drum has a 2 ¼ inch diameter and delivers maximum power at a speed of 40ft per minute. The PCA-1100 3 ¾ inch drum gives you 50% more speed or 60ft per minute.
This chainsaw winch has a load capacity of 2200 lb without any mechanical advantage. However, adding a complementary accessory such as a pulley can give you up to 5X more pulling force.
With a load capacity of 2200lb, you can use the Honda GHX-50 engine for various applications, including forestry, hunting, farming, and rescue.
Pros:
Lightweight and portable
Doesn't require a $500+ powerhead
Constant pulling power capstan design
Cons:
Only to be used with the one type of rope that Portable Winch Company sells
Some feel it is a bit underpowered
5. BADLAND APEX 12,000 lb Winch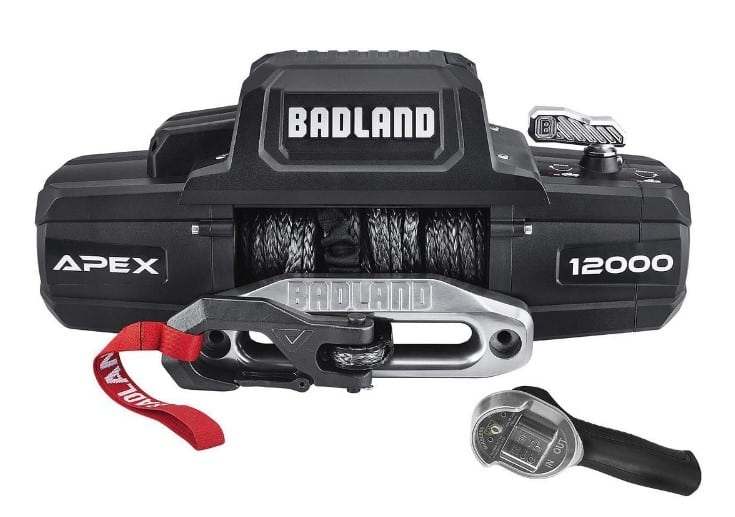 ON HARBOR FREIGHT →
Lastly, the Badland 12,000 lb winch is another good alternative to a chainsaw winch.
A lot of guys buy it from Harbor Freight where it's sometimes cheaper, but it's also for sale on Amazon. Compared to the price of the Lewis Winch, this is a good bit cheaper.
Harbor Freight describes this winch as such:
BADLAND APEX™ is built for the most extreme conditions. Featuring a wireless remote, 80 ft. of UHMW synthetic rope, and an oversized forged alloy steel hook, count on BADLAND APEX™ to get you through the harshest terrain.
It has almost 1000 5-star reviews and is considered to be VERY good for the price.
This winch is designed to be attached to the front of a suitable vehicle rather than with a chainsaw or other hitch/anchor point. It has a ton of great features like remote operation, a strong motor that optimizes operation while keeping cool, and it's waterproof.
If you think it might be a good alternative to a chainsaw winch that might work on your vehicle, it's definitely worth checking out.
---
Used Chainsaw Winch For Sale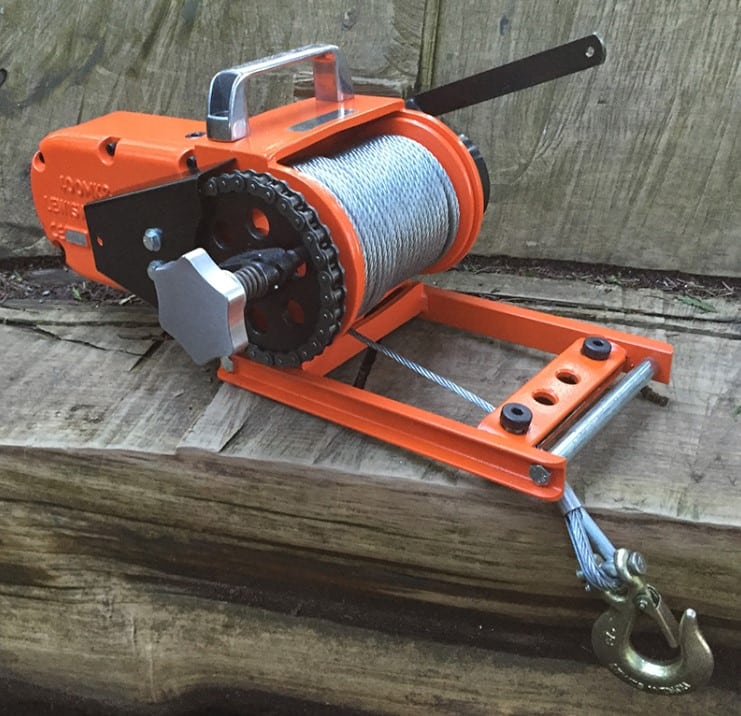 eBay offers a variety of chainsaw winches here, both new and used, such as the Lewis winch pictured above. However, remember that there are different versions of the Lewis, with the latest being the best.
Here, you can choose equipment from any of the most successful chainsaw manufacturing brands. You can discover relatively unknown winches on the site, some of which might be compatible with your chainsaw.
When on the site, make sure you check out the features of each winch to determine whether it's compatible with your machine.
The variety of options is advantageous as you can purchase a winch that matches your budget. In addition, you get to compare different customer reviews to help you make an informed decision.
Always inspect the winch for damage carefully before use in order to avoid an accident. Some of our tips for buying used chainsaws will come in handy for grabbing the best deal.
Chainsaw Winch FAQs
The chainsaw used in this video is the Husqvarna 455 Rancher.
How Does a Chainsaw Winch Work?
A winch works by transforming the high revs of a chainsaw engine into low-speed pulling torque.
The winch is attached to the external clutch of the powerhead (sometimes an adapter is required).
How Much Can a "Chainsaw Come Along" Pull?
The pulling capacity of each chainsaw winch depends on the size of the saw you're using for power.
If you require more power than specified by the manufacturer of your chainsaw winch, you can double the capacity using a snatch block.
What Is a Conversion Kit?
A chainsaw winch conversion kit is used to turn any chainsaw into an adapter kit by replacing the sprocket on the chainsaw with the adaptor that comes with the winch.
When done, the chainsaw output shaft drives the input shaft of the winch.
Are Chainsaw Winches Really Worth It?
Chainsaw winches are very useful for hunters and loggers as they are robust and can withstand extreme loads during your daily activities.
In addition to hauling logs and games, you can also use a winch to pull small to medium-sized vehicles such as SUVs, UTVs, and ATVs.
What Power Chainsaw Do You Need to Use with a Chainsaw Winch?
The engine size you need to use with a chainsaw winch depends on the load capacity you require.
For instance, a general-duty chainsaw with a 5-6 horsepower engine can pull a capacity of up to 6000 lbs in a straight line.
Is there a Stihl chainsaw winch?
Stihl doesn't manufacture their own winch for use with Stihl chainsaws, but you can certainly use a Stihl chainsaw with most chainsaw winch attachments.
Is there an ECHO chainsaw winch?
The ECHO CS3000 is often used with the Rule G1800E chainsaw winch.
It can pull 1800 lbs on a single line and comes with a 75 ft cable.
Gas Powered Chainsaw Winch
The chainsaw winch market doesn't have a lot of reliable and high-quality chainsaw winches other than the above three.
However, the Lewis Chainsaw Winch Model 400 takes the cake as it can withstand heavy loads pulling from any direction.
The Holzfforma CSW8000 takes second place because it offers the same features at a much lower price. However, it may not be as well built as the Canadian-made Lewis.
In addition, these chainsaw winches are highly portable, making them suitable for any challenging task you may encounter. And if you ever get stuck on the off-road at night, you can use the winch to try to haul yourself out.
Let us know your thoughts on these chainsaw winches and check out the SawHaul Chainsaw Scabbard as a solution for how to safely carry your chainsaw through the woods!