What is the best chainsaw winch or come along?
Whether you're a logger or a hunter, you'll be deep in the forest from time to time doing what you do best.
From time to time there's the need to pull heavy items, whether that's wood or an animal, and one of the most adaptable tools to do it with is a gas-powered chainsaw winch.
These chainsaw winch attachments turn your saw into a load-lifting machine that has a remarkable amount of pull.
What Is A Chainsaw Winch?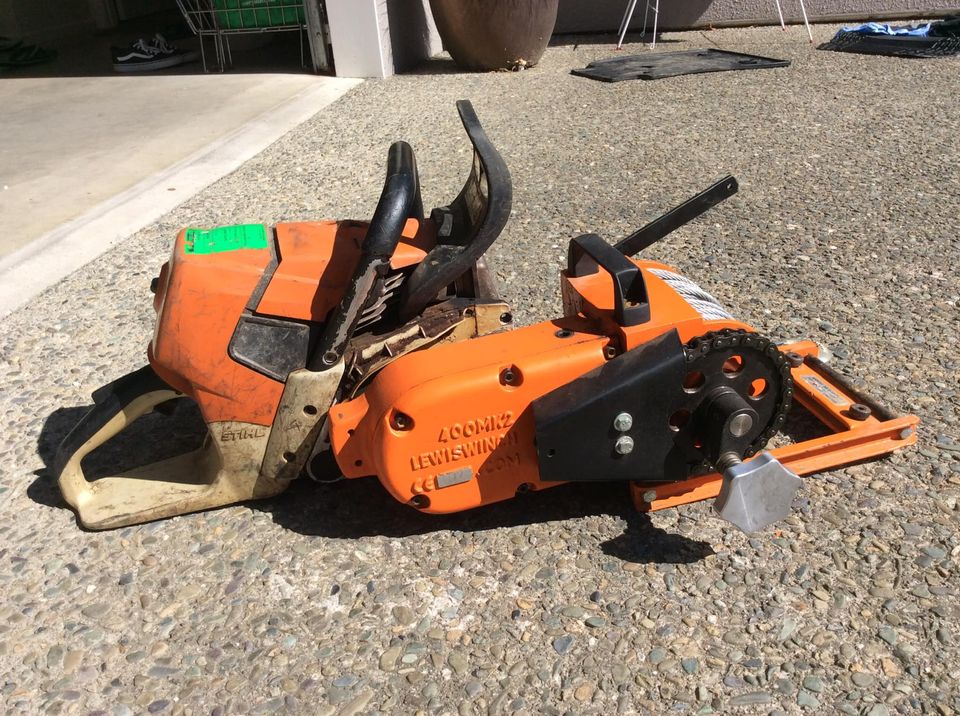 The chainsaw winch is a versatile multi-purpose winching device used to haul heavy items by powering with a chainsaw motor.
You remove the chainsaw bar and chain (which probably goes without saying) and use your chainsaw powerhead.
It features a long cable that's wrapped several times around a drum. It has a sturdy but lightweight design, making it easy to carry on the boot of any car.
Some winches are designed for the vehicle's front bumper to hold it in place, while others are fixed to the frame.

If you want to increase the unit's safety, you can use special adapters to secure the chainsaw winch to the bed of your truck.
Some adapters fit the trailer hitch, while others work well by securing the unit to a rock.
By using the adapters, you prevent the winch from moving while in use. Adapters, therefore, ensure your safety as well as the preservation of the saw and whatever you're hauling.
Any decent logging chainsaw could be used with these winches, but you'll need to check the exact specs before buying to be sure.
Below, we look at the three best chainsaw winches, and we've got some videos that help make sense of things as well!
1. Streamline Industrial Chainsaw Winch – Cheapest Option
VIEW ON AMAZON →
If you are on a budget, want a winch, and have a chainsaw with an external clutch, the Streamline Industrial winch is your best option.
It is sturdy and has excellent construction, features that make it stand out. Although it doesn't work with internal clutches, it's straightforward to maneuver once you get a good grip of its handle.
The Streamline Industrial winch is one of the heaviest-duty equipment in the market and comes with a long thick wire rope for pulling all types of loads.
In addition, it has a load capacity of 4000 pounds, making it easy to haul large logs and games without difficulty.
With a thick hook and thick wire rope, the winch is best suitable for frequent loggers.
The hook and the wire help wrap the logs and put them at the back of your car. However, they are not ideal for dragging an animal.
The product guarantees top-quality features and functionality. In addition, it two can withstand 4000 pounds, making it the best option when you want to lift and drag super heavy loads.
Pros:
Has a durable hook for securing the load
Comes with a durable casing
Has a thick grip for easy control
The cable is decently thick
Cons:
Works on exterior clutches only
It's not very well balanced
---
2. Lewis Chainsaw Winch 400 MK2 – Best Buy
VIEW ON AMAZON →
Made by a Canadian-based chainsaw manufacturer, the Lewis chainsaw winch model 400 is the best, in our opinion.
You can find it for sale:
The winch is made of aluminum alloy, durable, and can withstand the harshest conditions and terrains.
It weighs 38 pounds, and you can anchor it anywhere as long as you use the ground as your anchor. Besides that, you can fix it on a tree or your truck with the help of a hitch mount.
For better performance, the manufacturer recommends using the winch with a chainsaw 50cc and above. So, for example, the Husqvarna 460 Rancher would be fine, despite not being a pro chainsaw.
Cheap but powerful models like the Holzfforma chainsaws are a really good choice for this type of application.
With the strength and the right chains, this winch is suitable for hauling large carcasses or logs. In addition, this chainsaw winch depends on a gas-driven chainsaw instead of the power from your car battery.
The winch comes with a 150ft air-craft grade galvanized steel cable that spools at a rate of up to 80 ft per minute.
Its notable features include:
A pulling capacity of up to 4000lbs in a straight line
With a snatch block, it can pull up to 8000lbs
150ft long 3/16 inch cable with a hook
Variable speed of 60 to 80ft per minute
Comes with a universal adapter kit that fits all chainsaws
It's made of durable cast-aluminum alloy
This winch offers high pulling capacity and transfers great power making it suitable for pulling heavy loads.
It also has a direct drive hookup, a feature not found in many winches.
Pros:
Has a universal mounting lit
Lightweight and strong
Made of durable aluminum material
Speed of up to 80-feet per minute in a straight line
The galvanized steel rope comes with a safety hook
Has automated brake and clutch system
Cons:
Despite the durable alloy, it also has plastic parts
It's a bit pricey
---
3. Honda Chainsaw Winch – Easiest To Use
VIEW ON AMAZON →
The Honda GHX-50 gas-powered winch, is a good alternative if you're looking for a powerful gas-powered chainsaw winch.
This option has a robust design, making it high-quality and durable equipment that offers durable power without compromise.
In addition, when you mount the Honda GHX-50 engine, the winch turns into an industrial-grade machine that will perform for hours.
It applies the capstan winch concept that allows you to pull an endless rope length without losing power.
The capstan drums are interchangeable, and hence the PCW-5000 winch can offer two-speed options, allowing you to choose the one that matches your needs.
The standard drum has a 2 ¼ inch diameter and delivers maximum power at a speed of 40ft per minute. The PCA-1100 3 ¾ inch drum gives you 50% more speed or 60ft per minute.
This chainsaw winch has a load capacity of 2200 lb without any mechanical advantage. However, adding a complementary accessory such as a pulley can give you up to 5X more pulling force.
With a load capacity of 2200lb, you can use the Honda GHX-50 engine for various applications, including forestry, hunting, farming, and rescue.
Pros:
Lightweight
Portable
Constant pulling power
Capstan design allows you to use limited rope length
Cons:
It uses only one type of rope that Portable Winch Company sells
---
Used Chainsaw Winch For Sale
eBay offers a variety of chainsaw winches here, both new and used, such as the Lewis winch pictured above.
Here, you can choose equipment from any of the most successful chainsaw manufacturing brands. You can discover relatively unknown winches on the site, some of which might be compatible with your chainsaw.
When on the site, make sure you check out the features of each winch to determine whether it's compatible with your machine.
The variety of options is advantageous as you can purchase a winch that matches your budget. In addition, you get to compare different customer reviews to help you make an informed decision.
Chainsaw Winch FAQs
The chainsaw used in this video is the Husqvarna 455 Rancher.
How Does a Chainsaw Winch Work?
A winch works by transforming the high revolutions per minute of a chainsaw engine into a low-speed torque.
This makes the winch powerful to work as the transmission on your car.
How Much Can a Chainsaw Come Along Pull?
The pulling capacity of each chainsaw winch depends on the size of the saw you're using for power.
If you require more power than specified by the manufacturer of your chainsaw winch, you can double the capacity using a snatch block.
What Is a Conversion Kit?
A chainsaw winch conversion kit is used to turn any chainsaw into an adapter kit by replacing the sprocket on the chainsaw with the adaptor that comes with the winch.
When done, the chainsaw output shaft drives the input shaft of the winch.
Are Chainsaw Winches Really Worth It?
Chainsaw winches are very useful for hunters and loggers as they are robust and can withstand extreme loads during your daily activities.
In addition to hauling logs and games, you can also use a winch to pull small to medium-sized vehicles such as SUVs, UTVs, and ATVs.
What Power Chainsaw Do You Need to Use with a Chainsaw Winch?
The engine size you need to use with a chainsaw winch depends on the load capacity you require.
For instance, a general-duty chainsaw with a 5-6 horsepower engine can pull a capacity of up to 6000 lbs in a straight line.
Is there a Stihl chainsaw winch?
Stihl doesn't manufacture their own winch for use with Stihl chainsaws, but you can certainly use a Stihl chainsaw with most chainsaw winch attachments.
Is there an ECHO chainsaw winch?
The ECHO CS3000 is often used with the Rule G1800E chainsaw winch.
It can pull 1800 lbs on a single line and comes with a 75 ft cable.
Gas Powered Chainsaw Winch
The chainsaw winch market doesn't have a lot of reliable and high-quality chainsaw winches other than the above three.
However, the Lewis Chainsaw Winch Model 400 takes the cake as it can withstand heavy loads pulling from any direction.
The Honda GHX-50 takes second place due to its capstan design that enhances the winch's flexibility and practicality.
The above three inches are strong and can help you pull high-capacity loads in your hunting or logging activities.
In addition, these chainsaw winches are highly portable, making them suitable for any challenging task you may encounter. And if you ever get stuck on the off-road at night, you can use the winch to try to haul yourself out.
Once you've got trees dropped and moved, consider grinding out the stump for a tidy finish!