Gone are the days of a hastily assembled brick circle with some kindling and logs in the middle.
Today's fire pits are beautiful centerpieces that add beauty and function to outdoor entertainment areas. Cast concrete and stone have emerged as the leading materials for these modern fire pits.
A cast concrete fire pit is any vessel that's made by pouring concrete into a mold and allowing it to cure before removing it from the mold. The material takes on the shape of the mold, allowing manufacturers to produce beautiful geometric shapes for a modern look.
A popular alternative to cast concrete is cast stone, also called reconstructed stone.
Fake stone fire pits are made by blending pieces of rock (such as granite, limestone, quartz, or marble) with concrete, colors, and fillers and adding the materials to a mold, similar to cast concrete. The resulting product offers the look and finish of genuine stone.
Cast Concrete Fire Pit Pros and Cons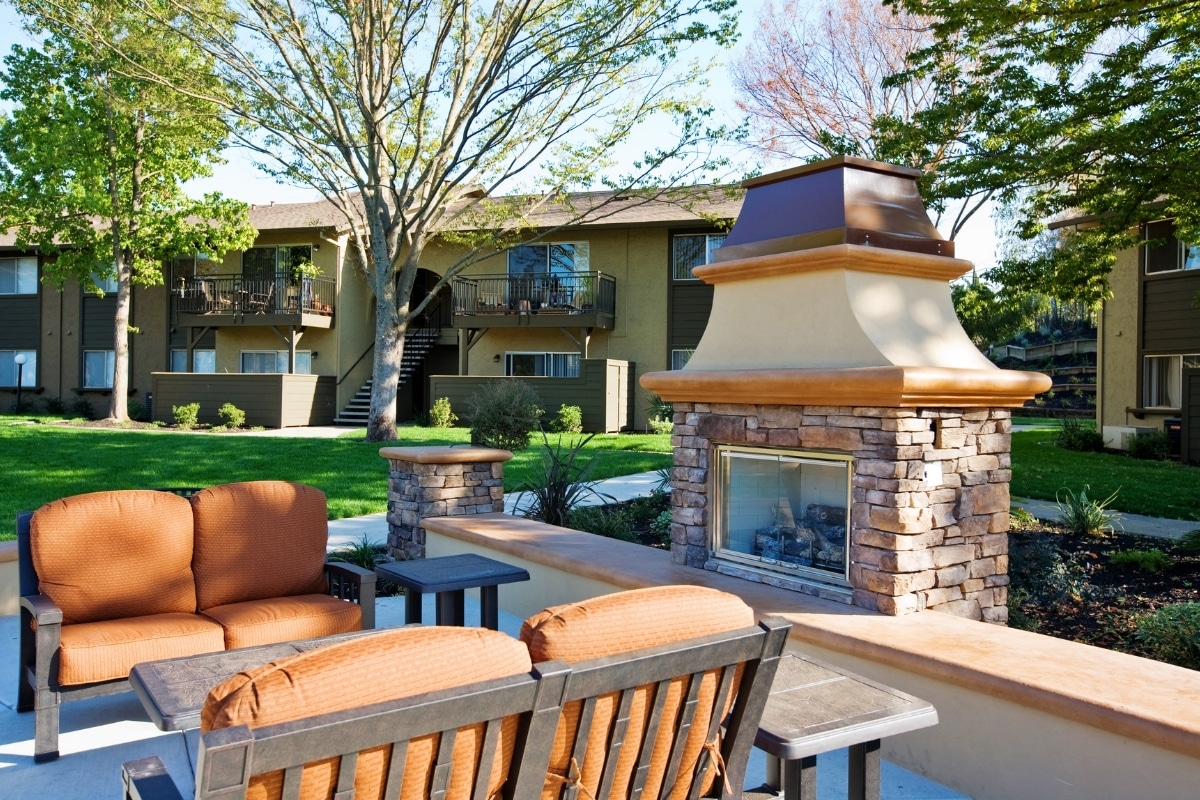 A poured concrete fire pit has some inherent pros and cons that you'll want to familiarize yourself with before deciding if this fire pit style is best for you.
There are several benefits associated with cast concrete or stone fire pits.
The most obvious benefit of concrete fire pits is they're inherently beautiful and add architectural flair to even the most pedestrian of backyard entertainment areas.
Cast concrete and stone pits are available in various shapes and design styles to complement any setting.
Cast concrete and stone fire pits are also low maintenance. Once you select the location for the fire pit and move it into place, there's virtually nothing else you need to do to keep it looking and performing at its best.
These fire pits also provide versatile fuel sources. Some models allow you to create a fire using wood, while others are powered by propane or natural gas. These fuel sources further add to the convenience of a cast concrete or stone fire pit.
The final benefit of a cast stone or concrete fire pit is that they eliminate all the labor you'd need to complete to build yourself a cement block fire pit or something similar.
Instead of digging a hole, reinforcing it, and creating a fire-safe environment, you can drop a cast fire pit anywhere in your yard and begin enjoying it immediately.
On the contrary, there are some downsides to a cast concrete or stone fire pit. Purchasing a faux-stone or concrete fire pit is significantly more expensive than building a fire pit yourself or opting for a cast iron fire pit or pot belly stove.
While cast concrete and stone are relatively durable, there's also a chance for the fire pit to crack or even break apart entirely.
In more temperate environments or households that have indoor storage for their fire pit for the winter, this is practically a non-issue. But, in cold climates, it can crack or break over time.
Cast Concrete Fire Pit Examples
The easiest way to get acquainted with cast concrete and stone fire pits is to check out some of the most popular models on the market.
The fire pits below represent some of the best examples of the beauty and functionality of cast concrete fire pits.
1. Elementi Lunar Bowl Cast Concrete Fire Pit
Elementi produces some of the most beautiful modern and contemporary cast concrete and stone fire pits.
The Lunar model, a bowl-shaped fire pit accented with lava rocks, is one of their most popular models, and it's easy to see why.
The Lunar offers a streamlined contemporary look that will look beautiful in any backyard entertainment area. The unit is made from durable cast concrete and features a stainless steel burner that accepts either propane gas or natural gas, depending on your chosen fuel source. A conversion kit also allows you to switch between fuel sources.
An electric ignition ensures the Lunar fire bowl starts up instantly each time, and there's an automatic shut-off feature to keep you safe if you forget to shut the unit off. The Lunar throws off 45,000 BTUs to keep you warm on even the coldest nights.
This concrete bowl is reinforced with fiberglass, which is widely considered the best concrete for fire pit builds. The fiberglass makes it more durable and resistant to cracking, especially in colder climates.
2. Sunnydaze Cast Stone Fire Pit
This cast stone fire pit from Sunnydaze represents an excellent option for homeowners who want a beautiful cast stone fire pit but aren't looking to spend over $1,000 to add one to their backyard.
This model is made from fiberglass-reinforced MGO, a lightweight cast concrete product that offers the beautiful look of natural stone at a price significantly lower than most cast concrete or stone fire pits.
This model is powered by liquified propane gas, and it features a 10" stainless steel burner and an electronic ignition that starts up quickly. A durable polyester cover is also included to protect the unit when it's not in use.
While cast firepits made from MGO aren't as heavy-duty or durable as those made from cast concrete or cast stone, many homeowners will be willing to trade off some durability in favor of the cost savings a cast MGO fire pit offers.
We have a Sunnydaze cast iron fire pit and have been very pleased with it.
3. Teamson Home Concrete Round Charcoal and Wood Burning Fire Pit
This faux stone fire pit from Teamson is another excellent option for people looking for an inexpensive fire pit that offers the beauty of natural stone.
This model features a lightweight concrete outer shell with a cast iron inner bowl for building a fire. Unlike the Sunnydaze and Elementi models, this fire pit isn't powered by a fuel source.
Instead, users make a traditional wood or coal fire inside the inner bowl. A domed spark screen is included to prevent hot embers from exiting the fire pit.
While this fire pit lacks the convenience of a gas or propane fire pit, it's an ideal option for people who enjoy building a fire from scratch.
While it isn't as durable as cast concrete fire pits from brands like Elementi or Prism Hardscapes, it should still provide you with several years of enjoyment at a price that's tough to beat.
Cast Concrete And Stone FAQs
When learning about different fire pit options, most people have a few related questions.
We've answered them below to help you find everything you need in one convenient place.
Is cast stone real stone?
Technically, cast stone is natural stone.
Most of a piece of cast stone consists of tiny pieces of natural stone, such as granite, quartz, marble, or limestone. Additional additives, such as concrete, coloring, and bonding agents, make up the balance of a piece of cast stone.
The main factor that separates the two is those genuine stone fixtures are made by carving and cutting a large piece of solid stone, while cast stone is made of tiny pieces of solid stone held together with bonding agents.
Are cast concrete and stone good for fire pits?
Yes, cast concrete and stone represent excellent choices as fire pit materials.
These materials offer a beautiful contemporary or modern look that adds to any environment, they're durable and relatively inexpensive.
Cast concrete and stone are more versatile than other fire pit materials, as these models come in a wide array of different fuel sources, ranging from wood to natural gas and propane.
Can cast concrete crack?
Yes, cast concrete can crack.
When properly cured, cast concrete strength is typically enough to resist cracking, chipping, and signs of wear for many years. In areas where winters are frigid, cast concrete is more likely to break.
You can prolong the lifespan of your cast concrete fire pit by storing it in a shed or other weather-resistant structure.
Are cast concrete and cement block fire pits the same thing?
No, cast concrete and cement block or real stone fire pits are not the same things.
Cast concrete fire pits are made by pouring concrete into a mold and removing it from the mold once it's dry. Cement block fire pits are made using construction masonry units stacked on top of each other to contain the fire.
Cement block pits are cheaper to build but don't offer the aesthetic benefits or versatility that a cast concrete pit would provide.
Are cast concrete fire pits hard to move?
Cast concrete fire pits can be challenging to move depending on the size and shape of the pit.
Bowl-shaped fire pits are the lightest and easiest to grab hold of, and it's usually possible for one person to move a bowl-shaped pit, depending on its diameter.
Most rectangular or geometric fire pits weigh several hundred pounds and require two or more people to move.
Is Cast Concrete Good?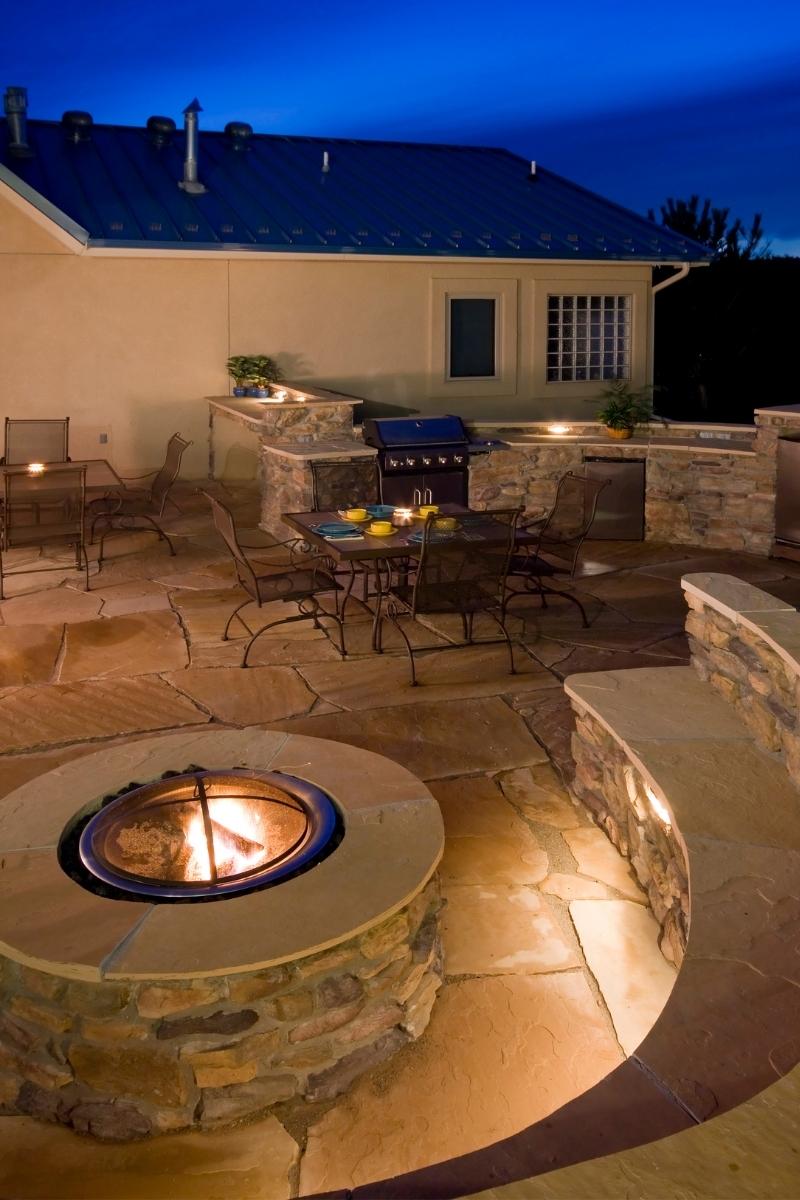 When it comes to concrete for fire pits, cast concrete and cast stone represent the best-looking, most versatile, and most durable options for homeowners looking to beautify their outdoor living situation.
In addition to being visually attractive and durable, cast concrete fire pits are available in the broadest range of styles and shapes, which ensures that you'll have no trouble finding a suitable cast concrete fire pit regardless of your home's style.
Lastly, cast concrete fire pits are different from cast iron fire pits. It's the same process but with different materials.