STIHL is branching out. The company is entering the women's hair care market with a blow waver for women.
Just like Husqvarna, who have had divisions making everything from chainsaws and motorbikes to sewing machines and weaponry (see our Husqvarna logo article for more), they are adapting, this time in an attempt to grow their female customer base.
With this new blow waver, they'll be competing against top brands like Dyson, ghd, BaBylissPRO, and T3. And we think they might just succeed with the STIHL BGA 700 F. They have already released the STIHL Shave Set for men in the grooming category, but a blow waver is another thing altogether.
Here is the video released by STIHL Australia, prior to the product's Mother's Day release date.
STIHL Blow Waver
View this post on Instagram

On Instagram, they shared:
COMING SOON:

Introducing the new BGA 700 F Battery Blow Waver by STIHL.

Featuring two speed settings, cool shot function and symmetrical trigger lockout for easy handling, it's the perfect gift for legendary mums.
There was plenty of interest right off the bat.
Comments on the socials included:
I tagged my wife and she asked can we get one
This would be one hell of a hair dryer!!
I'm interested 🙂
Hahaha this is epic, should get one for the Mrs as a business expense.
And someone else tagged their partner and said, "I get you one of these you can get me a 088? Deal Ok deal."
For those who aren't in the know, a blow waver is different from a blow dryer, though they are both hair styling tools.
Blow Dryer (Hair Dryer): This is a device used primarily to dry wet hair. It emits warm air (and often cooler air with a "cool shot" button) to expedite the drying process. Many people use a blow dryer in conjunction with a brush to style their hair as it dries.
Blow Waver: This term isn't as commonly used, but when it is, it generally refers to tools that create waves or curls in the hair using heat. It might be referring to a specific type of curling iron or wand designed to create beachy waves. In some contexts, a "blow waver" might refer to a heated brush that can both dry and style the hair, creating a wavy look as it dries.
So there you go.
STIHL BGA 700 F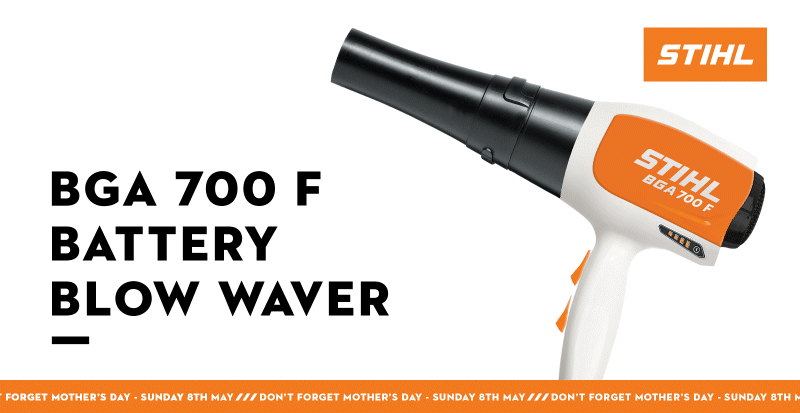 And if you hadn't yet realized, to the disappointment of many, the BGA 700 F is yet another Stihl April Fool's joke.
Just like the Stihl Dual Bar Chainsaw or the Stihl gas-powered coffee machine, it doesn't exist.
Stihl shared a link to a page that said:
The joke is blown!

Ha! Unfortunately, you've fallen victim to April Fools. STIHL are sticking to quality outdoor power equipment… for now.

That's not to say mum won't love our range of German-engineered battery blowers, trimmers, garden pruners and more. Reserve online, then Click & Collect from your local STIHL dealer. For real!
Comments included:
I'm genuinely devastated this is fake HAHAHA
Had me for a moment. It was a weird moment.
Wish it were true!
Yep had me hook line and sinker!!!
Did they trick you too?
If you liked the idea of this product, you'll love the thought of Stihl's Bonsai Chainsaw or their JK3 Smart Glasses!