If you need to grind stumps over uneven terrain, the DK2 power stump grinder's design can accommodate that.
This gas-powered grinder can grind old and deep stumps at high speed, and the company claims that its design makes it more durable than its competitors.
It is an adjustable grinder that can handle stumps as high as 12 in above and 9 in below ground. Safety is built-in, as this tool comes with a drop stand for storage, safety goggles, and ear protection.
The DK2 Stump Grinding Machine
As with anything, the more you spend the more you're going to get.
The DK2 Stump Grinder isn't the cheapest machine, nor is it a top-of-the-line model (check out the Baretto Commercial Stump Grinder to compare).
Landscapers, tree care professionals, and homeowners alike may be interested in buying the DK2 Power Stump Grinder. However, before taking the plunge, there are a few things to consider.
The Price
The best stump grinders are pricey. You should be sure that you have enough stumps to grind before making such an investment.
If you do have plenty of upcoming work, especially with moderately sized stumps, this price is definitely reasonable.
The machine also comes with various safety features such as dual lock brakes, work gloves, safety glasses, and earplugs. If you find that this has problems after purchase, you can always use the limited warranty for up to three years.
Age and Size of Your Stumps
The DK2 grinder is great for grinding old and wide stumps.
Some grinders may be too thin to cover the width this machine can. With the DK2, you can grind up those older stumps quickly.
Depth of Your Typical Stumps
The depth of the grind is also a factor in choosing a machine.
You must consider whether your pesky stump is only a small portion below the ground or if it reaches deep down.
For those deep stumps, the DK2 power stump grinder may be the perfect tool. It has an adjustable handle that can go inches above and inches below ground.
In other words, if you consistently cut deep stumps, this machine is a good pick.
Tree Species
If you mostly have to grind pine or cedar stumps, you will mostly be dealing with softwood.
A smaller and cheaper machine should be able to handle that type of wood. The DK2 is built for those tougher stumps.
More stump grinder questions are answered here.
Specifications
The DK2 power stump grinder has the following specifications for you to consider before you purchase:
KOHLER Command PRO 14HP (429cc) commercial gas engine (CH440)
EU Stage V, EPA Phase III, CARB Phase III Emissions compliance
Key shut off
Removable tow bar
14 HP horsepower
Adjustable bow handle
Free set of 9 Carbide steel teeth
2×2 frame
1-year warranty on steel chassis
Carbide tipped steel cutters
3-year warranty on the engine
Easy drop stand
Solid bar lift handles
Oversized ATV tires
Double locking hitch pins
These really are some nice features that make using the DK2 Grinder an easier and more comfortable experience.
DK2 Grinder Features And Benefits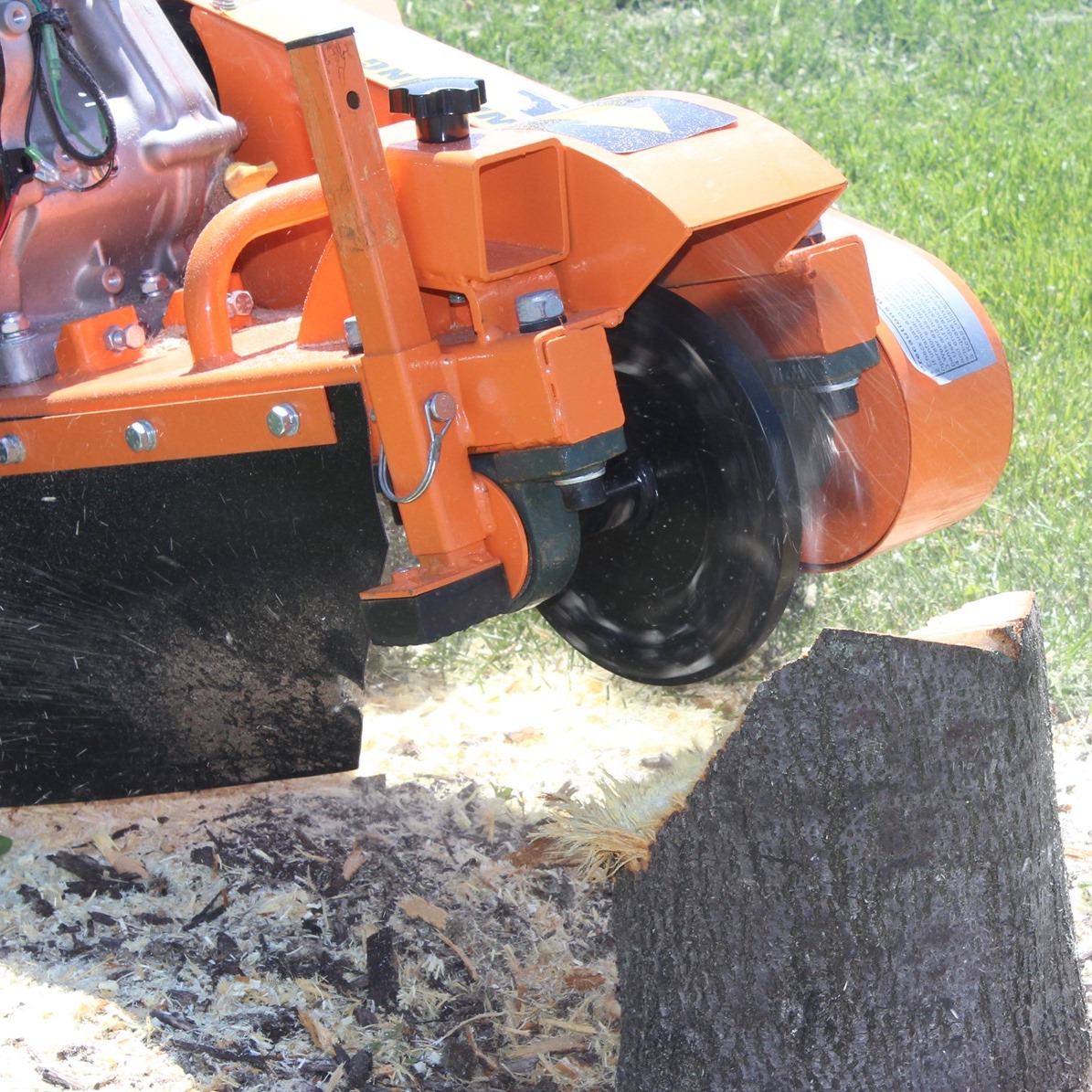 This particular stump grinder is large enough to cover a lot of ground.
Luckily, the tow bar provides easier portability over rough terrain. The oversized ATV tires and dual locking hitch pins (for fast braking) make this large grinder easier to move over a vast amount of ground surface.
Large newly cut tree stumps may be a challenge to grind. If you need to cut wide stubborn stumps, the 12-inch carbide teeth high speed 3600 rpm cutting wheel should do the job.
Landscapers and homeowners will have to deal with stumps of various depths. This machine is useful for both deep ground and above-ground cutting.
The adjustable bow handle can adjust to grind stumps that are 12 in above ground or as much as 9 in below ground. This is a handy feature because you can use the same stump grinder for various types of jobs.
DK2 Power Stump Grinder Price
Be prepared to dig into your budget for this high-powered product.
No stump grinder is cheap, but this one is cheaper than many. It's a good price for what you're getting.
Compare prices here:
Now, you may not want to invest that much money if you only have to remove a couple of stumps a year.
On the other hand, professionals can avoid buying different types of stump grinders and pay more money to utilize the different features within the DK2 stump grinder.
You'll also find this grinder alongside the Tractor Supply wood splitter range.
DK2 Stump Grinder Review
When you purchase a DK2 stump grinder, you will have a large, adjustable, and portable machine at your fingertips.
Based on the specifications, this grinder is ideal for moving over hilly, rough terrain. You can quickly grind large wide stumps of various depths.
It appears to be a good choice for landscaping professionals who must manage several different types of stumps.
However, it may be a waste of money for homeowners or professionals that only grind small stumps within a confined area. You may not want a grinder this big or heavy for small acres of land or just your backyard.
Keep this in mind if you only have to cover a small amount of ground, as you can rent these units from Home Depot and other hardware stores.
Several reviewers who use a grinder over hilly terrain praise the ease of use and portability of this product.
Some people may be cautious about polluting the environment by using a gas-operated vehicle. Rest assured that this product has EU Stage V, EPA Phase III, CARB Phase III emissions compliance.
While this grinder is a powerful machine, users should be aware of extra care regarding the belts and bolts.
One flaw of the DK2 stump grinder involves the belts and bolts around the cutters. The bolts may become loose at times and need tightening between grinding jobs.
Pros:
Helpful guides to get started
Good support
A well-known brand
An effective machine
Parts are reasonably easy to find
Affordable
Cons:
Bolts have a tendency to come loose during operation
Not a super high spec machine
DK2 Stump Grinder Alternatives

The DK2 stump grinder is not the only stump-destroying product in town.
Feel free to check out other options, like a Home Depot stump grinder.
Here are three top alternatives to get you started!
1. Kohler Gas Powered Stump Grinder
Do you want a grinder that is similar in price to the DK2 and also runs on gas?
This Home Depot stump grinder uses a key to switch on. However, unlike the DK2, it has an electric start and an hour meter to measure your time.
This 11-inch commercial Kohler stump grinder could be a great alternative to the DK2. An added plus is that it comes with an extra set of teeth, tow bar, electric start.
2. Husqvarna SG13 Stump Grinder
At $4,899, the Husqvarna is double the price of the DK2 Stump grinder.
You can grind small to medium size stumps with the reliable Honda gas-powered engine.
Like the DK2 stump grinder, it also features an adjustable handle for better portability and deeper digging.
3. Generac Pro Stump Grinder
The final alternative is this Generac gas-powered grinder with a detachable tow bar.
This grinder is lighter than a DK2 and can grind any stump size.
Generac also owns the popular Dr Stump Grinder brand.
DK2 Stump Grinder
The DK2 Stump Grinder is a very powerful and portable grinder that is best for grinding several stumps or larger stumps.
If you are merely grinding a few tree stumps a year in your backyard, or over a flat small landscape, you may be better off using a smaller tool like a chainsaw attachment.
Regarding price, if you need a grinding tool of this size, the price is quite economical and compatible with other products. In some cases, it is cheaper than similar more powerful tools.
If you need a solid stump grinder that can help you remove dozens of stubborn stumps, the DK2 is a fantastic option.
Once you have got those stumps removed, here's how to get the grass to grow again.