Is there such a thing as a Stihl 096?
There are rumors that it's out there, but no evidence – no pictures, just the mention that it's out there somewhere.
After spending a couple of hours trying to find out anything about it, I don't think it exists. I'm happy to be proven wrong, but here's why I think that…
UPDATE 04/27: I may have been wrong. This could be photographic evidence of a Stihl 096. Skip to the update here.
Evidence For The Stihl 096 On Google
To start with, there are very few mentions of the Stihl 096 online.
Google search results only bring up literally three mentions of it:
And the third is an auto-generating question site with no info (answers.com)
The first mention, on My Tractor Forum, states:
I know a man that has a Stihl .096 G/D model—Two cylinder, gear reduction, with a compression release on top…
No wonder his employees never want to take it on a job….
That's all, there's no follow-up, and nothing else.
Arborist Site has a longer thread.
A few guys are looking at putting together a list of all Stihl chainsaws and 'chopperfreak2k1' states:
thats a helluva plan. i'm interested because i've been looking for info for the Stihl 096, which many people don't know even existed.
The thread continues with JJuday commenting:
If they exist, and that is a big IF, it would be interesting. Problem is…..you are the only person I have heard mention such an animal. Have you found anymore info? Maybe a test saw or a prototype?
To which chopperfreak2k1 replies:
i have found only 2 mentions of it on the web. one is some site where they are talkin saws and a guy chimes in with- a buddy of mine has an 096 g/d. the other mention is one of those ask a question site and the asker asks what is a Stihl 096.

my dad told me 20-25 years ago that it was the biggest saw Stihl ever made. he recently told me the saw was discontinued in the 70's.

thats all i know and i have searched pretty extensively, so maybe it didn't ever exist?
So chopperfreak is referencing those other 2 mentions that are still online, and adding that his dad told him about it 30 – 35 years ago (as the original posts were made in 2009).
He never found any other evidence and is losing faith that it's real (and I dare say he's lost all faith by now).
There was a 4th mention of it from a guy (Claudiu) commenting on our Stihl 090 article. That was my first hearing of it.
He said in the comments:
Why do you say 090 was the largest (Stihl) chainsaw ever produced?

The actually largest (single-person operated) one was Stihl 096. I read about it quite some years ago and, unfortunately, I cannot find that article any longer, so I'll write from my memory: it said that only an order of magnitude of 100 pcs were manufactured, then it was discontinued because it caused back injuries to the operator, that heavy it was.

I had the opportunity to hold one in my own hands and it was, indeed, a monster. Fully equipped it weighted >20kg (45lbs). This was in a flee market-like place and I'm still crying and cursing myself for not buying it at that time … but I looked it up and read about it only some time after that day.

So, I don't deny that the 090 was the most popular big(gest) chainsaw, but it was definitely NOT the absolute biggest: 096 was!
I hope he's correct, but he's the only first-person account of someone seeing/witnessing an 096, including those on social media, which we'll get into next.
Evidence For The 096 On Facebook
There are just as few mentions of an 096 on Facebook as well in the 4 or 5 large Stihl groups.
Of the 096 mentions in the big Stihl group, all but one are standalone mentions.
For example, people have posted asking these questions:
What's the biggest saw Stihl makes? Just curious and any pics?
What's a few stihl saws that are considered hard to find
Anyone know which model Stihl was the biggest baddest b*****d of all time?
And someone will post "The 096," or "I have heard rumors of 096," or something like that.
The only extensive conversation on Facebook about this supposed 096 is this one: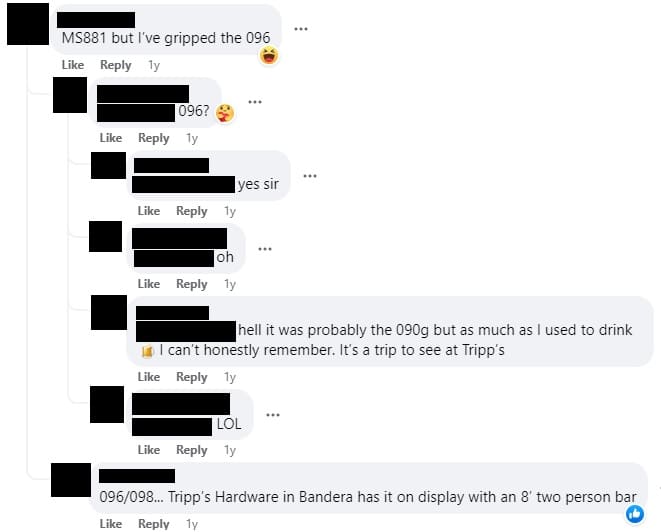 This guy "gripped" an 096, but he isn't even confident it was an 096 and not an 090G.
There's no evidence online that "Tripp's Hardware in Bandera" (Texas) has an 096, but here is a Tripp's Tire & Bobcat Service/Tripp's Tire Stihl Dealer, so perhaps someone in that area could check it out.
There's nothing more than that on Facebook, BUT as you might expect, conversations and stories about the 096 are often intertwined or surrounded with mentions of the Stihl 090 "10 cube."
I'll share my thoughts on this at the end.
Evidence For And 096 Elsewhere Online
Other than on Facebook and those few results on Google, there is nothing to be found regarding an 096 chainsaw.
I searched YouTube extensively and couldn't find a mention. There's nothing on Instagram, nothing on Reddit, nothing on Stihl's websites, and nothing in the other chainsaw forums and groups – not even a mention.
I also searched the Wayback Machine which is an archive of internet history, and it only brought up one false positive. There's just nothing else out there about it.
I tried searching sites in Germany and other European countries as well, but couldn't find anything. People who speak those languages might have better luck than me.
Suffice it to say, there are extremely few mentions of the 096 on the entire internet. You could count them on two hands.
That's why I think the Stihl 096 is a true unicorn – it doesn't exist. However, it could be the 090 10 cube as the myth behind the two sounds the same, but there is a ton of evidence for the rare 090 version.
Stihl 090 10 Cube
This is a post from the Stihl Chainsaw Fans FB group, and here is a thread from the post…
In all the post that mention the 096, you'll also find mention of the "10 cube" 090.
This is a more powerful 090. The stock 090 is 137 cc, while the 10 cube is said to be 159 cc (or sometimes listed as 164 cc).
Comments on the 090 1o cube:
People agree that there were very few of these saws ever made. Like 100 or less.
Rare as hen's teeth.
The Stihl factory did produce a small number of them to be sent to Australia and USA.
I read somewhere that 12 10 cubes were made and 6 came to Oz, they had 6 bolt heads and base, stronger cases, decompressor in a different place, I have only seen pictures not the real thing.
There was this comment too:
From what I gather Andreas Stihl got into go-cart racing. He had a motor built for the cart that was 10 cu.i. The cylinder was almost a direct mount to the 090. So guys got the cylinders that were made for the cart and mounted them to their saws for racing. The 10 cube 090 was never produced from the factory.
I will put together a complete article on the 090 10 cube, but this is just to show that the 090 10 cube (sometimes mentioned as the 090 G 10 Cube with G meaning gear drive) and the mythical 096 are talked about in the same way.
The big difference between the two is that there are hundreds of mentions and images of the 090 10 cube but less than 10 mentions of the 096, and zero images.
The 096 Unicorn
I think the 096 is the 090 10 cube.
I think the 10 cube was given the new name of 096 somewhere along the way by a few people and that's where this all come from.
The 096 is a true unicorn, there's no real evidence it exists, and it probably doesn't.
I'm always ready to be proven wrong though – let me know in the comment section below.
Other interesting Stihl saws you might be interested in learning about: the 070, the 075, the 041, and the 015 (one of my favorites).
Oh, and another Stihl conspiracy/mystery/rumor: is the 070 still being made in Germany?
Update: The Stihl 096 Exists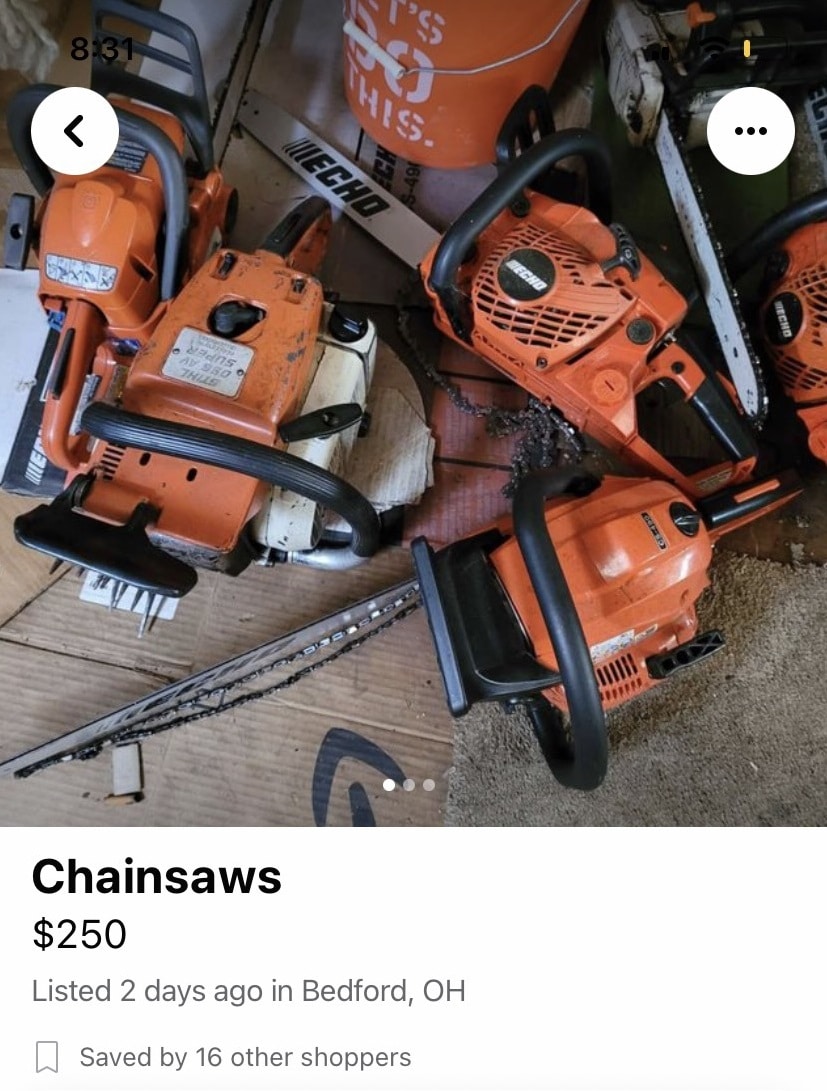 Since publishing this article, I received a couple of emails from guys who had potential evidence of the 096.
The first was from Claudiu who had first told me about the 096. He emailed Stihl customer service and got a reply from them.
Claudio sent:
Dear Stihl, I am a customer, user and fan of your products, mainly chainsaws.

Some years ago (~10 or more?) I found in a flea market a Stihl 096. I touched it and held it, but didn't buy it. Then I read an article about it being the biggest Stihl chainsaw ever built, which was a limited edition, discontinued because of the difficulty to use by one single operator.

Unfortunately, now I cannot find any information on this on the Internet, hence I'm coming directly to the source, to you, with my research.

And here is my request, if you would be so kind to fulfill it: I'm sure that in your archives there is evidence of this model so, my kind request is to send me some pictures (even taken with a smartphone) of: – the chainsaw itself, if you have one in your museum or if you have pictures of it from the time it was for sale; – any document about it (e.g.: a datasheet, specs, description, marketing…).

Thanks in advance and all the best!
And Stihl replied to him (emphasis mine):
Thank you for contacting the STIHL customer service.

Regarding your inquiry, we would like to inform you that this is a Historic model and we no longer produce parts for it, nor do we have in our database any schematics or User Manuals for it.

We would like to inform you that the most powerful Chainsaw ever produced by STIHL is the STIHL MS 881 which is still currently being sold.

We regret not being able to provide the information you requested.

With kind regards

Your STIHL customer service
So Stihl confirmed that the 096 existed but couldn't provide any images or documents relating to it.
But then I got a message from Andy who shared the above Facebook Marketplace listing of what could be a Stihl 096 AV Super – OR an 056 Super AVEQ!
Here's a close-up of it.
It's not exceptionally clear, but it looks like 096 AV Super with Electronic Quickstop.
The Stihl 041 is stated by Stihl to have been the first saw with Electronic Ignition in 1968, so that would date the 096 after that.
And usually, if there's a Super version, there's also a non-Super version out there too. Who knows?
However, it might also just be an 056… what do you think?
When Andy emailed, he said:
I just read your article on the stihl 096 and am happy to report that it's a very real beast and the attached picture is the proof.

I came across this ad last winter. Apparently, [the seller's] dad had a hoard of saws and she was trying to get rid of them. She was asking a flat rate for each saw and to the left you can see the "096 AV super". I obviously tried to buy it but somebody got to it right before I did.

Even though I missed out on it I still reached out and emailed Stihl (for the same reasons you wrote the article, the internet came up with nothing) because I wanted to know more. Funny enough, Stihl couldn't tell me anything aside from the fact it was a vintage saw, but nothing was coming up on their end as far as parts interchangeability, or what it really even was. If I remember right they told me my best bet would be to find an old dealer and start picking the old guy's brains about it.

Anyway, this might be the only real picture of one that removes any doubt that they did / do in fact exist, and somewhere in NE Ohio this one is floating around.

Hope you found this interesting!
Thanks to Claudiu and Andy for their help.
It looks as if the 096 might be real (based on Stihl's confirmation) and not just a rumor or misunderstanding. If it is I'd say it's one of the top 3 rarest Stihl chainsaws out there!