Many outdoor enthusiasts are discovering the allure of campfire cocktails – drinks perfectly designed to be enjoyed around a backyard fire pit, bonfire, or campfire.
These campfire drinks not only elevate the wilderness experience but also provide a delightful way to warm up on chilly nights. Whether you're a seasoned camper or a weekend adventurer, hot alcoholic drinks for camping have become an essential part of the outdoor checklist.
From traditional brews to innovative concoctions, hot liquor drinks by the campfire blend comfort with a touch of luxury, making each camping trip memorable.
1. Hot Toddy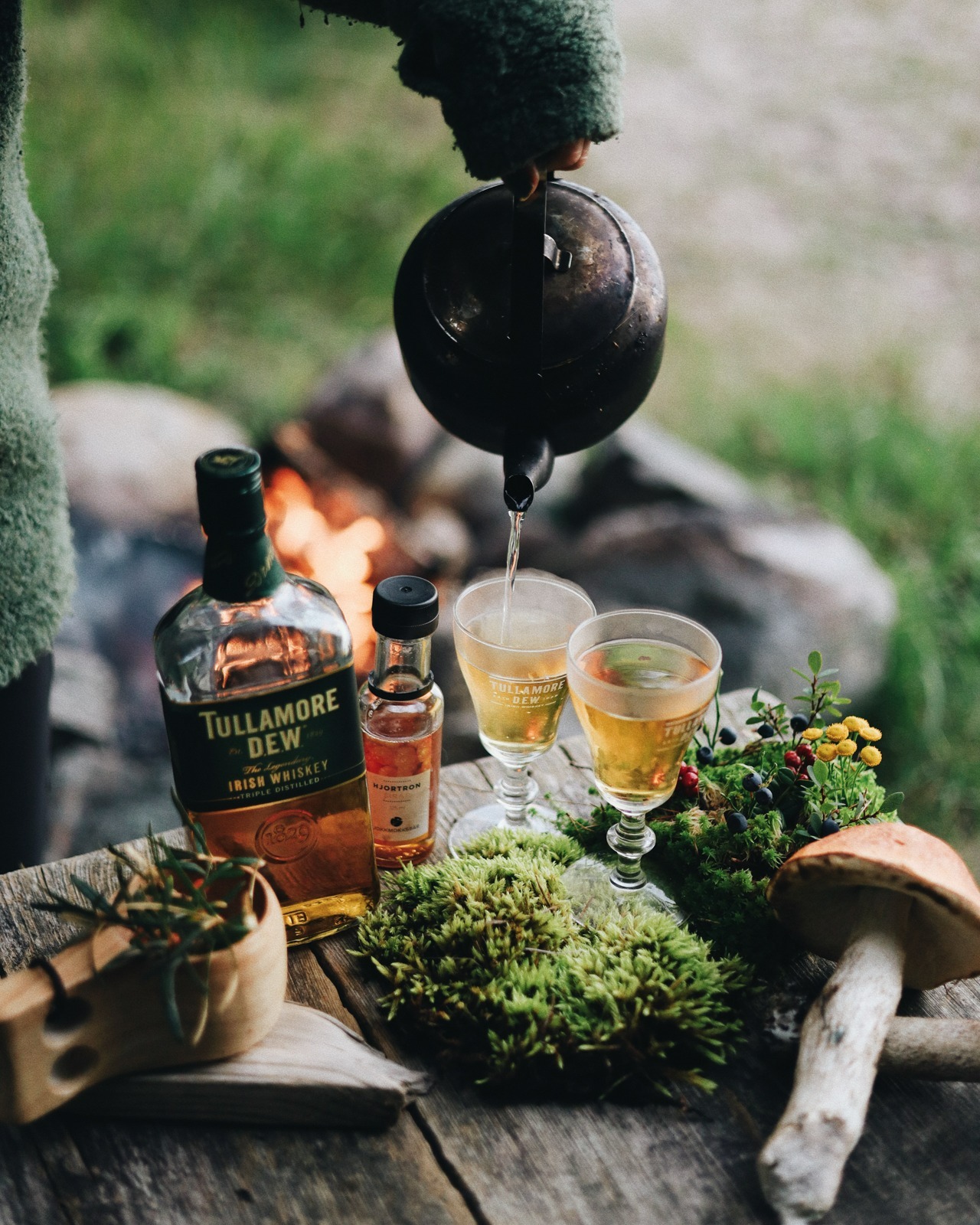 Ingredients:
2 oz Whiskey
1 cup Hot water
1 tbsp Honey
1 tbsp Lemon juice
1 Cinnamon stick or clove for garnish
Pour 2 oz whiskey into a heat-proof mug, then add 1 tbsp honey and 1 tbsp fresh lemon juice; stir well before topping with 1 cup of hot water and garnishing with a cinnamon stick or clove.
The Hot Toddy is ideal for cold, rainy nights, especially when nestled indoors with a good book or by the bedside when feeling a bit under the weather.
It's typically favored by those who appreciate warm, soothing drinks, individuals combatting a cold, or those who have a soft spot for classic remedies and whiskey.
2. Mulled Wine
Ingredients:
1 bottle Red wine (750ml)
1 Orange, sliced
2 Cinnamon sticks
5 Cloves
2 Star anise
3-4 tbsp Sugar (adjust to taste)
2 oz Brandy or rum (optional)
Warm all ingredients in a pot. The aromatic spices make this drink perfect for sipping by the fire.
Perfect for winter festivals, Christmas markets, or holiday parties, Mulled Wine shines especially when sipped outdoors under a blanket of snow.
Wine enthusiasts, lovers of traditional holiday drinks, and those who savor aromatic, spiced beverages often gravitate toward this concoction.
3. Spiked Hot Chocolate
Ingredients:
1 cup Hot chocolate
1 oz Choice of liqueur (Baileys, Peppermint Schnapps, RumChata, or Kahlúa)
Whipped cream for topping
Prepare hot chocolate and mix in your chosen spirit. Top with whipped cream.
After a day of winter activities, such as skiing or snowboarding, there's nothing like a Spiked Hot Chocolate around a fire pit. It's also a hit during holiday gatherings and cozy movie nights.
This drink is a favorite among chocolate aficionados, those seeking warmth with a touch of sweetness, and fans of creamy, luxurious cocktails.
4. S'mores Martini
Ingredients:
1.5 oz Marshmallow vodka
1 oz Chocolate liqueur
1 oz Cream
Graham cracker crumbs for rimming
1 Toasted marshmallow for garnish
Rim a glass with graham cracker crumbs. Mix the vodka, chocolate liqueur, and cream with ice in a shaker. Strain into the glass and garnish with a toasted marshmallow.
This dessert cocktail is a delightful choice for dessert parties, post-BBQ treats, or themed nights like "glamping" parties.
Those with a penchant for sweet drinks, especially fans of marshmallow and chocolate, will find the S'mores Martini particularly enticing.
5. Warm Apple Cider with Rum
Ingredients:
1 cup Apple cider
1.5 oz Dark rum
1 Cinnamon stick
2 Cloves
1 Apple slice for garnish
Heat the cider with the spices. Pour into a mug, add rum, and garnish with an apple slice.
Conjuring images of autumn harvest festivals, Thanksgiving gatherings, or the cozy aftermath of apple picking, the Warm Apple Cider with Rum is a seasonal delight.
It's a hit among those who relish the quintessential flavors of fall, rum enthusiasts, and of course, cider lovers – perfect for drinking outdoors around the bonfire.
6. Campfire Coffee
Ingredients:
1 cup Brewed coffee
1.5 oz Bourbon or whiskey
1 tbsp Maple syrup
Whipped cream for topping
Mix coffee, bourbon or whiskey, and maple syrup in a mug. Top with whipped cream.
Ideal for early mornings on camping trips, late-night conversations around a bonfire, or during winter cabin stays, the Campfire Coffee is a heartwarming choice.
Coffee enthusiasts, those partial to a hint of whiskey or bourbon, and lovers of warm, caffeinated beverages often find this alcoholic camp drink irresistible.
7. Pumpkin Spice White Russian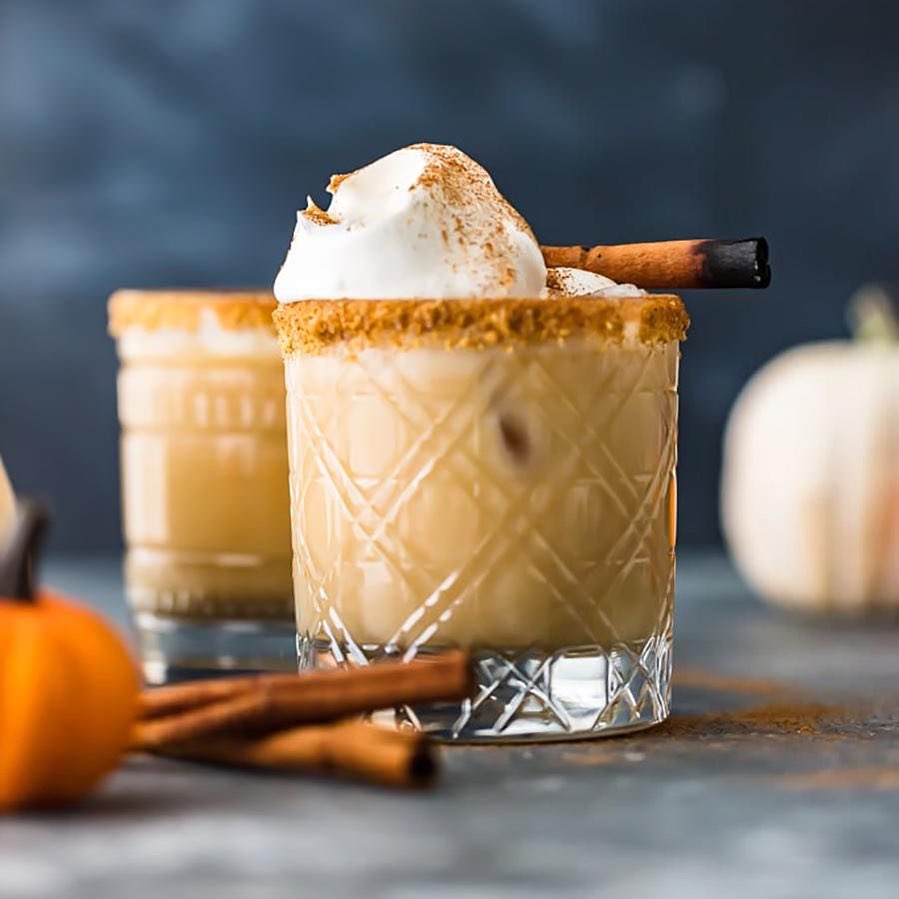 Ingredients:
1.5 oz Vodka
1 oz Coffee liqueur (like Kahlúa)
1 oz Cream
A pinch of Pumpkin pie spice for topping
In a glass with ice, combine vodka and coffee liqueur. Top with cream and sprinkle some pumpkin pie spice on top.
Synonymous with Halloween parties, Thanksgiving dinners, and pumpkin carving get-togethers, the Pumpkin Spice White Russian is autumn in a glass.
Those who can't resist a pumpkin spice latte, vodka lovers, and aficionados of creamy cocktails often gravitate towards this drink.
8. Bourbon Spiked Chai
Ingredients:
1 cup Brewed chai tea
1.5 oz Bourbon
1/4 cup Milk or cream
1 Cinnamon stick for garnish
Brew your chai, add bourbon and milk or cream. Garnish with a cinnamon stick.
Perfect for a relaxed book club meeting around the fire pit or a chilly afternoon on the porch, the Bourbon Spiked Chai is a fusion of comfort and elegance.
Tea enthusiasts, bourbon aficionados, and fans of spiced drinks will find this cocktail delightful.
9. Burnt Orange Bourbon
Ingredients:
2 oz Bourbon
1 Slice of orange
1 tsp Brown sugar
Ice
Slightly char the slice of orange over the fire pit using a skewer. Muddle the burnt orange slice in a glass with brown sugar. Add ice and pour over bourbon.
Picture sipping this drink during a tranquil sunset on a patio or around the fire pit grill waiting for the meat to cook.
It's a choice pick for bourbon purists who enjoy a citrusy twist, and those who have a penchant for crafted, nuanced cocktails.
10. Rusty Nail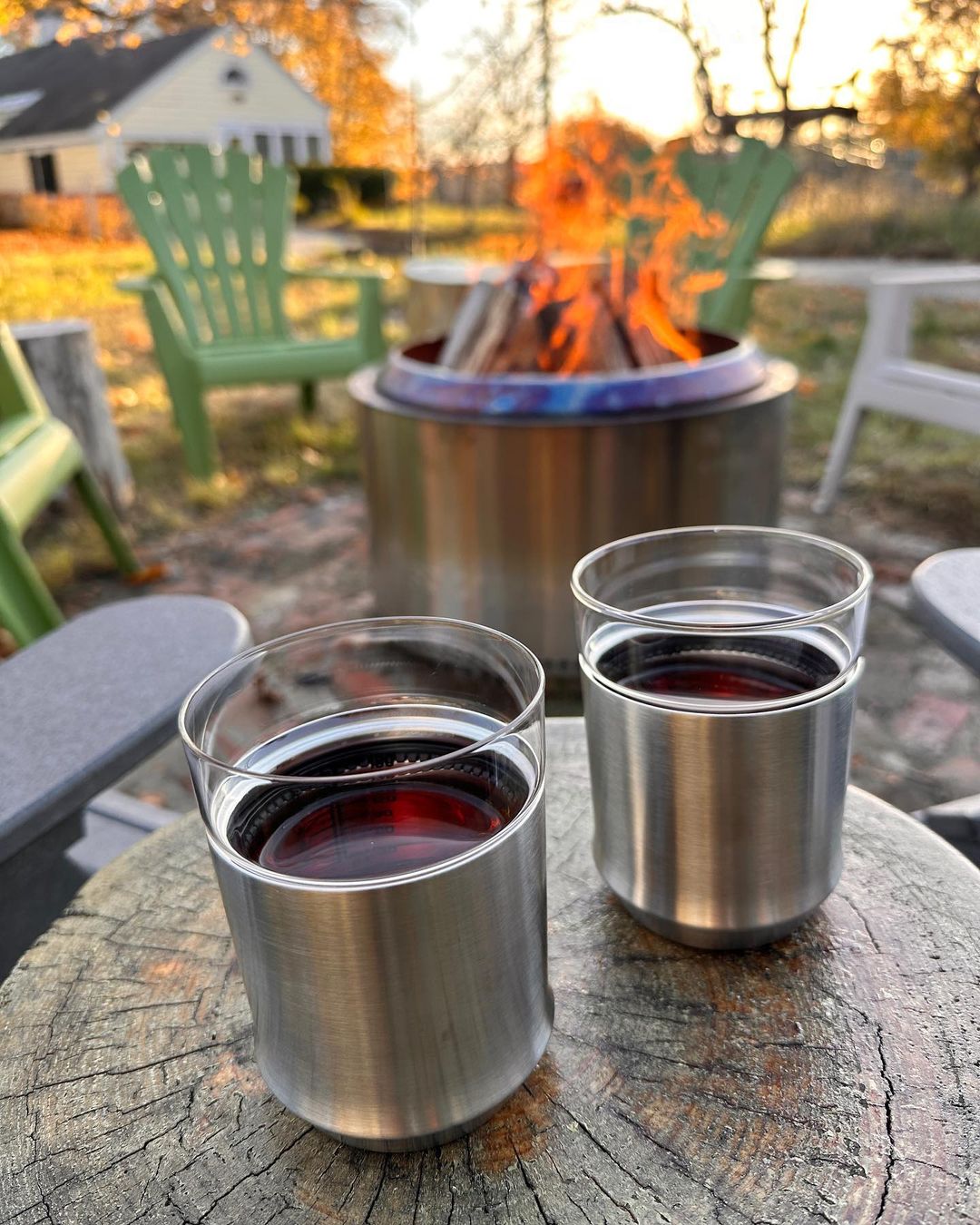 Ingredients:
1.5 oz Scotch whisky
0.75 oz Drambuie
This classic cocktail is a simple mix of Scotch and Drambuie, a honey, herb, and spice-infused liqueur, served over ice.
Evoking the ambiance of classic cocktail parties, upscale lounges, and jazz bars, the Rusty Nail is an old-school favorite for around the campfire. It's especially loved by whisky enthusiasts, fans of honeyed and herbal flavors, and those who appreciate timeless cocktails.
Campfire Cocktails
As the popularity of campfire cocktails continues to rise, it's vital to remember the risks.
Alcohol can impair judgment and coordination, and when combined with the open flames of a campfire, the risk escalates. Always ensure that if you're indulging, you do so responsibly and have a designated fire watcher who remains sober.
Let's cherish the beauty of nature, and enjoy our drinks, but above all, prioritize safety to ensure memorable and incident-free adventures. Next up, check out these top campfire guitar songs!