How awesome would it be if you could make good pizza whenever you want to, right in your own backyard?
The Stoke Pizza Oven will let you do just that. It's portable, easy to use, and allows you to customize each pie for a crowd-pleasing meal.
Of course, I had to test it out to see if it was the real deal.
Spoiler: I love it!
Stoke Stove Pizza Oven Reviews
Stoke Pizza Oven - Gas Powered

13 or 16" models
Reaches 900°F in 20 - 30 mins
Includes free pizza kit, pizza peel, and cutter

View On Amazon

Stoke Pizza Oven - Wood Fire

Single size that burns wood pellets
Bakes pizza in as little as 2 mins
Comes with pizza kit, 12" peel, and cutter

View On Amazon

Ooni Pizza Ovens

A more expensive alternative
6 different styles and sizes
Propane and wood fire ovens (and multifuel)

View On OoniView On Amazon
Compare prices to get the best deal.
If we come across any Stoke Pizza Oven coupon codes, discounts, or deals we'll be sure to add them here. However, most offers are displayed prominently on their home page.
During Black Friday/Cyber Week they have very good deals running.
Stoke Gas Powered Pizza Oven
VIEW ON AMAZON →
23" X 19" X 13" or 25" X 21.5" X 16"
7 pounds (13") or 46.9 lbs (16")
Materials: cold-rolled steel
One of the coolest things about this pizza oven is that you can choose your fuel option.
Let's start with the gas-powered Stove Pizza Oven which provides a completely smokeless experience.
Don't worry!
It gets more than hot enough to bake a pizza to perfection.
Design
This pizza oven looks amazing with the sleek black color and clean lines. It's heat-resistant, cold-rolled steel made to withstand almost anything you throw at it.
The Stoke Pizza Oven is portable and surprisingly lightweight for being so sturdy. Unlike other pizza ovens, this design includes a fourth leg to stabilize the unit.
I love that you can choose between two sizes. The 13-inch oven can handle a 12-inch pizza and the 16-inch oven can bake a 15-inch pie.
Set Up, Clean Up, and Storage
Set up takes less than ten minutes, though efficient pizza makers can easily knock that down to five minutes.
Stoke supplies all of the tools you need and step-by-step instructions
Here's the gist:
Connect the temperature gauge – it's just a nut and bolt
Use the three screws to hook up the igniter and heating element
Connect the gas line by screwing the hose into place
Some people recommend letting it heat up and burn for a bit before the first use, but that's up to personal preference.
Cleaning up might be easier because the high temperatures tend to burn everything off. Wait for the oven to cool completely and wipe away any remaining debris.
You can leave it set up in your backyard because it is sturdy and comes with a weatherproof carrying case. That said, it's not a good idea to leave it out through the winter or rough weather.
One of the key selling points for this pizza oven is its portability. It's lightweight enough to take anywhere without compromising its stability.
Functionality
The gas-powered version runs on propane and reaches up to 900°F. It features a built-in thermometer so you don't have to guess at the temperature.
Stoke notes the oven can reach the maximum temperature in 15 to 20 minutes, but you want the internal pizza stone to warm all the way through, so it's best to give it the full 30.
Even better, that heat level allows you to cook a pizza in two minutes. You can pump out several pies in time for everyone to eat together.
If 900°F is too hot for you, there's a control panel to manage the heat. Adjust the knob on the burner to kick it up or down.
Of course, like any new appliance, there is a learning curve with the Stoke Pizza Oven. Even though the gas-powered oven is easy to use, it takes a bit to catch on to cooking times and rotating the pizza like a pro.
Pricing
Affordability is another key selling point for the Stoke Pizza Oven.
The retail price is $445.99, but Stoke frequently has deals. I happened to pick up mine for less than $350 with free shipping.
The pricing includes the pizza oven and some helpful accessories, including:
Cover/carrying case
Pizza cutter
Pizza peel
Of note, the pizza cutter and peel ship separately, but you don't have to go out and buy anything extra to get started.
To make things even easier, the company often runs deals for a free pizza kit with every purchase, so you don't even have to go to the grocery store!
Shipping is free and Stoke reports that all orders leave the warehouse in three to five business days.
You also get some unexpected assurances with your purchase. First, you get a 365-day trial period to test the pizza oven. If you don't love it, send it back for a full refund.
Then, to sweeten the pot, the company offers a never-ending warranty.
Pros:
Gas is convenient and easy to adjust the temperature
Maintain consistent heat for even cooking
Control temperature with the touch of a button
Ideal for busy nights when you need to make dinner fast
Free shipping
Cons:
It's a newer brand with limited customer feedback
Max temperatures can lead to burnt crusts and toppings if you don't watch closely
You don't get that smoky flavor that comes with wood-burning stoves
Stoke Wood Powered Pizza Oven
VIEW ON AMAZON →
5" X 19.5" X 13.5"
9 pounds
Materials: cold-rolled steel
Stoke also offers a wood-powered pizza oven that infuses woody, smoky flavors into every pie you bake. It's a little different from the gas-powered version with unique pros and cons.
Design
The wood-powered pizza oven adopts some of the same design features, like the four legs and heat-resistant shell.
However, it features a chimney on top to funnel out the smoke and a spot at the back for adding fuel.
Despite the additional features to accommodate the alternate fuel, this oven is lightweight and looks chic with the same black finish. It beats cooking pizza on a grill over a fire pit any day!
Set Up, Clean Up, and Storage
Set up is similar to the gas-powered oven, though you have an extra step with the wood-powered version. You need to attach the chimney or vent stack.
Seasoning the oven isn't necessary. However, you might want to experiment with using some flavored wood chips to add a little something before you pop in your first pie.
To start cooking with the wood-fired oven:
Add pellets, chunks, charcoal, or a combination to the oven
Light the fuel and wait for visible flames before sliding your pizza into the oven
Cleaning up is a little more complicated with the wood-burning stove, but not much. Again, the high temperatures tend to burn away a lot of the debris. You still might need to remove some crumbs and check for soot buildup to keep it functioning properly.
You might think that the chimney addition makes storage and transportation more challenging, but it doesn't.
The included cover accommodates the chimney stack for safe storage. The wood-powered oven is equally easy to transport because it only weighs a few pounds more than the gas-powered version.
Functionality
The wood-powered pizza oven also reaches a maximum temperature of 900°F, but it might be a little less consistent. You might have to add more fuel as you go to keep it hot enough.
It might take a little experimenting to find the ideal combination of fuels, but isn't that part of the fun?

Stoke recommends wood chips or a combination of chips with charcoal briquettes to extend burning times.
You might look at chunks of wood that are thicker but small enough to fit in the oven. They burn longer, meaning you fuel up less. Whatever you do, stick with hardwoods.
It's a good idea to rotate the pizza more frequently when working with the wood-burning oven. This approach helps offset the temperature inconsistencies. Also, monitor the digital thermometer to know when to add more fuel.
Even though it comes with a steeper learning curve, the scents, flavors, and sounds associated with cooking with wood enhance the entire experience. You can make wood-fired pizza anywhere and it adds ambiance to any setting.
Check out these Stoke pizza oven pizza ideas (if you don't mind your mouth watering).
Pricing
Pricing for the wood-powered Stoke pizza oven is exactly the same as its gas-powered counterpart.
The manufacturer's retail rate is $445.99, but I landed the same deal as I got with the gas-powered version.
You also get the same accessories, though the cover is shaped a little differently. Stoke offers the same 365-day trial and never-ending warranty with the wood-powered pizza oven.
The only real difference between the two variations is that the wood-powered pizza oven is harder to come by. It's so popular that there are frequent backorders but Stoke accepts pre-orders with the caveat that it won't ship for 30 to 60 days.
Pros:
Can't beat the smells and flavors you get with wood
Blend wood pellets and charcoal briquettes for a custom cook
Control temperature with the touch of a button
Ideal for backyards and camping
Free shipping
Cons:
Stoke only offers one size in wood-power
The learning curve is a little steeper as you play with fuel combinations
It takes longer to get a wood-powered oven because of the high demand
The Stoke Pizza Oven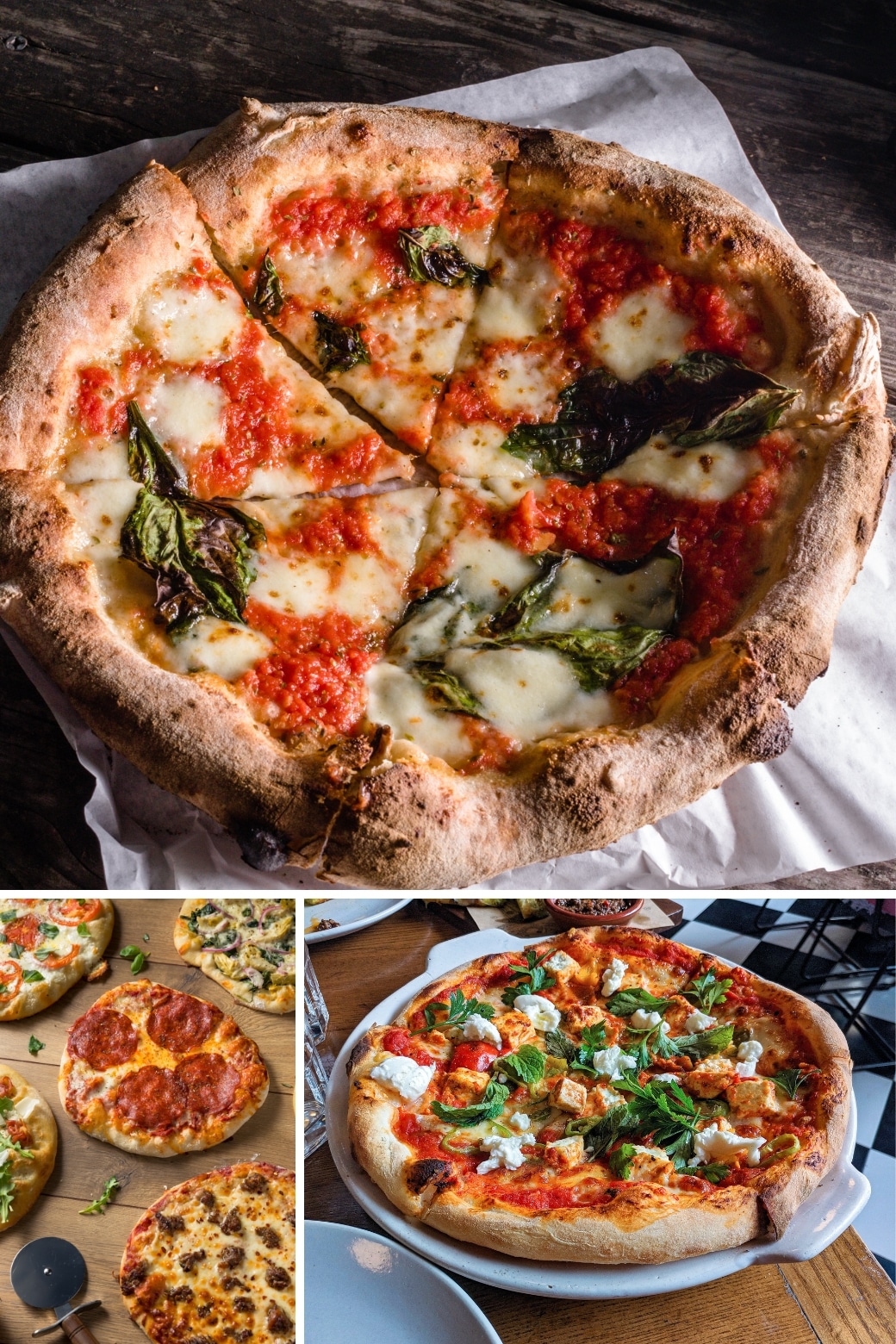 The Stoke Pizza Oven is incredibly easy to use and makes pizza an anytime, anywhere option.
Since it's portable you can move it from the backyard to a campsite to a tailgate in no time.
Both versions work well and have their benefits. I struggle to pick one over the other because I love the smells, flavors, and sounds of wood. On the other hand, the ease and consistency of cooking with gas cannot be understated.
Compared to the Ooni Pizza Oven range, the Stoke range is usually cheaper, but they still offer the same functionality and ability to cook amazing pizza.
The Ooni Fyra is most comparable to the Stoke wood fire pizza oven, while the Ooni Koda is most comparable to the Stoke gas pizza oven.