Clean wood stove or fireplace glass is essential to be able to fully enjoy the flames.
I've just tried cleaning our log burner glass with 5 of the most commonly recommended FREE methods, and one of them was the clear winner.
I tested the methods that you can see outlined in the table of contents below, but I'll let you know what I think is the best way to clean wood stove glass up front.
Best wood burning stove glass cleaner:

Mix wood ash and water together and then rub the mixture onto the glass with newspaper or crinkled brown paper bag.
Check out the photos below to see the different results!
Wood Burning Stove Glass Cleaner
Quick N Brite Fireplace Glass Cleaner

Great for all glass surfaces
Non-toxic, acid free
Comes with sponge and cloth

View On Amazon

Kevian Wood Stove Glass Cleaner

Clean fireplace/stove glass
Removes all types of smoke residue
Includes sponge and cloth

View On Amazon

Rutland Stove Glass Cleaner

Cleans wood stove/fireplace glass
Also suitable for cooktops, showers, tiles
Removes creosote, carbon, minerals

View On Amazon
These are some products that can help you clean your wood stove or fireplace glass a bit easier.
However, down below, I'm focusing on FREE ways to clean your wood stove or fireplace insert glass.
If you prefer using specially formulated products, any of the three glass cleaners listed above are very good.
This is my wood-burning stove – it's similar to some of these top wood burners but is called the Pyro Classic IV.
We've only just stopped using it as we come into summer, and it has about 8 months' worth of build-up on the glass.
Our wood is always well seasoned and dry, so it's not the filthiest glass in the world, but nor is it the cleanest!
What is the residue that is deposited on wood stove glass?
Carbon and soot
Creosote and ash
Other mineral residues
It's always worst when a piece of wood falls against the glass and burns in that position. That will instantly blacken your glass and prevent you from seeing the flames.
To test the wood stove glass cleaners, I separated the glass door into 4 sections with painter's tape. I then used a final 5th method on the area under the tape at the end.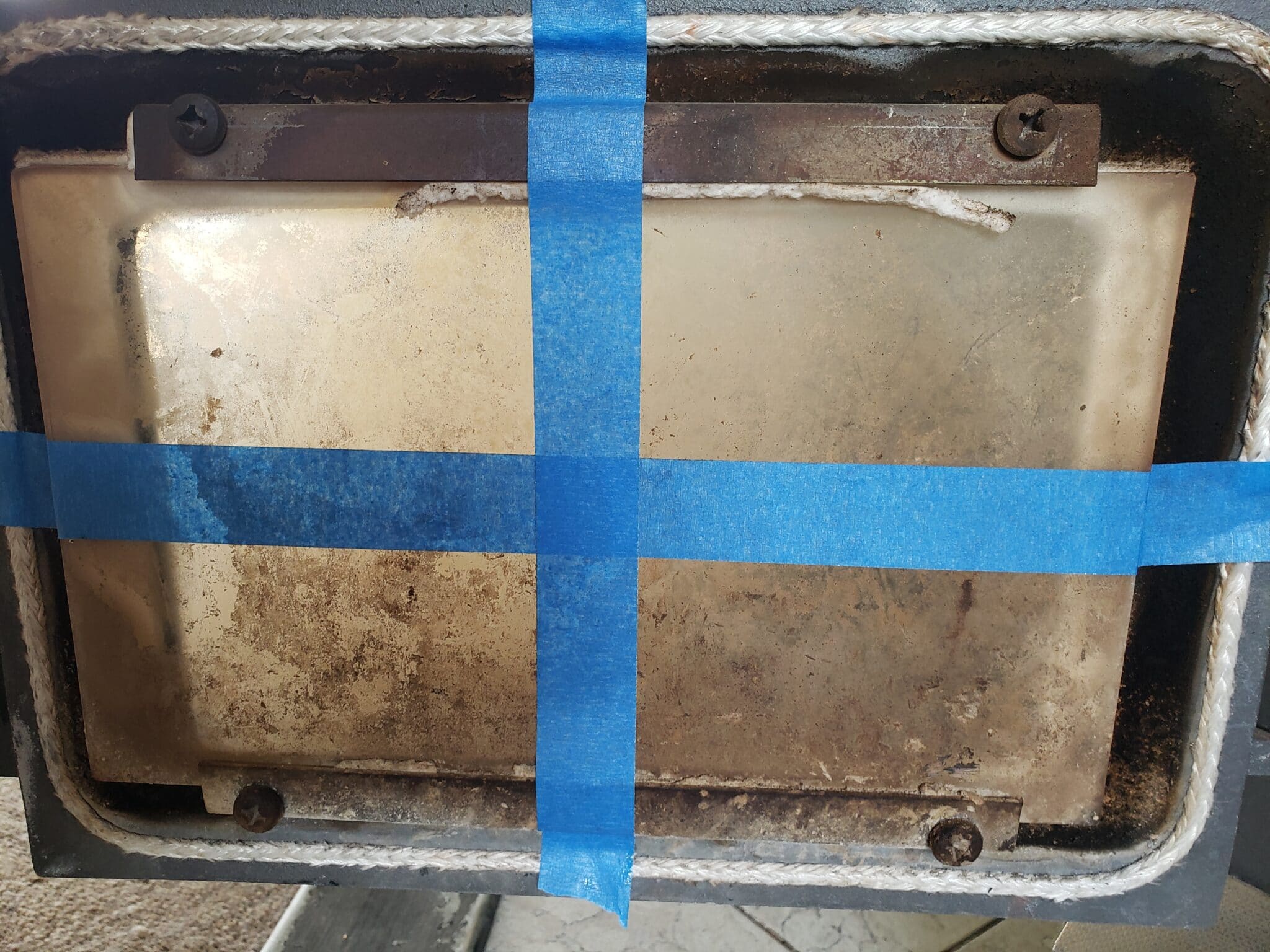 You can see that the top of the glass is already a lot cleaner.
That might give the solutions that I used up there the advantage, but I don't think too much of one.
Here's how to clean wood stove glass with each of these methods – and the results!
(It should go without saying that you shouldn't try to clean the glass if your stove is hot – wait 12 hours or more after a fire has gone out before cleaning. Woodfire temperatures can stay high for hours after they've gone out).
1. Wood Stove Ash And Paper
I tried what ended up being my favorite method first.
I literally just dumped some of the wood stove ashes into a bit of water, gave it a stir until it was something of a paste, and it was ready.
Next, I dipped the crunched-up paper bag into the mixture and rubbed it on the glass.
The effects were immediate – the glass went nice and clear immediately without any real effort. It took the built-up coating right off the glass without difficulty.
I used paper bag because we don't get the newspaper, and I think that's true of most people these days. Brown paper bag seemed to be a good alternative to cleaning with newspaper.
On the whole, I like this method because you're re-using something (the ash) which is right there and doesn't cost you anything. It's the perfect FREE way to clean your fireplace or wood stove glass.
2. Vinegar And Water
Next up, I tried out the vinegar and water technique.
This also worked well, just not as well as the previous method.
The mixture was 50/50 white vinegar and water, and again it cleaned the glass without too much effort.
The big benefit of this method is that it's a lot cleaner than using an ash and water mixture, or any of the other options following. My daughter did say 'that stinks' though while we were doing it!
3. Baking Soda And Water
Baking soda and water didn't seem to do quite as good a job as the previous two methods.
I mixed a couple of teaspoons of baking soda into a small amount of water so that it formed a paste.
I rubbed the mixture on the glass, but it didn't remove the wood-burning stove smoke, resin, and other deposits all that well.
Plus, it made more of a mess as well.
I tested it on the dirtier portion of the glass, so that could have been a disadvantage, but ultimately, it didn't seem to work as well as using ash.
4. Wood Stove Glass Cleaner
Next up is the wood stove glass cleaner which can be bought from many stores.
Here are some options on Amazon:
I found that the stove glass cleaning product worked very well, but no better than the ash and water recipe. It did a great job but why not just use the free method that works just as well?
It could be that some wood stoves have exceptionally dirty glass that requires an actual product like these. Ash may not be suitable for cleaning the glass on every wood stove.
Some of these products might also be suitable for cleaning fireplace brick and/or other parts of your wood stove and fireplace.
5. Baby Wipes
Lastly, I tested out cleaning the wood stove glass with plain water-based baby wipes – it didn't work so well!
Plain baby wipes took the surface layer of grime off the glass but didn't get the real baked-in residue. I really had to work hard at it.
Therefore, it seems using one of the other methods – ash, vinegar, baking soda, or glass cleaner – really does make a big difference compared to just doing it with water.
Best Wood Stove Glass Cleaner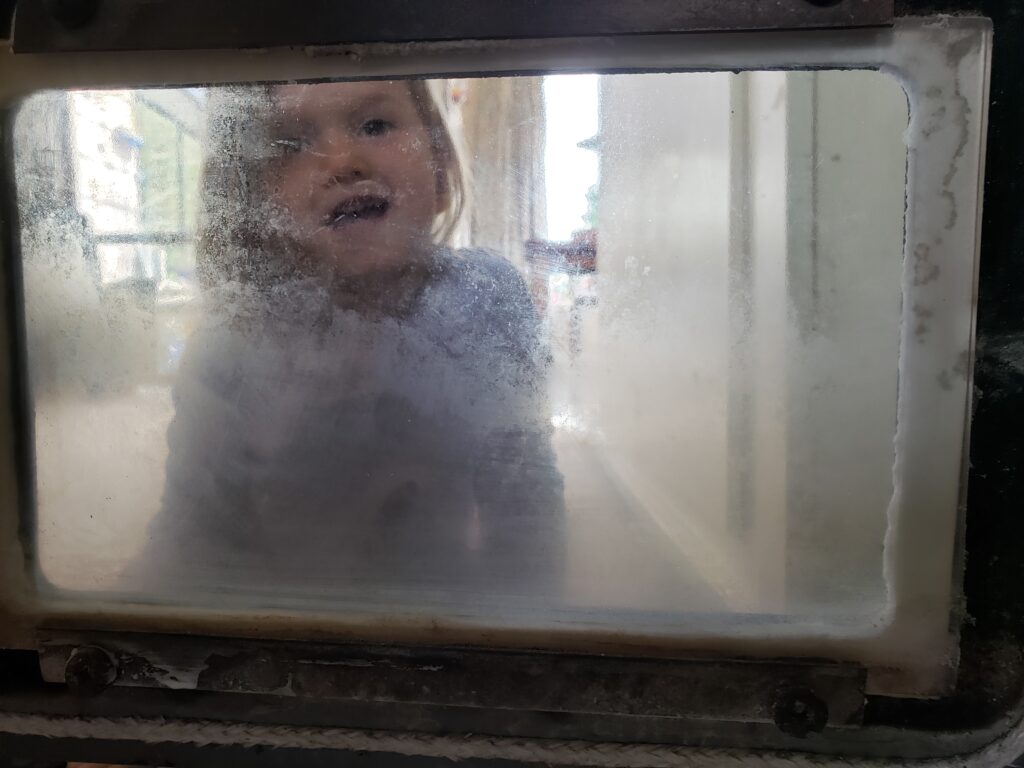 Here is the glass after giving it a good wipe down, and then I did a final clean using what I think is the best wood stove glass cleaner: ash and newspaper.
You can see the final result below.
For extra dirty fireplace glass, using a dedicated glass cleaner for wood stoves is probably your next best bet, but make sure you test out ash and water first.
What I like about ash and water:
It costs you nothing
It's right there behind the wood stove glass waiting for you
It works really well and is better than other common methods
While the glass on an old fireplace or wood-burning stove will never look brand new again, it can be clear and bright enough to watch the flames again.
How To Keep Wood Stove Glass Clean
There really isn't much you can do to keep wood stove glass clean, but here are a few tips:
Burn well-seasoned, dry wood – wet or unseasoned wood smokes a lot more
Avoid the burning wood from touching the glass – causes instant blackening
Burn hot fires – leaving your fire smoldering creates more smoke
At the end of the day, there isn't really a lot you can do to stop wood stove glass from getting dirty, BUT you can clean it once a week and it will look much better.
It takes less than 5 minutes to clean, so it shouldn't be a huge hassle. In saying that, I only clean mine once or twice a year, but dirty glass doesn't bother me too much. Plus, our fire doesn't go out for 6 – 8 months!
Cleaning Wood Stove Glass FAQs
How do you get black off stove glass?
First, try a mixture of wood stove ash and water applied to the glass with a crumpled paper bag or newspaper.
If this doesn't work, try one of these top wood stove glass cleaners.
How do you remove creosote from glass?
Creosote can be a stubborn substance to remove and is also the cause of fireplace smells.
However, it will come off with the methods we've shared above. Try ash and water first, and if that fails, try a stove glass cleaner.
What causes the glass on a wood stove to turn black?
Blackening glass is totally normal and will occur with even the cleanest, driest wood.
Whether you're burning 20 cords of wood per year, or a single rick of wood, you'll get some build-up on the glass.
It's a result of burning firewood which creates soot, resins, and other minerals.
Can you use a razor blade while cleaning wood stove glass?
It's best not to use a razor blade to clean wood-burning stove glass.
It can easily cause scratches on the glass which will then be much harder (or impossible) to clean next time. Deposits will build up in the scratches and make a permanent home there.
How do you clean stubborn fireplace glass stains?
If you have stubborn marks on your wood stove glass, grab a glass cleaner designed for this type of work. Free methods may not work on long-time blackening.
How do I clean small wood stove glass?
The glass on a small or tiny wood stove is cleaned in just the same way as a regular or large wood stove.
Some models, such as the Dwarf Tiny Wood Stoves, have an air wash feature that helps keep the glass cleaner for longer.