I just picked up the Stihl moisture meter in order to test it out and see what it's like.
It's a very small wood moisture meter that can easily fit in your pocket, toolbox, or chainsaw case. It's also a no-frills device with a single button a very few additional features beyond measuring the water content of a bit of wood.
Overall, as I've tested it out, it appears to be fairly accurate and is a helpful guide to determining whether or not your wood is ready to burn. You can pick it up on Amazon here, but I'll cover it a bit more in detail below.
Stihl Wood Digital Moisture Meter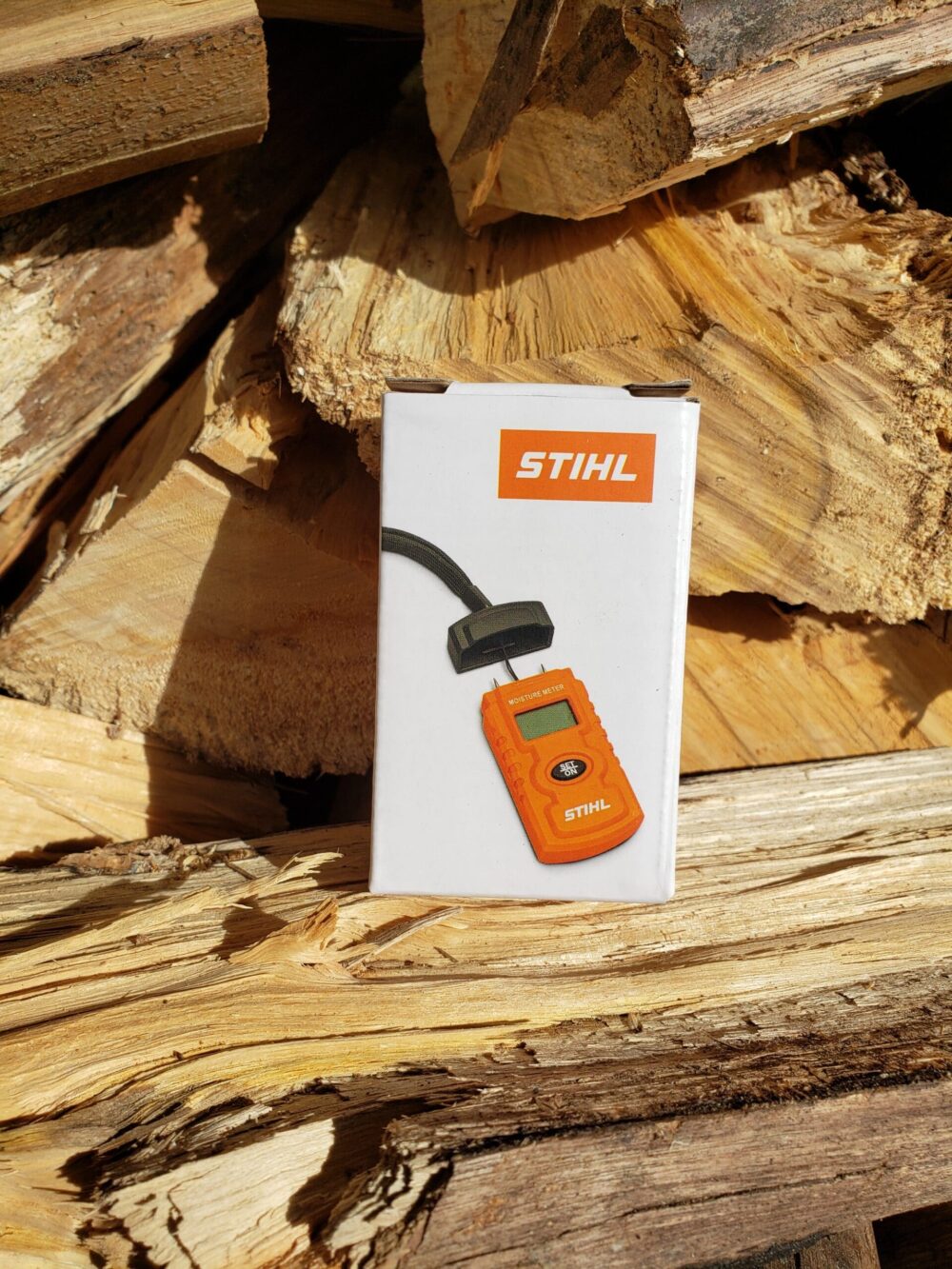 As already stated, the Stihl wood moisture meter is a very small and basic moisture meter.
It is designed to test the water content of:
Firewood and lumber
Mortar, concrete, and plaster
Cardboard and paper
It can also take the temperature of an area in Celcius and/or Fahrenheit.
The settings need to be changed depending on what you're measuring the moisture content of, and this will be displayed on the LCD display.
It's super simple to use which is really nice.
Other wood moisture meters can have a great variety of buttons and setting that you need to navigate and which you don't really need if all you're doing is measuring the moisture content of wood.
How To Use The Stihl Moisture Meter
I put together this video to show you all the features and how it works.
The little tree symbol you can see in the images indicates that I'm testing the moisture level of wood rather than another material like mortar or plaster.
The unit has two small pins on top that are exposed when you remove the black cover. These are placed into the surface of a piece of wood and you get a reading back within 2 or 3 seconds.
The Stihl wood gauge is showing that this gum has a moisture content of 9% which is what I would expect. The trees were felled 5 years ago and I processed the wood with the Husqvarna 450 Rancher about a year ago.
It is really dry wood that burns hot.
I tested other pieces of green wood from trees that I've taken down more recently and it came back with a much higher moisture content reading, so it seems to display what I would expect it to.
The ideal moisture content for firewood is between 10% and 20% – below 10% and the wood can burn too fast and hot, and above 20% and it will burn slowly and with more difficulty, it will put out more emissions, and not a lot of heat.
To use the Stihl firewood gauge, it's really just a case of:
Remove the cap from the top
Turn it on and ensure it's set to test wood (or whatever it is you're testing)
Stab it into a split piece of wood
That's all there is to it.
Just remember to cover the pins back up again to ensure you don't poke anyone or anything that doesn't want to be poked – they are pretty sharp!
Stihl Wood Moisture Meter Review
I really like the Stihl wood moisture tester.
I think it's a perfect size and I like how easy it is to use. I prefer non-complicated things and can't be bothered learning about 100 different options and features.
There's some debate on the accuracy of wood moisture meters, as when you get a few of them together on the same piece of wood you can get a wide range of values. However, I think the Stihl wood tester gives a good indication of whether or not a piece of wood is ready to burn.
To be honest, for me it's just a bit of a toy.
I've been working with firewood for so long that I know just by looking at and picking up a piece of wood whether or not it's seasoned and ready to burn. It's just fun to try out new things.
The Stihl moisture meter is well worth getting if you want a new toy too – it could be a fun stocking stuffer for dad, right?
Pros:
Really easy to use
Small and easy to store
Seems reasonably accurate
Comes with batteries installed*
Cons:
Not all that necessary
Missing more advanced features (if that's important to you)
It turns off after 5 or so seconds which can get annoying if you're trying to get it set up
The black cap covering the pins has to dangle very near the unit when in use and it can get in the way
There are a number of negative reviews on Amazon from people who were not happy with their purchase, but so far so good with mine. The majority of reviews are very positive, but as always there will be some faulty units out there.
*My one came with batteries included, but some may not. If in doubt, order 4 x LR44 batteries with your purchase.
Stihl Wood Moisture Tester Problems
Is your Stihl moisture meter not working?
It could be for this reason!
I couldn't get mine working when I first unboxed it and wanted to test it out. It came with batteries, so I was beginning to think that they had died already, despite the fact that I'd never used the moisture probe.
I decided to take them out and discovered that there was a tiny piece of plastic between the batteries and the device so that it would not be accidentally turned on before sale.
If you have another problem, sorry, I can't help you!
Stihl Wood Moisture Gauge Specs
Here is a quick rundown of the specs – some of which I've already mentioned:
Weight: 1.41 ounces
Batteries: 4 x LR44 (here on Amazon)
Dimensions: 3 x 1.5 x 0.7 inches
Mostly made of plastic
Metal pins
Handy carry string
At the end of the day, it's a basic device for measuring the moisture content of wood, and that's what it does.
It's obviously made by the makers of Stihl chainsaws who are known for producing quality products, which include not only their chainsaw models, but also their accessories.
The BEST Price
Not many online retailers are stocking this product, as far as I could find, it's only Amazon and eBay.
You can find it:
Let me know in the comments below if you come across other stores selling it online.
Hopefully, this has helped you to know whether or not it's right for you. Also, feel free to leave any questions or comments about anything to do with the Stihl wood water content tester and I'll answer it asap.
It's a fun little unit that you're friends will love to check out as well. Check out our chainsaw sale page for more ideas on accessories and tools relating to the industry.