Are the log splitters at Tractor Supply any good?
We're going to take a good look at the different types and brands that they stock, and consider whether or not they're worth grabbing.
As with all products at the moment, many are out of stock due to supply and transport issues, so we'll focus on those which are available and mention those which are not.
The Tractor Supply log splitter range includes the following brands outlined in the contents or in the pricing table below.
Best Wood Splitters At Tractor Supply
Those are the 7 log splitters at Tractor Supply, and if you clicked through to view some of them, you will have seen they are very different from one another.
The 40-ton CountryLine wood splitter and the 40-ton DK2 wood splitter have the highest splitting force and they cost a lot more (up to $3000).
They can also be used both horizontally and vertically – a feature that is really good to have. The vertical splitting setup makes splitting larger logs easier.
20-ton wood splitters are good, but usually, anything from 15 – 25 tons is good for average homeowner use.
The electric wood splitters from Tractor Supply Co are much cheaper (as low as $300) but they have a far lower splitter force of only 5 tons. That includes those final 4 splitters in the table.
For the best results, we recommend the CountryLine splitters. There are 3 options, and they're all good depending on what level of force you require. However, here's more about each of these brands.
1. CountyLine Log Splitters
These are the Tractor Supply 25, 30, and 40-ton log splitters.
If you've heard of friends or acquaintances that have bought log splitters at Tractor Supply, it was more than likely one of these models that they purchased.
The 25-ton model pictured above has well over 3000 reviews and a 4.7-star rating. The other two CountryLine models also have more ratings and reviews than all of the other TSC log splitters combined!
They are the most feature-rich options with the best engines (Kohler). As already mentioned, they have vertical and horizontal operation, which is one of the best features you can find on a wood splitter.
They come with good hitches, have great horsepower, and a very decent limited warranty: 5-year on workmanship, 2-year on the engine, 3-year on hydraulics.
It can be hard deciding which would be best, as they are all suitable for most splitting tasks. The higher-powered models simply get the job done faster and with more ease. If time is an important factor – if this is for a firewood business, for example – it's probably best to go bigger.
Pros:
Quality engines
High splitting force
Durable and hardy
Easy operation
Horizontal and vertical operation
Easier to find parts and service for these models
Cons:
More expensive
Reports of shipping damage
---
2. DK2 Power Log Splitter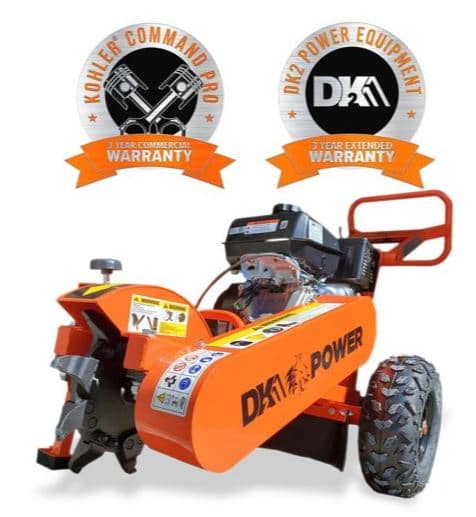 There is just one DK2 log splitter, a 40-ton (3,600 PSI) 7hp machine with a pretty hefty price tag.
It includes a tow bar with 2 in. ball hitch, a heavy-duty 3×3 steel axle, and a helpful 2-handed safety lever system for splitting wood.
Unlike the previous models, this one only has the horizontal operation, so there is less flexibility of use there, and it can be more difficult to split larger rounds.
Check out our DK2 Stump Grinder review to learn more about the brand and their other products.
Pros:
A powerful wood splitter
Kohler engine
Good warranty
Good wheels
Auto retraction
Cons:
Expensive
Only horizontal use
---
3. DR Power Equipment Log Splitter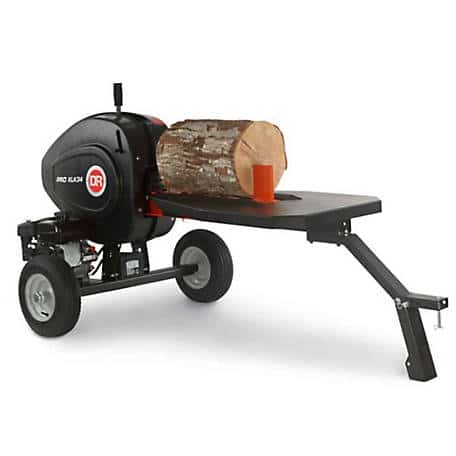 DR Power is another well-known brand in this product line.
Again, it's not as popular an option as others, perhaps because it's also only a tabletop splitter and does not have a vertical operation. It is strong at 34-tons of pressure, but it's not as nice to use as other options.
It is made of strengthened steel and has wheels and hitches for easy transport – you can transport it on roads up to 45mph.
Check out our DR Power Stump Grinder reviews for more info about this brand.
Pros:
Well known brand
Powerful pressure
Simple and easy to use
Cons:
No vertical operation
Not as many features
---
4. Earthquake Log Splitter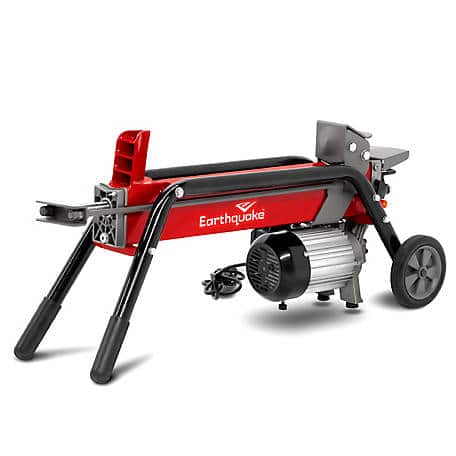 The Earthquake 120V Portable W500 Log Splitter is the first electric option on our list here.
These units are nowhere near as powerful as the gas options, but they are useful in the right circumstances, and this brand is a popular option.
It's a 5 ton rated hydraulic system that can be purchased with or without a stand.
Those who have tested this splitter have said it works well but emphasize that it's mostly only good for the small stuff. It's not for splitting larger rounds of hardwood.
Pros:
Light and portable
Cheap and affordable
Well reviewed
Cons:
Only for the smaller wood
---
5. Green-Power America Log Splitter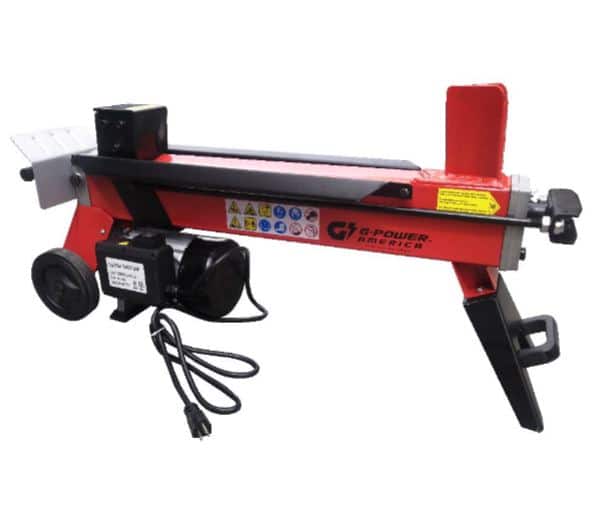 Green Power is another electric log splitter, said to split logs up to 20 in. L and 10 in. diameter.
Therefore, as with the previous model, it's not suitable for larger logs.
All of these electric splitters from Tractor Supply are horizontal use machines.
Pros:
Cheap
Easy operation
Solid rubber wheels
Good for small types of wood
Cons:
---
6. Sun Joe Log Splitter
The Sun Joe Splitter is one of the best-selling electric wood splitters as it's also available on Amazon – it only sells alright on Tractor Supply!
It has a 15-amp 2-horsepower motor that has a driving force of about 5 tons. It's said to be suitable for 10 x 20.5″ logs of wood.
As you'll expect, these cheaper models are less hardy than the more premium models and they won't work as quickly or smoothly. However, for limited light use, they're perfectly fine.
Pros:
Helpful for light splitting
Really cheap
Well reviewed on TSC & Amazon
Cons:
---
7. YARDMAX Log Splitter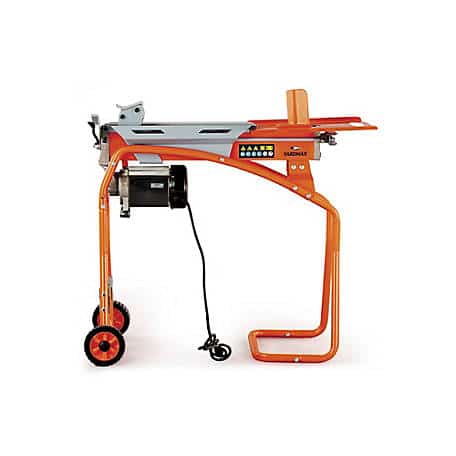 The last Tractor Supply wood splitter is the Yardmax.
It's another very cheap 5-ton splitter that includes a stand, but it's not for large or very heavy wood rounds. Rather it's best suitable for small rounds of wood.
Some would argue that it would almost be easier just to use an ax for this size of wood, however, there are those with a bad back or other issues that limit this possibility.
Pros:
Very affordable
Easy to use
Effective for the small stuff
Cons:
---
TSC Gas Vs Electric Log Splitters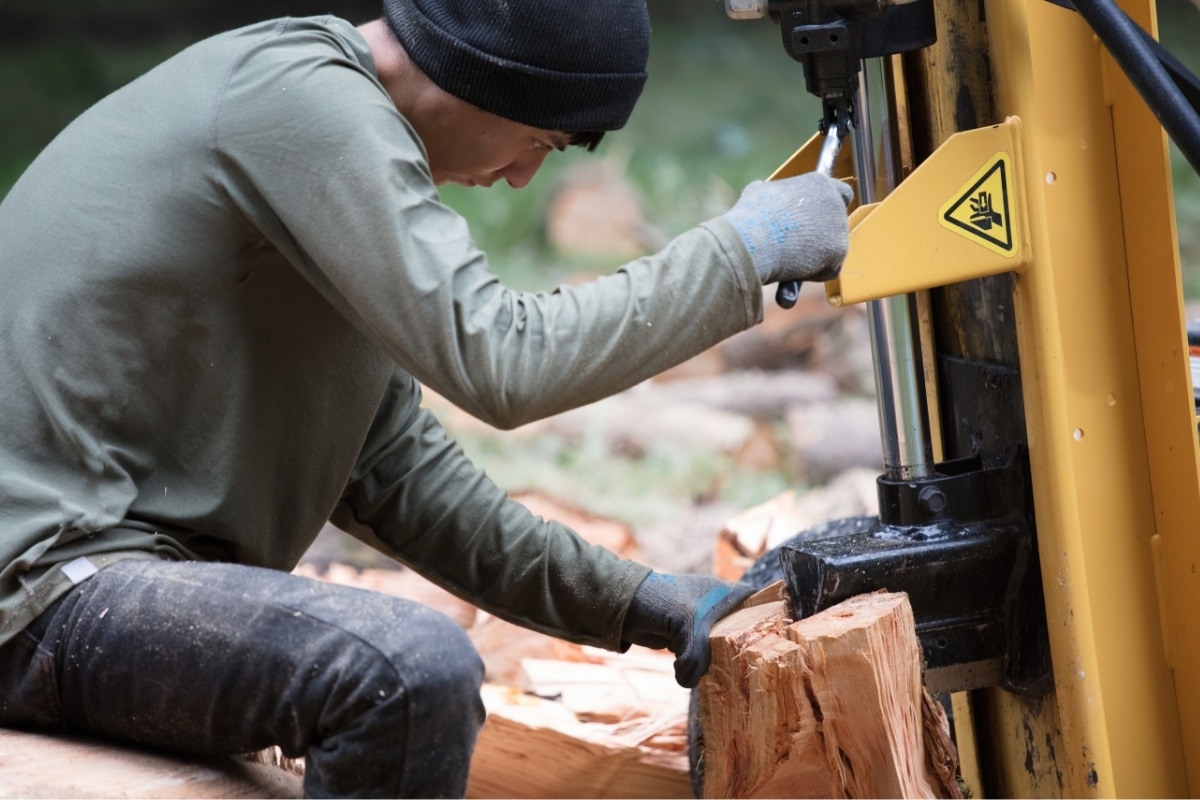 Is it better to get an electric or gas log splitter from Tractor Supply?
It all depends on what your plans are!
In my opinion, gas splitters are preferable because they give you greater splitting force, more flexibility as to where you can use them, and they tend to have a longer life.
I've been using this MTD gas log splitter recently, and it's pretty good!
Electric splitters obviously need to be used close to an electrical outlet (or generator, which defeats the purpose), so you can't take it out into the paddocks as I do when I'm splitting wood for the fire.
However, electric models are quieter to operate and have no fumes, which is something well worth considering.
Gas splitters can be taken anywhere (within reason), have a much stronger cutting force, and tend to perform better over the long run. Also, you'll be able to split larger rounds, such as the ones I'm sectioning up in this Husqvarna 450 review.
To sum up, here's what to keep in mind when deciding:
Width and length of logs
Where you plan to operate it
How often you're going to use it
Whether you live in California (gas is being outlawed)
And, of course, there's whatever your budget allows for. There's a big price gap between the gas and electric models, so that could be the deciding factor.
Log Splitter Tractor Supply
What is the best log splitter from Tractor Supply?
We think it's any of the CountryLine gas range, whether that's the 25, 30, or 40-ton model.
These have the best track record among users, have plenty of power, and can be easily transported and used wherever you need them.
They are easy to use and maintain, and can be expected to serve you well for many years (the warranty is a good indication of that)!
Let us know if you have any questions down below, and check out our round-up of the best stump grinders for more fun home and farm machinery.
Another great piece of outdoor power equipment that you might be interested in is the Limbinator Hydraulic Tractor Saw – it's a fantastic way to prune branches up high.