What is the best stump grinder?
Stump grinders are among the fastest and most efficient tools for getting rid of stumps and certain other types of wood in yards. Whether you're looking for a handheld stump grinder or the best stump grinder for commercial needs, these stump grinders are the best options currently on the market.
Before we get into the stump grinder reviews, there's one thing to consider: You can buy or rent these tools, even if you're a commercial user. We'll discuss this in more detail later because each option has its benefits, but you don't need to feel like you're limited to just one option.
Tree Stump Grinder Reviews
If you're looking for the best stump grinder for the money, these are the ones to look at.
For more information before buying, check out our stump grinding guide.
1. DK2 Power Adjustable Stump Grinder – Best For Residential Use
Detail K2's 14 horsepower grinder is a heavy but powerful portable stump grinder.
The key feature is its direct belt drive system, which avoids the clutch and powers a 3600 RPM system for its 12-inch cutting head. The gas engine provides excellent performance in practically all environments, while the sturdy frame helps absorb shocks.
This is a great choice for most home and farm needs because it offers precision, reliability, and simplicity. It's also beginner-friendly because Detail K2 ships it with ear, eye, and hand protection. Stump grinders come in a wide variety of shapes and sizes, but the attention to user safety here is a major positive.
This grinder works well on fresh and old stumps alike and comes with a dual locking wheel system to make it safer and easier to use on rough terrain. In total, this grinder works for up to 12 inches above ground level and nine inches below, which is a comfortable range for any grinder.
Although not the absolute best model on the market, the Detail K2's excellent balance of price, reliability, and performance make it a great option for regular home and farm owners looking for the best stump grinder for the money.
See our complete DK2 Stump Grinder review for much more information.
Pros:
The best option for most personal needs
Excellent cutting range
Reasonably affordable
Cons:
Not suitable for heavy commercial needs
Heavier than many other options
---
2. Generac Pro Walk Behind Stump Grinder – Cheap Option
Generac's Pro Stump Grinder is a good runner-up when you're looking for the best stump grinders.
Although not as large as some other residential stump grinders, its 12 gauge steel gives it a comparatively light and durable design. The detachable tow bar is a nice touch that can help you attach it to various other devices.
The engine is surprisingly powerful for this machine's size, allowing it to cut cleanly and with good fuel efficiency. However, as a lighter machine, this works best in prepared areas that are free of grass, weeds, and other items that can tangle around the cutting head. It's not as good in wilder areas.
Similarly, this stump grinder isn't very good for hills. That's a common concern among buyers, so it's worth being aware of. None of this means that Generac's stump grinder is a bad choice, but it is a little harder to use than our top choice.
This is a good machine if you're looking for something relatively simple and affordable. It's not strong enough for commercial purposes, but if you want to clear just one or two properties, it usually gets the job done.
Pros:
More affordable than many other options
Works excellently on prepared grounds
Cons:
Not good on plant-filled or sloped areas
Hard to maneuver
---
3. Bear Cat SG340 Stump Grinder – Best Small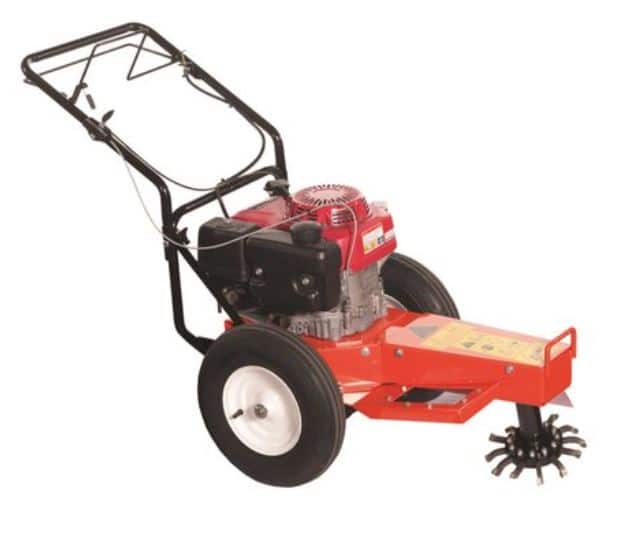 Bear Cat isn't as well-known as some other brands, but this surprisingly powerful unit can still get the cost done.
Note that cheap, in this context, is entirely relative. This grinder is still almost $2500 because you're not going to find a unit that's both good and extremely cheap.
The SG340 uses a Honda engine to power a seven-inch cutting head.
While the head itself is smaller than you'll see with some of the competition, its horizontal placement on a 23-inch wide unit means it's easy to maneuver this grinder through almost any environment. Meanwhile, the single-wheel brake system makes it easy to turn and pivot once you're in place.
For convenience, the front part of the unit has a screen-covered opening. This helps reduce the number of wood chips flying towards your face while still allowing a good look at the grinding so you can see what you're doing.
The cutter head spins at an industry-respectable 3600 RPM, which is the same as some other models on this list. Oversized tires make transport rather easier, while the ending choice provides added reassurance. Overall, this is an outstanding choice for budget-conscious buyers.
Pros:
More affordable than other stump grinders
Easy to maneuver through almost any area
Pivots well
Cons:
The smaller cutting head takes longer to grind through big stumps
The pneumatic tires are a little vulnerable to punctures
---
4. Power King Stump Grinder – Best Compact Stump Grinder
Electric start stump grinders have a noticeable advantage over traditional models. They are simple for anyone to use and don't require yanking on a cord for several minutes.
The Power King Stump Grinder is also surprisingly affordable, beating out some of the other low-cost options on this list in price.
The main features of this unit are the 14 horsepower motor, 11-inch cutting teeth, and dual V-belts for rotating the cutting head.
Power King's grinder is also beginner-friendly because it has an adjustable handle for control, a drum brake for rotating, and even a usage meter to help you know when it's time to do maintenance.
That last feature is especially useful for both homeowners and commercial buyers, This isn't a top-of-the-line grinder, but its accessibility makes it a good choice for mild to moderate use scenarios.
Power King delivers this grinder with a weatherproof cover, a full set of replacement cutting teeth, and a removable tow bar.
The cutting range here is twenty inches, eleven above the ground and nine below. The grinder itself has a one-year warranty, while the engine has a three-year warranty. For advanced buyers, this unit is compatible with Greenteeth. These are professional-grade cutting teeth with additional surfaces for longer cutting life.
For more info, check out our Power King Stump Grinder Review here.
Pros:
Extremely affordable
Easier to start than traditional engines
Comes with a cover
Supports Greenteeth
Cons:
Somewhat inconsistent build quality
It may occasionally vibrate itself off
---
5. Dosko 200-6HC – Best Mini Stump Grinder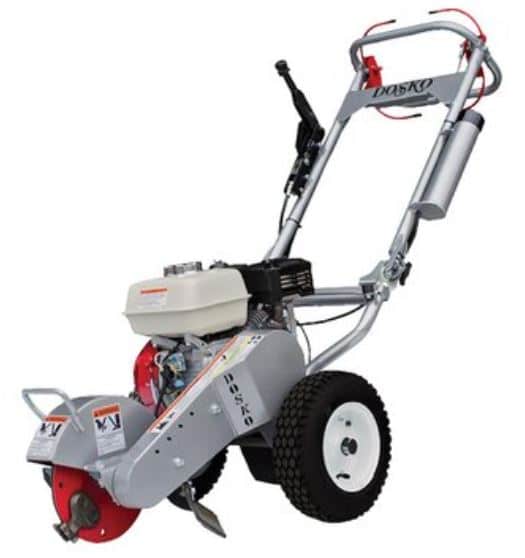 Size matters for stump grinders, especially if you're working in tight areas and need the most compact unit you can find.
That's where Dosko's 200-6HC model comes into the picture. This compact unit uses a Honda GX engine and Greenteeth 500 series cutting for outstanding performance.
The 200-6HC also comes with several other useful features, including an oil shutdown sensor that will automatically turn the unit off if it's getting too low on its lubrication. A cyclone air cleaner and an unusual side discharge frame provided added help and protection. Even storage is simple, thanks to the handlebar folding over the front when it's not in use.
Size is the most important attribute here, so that's the factor that determines if you should get this or not. However, even outside of its size, this grinder has a few interesting qualities.
The most notable is its use of a concave cutting area. This helps sheer wood off instead of completely shredding it, making for easier disposal later.
The 200-6HC has a slightly smaller cutting grade than most competitors, going about 10 inches above ground and 9 below it. It's comparatively light for a stump grinder at roughly 134 pounds, but it's still heavy enough that you should be careful around hills.
It is self-propelled, however, so it can help you get it up hills while the engine is on.
Pros:
The best small stump grinder available
Particularly good as a portable stump grinder
Comes with Greenteeth
Cons:
Comparatively small cutting range
Not a great choice unless you need the smallest walk behind stump grinder you can get
---
6. Husqvarna SG13 – Best Husqvarna Stump Grinder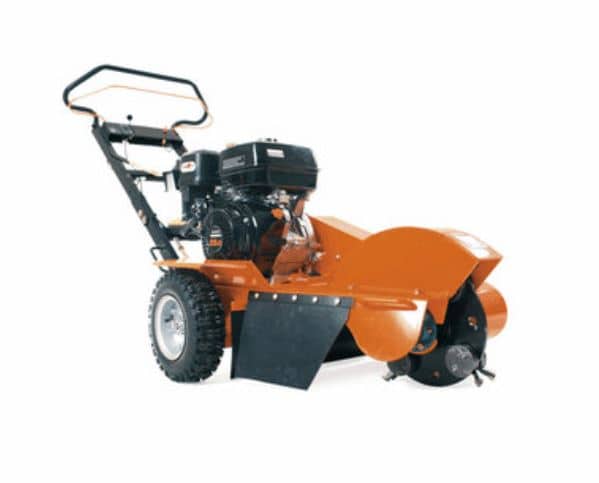 Husqvarna is a solid brand with a focus on high-performance products, most well known for their chainsaws.
That shows with the Husqvarna SG13, which you can immediately tell is larger and heavier than many competing products. That weight supports its quality, though, including the extra-large 14-inch cutting head.
This unit weighs about 252 pounds total, with a bright orange color scheme that makes it easy to spot in any environment. The most notable feature here is its adjustable handlebar, though. Plenty of other stump grinders let you fold the handlebar forward, but the SG13's bar is adjustable so you can reposition it for comfort while using the machine.
Heavy-duty shields cover the front of this unit to minimize the number of wood chips that fly around, supported by permanently lubricated and self-adjusting bearings that provide an outstanding lifespan.
While this isn't the absolute top of the market, it's still a significant step up from most of the other products on this list.
Husqvarna's gear is much closer to commercial than residential, so this is a great choice if you need to cut a lot of stumps or want to buy something for your business.
Pros:
The best stump grinder to buy for serious use
Adjustable handle for a comfortable stance
Comes with lift handles on each side
Cons:
Extremely heavy
Noticeably more expensive than most other options
---
7. Barreto Tracked Stump Grinder – Best Commercial
The word "premium" barely begins to do justice to this product.
All of the other options on this list are hand-pushed units, and this Barreto sit-down machine is no different. It is easily the best stump grinder in terms of power and performance.
The unit itself rests on wide tracks that can take you forward at almost three hundred feet per minute. That's not particularly fast, but it gets the job done once you're on-site. A 14-gallon hydraulic reservoir provides additional power for engaging the arm, while simple controls provide outstanding cutting precision in practically any environment.
At 1700 lbs, this unit is too heavy to pick up with anything short of professional equipment. Fortunately, its ability to drive itself up ramps largely eliminates that issue, while its immensely powerful head will chew through practically any stump.
If you want to buy stump grinder equipment for heavy commercial needs, this is the one to look at. It's also a good choice for, especially large or rough farms. This is far too much for casual home use, though, and most people will do better renting one of these instead of buying them.
Pros:
Better cutting power than anything else on this list
Comes with a comfortable seat
Capable of maneuvering itself up hills and over rough terrain
Unquestionably the best option on this list
Cons:
Several times more expensive than the Husqvarna
More than most people need
---
Buying Vs Renting Stump Grinders
Stump grinders fall into a relatively common category for yard tools: they're extremely important when you need them, but not everyone needs to buy them.
That's where the rental market comes in, allowing you to get a machine and use it for as long as you need it before returning it.
There are a ton of places you can rent a stump grinder from, including here on Home Depot (Bluebird and Toro Stump Grinder).
The main consideration here is how many stumps you need to grind and how often.
If you find yourself removing dozens of stumps a year, or running a stump-removal business, then it's usually better to buy your own and reduce costs that way. If you only need to remove a few stumps, renting a machine or hiring a crew makes more sense.
Best Stump Grinder Brands
Thankfully there are plenty of models to choose from, meaning we're spoiled for choice.
Some of the best brands for stump grinders include:
Barreto
Vermeer
Kubota
NorthernStar
DOSKO
Husqvarna is another good brand people will look at – see all the top brands here.
It's right at the top of residential grinders, and anything better will probably be commercially focused and far more expensive.
Types Of Stump Grinders
There are several types of stump grinders on the market, but most of them follow a vertical blade configuration on two wheels.
Occasionally, you may see a horizontal cutting blade that lets you chew through things from above.
Commercial grinders usually have seats, treads, and movable arms that offer maximum precision.
The main features to look for on a stump grinder are:
the engine's horsepower
power transmission system
quality of the cutting teeth.
Professional-grade teeth are especially useful because they'll cut through wood with less wear and tear on the systems.
Main Components Of A Stump Grinder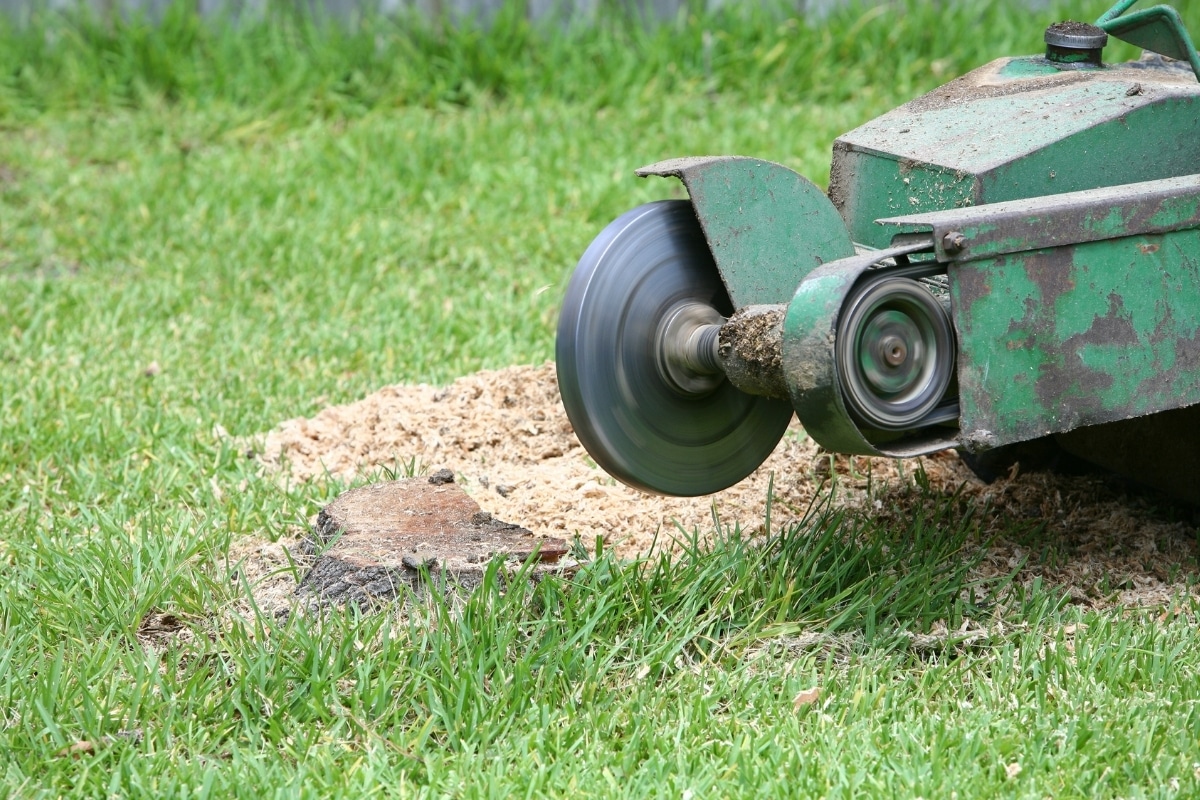 All stump grinders have three primary components.
The Engine
The engine is the main power source.
This is usually a gas engine, with smaller units running on regular gas and bigger units occasionally using diesel motors instead. Any grinder that uses diesel is probably a commercial design with better quality than residential units, but they're also more expensive in general.
Gas engines are significantly more common than electric engines, although you'll occasionally see electric start systems for ease of use.
Most stump grinders have engines offering 10-15 horsepower, with 14 being a common choice. Anything above this range is either commercial or unusually good for the industry.
The Drive System
is what connects the engine to the cutting wheel. Most stump grinders use a drive belt system where strong rubber connects and turns the parts. These belts wear down over time, but they're quite cheap and easy to replace.
Premium stump grinders will usually have a long hydraulic pump system instead. These drive a secondary hydraulic motor that turns the cutting wheel. Hydraulic motors are almost universally better than drive belts, both in lifespan and real performance.
The Cutting Wheel
The cutting wheel is the component most people truly care about.
These are usually tungsten teeth set on a steel disc, designed to cut through wood and rocks.
Higher-quality teeth like Greenteeth allow rotating, but they all need to be replaced regularly to maintain quality.
What Makes Stump Grinding Equipment Good?
The main things that separate stump grinders are their engine power and overall frame durability.
Replacing cutting teeth and heads is easy, but a weak engine will always be a weak engine. Similarly, a bad frame will shake apart under the force, often within just a few jobs.
Most stump grinders are easy to use, but they often require pushing and pulling them into position unless you're using a hydraulic arm system. If you're worried about this, look for self-propelled grinders that can help you get over the terrain.
Alternatives For Stump Removal
There are several ways to get rid of tree stumps if you don't want to get a tree grinder:
Dig around the stump and its roots, then pulling it out piece by piece- however, this is time-consuming and difficult
Drill holes and pour in removal chemicals that rapidly accelerate rotting – once that's done, a simple ax can pull it apart
In some cases, you might be able to wrap a chain around the trunk and use a truck to pull it directly out of the ground. This doesn't work on every stump, though.
Growing grass after tree removal is a bit of art as well.
Best Stump Grinder
From massive commercial grinders to compact cutters, there are plenty of options for high-quality grinders.
Price matters here, with premium tools being far more durable and reliable than budget models.
The Power King Grinder from Home Depot is probably the most popular model for residential, home, and hobby farm use. The higher-priced alternatives on Acme Tools are better for commercial and residential use.
Stump grinders are an area where it's better to get the best unit you can afford. If you want to save money, there are some cheap removal options, but a high-quality grinder can help you remove many tree stumps faster than any other method.
Lastly, check out the Dr Stump Grinder range for more options, or check out this MTD log splitter I've been trying out.